by
posted on December 11, 2021
Support NRA American Rifleman
DONATE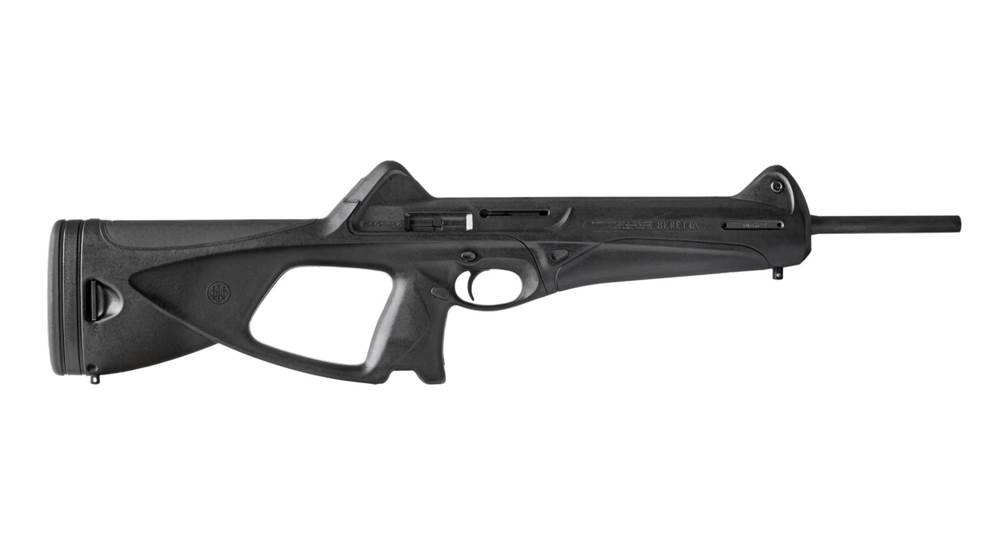 Beretta wisely designed the fire controls and manual of arms on the semi-automatic Cx4 Storm pistol-caliber carbine to reflect those on its full-size handguns. They're not identical, for obvious reasons, but the approach brings intuitive familiarity when transitioning from one firearm to the other.
The carbine was introduced to American consumers in 2003, and there was another advantage for enthusiasts who already owned one of the firm's popular pistols. It also used the same magazines as its Beretta 90 series, and now includes those from Px4 or 8000-series handguns.
The blowback-operated carbines feature a 16.6", cold-hammer-forged barrel. The safety, operating handle and magazine release are reversible, and the ejection port can be changed for left-handed use. A spacer is included with every gun to alter length of pull, if necessary. A post up front and aperture at the rear—both protected on their sides by polymer "wings"—provide windage and elevation adjustments. A full-length aluminum rail atop allows owners to add an aftermarket optic with ease. Lasers or weaponlights can mount on a Picatinny under the fore-end, which remains hidden under a protective polymer cover until needed. Rails for on the left and right side of the stock are available if more gear needs to be anchored.
There are three branches in the Cx4 Storm family tree, named for the magazines they run. The Storm 90 line includes chamberings in 9 mm NATO, 9x21 mm and .40 S&W. Storm 8000s are available in 9 mm NATO, .40 S&W and .45 ACP. The Storm Px4 models include 9 mm NATO and .40 S&W.
Regardless of chambering a Cx4 Storm weighs 90.8 ounces unloaded and measures a nimble 31.5" in length. Height comes in at 7.5" and width is 2.5". There are two sling attachment points, one integral at the rear of the black polymer stock and a stud up front.
MSRP for a Cx4 Storm in 9 mm Luger with your choice of 10 or 15-round 92-series magazines is $899. Here's a closer look when the carbine was covered in our Gun of the Week series.