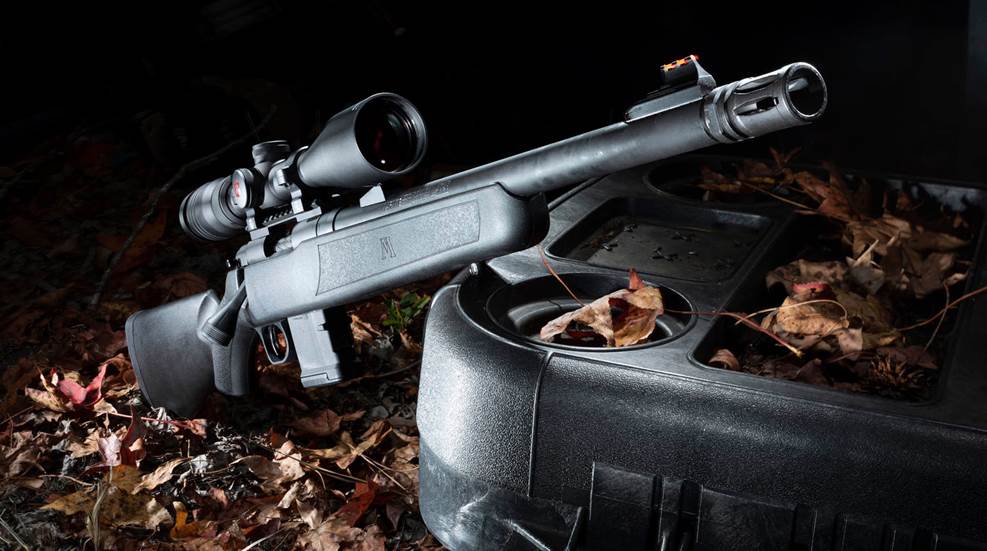 Centerfire rifles shipped from the factory wearing iron sights are a vanishing breed, a decades-old trend painfully on display at FFLs across the nation. In 2015, it even crept into the U.S. Army, when the exclusive use of red-dot, close combat optics (CCOs) began during basic training qualification. Three years later, the policy was reversed, and trainees once again began firing-line lessons behind iron sights.
Why the sudden change of heart? Officials cited advances in electronic warfare technology and battery concerns as the primary motivation for resuming the emphasis on backup iron sights (BIUS), but there were other advantages. The simplicity of iron sights lends itself to building an intimate familiarity with the firearm—muscle memory—and, ultimately, better focus on the skills that breed precision. By the time trainees move up to CCOs, scores improve.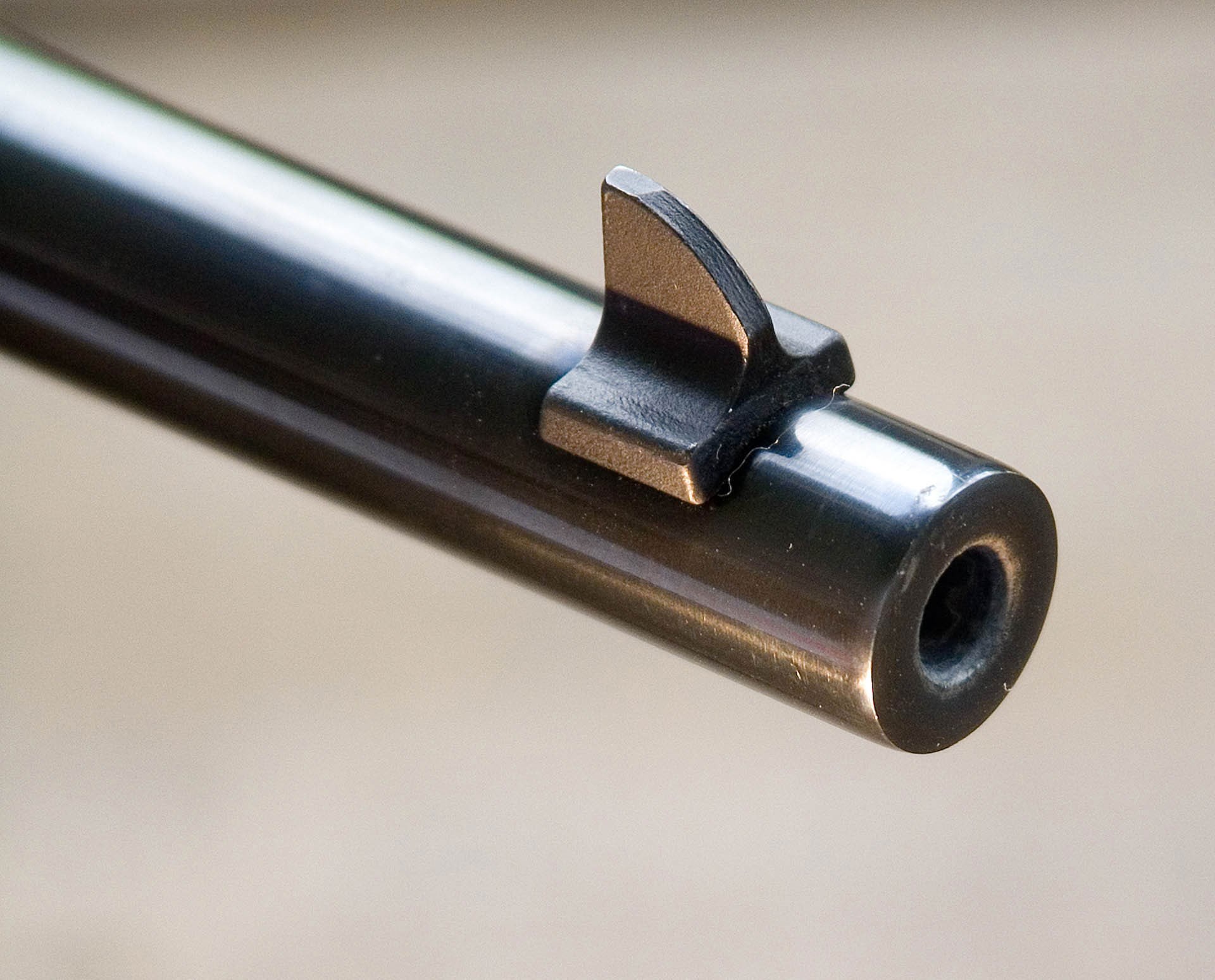 Today's iron sights aren't your grandfather's versions.
Most civilian gun owners aren't overly concerned about grid-paralyzing EMPs and understand fresh batteries are as close as a nearby store. Most enthusiasts want an optic of some sort on their rifles, and one drilled and tapped for optics mounts or wearing a Picatinny rail makes mounting that scope convenient, fast and borderline effortless.
Manufacturers recognized that preference years ago and began shipping rifles without any iron sights at all. Today, the original aiming solutions are alive and well in the worlds of lever actions, muzzleloaders, rimfires, single-shots and classic replicas, but a quick look at today's centerfire options is eye-opening.
Factory-Installed Inventory
Visit the Savage Arms website, select the proper sub-navs and you'll find it has 108 different centerfire rifles currently cataloged for "Hunting, Target & Long Range." Only three wear iron sights when they ship from the factory—110 Brush Hunter, 110 Hog Hunter and 110 Scout. The latter even includes a Picatinny rail because, well, the owner probably prefers a scope on board.
Mossberg has 89 models available in its popular Patriot line of centerfires, four with iron sights. Interestingly, that list includes several chamberings common for long distance, including the Walnut model in .300 Win. Mag. and Synthetic Cerakote for .338 Win. Mag. The latter is also available in .375 Ruger, and there's a Predator for .450 Bushmaster fans. Five out of the nine in the company's MVP line do, however, come with factory-installed irons.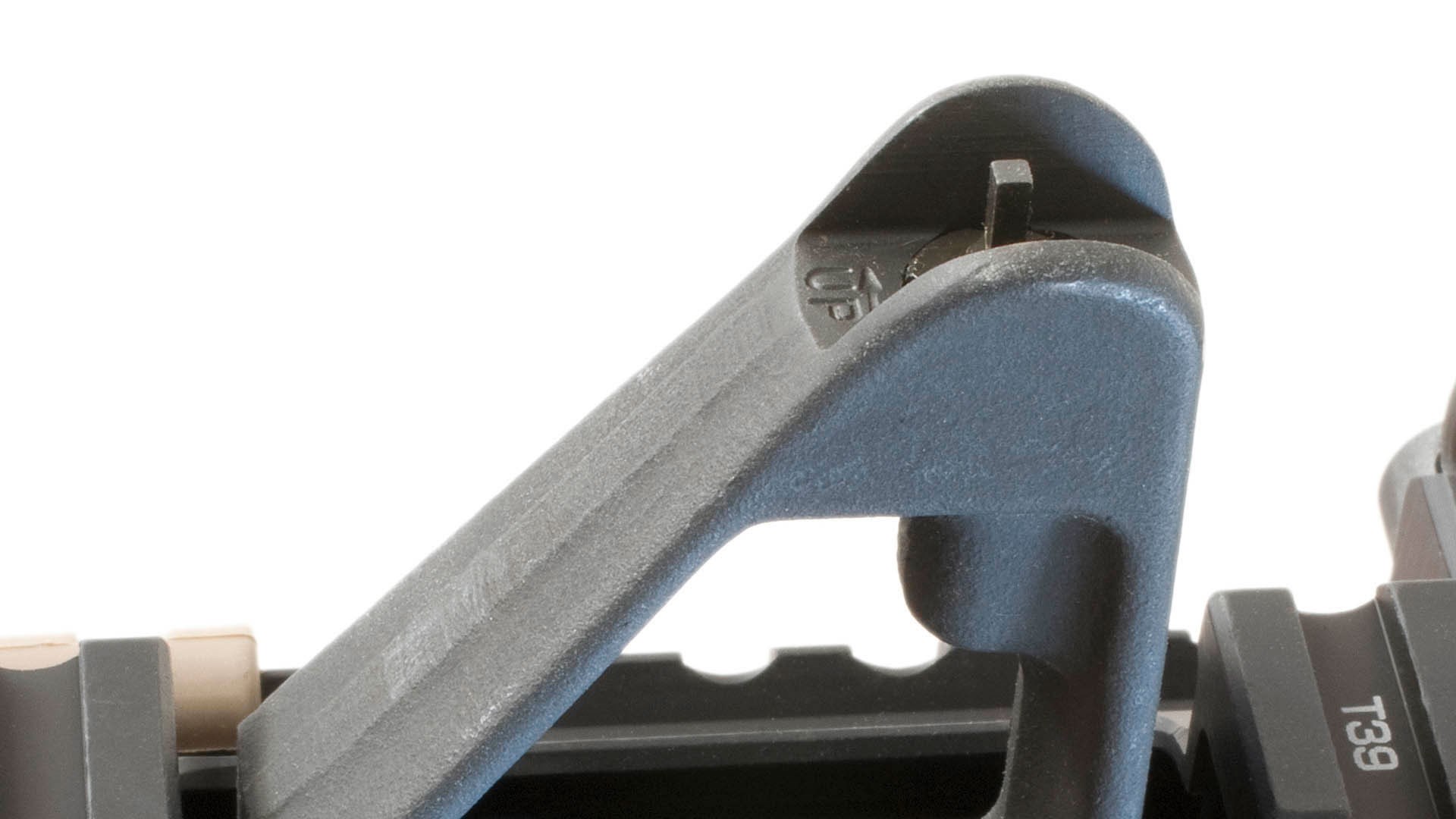 The A2-style front sights may have fallen out of fashion on modern sporting rifles, but they're reliable and adjustable for elevation.
They are also rare throughout Ruger's offerings, although the company has standouts in its Hawkeye rifles (the African, Alaskan and Guide), Scouts (seven of them) and Ruger 77/44, among others. The company AR-556s even come with that A2-style front sight so familiar to AR-15 fans. We didn't find a any in the company's value-priced American Rifle lineup, though, even the Compacts.
There's not a single iron sight on a factory-shipped SIG Sauer centerfire rifle. The company admittedly only makes modern sporting rifles, but none are outfitted with open sights—not even an A2 to be seen.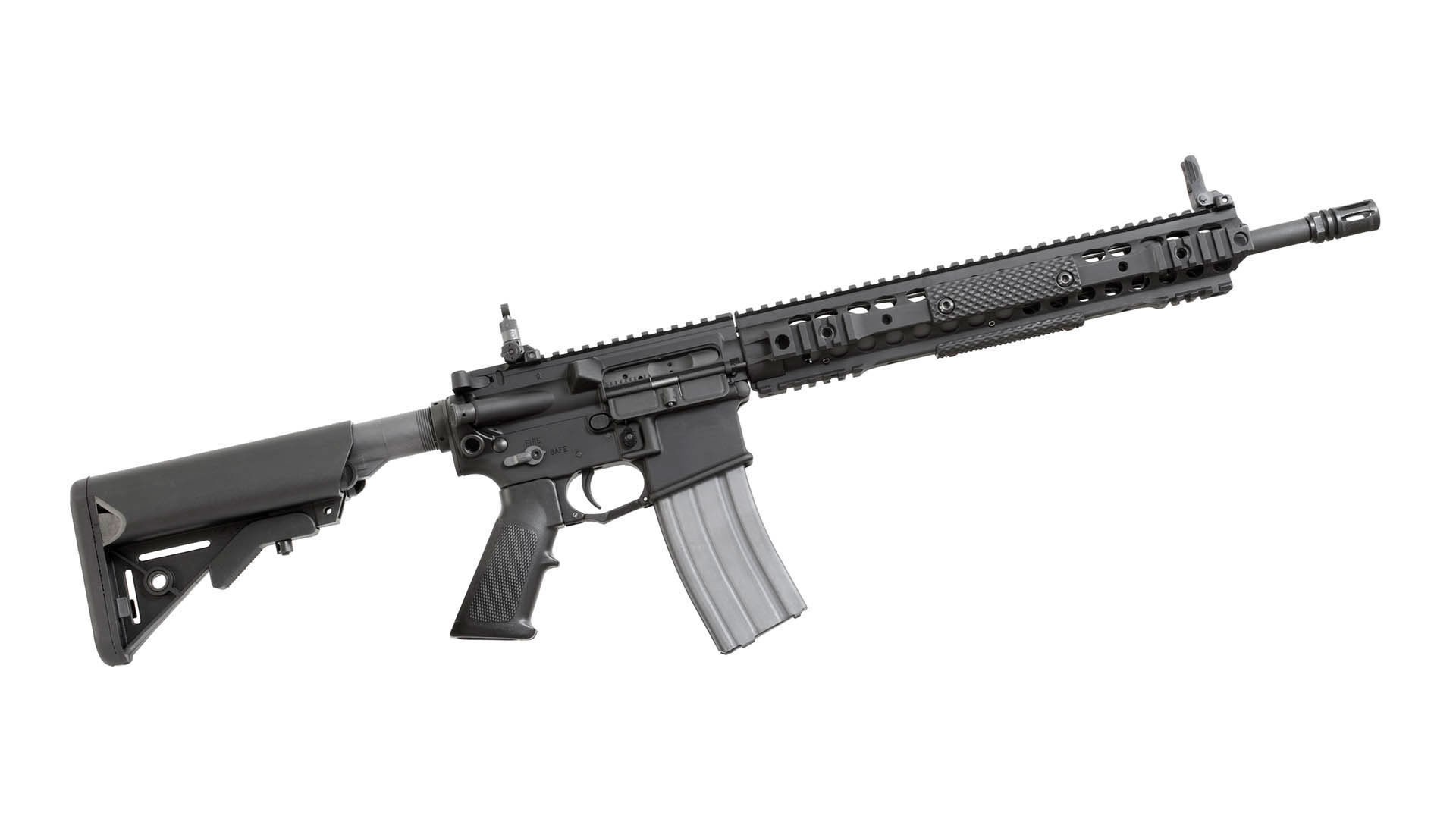 This Knight's Armament SR-15 carbine, shipped from the factory 10 years ago, wore flip-up iron sights. Today's models of the SR-15 still do, although furniture is now slightly different and M-Lok compatible.
High Cost
"…I think SIG and much of the industry realized that adding $50 to $100 to the cost of a rifle is not a value added for a significantly high number of rifle customers," explained Tom Taylor, SIG Sauer chief marketing officer and executive vice president of commercial sales. "Dating back several years ago, manufacturers began removing open/iron sights from rifles as the world started almost holistically using red-dot or even variable optics. Go to the range today, how many people have an open sight on their rifle? It is virtually 100 percent optics of some kind. I think manufacturers realized that they were putting open sights on rifles, only to have them removed and tossed on a shelf, box or even discarded. Another variable in looking back a few years—because iron sights we generally not being used—the first response was to replace quality/expensive open sights with inexpensive options, even using polymer at times. Then most of the industry realized even that was just a waste of money for manufacturers and customers."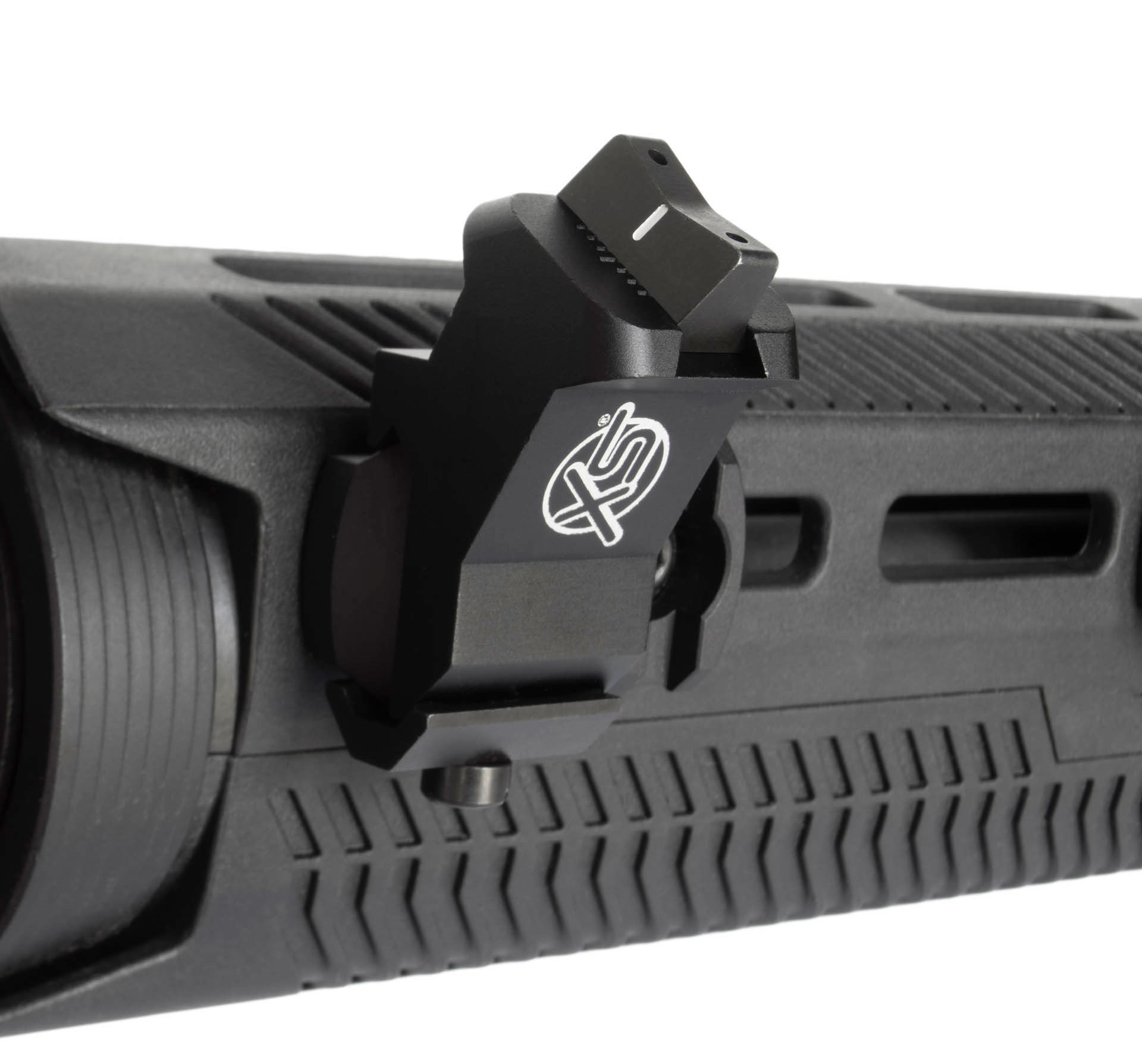 The versatility of today's iron sights shows in the offset, back-up versions from XS Sights.
The head of research and development at XS Sights—who requested his name be withheld—concurs with Taylor's comments on cost. "Iron sights on many commercial hunting rifles these days, especially on higher performance bolt-action rifles, are becoming rarer and rarer," he explained. "Mostly due to the cost of installing something that the gun makers feel the majority of their consumers are never going to use. If 99 percent of your expected users are going to slap a big optic your rifle, why have the extra expense, even to just drill and tap the holes?"
How it Began
The move to optical sights began in 1776, when noted artist Charles Willson Peale mounted a friend's telescope on his firearm and documented the process in his diary. With an eye relief of zero, he allegedly also discovered scope eye and set about, in February of that year, ""making [a] piece with springs to prevent the Eye being hurt by the kicking of the Gun."
The first real riflescope was invented sometime between 1835 and 1840 by American gunsmith Morgan James. Huge improvements followed, and a few were used by sharpshooters during the Civil War.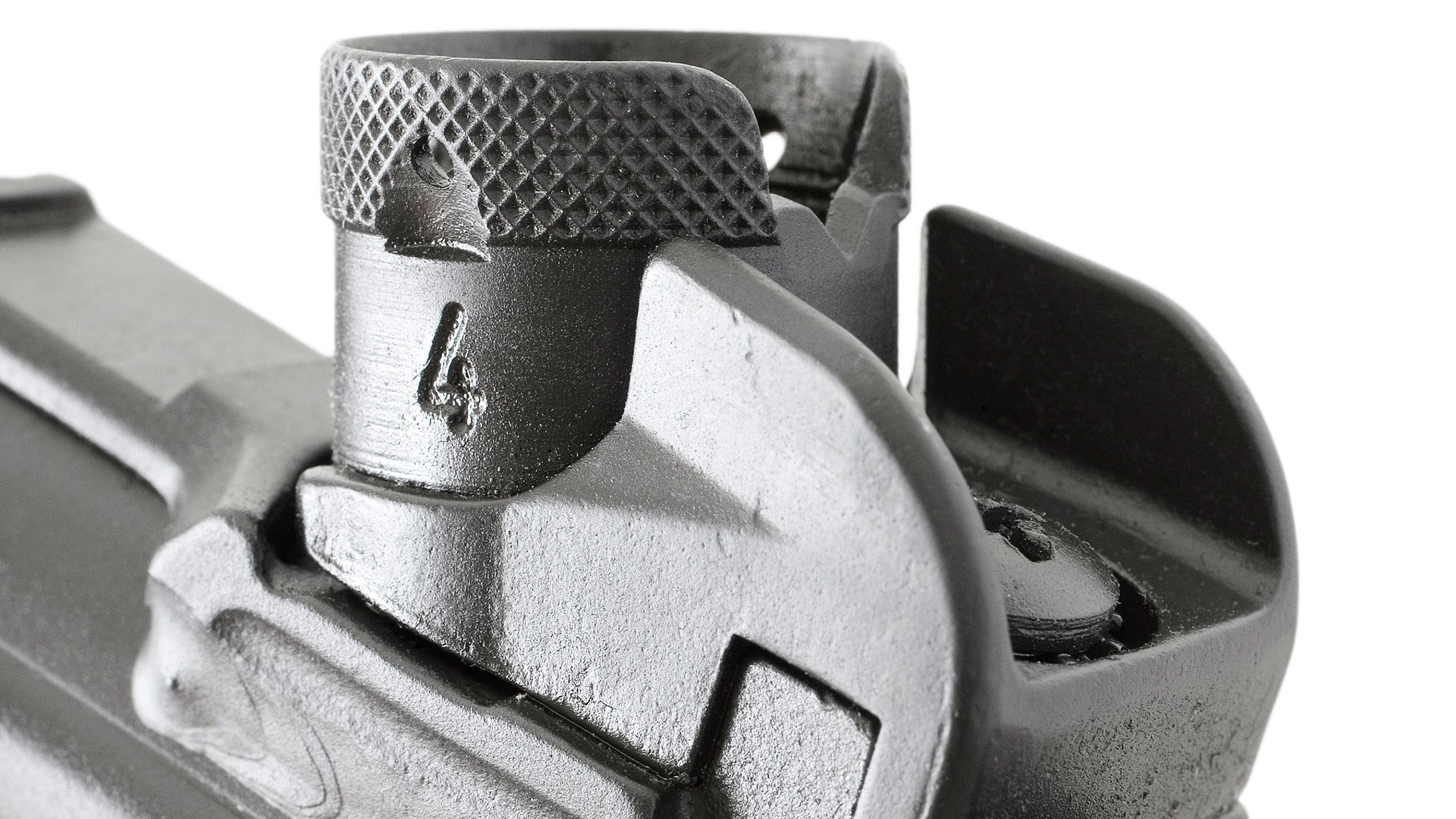 The variable aperture, windage adjustable rear sight worn on a Century Arms C93 demonstrates how versatile iron sights can be.
Today we have thermal, infrared and zoom ranges unheard of in the past. Add that once-thought-impossible 1X setting on a variable, and it's little wonder many enthusiasts today religiously engage close targets from behind glass.
The one development, perhaps above all others, that has endangered iron sights on centerfires came in 1995. That's the year the MIL STD-1913 was officially published, adopted and, ultimately, earned the beloved mil-spec Picatinny name.
Destined for Extinction
It all makes for a bright future for optics companies, but even they agree that iron sights won't disappear. "I tend to think of iron sights these days similar to how I think of manual transmissions in automobiles—they aren't going to go extinct, thanks to the efforts of the few enthusiasts that keep them alive," said Phil Harding, product manager for Burris Optics. "But they are on a quick path to becoming the minority, even on new guns. The rugged optics of today can be every bit as durable as a set of irons, and with advancements in lens quality, optical coatings and mechanical components, the benefit of magnified or illuminated aiming devices come with fewer drawbacks than ever. Especially impressive to me is the LPVO segment, which is characterized by low—usually 1x—magnification to an intermediate power that can be useful for a wide range of applications that might necessitate fast acquisition or extreme precision."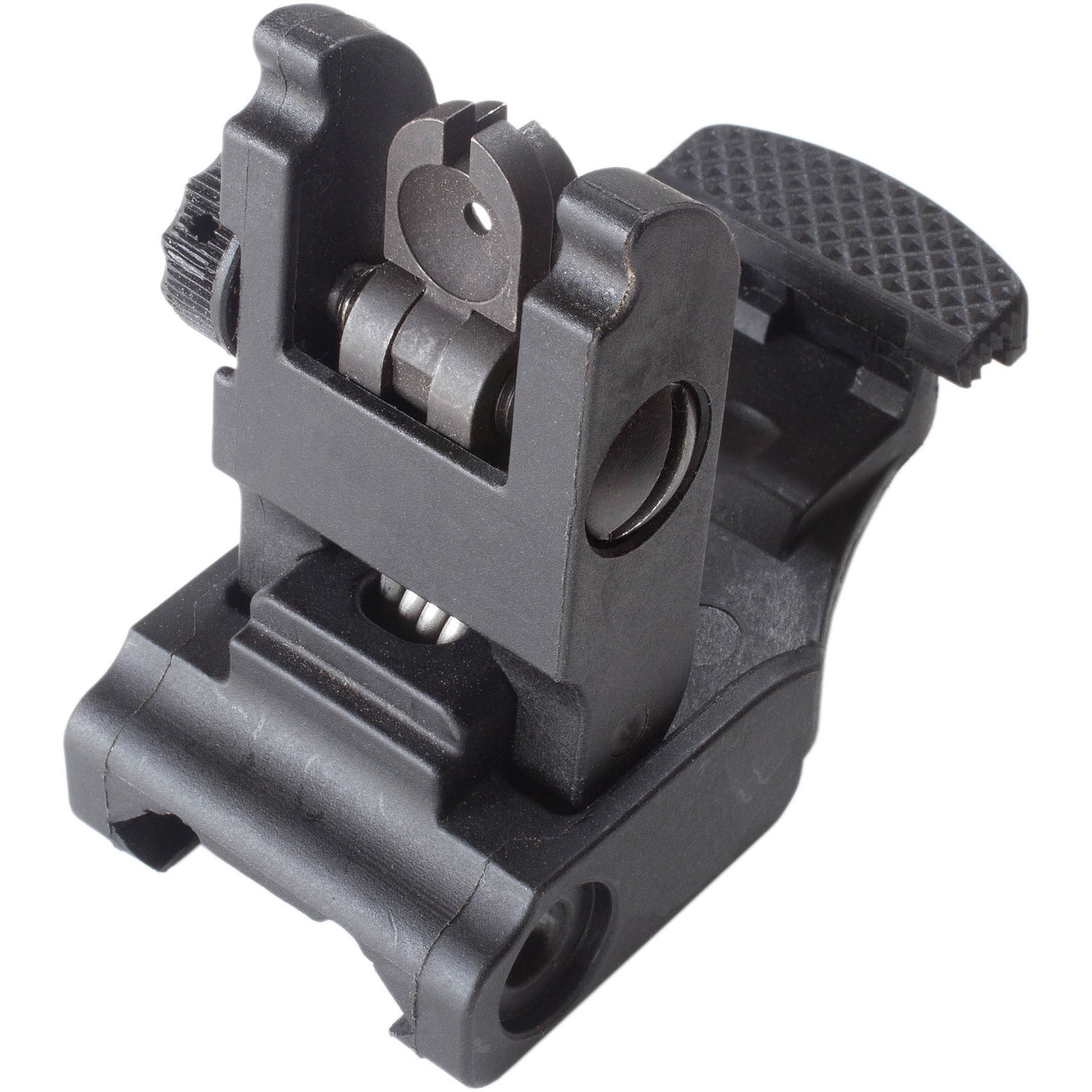 Windage-adjustable and easily removed, today's iron sights can even have a U-notch atop for quick target acquisition and peep below.
The number of iron sights doing backup duty in civilian hands isn't what you think, either, according to Taylor. "As for BUIS, I believe that is a very small portion of the market," he said. "Are they in use? Yes, but only by a small population, and if a customer is serious enough to want BUIS, they want a quality product."
Quality in iron sights is key and may be one factor contributing to their loss in popularity according to the XS Sight spokesperson. "More and more front sights are now one-piece castings—blade and ramp—held on by a single screw instead of the traditional dovetailed front ramp, held on by a pair of screws, that has a separate front sight blade fitted into the dovetail slot," he said. "From a manufacturing standpoint, the new way is much faster and cheaper. Only one screw hole to drill and tap, and someone doesn't have to press a front sight into the ramp. Drop the unit onto the barrel, twist in the one screw and the technician is ready to go to the next assembly. Many do not even bother to apply any thread locker on that single screw."
A variety of factors have conspired and led to the demise in those ramps to the rear, blades up front, ghost rings, tritium vials and fiber optics. According to the U.S. Army, though, a solid set of iron sights, installed correctly and used properly are not only reliable, but also capable of delivering lifesaving performance.