by
posted on October 20, 2015
Support NRA American Rifleman
DONATE
After 25 years of writing articles for gun magazines, I have to admit that I still get excited when new M1911s show up at my door for testing. And that is especially true when those M1911s come from high-end makers. Lately, I have been shooting and enjoying two Les Baer guns, the Hemi 572 and the Monolith Stinger Heavyweight.
I am often asked, with the plethora of current M1911 pistols available on the market today, why someone would be justified in spending more than $2,000 for a gun such as these from Les Baer Custom. The answer to that is, I believe, two-fold. To begin with, a truly custom pistol is built from only the finest materials. Parts that are made properly are less likely to break under the stress of years of hard service. In addition, they will not suffer malfunction-causing wear anywhere near as rapidly as the cheaper parts used in less expensive pistols. So, parts properly made from quality materials is part of the answer.
The second part of the answer has to do with how those parts are fitted. In the M1911 pistol, a key factor in accuracy and reliability has to do with how the frame rails, slide rails, barrel and barrel bushing mate with each other. When these parts are fitted quickly and cheaply, it tends to result in a loose fit that allows the parts to batter each other during recoil. The more battering these parts incur, the more quickly they wear out, resulting in declining reliability and accuracy. Custom-level firearms, hand fit by a skilled gunsmith, possess parts with tight interfaces that function reliably and accurately. 
Now some of you may not know that Les Baer is just as crazy about muscle cars as he is about quality firearms. And one of his favorites—and an honored part of his car collection—is the 1970 Chrysler Hemi Cuda. So it is really not surprising that he has named one of his "muscle" pistols the Hemi 572.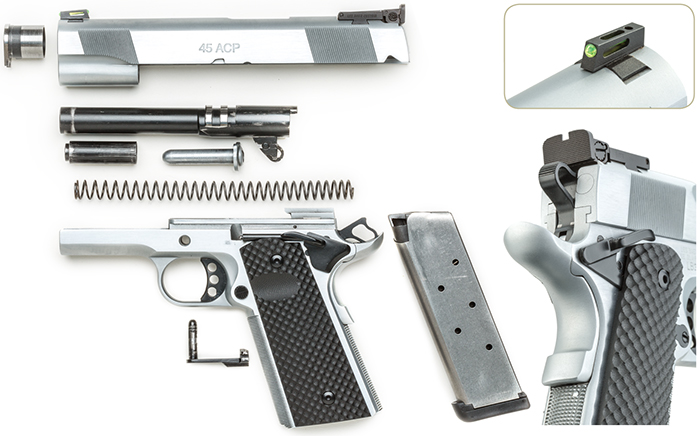 The Les Baer Hemi 572 is a full-size M1911 with a 5" barrel. The steel frame and slide are hard-chromed, while various small parts have a black DuPont S coating. The pistol's slide features a fully adjustable rear target sight, a green fiber-optic front sight and forward cocking serrations.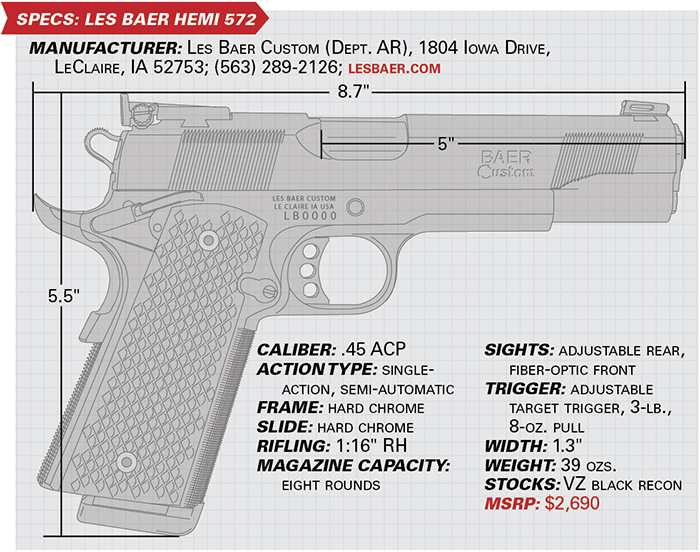 The frame has bilateral safeties and an adjustable target trigger. The pistol's frontstrap is textured in 20-line-per-inch (l.p.i.) checkering, as is the mainspring housing. The frame is topped off with black VZ Recon stocks. The Hemi 572 comes with two eight-round magazines.
The second Les Baer M1911 is a new variation of the popular Stinger pistol, called the Monolith Stinger Heavyweight. Built in stainless steel, this pistol has an officer-size frame mated to a Comanche slide and 4¼" barrel. Sights are the Rolo night sights with a fully adjustable rear and a post front dovetailed into the slide, with tritium inserts front and rear.
The Monolith Stinger Heavyweight's frame features a long dust cover that extends to the front of the pistol, with the intention of adding a little more weight to the muzzle of the gun. The frontstrap has 20-l.p.i. checkering, while the mainspring housing has vertical grooves. Bilateral safeties and an adjustable target trigger are also part of this package, while the stocks are an attractive checkered wood. The Monolith Stinger Heavyweight comes with three, seven-round magazines.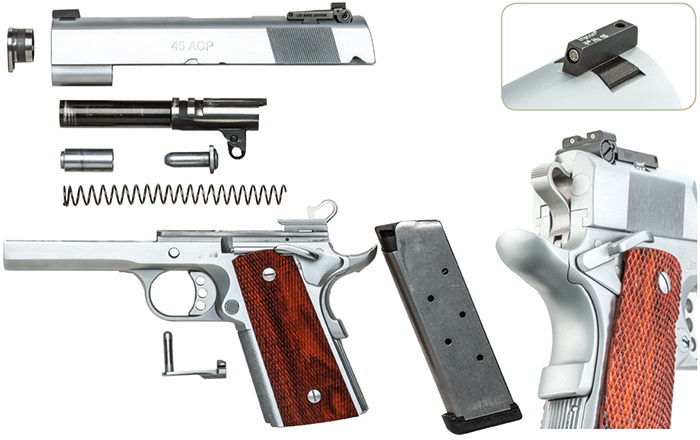 Attractive guns are nice only if they shoot well, however, so with that in mind, I gathered up three different .45 ACP loads that had proven very reliable in other M1911 pistols. They were a 230-gr. JHP load from Winchester, a 230-gr. +P JHP load from Black Hills and a 165-gr. Guard Dog from Federal. To test the accuracy of both guns, I shot them from a sandbag rest at 25 yds.
In the 5"-barreled Hemi 572, the highest velocity was obtained with the 165-gr. Federal Guard Dog cartridge, averaging 971 f.p.s. The most accurate load turned out to be the 230-gr. Black Hills cartridges, which averaged 1.68". It should be pointed out, though, that all three brands of test ammunition gave impressive accuracy, hovering around the 2" mark. Most importantly, no jams or malfunctions were experienced during my shooting of the Hemi 572.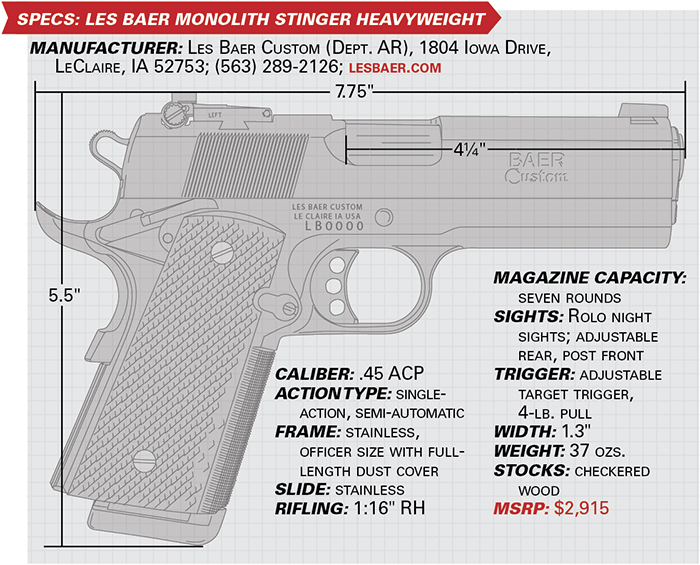 The Les Baer Monolith Stinger Heavyweight showed the same preference for ammunition, although the margin between the three was quite small. Not surprisingly, the highest velocity achieved was 944 f.p.s. from the Federal Guard Dog loading with its lighter-weight bullet. And, again, the best accuracy was obtained with the Black Hills +P load (2.18" average). Only a quarter of an inch separated all three test cartridges.
When shooting over sandbags, I really did not notice any value in having a full-length dust cover as found on the Monolith Stinger Heavyweight. However, once I set up some silhouette targets and started doing some speed shooting, the benefit became apparent. I happen to like a slightly muzzle-heavy pistol and find that it helps reduce muzzle flip just a bit, allowing me to get back on target just that much quicker. Like the Hemi 572, the Monolith Stinger Heavyweight exhibited no jams or malfunctions.
The Hemi 572 worked well in speed drills, too. I found the green fiber-optic front sight very quick to acquire for repeat shots. Especially on a defensive handgun, the fiber-optic front sights make a lot of sense because the bright color can be picked up so quickly. The downside to a fiber-optic front sight is that some are somewhat fragile and the fiber-optic pipe can become damaged or dislodged. This did not occur when I was testing the Les Baer gun, and my hope is that they have found a way to make the optic pipe more secure.
One minor problem that I ran into while testing these guns was that the Monolith Stinger Heavyweight was an extremely tight fit in several of my defensive holsters. I am sure that this is due to the extra steel and different shape of the pistol's dust cover. This is really no big deal unless the user chooses to carry the gun defensively without first ensuring that his holster will properly accommodate the pistol. Running through a few pistol presentations in the home, during dry-fire practice sessions, will help smooth things up and allow a proper draw stroke.
I especially liked the bilateral safeties on these Les Baer pistols. They are of the type originally designed by California pistol-smith Armand Swenson years ago. The right-side safety lever incorporates a toe that integrates with a slot in the right stock panel. I have found it to be a secure arrangement that seems to always function reliably.
I have a relatively small hand, and often have trouble activating the grip safety when shooting with my thumb on top of the safety lever. This is often even the case when the pistol being shot has a beavertail grip safety, with the so-called Speed Bump, as do these Les Baer M1911s. The reason is that the grip safeties are not always properly adjusted. A person with larger, beefier hands can generally overcome this poor adjustment while the rest of us may suffer. 
I did not find this to be a problem when shooting the Hemi 572 or the Monolith Stinger Heavyweight. The grip safeties on both guns had been properly adjusted, and I was able to use the high hold, with my thumb riding on the grip safety, throughout my tests.
As in other high-end M1911-type pistols, Les Baer's parts are not only fitted to very tight tolerances, but special attention is given to make sure that they interact with each other as smoothly as possible. In this manner, acceptable reliability and accuracy are maintained for years, through thousands of rounds of ammunition. 
I recall a number of years ago taking the first Les Baer M1911 that I ever received for testing to the range for function firing. When I took it out of the box, I had trouble pulling the slide back; the gun was so tight. One of my shooting buddies declared that the gun was too tight and would undoubtedly result in malfunctions. Well, I should have made him put some money up because I kept that pistol for quite some time, put several thousand rounds through it and never did experience a malfunction.
Starting with quality materials and then properly fitting them is the secret—if you want to call it that—to truly custom M1911s. All of the custom builders who deserve the title know that, and Les Baer is no exception. That is why they cost more, and that is why they are worth more.
The thing about Les Baer that most of his customers have figured out is that he is somewhat of a perfectionist. Nothing is going out the door of his shop unless he is satisfied with how it functions and shoots. He still takes the time to personally function fire most of the firearms that his company produces, and his employees know that the gun had better work as advertised.
Baer has also been building guns for as long as I have been writing about them. And it is refreshing to have a conversation with him about guns and still hear the passion in his voice after all these years. His enthusiasm and demand for excellence are still shared by many in the gun industry today, and it is what has made our industry so great. 
Good people and good guns are what keep me shooting and writing after all these years. And the Hemi 572 and the Monolith Stinger Heavyweight from Les Baer Custom are fine examples of that.