Support NRA American Rifleman
DONATE
From about the mid-1960s through the 1970s, the mid-frame .357 Magnum, double-action revolver was the most popular service firearm riding on a law enforcement officer's hip. The .357 Mag's stopping power was legendary, as well as being pretty legitimate, and the medium-frame size didn't break down an officer's arches. Smith & Wesson's Model 19 pretty much ruled the roost, though the Colt Trooper had its adherents too. Those who could, of course, slipped a Colt Python into their Sam Brownes, though the snake was technically not a medium frame.
Bill Ruger, who already had successfully gone against the grain with his autoloading .22 LR Standard Model, Single-Six and Blackhawk single-action revolvers, as well as his Nos. 1 and 3 single-shot rifles, figured he could muscle his way into part of the law enforcement and personal protection markets, too. Along with Harry Sefried and Henry Into, Ruger began working on the medium-frame double-action revolver project in 1966. Among Ruger's many talents were to design strength into smaller and smaller platforms and develop built-in modular sub-assemblies. What evolved from these fertile minds became known as the Security-Six, announced in 1970 and began shipping in 1972, and it was another great success story for Ruger.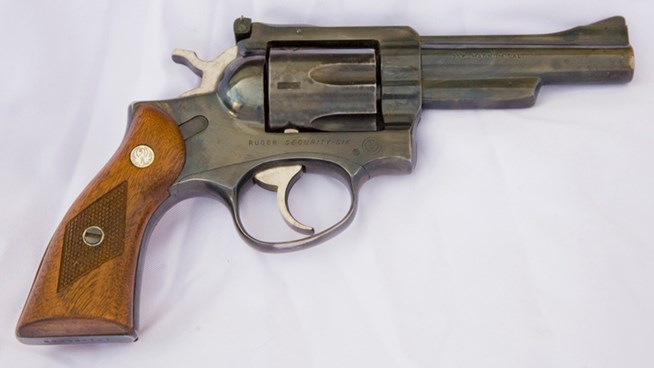 Ruger's penchant for building a strong double-action revolver centered on two things: a solid frame, sans a sideplate and using investment castings of modern steel alloys that could be heat treated to maximum strength after most of the machining work was completed. To wit this meant that the new double-action would have a slightly larger cylinder widow compared to the S&W Model 19 to accommodate a slightly larger diameter cylinder. The topstrap of the Security-Six was thickened a bit, as was the barrel shank, to better stand up to a steady diet of magnum loads. Keeping strength—consequently shooter safety—paramount, the engineering team found a way to offset the locking bolt notches, leaving more metal to support the weakest part of the firearm. Too, the locking bolt and hand were more robust. These small parts take quite a beating when the revolver—any revolver—is fired rapidly.
The grip portion of the frame bears a resemblance to the High Standard Sentinel, which, coincidentally, was also designed by Seifried. As with all Ruger firearms, the mainspring on the Security-Six is a coil spring, instead of the then-common leaf spring. Coil springs are used throughout virtually all of Ruger's guns, save the follower in its bolt-action magazine rifles. Coil springs are less expensive to make in quantity and more consistent in their quality than leaf springs.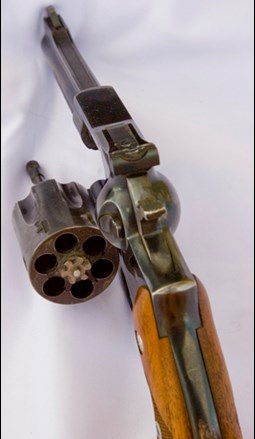 In order to control the Security Six with .357 Mag. loads there needs to be more weight than is found by beefing up the frame and cylinder slightly. Therefore Ruger hung a bull barrel with an underlug to protect the extractor on the frame. The barrel features a full-length rib and a ramp with a 1/8" Baughman-style front sight pinned to the ramp. At the rear is an adjustable sight.
When the Security-Six was being developed, much ado had been made about making revolvers safe to carry with all of its chambers loaded. Ruger in particular was in civil lawyers' sights because of some idiots carrying their single-action Blackhawks fully loaded and the hammer down on the firing pin, even if for more than a century people had been carrying their single actions with the hammer down on an empty chamber. Some of these boneheads managed to perforate their legs. The sharks—excuse me, civil lawyers—smelled money in the water. The money was Ruger's, and he engineered a way to protect it with a transfer bar system that prevented the hammer from touching the firing pin except when the trigger is pulled completely to the rear.
Another safety feature was an interlock that prevented the hammer from being cocked when the cylinder is opened. Conversely, the cylinder cannot be opened while the hammer is cocked. So while some of the sharks were successful in drawing small amounts of blood from Ruger, this transfer bar system stemmed the flow of blood, and the company was able to continue prospering.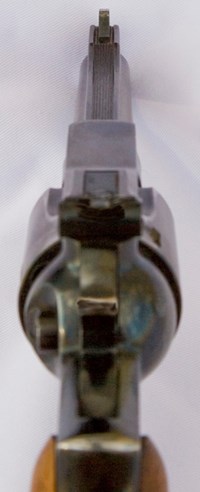 Finish on the carbon steel Security-Six was black oxide over a nice but not elaborate polish. In 1975 when the stainless Security-Six came to life, the appearance was a subdued brushed stainless steel. Hammers and triggers on the carbon steel revolvers had their backs finished in black oxide and their sides polished to a near mirror finished and left in the white. Stocks were oil-finished walnut with a diamond-shaped panel of checkering. Full-size target stocks came sometime later.
The Security-Six was an instant hit because in no small part its price was 16 percent below that of a S&W Model 19 and 25 percent below that of a Colt Trooper. Among those using the Security-Six were the U.S. Border Patrol; the former U.S. Immigration and Naturalization Service, U.S. Postal police, as well as numerous private security firms. Even the British Royal Ulster Constabulary Police Officers adopted it. Though in production only 16 years, more than 1.5 million copies were produced.
Variants included a fixed-sight version known as the Service-Six, the Speed-Six in either 2 1/2" or 3" barrel lengths, some very rare revolvers chambered in 9 mm Parabellum called the M109, some more chambered in .38 Spl. and a 6" barreled version often seen with sportsmen. 
Security-Sixes are not often found on the used market. Those that do show up are usually priced at from $250 for a well-used and well-worn specimen, to a little more than $300 for a more pristine copy.
The Security-Six was seldom seen on the target line. It wasn't necessarily due to a lack of accuracy, but because the double-action pull was so heavy and gritty. The single-action pulls didn't inspire confidence either, averaging more than 4 lbs. Both could be improved by a talented gunsmith, but by then you could have bought a Smith & Wesson or Colt. Ruger's Security-Six was meant for those who needed a powerful, tough and relatively lightweight revolver to save their hides. It did so, splendidly.