by
posted on July 18, 2019
Support NRA American Rifleman
DONATE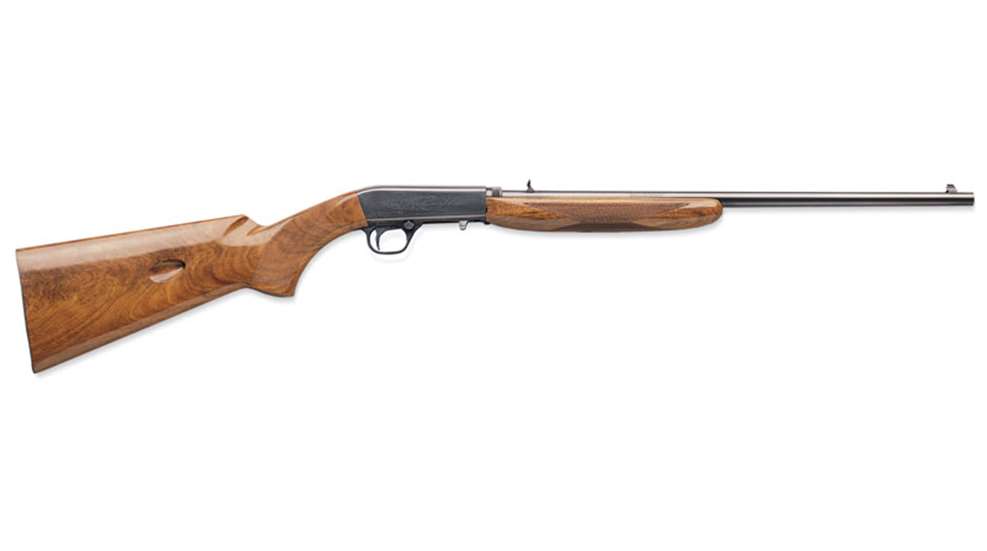 I would imagine that being one of 22 children from the same father had some real challenges. Children are always vying for attention, and when you are competing with 21 others, it must take something extraordinary to gain that attention. For John Moses Browning, it was his flair for understanding firearm design and manufacturing taught to him by his father. His passion for things mechanical combined with a stalwart Mormon work ethic put him in position to be the noted designer and gun maker that he is.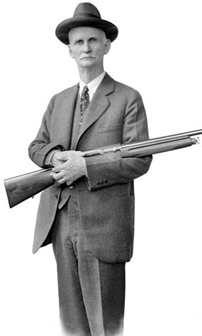 By the time 1914 rolled around, Browning had already designed a number of firearms. This was a time where shooting was an accepted national sport in America. Almost everybody shot for recreation. Then, as now, ammunition was often the limiting factor for people wanting to shoot all the time. Winchester had brought out a rimfire semi-automatic, the Model 1903; it was chambered in .22 Winchester Auto and designed by Thomas C. Johnson, but because of the proprietary cartridge it never really caught on with the shooting public.
Part of John Browning's genius was his ability to design and build a working prototype in short order. In June 1914, the winds of war were blowing hard in Europe as Archduke Franz Ferdinand, heir to the Austrian throne, and his wife, visited Sarajevo, only to be assassinated. Browning had just invented a pump shotgun that would become the Remington Model 17. With war looming, he no doubt was in some phase of developing the .50-caliber Browning Machine Gun. Betwixt these two he knocked out the first semi-automatic rifle chambered in .22 LR.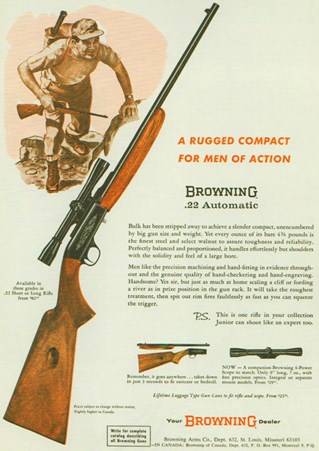 Christened simply as the Browning Semi-Automatic 22, or SA 22, he sent the manufacturing rights to Fabrique Nationale in Liege, Belgium. From the beginning, the SA 22 was a high-end rifle. The receiver was forged, the relatively massive bolt was beautifully machined, and the stock was nicely finished from European walnut, and hand checkered. It was a svelte rifle, capable of being shot accurately by even a relatively young boy. The rifle was a takedown—flip the rifle over, hold the bolt slightly open with the thumb of one hand, retract the locking button with the other thumb, turn the barrel assembly 90 degrees and it came apart nicely without any thing threatening to fly out of the gun under spring pressure. In addition to being easily portable, this feature allowed the rifle to be cleaned from the breech.
Like most of Browning's designs, the SA 22 is a remarkable melding of a simple yet efficient device, combined with grace and elegance. Operation is that of a simple blowback semi-automatic rifle. The only opening in the receiver is the bottom where the spent cartridges are ejected, making it equally adept for right- or left-handers. The tubular magazine rests in the stock where it is well-protected against damage. Some of the earliest examples had the cartridge insert opening on top of the stock, just behind the comb, but it was soon switched to the right side. The follower is latched at the butt. Opening and retracting it allows the shooter to fill the magazine with 10 .22 LR cartridges or 16 Shorts. The 19.25" slim barrel is topped with a brass-bead front sight and a folding-leaf rear. Early examples featured a wheel sight where a round, wheel-like device provided adjustments. The bolt has a small extension at its front that extends slightly below the receiver for cocking purposes.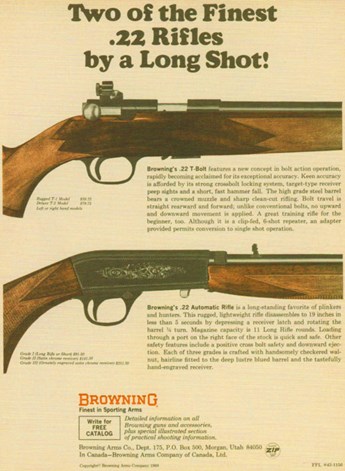 Production commenced in 1914, and—get this—the SA 22 has been in continuous production ever since. One hundred five continuous years is quite a run! One might think that equates into several million copies, but total production is just a bit north of 500,000 copies. The SA 22 has never been a gun found at discount retailers. It may be just a boys' rifle at 5.2 lbs., but it's a rifle for more sophisticated boys. Even the Grade I rifle has some light engraving on the receiver. Higher grades are lavishly engraved on grey receivers and adorned with well-figured wood.
As with many great designs, there have been knock-offs. Remington offered a lighter-weight version with a modified adjustment for headspace during takedown and reassembly. It also provided a shell deflector that hooked into the receiver and clipped to the trigger guard to deflect hot brass from the support arm. Remington's Model 24 was manufactured from 1922 until 1935. Norinco produced another knock-off imported to the U.S. by Interarms as the Model ATD, but it was a victim of the Clinton import ban.
Today, you can still buy a brand new SA 22 from Browning. They have been produced for Browning by Miroku since 1974, but the quality is awfully close to the FN guns. I had one for a while that I bought in about 1979. It was accurate and utterly reliable. With a little Weaver K4 scope on top I gave the ground squirrels in Star Valley, Wyo., a lot of grief for a few years. It was one of the very few guns I have traded away and not for very good reason. I thought I needed a detachable-magazine rimfire so I could keep up with my buddies when we gave the ground squirrels hell—another of my many transgressions of youth.
The Browning SA 22 is not like many of today's modern firearms. It isn't modular so it does not lend itself to a separate cottage industry of make believing it to be some gnarly machine gun. Receivers are still forged, the internals remain machined to a fine finish and steel parts are still blued, except for some higher grades that feature gold inlays and engraving with the surrounding metal left in the grey. Stocks are not composite (plastic), rather they are made from straight-grained walnut, again with hand-cut checkering. Higher grades feature higher grades of walnut and more stylish checkering patterns—in other words, this is an old school rifle. It is a rifle that should be transported from gun safe to field in a padded case, not simply thrown into the back of a pickup. She's a grand old gal and deserves the treatment reserved for a real lady.