Much like SHOT Show, the NRA Annual Meetings & Exhibits can be downright overwhelming. But unlike SHOT Show and ATA's "industry/professionals only" requirement, the NRA show is for consumers—in a nutshell, open to the public. More than 87,000 people attended the show and the aisles were packed with NRA loyalists, hunting and shooting experts and pro 2nd Amendment media types like me. I attended all three days and soaked up a lot of innovation sunshine. Following are a handful of buzzworthy products well worth the reputations that preceded them and the double-takes on the showroom floor.
SilencerCo Chimera 300
What's better than a suppressor on your AR-15? A can that's also compatible with your AR-10. The Chimera 300 suppressor system is designed to fit everything from .22 Hornet to .300 Win. Mag. and mounts easily on 5/8x24 and 1/2-28 barrel threading using Saker ASR mounts and muzzle devices. The Chimera 300 is also full-auto rated and barrel length requirements are noticeably non-existent. Why? The Chimera 300 is designed to be a one-stop-shop style suppressor perfect for virtually every rifle system you own—at least the ones you own with a threaded barrel. Sound reduction averages 125dB-136dB.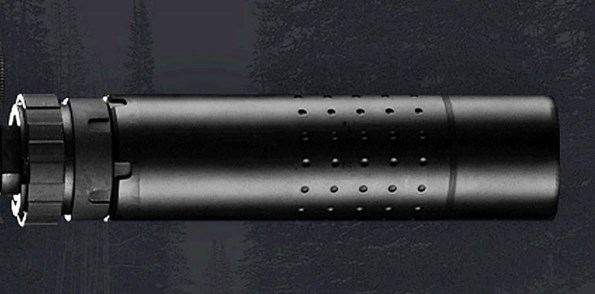 The only thing stealing the Chimera 300's thunder when I visited the booth was Donald Trump Jr. So what's a guy to do? I took a cool photo with Don Jr. then went to see a man about a can. The Chimera 300 comes in at 20.1 oz., 1.6" diameter, 6.9" length and an MSRP at $1,030. Yes, I'll own one of these, too!
Liberty HDX-350 Smart Vault
Over the past couple of years, gun safe innovation has become exceptionally buzzworthy. Case in point, Liberty's Presidential 50 features fully upholstered adjustable shelving, LED lighting, a dehumidifier, interior door organizer complete with Cool Pockets and a leather and velour jewelry door. Today's gun safes, Liberty's Presidential and Lincoln lines as perfect examples, are no longer large, empty, carpeted boxes… and neither are handgun vaults. Gone are the days of empty bedside vaults accessed by codes, spinning combinations and keys. One such bedside safe at the NRA Annual Meetings was the new Liberty HDX-350 Smart Vault.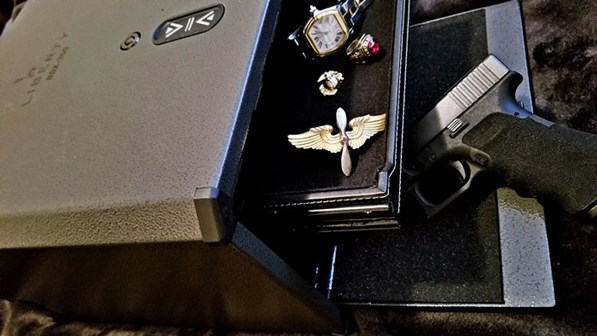 Like it's significantly larger brother, the Presidential safe, the HDX-350 is fabric-lined throughout and includes a rock solid, anti-pry, 14-gauge steel door; interior LED illumination; internal and external USB charging ports for your smartphone or other electronics; and a pull-out jewelry/valuables drawer situated directly above a roomy handgun storage department. The Smart Vault comes with keys but the system is designed for one-second biometric access, and stores up to 30 fingerprint profiles. MSRP: $349.
LUTH-AR MBA-3 Carbine Adjustable Stock
LUTH-AR has been a primary source for serious firearm owners and builders for a while now. Several of my personal rifles and build projects have included LUTH-AR MBA-1 and MBA-4 stocks; however, I had yet to spend any time looking at and holding the company's MBA-3 stock system. SHOT Show was my first opportunity and not only did I like what I saw, I'm looking forward to employing the MBA-3 on my next AR build project.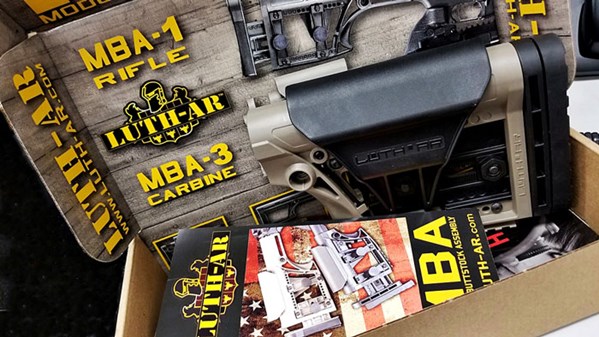 Unlike LUTH-AR's fixed MBA-1 and MBA-4 variants, the MBA-3 fits on a carbine-length stock tube for the same type of length-of-pull adjustability you're used to on traditional A4-style stocks. This is what appealed to me most—the must-have precision rifle stock features like micro LOP, comb-height and shoulder adjustments on a lightweight stock, which should appeal to anyone. The stock also includes a rubber buttpad, bottom-rail to attach a monopod or other accessory, and a QD sling mount. That's a heck of a lot in a stock with an MSRP of $159.95. And, if you're looking for build or upgrade accessories, LUTH-AR's Chubby Grip, premium switches, stock tubes, buffer assemblies and triggers are well worth considering. A company I thought was simply a stock manufacturer is closing in on one-stop-shop status and that makes a guy like me quite happy.
CAA Micro RONI Carbine Conversion Kit
The Command Arms Accessories (CAA) Micro RONI Gen 4 has been available for several years and continues to draw quite a crowd; of course, it is a pretty impressive piece of ingenuity and CAA continues to upgrade it—the 2018 variant being perhaps the best Micro RONI yet. So, what is a Micro RONI? In a nutshell, it's a full-fledged, yet compact, poly and aluminum constructed carbine-conversion chassis designed to accept a drop-in handgun, turning your gun into a shoulder-fired rifle in seconds without an iota of disassembly work.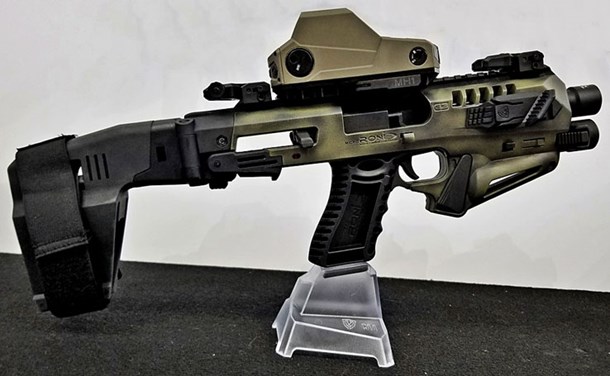 The Micro RONI includes a folding stock, ambi trigger-guard safety, extra magazine carrier, full picatinny top rail for an optic system and two side rails for accessories. New for 2018, the Micro RONI is now compatible with Glock Gen5 handguns. The latest variant also keeps the charging handle intact for more efficient employment, a modified ejection port to better accommodate subsonic ammo from sound-suppressed systems (opened more in front and rear), easy access to your handgun's slide stop and an angled barrel shroud for improved compatibility with sound and flash suppressors. MSRP for the CAA Micro RONI Gen 4 Carbine Conversion Kit is $299.
Propper Kinetic Apparel Line and 720 Belt
If you're going to preserve order, protect property, enforce regulations or spend a few days at the NRA Annual Meetings & Exhibits, you might as well be comfortable, and Propper was there to help some good folks out. Among my favorites in the booth this year were Propper's Kinetic Pants and Shirts, for me short sleeve, and 720 belts.
The Kinetic line includes a "mechanical stretch fabric" aptly called NEXStretch, and boasts rugged yet lightweight ripstop construction designed to move and yes, stretch to some extent, so you can enjoy a free, complete and comfortable range of motion whether your activities include running down a suspect, dynamic range training, competitive shooting, recreational plinking or bumping around town.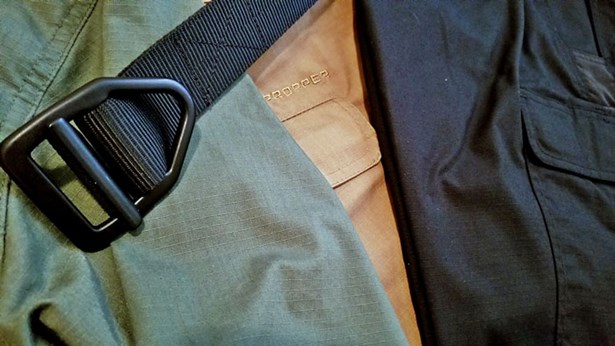 Kinetic pants and shirts feature a durable water repellent (DWR) treatment so water and other liquids bead and run off the fabric and the pants include a Gripper waistband—a welcome feature for guys like me who can stand to lose a few pounds. The pants feature full-size cargo pants, front and back pockets, front cell-phone pockets and even side EDC pockets. Shirts include front chest pockets, including a pen pocket, and a concealed vertical front pocket along the placket.
The 720 Belt is constructed of rigid, dual-layered webbing, hook & loop securing and an aircraft-grade aluminum V-ring buckle. I tried on this buckle in the Propper booth and was pleasantly surprised with its comfort. While the belt was fairly rigid, it gave just enough to accommodate my size. The buckle system allowed for infinite adjustment and did not slip. The extra length and robust hook-and-loop system are designed for easy and secure equipment mounting. A side note here, the belt seems to run large. Consider sizing down one level. MSRPs average $49.99 for the pants and shirts and $29.99 for the belt.
While the Propper apparel I currently own is incredibly comfortable, the thing I love most is the quality of their clothing at the price point they offer—there doesn't seem to be anything I don't like in the lineup, including the price. In my book, that speaks volumes for a company's character. Back to the belt … I must own one!
ArmourLite Thin Blue Line Watch
Armourlite watches are among the toughest precision watches available. Whether you're a Special Forces operator, first responder, weekend warrior, hunter or just someone with an affinity for fine watches, an Armourlite is a must-have. In a watch world filled with mineral crystal (>350 Vickers) and Hardlex crystal (>650), Armourlite watches rule the roost with the strongest watch-faces in the industry (Vickers rating of 6,000). Even the company's IsoBrite line boasts rock-solid sapphire crystal watch faces with a Vickers rating of 1,200. And, while the sheer brute strength of Armourlite watches make them a great option for the guys in the world's toughest jobs, I do believe that with Armourlite's use of T25 tritium (T100 in their IsoBrite line) hands and face markers, coupled with incredibly long battery life, makes these watches the only real choice for a watch you can stake any mission upon.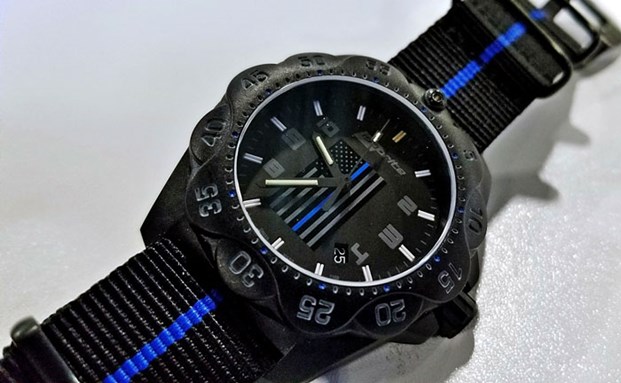 For 2018, Armourlite's limited edition Thin Blue Line watch celebrates those who don a badge and uniform daily in the best interests of the citizenry they selflessly serve. To ensure the Thin Blue Line watch was fit for the wrists of the world's peace officers, Armourlite collaborated with active law enforcement officers. The resulting watch is feature packed, including a 39.5 mm blue and gray face, T100 tritium markers, Swiss Ronda 505 movement, carbon-fiber reinforced polycarbonate case, unidirectional ratcheting diver bezel with a tritium marker, scratch-resistant sapphire crystal (1,200 Vickers) and a 45-month battery. The watch is waterproof down to 200 meters, weighs just 3 ozs. and includes two extra bands: black and thin blue line themes. The Armourlite Thin Blue Line retails for $499; however, a discount is available for active and retired law enforcement officers.