by
posted on October 15, 2015
Support NRA American Rifleman
DONATE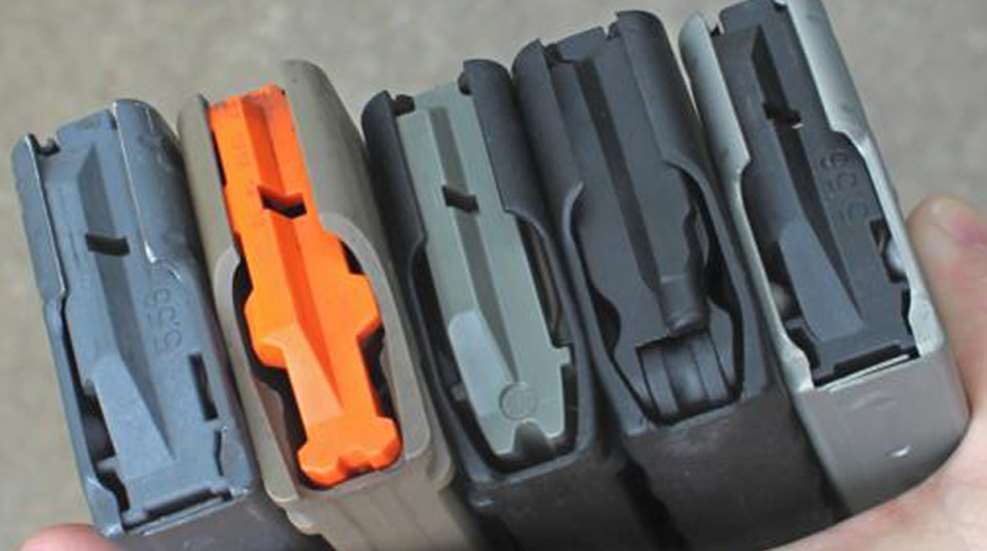 We spend a good deal of time discussing AR-pattern rifles these days, also known as Modern Sporting Rifles (MSR). Information about ammunition and accessories is easy to find but one subject that deserves a little more attention is AR magazine selection. This can be a tricky topic to address because even though manufacturers pay close attention to quality control and dimensional specifications, some magazine makes and gun models may not function reliably together. Then again, not all AR magazines are created equal. 
It's not possible to point to a single universal magazine solution for all AR platforms. But I can tell you about a few of the quality magazines I've had positive results with across multiple formal gun tests and casual shooting expeditions over the last few years. The AR test platforms include rifles from Windham Weaponry, Diamondback Firearms, CMMG, Ruger, WMD and Troy Industries.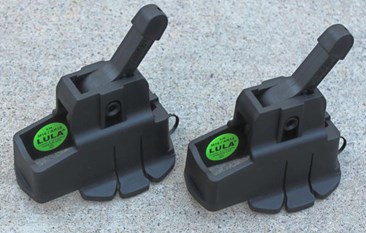 Before we get to the magazines, here's a tip to avoid busting your thumbs loading them up at the range. The lever operated Maglula Lula lever-action speed loaders are simple to operate, reliable and inexpensive. Available for .223 and .308 magazines, they are just the right size to drop into a range bag or ammo can. These devices have worked flawlessly with every magazine with which they've been paired. 
1. Brownells AR-15 & AR-10
Among the first AR-15 magazines I ever purchased in quantity, the Brownell's in-house AR magazines have proved to be a solid investment. The 5.56/.223 models have been on the market for more than 10 years. The magazines sold commercially are made on the same machines and meet the same specifications as those constructed to fill military contracts. Every component employed is constructed of mil-spec materials and manufactured according to ISO quality control standards. The welded aluminum body magazines feature a matte grey hard-anodized finish and a dry-lube coating that does not attract or hold dirt like oil-based lubricants.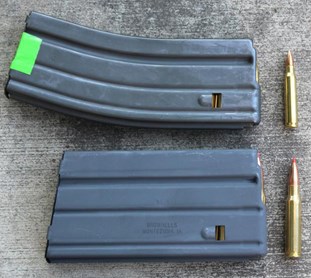 A fiberglass filled anti-tilt polymer follower is paired with a dry-lube coated chrome silicon (CS) spring which is certified corrosion-resistant and less likely to suffer from spring set.  These magazines are available in 5-, 10-, 20- and 30-round configurations. Brownells recently started shipping a new straight body 20-round magazine for DPMS LR-308 or SR25 pattern rifles chambered in 7.62 NATO/.308. Constructed with the same materials and methods as 5.56/.223 models, this addition to the company's magazine lineup is proving to be just as tough and reliable as its predecessors. MSRP: Starting at $13.99
2. C Products Defense CPD 30 RD .223/5.56 SS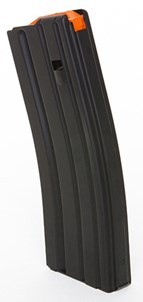 C Products Defense has set out to build a 30-round stainless steel magazine for 5.56/.223 AR rifles designed specifically to outperform the USGI aluminum body magazines currently issued to military personnel. The body is constructed using 400 Series stainless steel and treated proprietary matte black carbon coating which bonds with the metal of the magazine at a molecular level to form a highly scratch resistant surface. This finish also decreases the coefficient of friction to provide greater lubricity for reliable function in dirty conditions.
The bright orange polymer anti-tilt follower, an in-house design, is teamed up with a reliable mil-spec stainless steel spring which resists spring set and corrosion. The interior geometry of the magazines has been reengineered to guarantee that each of these magazines can be fully loaded to 30-rounds and still lock in place when inserted against a closed bolt (USGI magazines often have to be loaded down to 28-rounds to function reliably). With the same exterior dimensions and styling as the USGI magazines, these stainless steel magazines will comfortably fit into the wide variety of carry pouches already on the market. C Products also provides aluminum body magazines and several additional AR caliber options including 7.62x39 mm, 6.8 SPC, 5.45x39 mm and 7.62/.308. MSPR: $13.99
3. Hex Mag HX30-AR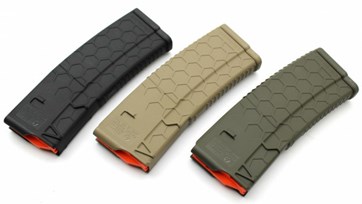 Hexmag is a manufacturer which has gone out of its way to design AR magazines that are reliable, easily customized and user friendly. The lightweight polymer body is molded with a unique and effective honeycomb pattern on the grip surfaces in color options including black, flat dark earth and OD green. The anti-tilt follower is designed to help prevent shooting residue from feeding back into the rifle. The follower is supported by a 17-7 PH stainless steel spring that allows for long term magazine storage while fully loaded. No tools or bullet tips are required to disassemble these magazines.
The feature that sets the Hexmag products apart from the crowd is the drop-in custom color options for the followers and floor plate locks, known as the Hex ID System. Factory followers and locks are a high visibility orange but can be quickly replaced using other colors including green, red, pink, yellow, blue and black. This allows the user to easily identify dropped magazines or to color code for specific ammunition types. Hexmag also provides hex shaped self adhesive grip tape in black and gray for improved grip purchase. The Hexmag has been tested and approved by the National Tactical Officers Association (NTOA). MSRP: HX30-AR Magazines: $14.99; HexID 4-packs: $11.99; Grip Tape: $9.99 per sheet
4. Magpul PMAG GEN M3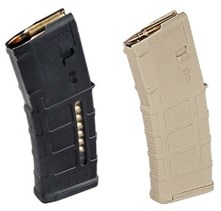 Since the first PMAGs were released in 2007, Magpul Industries has kept improving upon a great design. The most resent version of the PMAG series, the GEN M3, incorporates easy tool-less disassembly for cleaning and an updated impact and crush resistant polymer construction for added strength and durability. Modified dimensions allow for greater compatibility with non Colt-spec rifle platforms. External features include an over travel insertion stop on the spine, ribbed gripping surfaces, along with front and rear texturing for positive magazine handling and a flared floor plate. Paint pen dot matrix panels have been added to the bottom of the magazine body to allow for identification marking.
Internal features include constant-curve internal geometry for smooth feeding, a self-lubricating anti-tilt follower for increased reliability and a durable USGI-spec stainless steel spring. AR owners have several GEN 3 PMAG configuration options to choose from including magazine bodies with or without transparent windows for keeping an eye on the round count. Select from 10-, 20-, 30- and 40-round configurations in a variety of colors for 5.56/.223 platforms or 10-, 20-, and 25-round models for 7.62/.308 in Black or Sand. The Sand color option uses a polymer that accepts common fabric dyes for custom finishes. Each magazine arrives with a pop-off cover to help keep dirt out of loaded magazines in transit. MSRP: Starting at $13.95
5. Troy BattleMags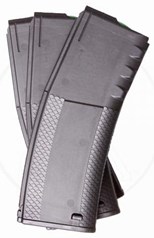 The Troy BattleMag is a 30-round box magazine engineered to function with all M4, M16/AR15, HK416 and FN SCAR 5.56/.223 rifles and carbines. Fitted with a green anti-tilt follower, the body is formed from a proprietary military-grade polymer formulated to resist damage caused by impact and chemical or biological agents. The sides are smooth with an aggressive fish scale pattern texturing along the front and back edges for a positive grip in wet or muddy conditions.
The bolstered floor plate is set flush to the body to prevent it from catching on other magazines when riding in multi-mag pouches. The feed lips are reinforced for reliable operation and to prevent them from spreading apart when the magazine is kept in a loaded condition for extended periods of time. Each magazine arrives with a flush floor plate lock installed along with an extended rubber lock (a $5 value). When installed, the extended lock acts as a convenient pull handle and a shock absorber when the magazine is dropped to the ground. BattleMags are available in black, Flat Dark Earth, Coyote Tan and OD Green. 10-round configurations are also available. MSRP: $15
Extra: X-Products AR Drums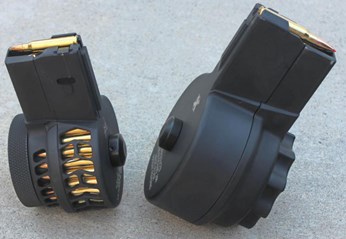 X-Products provides a series of rugged single-stack, aluminum body drum magazines for AR-15 pattern platforms. The two magazines shown here are the 50-round X-15-S Chevron for 5.56 NATO/.223 Rem rifles (Left) and the 50-round X-25 magazine for SR25/DPMS pattern rifles chambered in 7.62 NATO/.308 Win (Right). Both drum calibers are shorter than standard 30-round box magazines. Customers can choose from solid-side drums to protect ammunition from exposure to the elements or skeletonized models to reduce the drum's weight, provide a unique appearance, and to make it easy to keep track of how many rounds remain inside.
The only polymer inside these magazines is used to form linked bullet style flexible followers. The rest of the magazine is constructed of die caste machined aluminum and steel treated with a matte Cerakote finish for reduced friction and reliable operation without lubricants. Using the patent-pending front mounted operation wheel relieves the spring tension on the follower to make loading the magazines easy to do. These drums are sized to fit snuggly into AR magazine wells to keep them steady during recoil. X-Products drum magazines are not the least expensive option on the market but they're built here in the USA to provide years of enjoyable shooting with a lifetime warranty.  MSRP: X-15-S Chevron(.223) $310, X-25 (.308) $295]