by
posted on March 17, 2016
Support NRA American Rifleman
DONATE
Founded in 1995, Bond Arms was launched with the idea that the Remington Model 95 over-under, single-action derringer could be transformed from an Old West anachronism into a modern defensive handgun. Along with other design improvements, including a beefed up stainless-steel frame and integral safety features, the Bond pistols ship with removable hinge pins that allow the double barrels to be traded out quickly and easily.
Although Bond Arms has never been shy about advertising the caliber conversions available for this platform, folks may not realize just how many interchangeable barrel options the company has to offer. With prices starting at $130, the barrels are available in two finishes (matte and polished) and four different lengths including 2.50", 3.00" 3.50" and 4.25" models. Add to that 14 different chamberings capable of firing 20 different rimfire, revolver, pistol and .410 cartridges.
Bond Arms doesn't manufacture every caliber in all four barrel lengths, but trust me, there are plenty of cool options to work with. Here are just a few of the interesting and unusual caliber conversions available to choose from:
1. New .380 ACP Barrels 
A few of years ago, Bond Arms released the Backup—a compact model with stubby 2.50" barrels chambered in 9 mm and .45 ACP. These pistols were designed in response to customer requests for an easy to carry option which shoots the same two calibers often used in popular defensive semi-auto pistols. But what about folks who prefer pocket pistols chambered in .380 ACP? This year Bond Arms has caught up with the requests of the pocket-rocket crowd by re-introducing the 3.00" Defender barrel and adding a new 2.50" Mini barrel in .380 ACP. Although the recoil produced by .380 ACP ammo is less pronounced than 9 mm, it can still be a bit snappy with hot loads.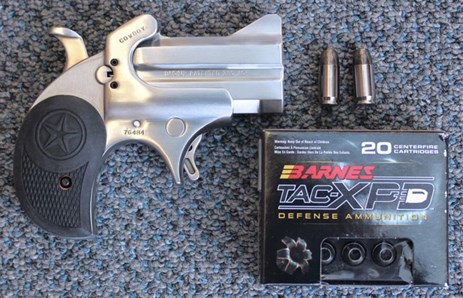 2. The Cowboy Action .44-40 Winchester 
The venerable .44-40 Win., also known as the .44 WCF (Winchester Center Fire) and .44 Largo, was introduced by the Winchester Repeating Arms Company in 1873. As the company's first center-fire cartridge, it was promoted as both a rifle and revolver round and soon be became a popular option. Chambered in .44-40 WCF, the Winchester Model 1873 has been called "The gun that won the West." 
Today, for hobbyists, historians and cowboy re-enactment enthusiasts who want to keep the .44-40 WCF alive, Bond Arms offers a 3.00" caliber conversion barrel. The Black Hills Ammunition 200-gr. round-nose flat point lead cowboy load is fun to shoot, giving a good solid thump to the shooting hand without being uncomfortable to work with. Available in popular approved Single Action Shooting Society (SASS) calibers, including .45 Colt and .357 Mag./.38 Spl. as well as .44-40, the Bond Arms pistol has been used to win over a dozen SASS championships.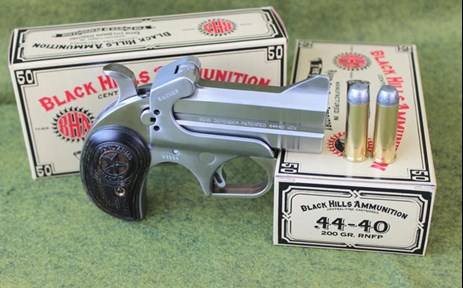 3. The "Long Slide" 9 mm
Plenty of folks are happy with the short 2.50" Backup barrels because they're easy to carry. But I think one of the most enjoyable, fun-at-the-range options the company has to offer is the 4.25" barrel chambered in 9 mm. Despite all of the recent fluctuations in ammunition prices, 9 mm remains one of the most affordable center-fire pistol cartridges to shoot. When loaded with a good practice load, like the Winchester USA 115-gr. full-metal jacket, the "long slide" is peppy enough in the recoil department to be fun and you don't feel like you're shooting a hole in your wallet with each pull of the trigger.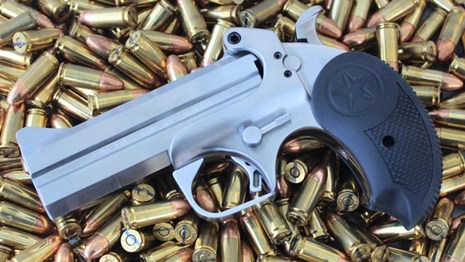 Like the other semi-automatic cartridge barrels from Bond Arms, the 9 mm options do not have an extractor. Luckily there's no need to pry out spent rounds with a tool or fingernail. The base of a spent 9 mm cartridge case slips right into place to be used for loosening both chambered cases at the same time.
4. .327 Federal Magnum 
Bond Arms is one of the few manufacturers still offering an option for this flexible (if not widely popular) caliber. Manufactured in the 3.00" Defender barrel only, it's the smallest and lightest .327 Mag. in production. This barrel will also safely fire the .32 S&W Long cartridge, for a powder-puff level of felt recoil, and the .32 H&R Mag., which is available topped with hollow-point bullets loaded to moderate levels of felt recoil. As for the .327 Fed. Mag., the amount of kick it produces changes a good deal depending on the load fired. The Federal Premium reduced recoil Hydro Shok loads with 85-gr. bullets produce moderate recoil. However, the heavier 100 gr.- to 115-gr. rounds will give your wrist the same kind of workout as firing light bullet weights from a .357 Mag. conversion barrel of the same length.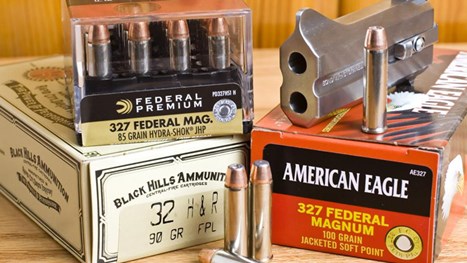 5. .45 Colt-Only Barrels
Because of their flexibility, the dual-caliber .45 Colt/.410 shotgun shell models are among the most popular barrels sold by Bond Arms. When loaded with .410 birdshot shells, these pistols are a handy option for dispatching poisonous snakes and vermin at close range. However, with the chambers bored out to make room for 2 1/2" or 3" .410 shells, the bullets fired from .45 Colt cartridges have to travel down a stretch of barrel without any rifling. This causes some loss of velocity and accuracy.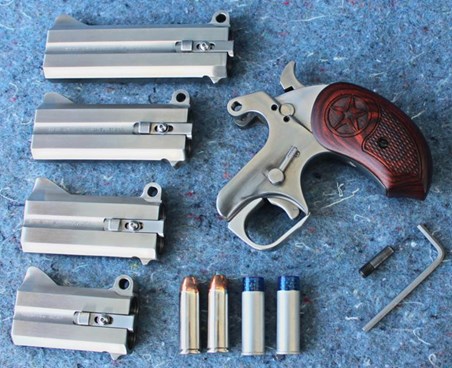 For those who want to squeeze the most performance possible out of modern .452-cal. jacketed bullets, or are just not interested in shooting .410 shells, then the dedicated .45 Colt barrels are the way to go. Available in all four Bond barrel sizes, these models contain rifling that continues the entire length of the bore. If you need to deal with venomous vipers, Bond Arms' customers have reported that CCI Ammunition's .45 Colt Pest Control shot shells topped with blue plastic capsules filled with 150-gr. of #9 birdshot work nicely.
If you have any concerns that changing the barrel length or caliber of your Bond Arms pistol will leave you without a compatible holster, have no fear. The company provides holsters in a variety of shapes, sizes and materials to fit all four barrel lengths and both trigger guard configurations. Shown here is the BDS (left), a complete leather horizontal shoulder rig, and the BATB leather belt slide holster with thumb-break retention strap. Both are ideal options for field use or concealed carry. To learn more, visit bondarms.com.