Support NRA American Rifleman
DONATE
Gallery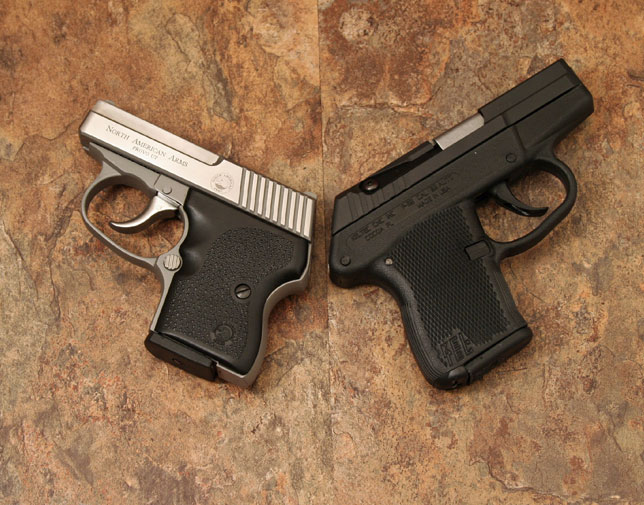 The North American Arms Guardian & The Kel-Tec P-32
The North American Arms Guardian (left) and the Kel-Tec P-32 (right) are two tried and true pocket .32 ACP pistols. The Guardian has been protecting folks since 1997, and the P-32 has been available since 1999. The Guardian takes its design cues from the Seecamp, while the P-32, and its big brother the P3AT, has been the inspiration for the recently released Ruger LCP.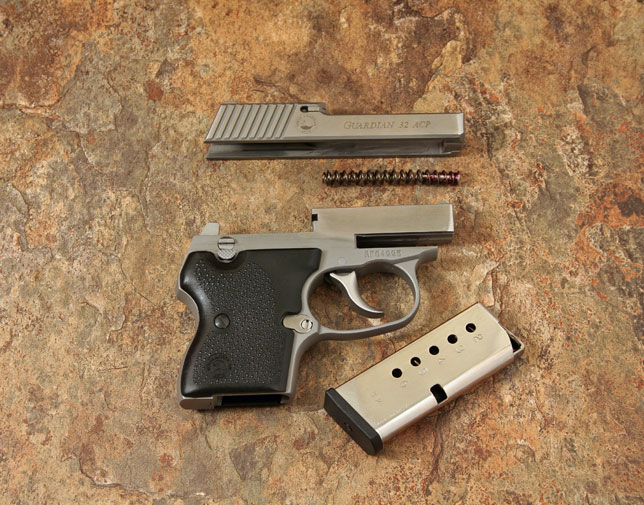 Inside the Guardian
The Guardian is quickly and easily disassembled by pressing a frame-mounted release button to reveal its four major components: slide, recoil spring assembly, frame with fixed barrel and magazine.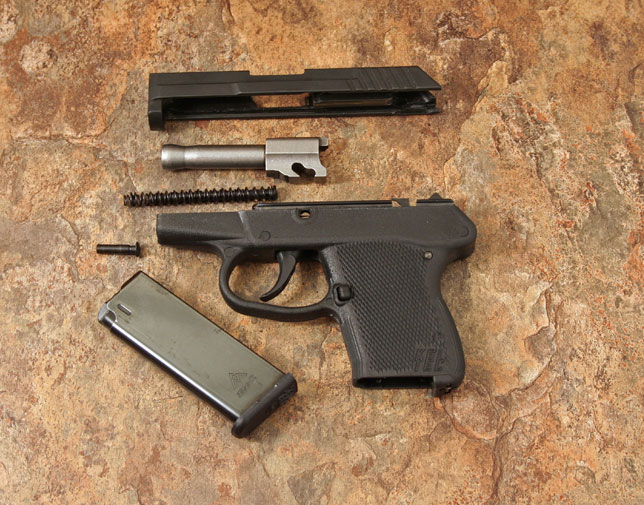 Inside the P-32
Removing a frame-mounted pin and easily disassembling the P-32 displays its Browning style tilting barrel, recoil spring assembly, frame, slide and magazine.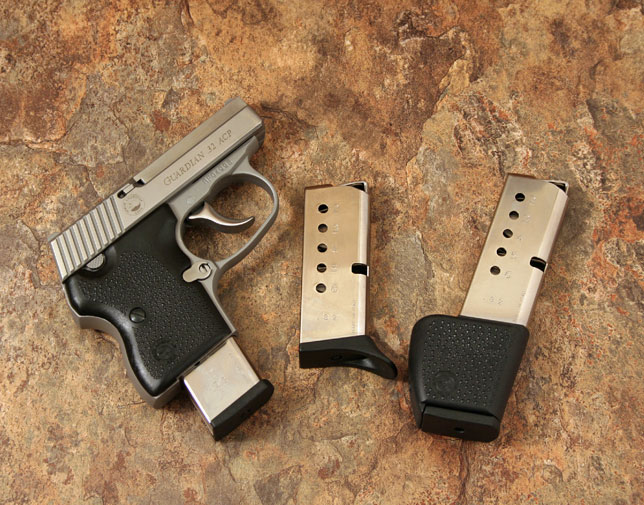 Guardian Magazine Options
Unlike the Seecamp, the Guardian can reliably fire a variety of ball and hollowpoint ammunition. The pistol arrives with two, six-shot magazines, one with a finger rest, and one with a flat base. Ten-round magazines, fitted with a grip extension, are also available for use with ball ammunition only.
P-32 Magazine Options
The P-32 arrives with one magazine fitted with a flat magazine base. Kel-Tec also provides finger rest bases, aluminum +1 magazine extensions and 10-round magazines fitted with a grip extension. All four magazine types will feed ball and hollowpoint ammunition.
Ammunition Options
Just because the .380 has leapt into the limelight recently doesn't mean ammunition manufacturers have forgotten the decades of .32 ACP pocket pistol popularity. Plenty of practice-grade ammunition options are available. For defense, long time favorites, like Winchester's Silver-Tip Hollow point, stand side-by-side with recent bullet designs like the Cor-Bon DPX, Extreme Shok EPR and Hornady XTP. (From left to right: Blazer 71-grain TMJ, Federal American Eagle 71-grain FMJ, Fiocchi 7-grain FMJ, PMC 7-grain FMJ, Winchester 7-grain FMJ, Cor-Bon 60-grain DPX, Extreme Shock 60-grain EPR, Fiocchi 60-grain XTP, Hornady 60-grain XTP, Winchester 60-grain STHP)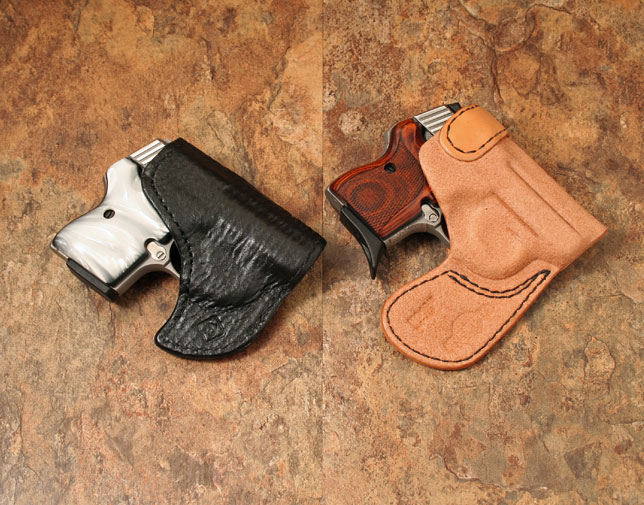 Guardians Ride in Style
An important part of proper pocket carry is having the right holster for the job. North American Arms provides a variety of carry systems, including rugged pocket protectors like the molded Aker black shark skin holster and the Mitch Rosen cow hide holster. The handsome hardwood and synthetic grip sets shown here are provided by Hogue Gun Grips.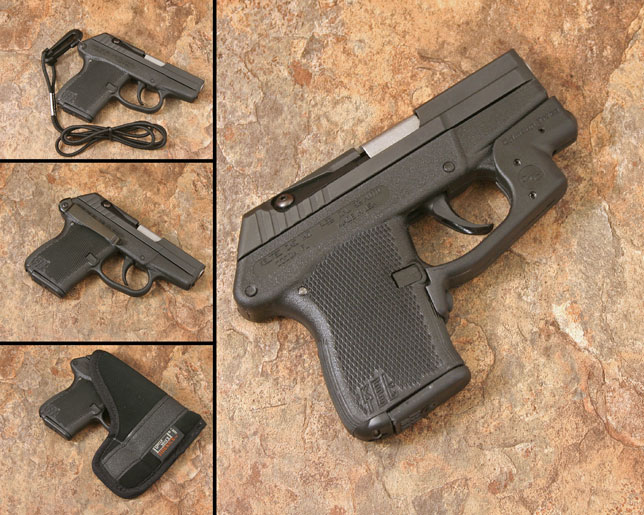 P-32 Accessories
The light weight of the P-32 allows for a diverse set of carry methods. Kel-Tec provides a neck lanyard kit (top left), and an inside-the-waistband carry clip kit (center left). If you prefer a more traditional pocket carry, then Uncle Mike's light, durable synthetic #2 Side Kick holster will do nicely. If you would like to add a laser to your pocket rocket, Crimson Trace provides the Model LG-430 trigger guard laser sight for the P-32.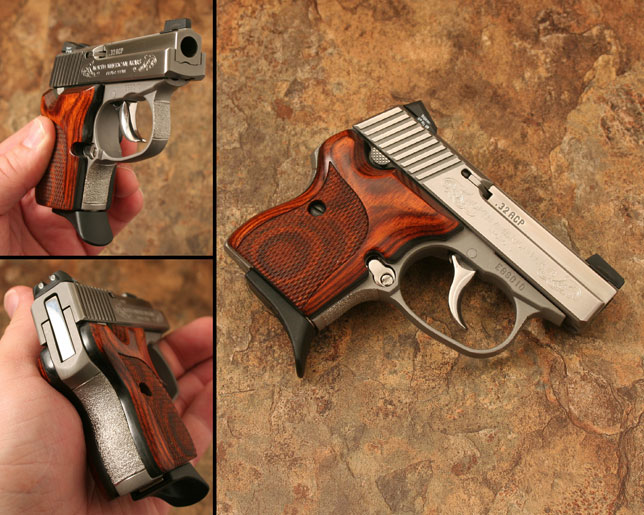 NAA In-House Custom
There's no need to settle for off-the-rack ordinary with North American Arms. The company will customize any of the guns it produces, and it offers a variety of sight, finish and grip options for the Guardian .32 ACP. The Guardian shown here displays the full grip stippling package (front strap, back strap and trigger guard), Hogue Cocobola checkered grips, slide engraving and a set of Trijicon 3-Dot night sights.