by
posted on December 7, 2021
Support NRA American Rifleman
DONATE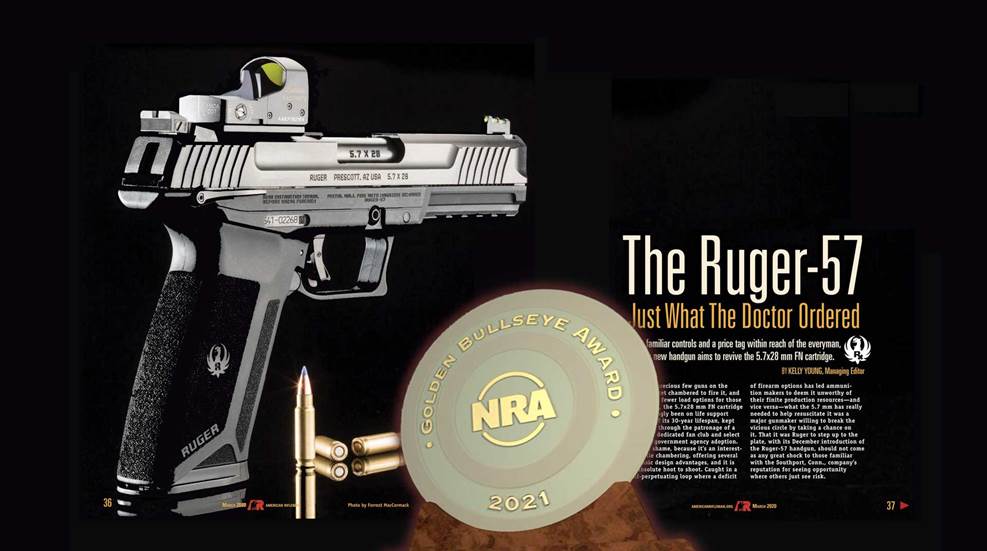 Handgun Of The Year: Ruger-57
Of the myriad handguns introduced and tested by your American Rifleman, Sturm, Ruger & Co. and its Ruger-57 earned the top honor for 2021 as Handgun of the Year. The announcement came in late 2019 that Ruger had a new handgun for the upcoming year that was designed for FN's .22-cal. PDW cartridge, so we sent Executive Editor Kelly Young on the hunt for more information. Here is what we learned:

"I have long said that if a major manufacturer were to introduce a 5.7x28 mm FN-chambered handgun, featuring conventional controls and sold at a reasonable price, it would sell like hotcakes …" Executive Editor Kelly Young remarked in the March 2020 American Rifleman feature article about a then-new handgun from Sturm, Ruger & Co.
That new handgun Young mentioned in March 2020 is the Ruger-57, a full-size semi-automatic built of polymer and steel. It measures 8.6" long, 5.6" tall and weighs 23.5 ozs. empty and only 28.4 ozs fully loaded. "This is a remarkably feathery total for a full-size pistol loaded to capacity," Young mentioned.
Young further opined, "[T]he 5.7x28 mm FN cartridge is something of an oddball choice for a handgun chambering. Introduced by FN in the early 1990s, it's essentially a miniaturized 5.56x45 mm NATO rifle round, utilizing a 0.224" rifle projectile and operating at rifle-caliber pressures to achieve blisteringly fast velocities—not really the handgun way of doing things. But on the range, it's a match made in heaven."
"Accessorized with an optic and a light, the Ruger-57 would make a great, unintimidating home-defense pistol for those who, for whatever reason, don't want the kick of the 9 mm Luger. Concealed carry may be an issue for some from a size perspective, but it's not a problem from a weight standpoint; a fully loaded Ruger-57 weighs almost 2 ozs. less than a similarly filled Glock 19—quite possibly the most carried handgun in the world," Young stated.
Like Ruger's Security-9 and LCP II handguns, the Ruger-57 is built with the Ruger Secure Action, a partially pre-cocked, double-action functionality with a hammer-fired ignition system; a secondary hammer catch prevents accidental hammer strikes. The gun boasts a blade-in-shoe-type trigger safety and M1911-style manual safety lever; the PRO MODEL excludes a manual safety. Furthermore, the Ruger-57 features a lightened slide, fully adjustable sights, nitride-hardened barrel and ergonomic frame contours for user-friendly operation.
Young's testing provided results with a 15-group average extreme spread for three loads coming in at 1.98" at 25 yds. And Young suggested that with an optic and a rail-mounted light the pistol would serve admirably for home-defense—especially for the recoil-averse. Finally, he mentioned, "[T]he gun ticks all the right boxes—it's reliable, accurate, full-featured, wisely configured and with a price literally half of its most direct competitor," all of which made it an easy choice for our selection as Handgun Of The Year.
---
Are you interested in learning more about the 5.7x28mm FN cartridge? Read more HERE.
---
So what does it take to make the cut for Handgun of the Year?

The winners are selected by a seven-member committee consisting of editors, graphic designers and veteran NRA Publications staff, representing more than a century of collective experience in the shooting and hunting industry. The criteria required to qualify for consideration of a Golden Bullseye Award include being: introduced and available to consumers prior to the selection of the Golden Bullseye Awards; used/tested by a staff member or regular contributor to the magazine and/or affiliated media; reliable in the field, meeting or exceeding the evaluator's expectations; innovative in design and function; readily perceived as a value to the purchaser; and styled in a manner befitting the shooting and hunting industry and, perhaps more importantly, its enthusiasts.