Doug Koenig shoots the Barricade Event during the Colt Championship Final.

Doug Koenig notched a record-setting 17th NRA Bianchi Cup Action Pistol Championship, May 24-28, winning High Overall and High Open at the 2016 event presented by MidwayUSA, in Columbia, Mo. Koenig won his first Bianchi Cup in 1990, and he was the first to finish with a perfect score. Since then, he has achieved a perfect score in all but one match.
Koenig defeated 205 other competitors across multiple divisions, securing a perfect score. Koenig fired a Smith & Wesson Performance Center DK 38 Super 1911, and he was using his Safariland 014 holster and customized ELS belt. "For me, this match is all about the pressure and nerves. Any time you can get through something like that, it's a great feeling," said Koenig. "I've shot many types of shooting disciplines, but those kinds of things always seem to come up for me here because it is Bianchi."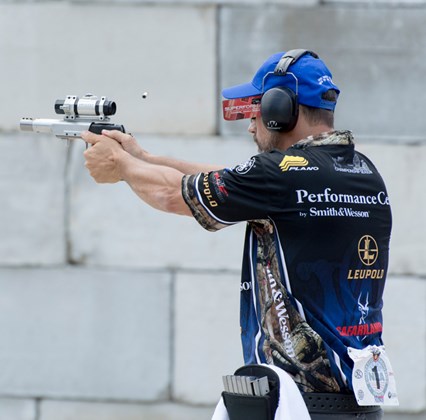 Many consider the Bianchi Cup to be the ultimate test for both a shooter's skills and his or her equipment. Each competitor must complete four events, running strings of fire at varying distances for each of those scenarios. The Practical Event emphasizes accurate shooting, including weak-hand only, from distances ranging from 10 to 50 yards. The Barricade Event has shooters placing shots on target at distances ranging from 10 to 35 yds. The Moving Target stage requires competitors to hit targets sliding across a 60-ft. track, again at varying distances. The final stage is the Falling Plate scenario in which shooters engage stationary plate racks, in order, from 10, 15, 20 and 25 yds.
After completing the match's 1920-point aggregate, the top 36 competitors shot the same course of fire again for Saturday's Colt Championship Final. Scores from the match and Colt Final were combined to determine the champions.
Metallic Championship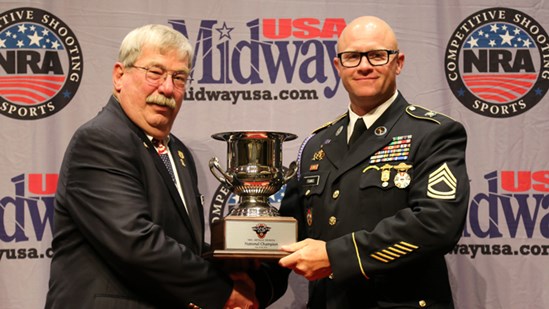 Sergeant First Class Patrick Franks of the U.S. Army Marksmanship Unit (AMU) won his second consecutive Bianchi Cup Metallic title this year. Franks also won the NRA National Pistol Championship at Camp Perry last year. Robert Vadasz of the U.S. Border Patrol pistol team placed second in Metallic.
Regarding successfully defending his Metallic win last year, Franks said, "I really wanted to come back here and have a repeat of what I did last year, our first year. It was very rewarding, knowing I had to fall back on my previous training and the mentality of being able to walk up to the line and be able to focus on the task at hand and not try to overthink it, but just do what we know how to do best."
Production Championship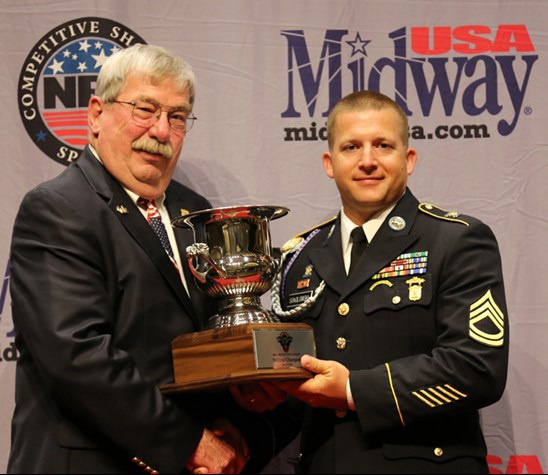 This year, each position on the Bianchi Cup Production Division podium was occupied by a competitor using a Springfield Armory pistol. Sergeant First Class Patrick Adam Sokolowski of the AMU won the Production Championship shooting his XD(M) 5.25" Competition Series in 9 mm Luger. Another AMU shooter, SFC Michael Gasser, and Springfield Armory's own Rob Leatham—a former champ himself—claimed second and third, respectively.
About his win, Sokolowski said, "It definitely feels awesome to win." He added, "Last year, I was shooting well and then missed two plates and that cost me the championship. This year, I missed one plate at the last yard line, and I was pretty upset, but in the end I shot better than last year."
After Sokolowski officially won the Production Championship, Leatham commented, "Losing is never fun, but I honestly couldn't think of two people I would rather have beat me—I'm proud to call Adam and Michael friends. Congratulations guys, and thanks for showing the world how awesome and accurate the XD(M) shoots!"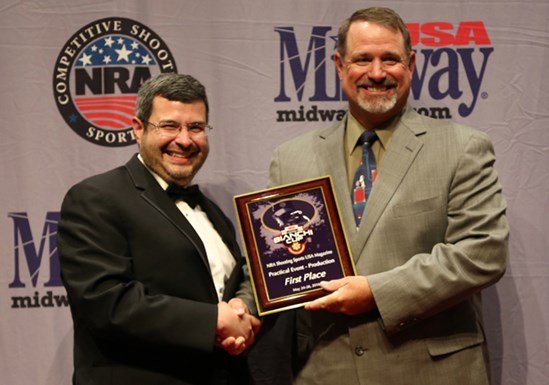 Women's Championship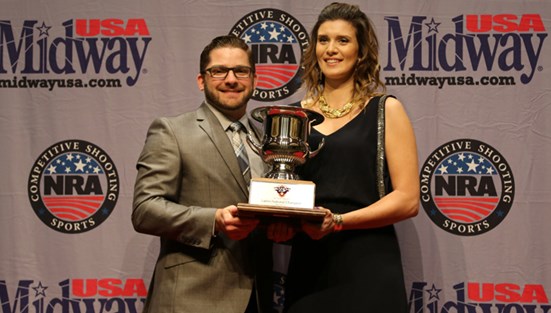 Tiffany Piper of New Zealand won her first Bianchi Cup Women's Championship this year saying, "I have been competing in the Bianchi Cup for nearly 10 years, and I have always dreamed of this day when I would win the Women's Division. Congratulations to all of the other women for a great event and all of the other top winners. You all rock!"
When asked about the gear she used at Bianchi she said, "I barely ever change anything I use; I like the old saying 'if it's not broke don't fix it.' Most of this gear I have been shooting with for 10 years now. I use a Springfield 1911 chambered in .38 Super with a Leupold Gilmore Scope. For ammunition, I use Atlanta Arms and Ammo's .38 Super 115-gr. minor load. My belt is a Safariland ELS and my holster is a Bianchi Hemisphere, also by Safariland."
Piper has been competing at the Bianchi Cup since she was 13. When asked if any memories stand out, she replied, "It is the friends I have made that I consider extended family. They have watched me grow up both physically and within the shooting sports, which I think is something pretty unique coming all the way from New Zealand." She added that she really appreciates "the generosity and kindness other shooters have shown me."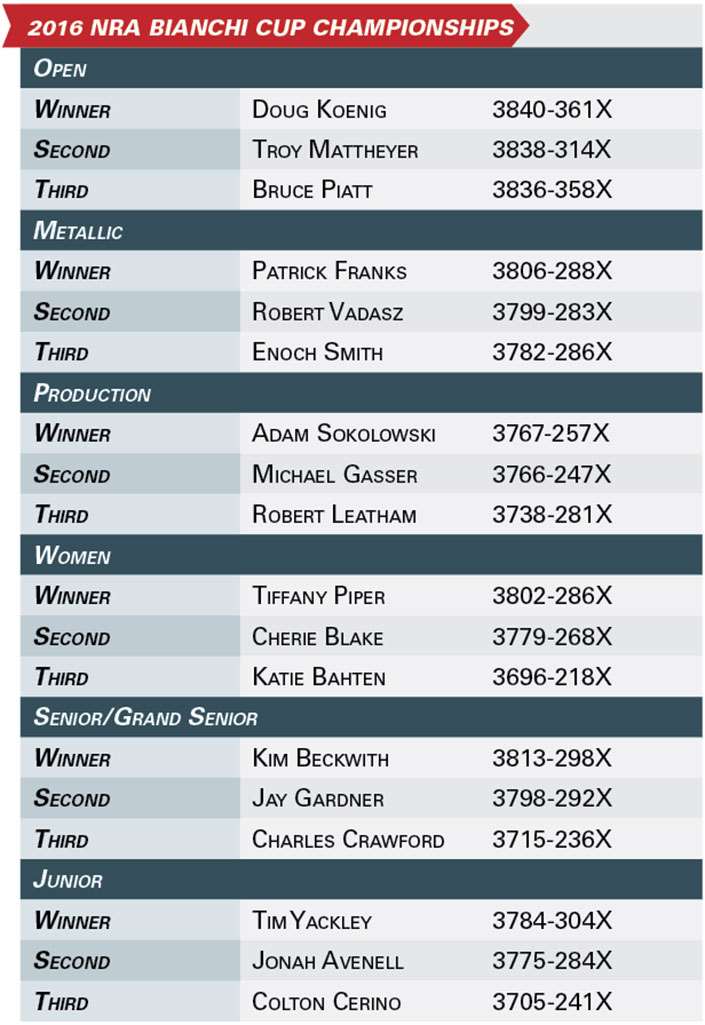 ---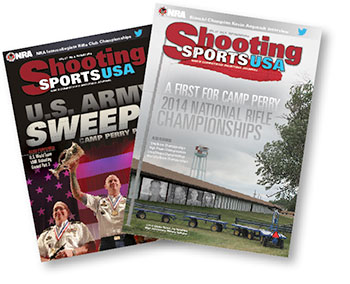 Looking For More On NRA Competitive Shooting?
For more than 50 years, Shooting Sports USA has provided competitive shooters with how-to articles, firearm reviews, match schedules for 11,000 tournaments each year and expert advice from the pros. With a growing library of online back issues, three years of Shooting Sports USA is now only a click away. Signup for your free monthly subscription at shootingsportsusa.com. Also, for detailed day-by-day accounts of the action at Bianchi Cup, Camp Perry and other NRA events, go to nrablog.com. For more on NRA Competitive Shooting, go to nrahq.org/compete.