Support NRA American Rifleman
DONATE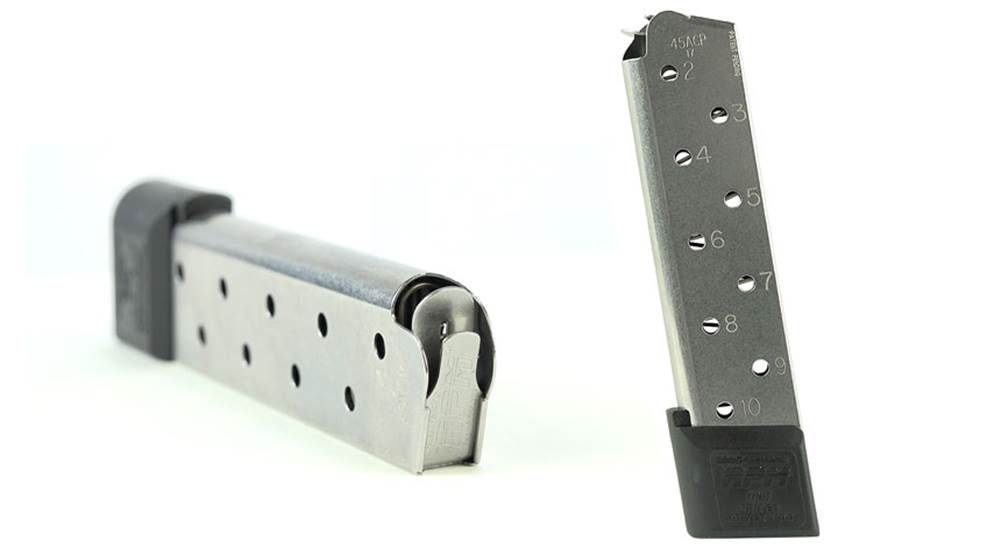 When sizing the M1911 up against the popular, polymer-frame, striker-fired semi-automatics of the day, the M1911 earns top marks in many categories—including for its trigger, handling characteristics and the power of its most-popular chambering, the .45 ACP. When it comes to capacity, though, the old warrior definitely trails behind double-stack designs. Still, the M1911 remains a top choice of competitive shooters, some elite military and law enforcement units, and many personal-defense practitioners. And those who stick with "Old Slabsides" have found extended, 10-round magazines to be a reliable means for closing the capacity gap. Several well-regarded manufacturers offer extended-capacity options, including Mec-Gar, Chip McCormick Custom and Wilson Combat.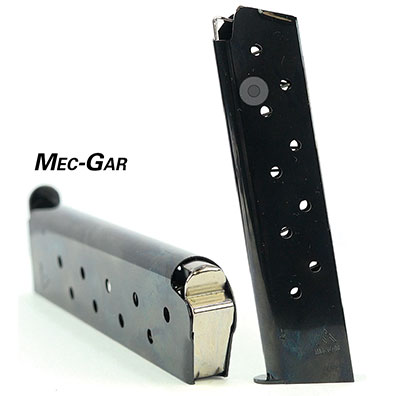 Despite being an Italian manufacturer, Mec-Gar is one of the primary magazine producers for the American firearm industry and builds magazines for many U.S.-based gunmakers. Among nearly a dozen offerings for .45 ACP-chambered M1911s, Mec-Gar offers both blued- ($31) and nickel-finished ($34) 10-round magazines featuring carbon steel bodies, steel followers, music wire springs and welded buttplates. Interestingly, the company also produces 11-round-capacity options.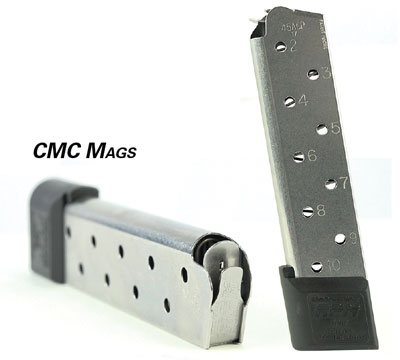 A highly regarded competitor and M1911 magazine master, Chip McCormick has long been interested in improving the reliability and durability of the traditional design. When it came to 10-round boxes for the M1911, McCormick was particularly interested in remedying the feed-lip deformation that resulted from the upward momentum and increased mass of 10 .45 ACP cartridges being repeatedly slammed home into an empty gun—as in competition and training. His solution was the Railed Power Mag (RPM), a laser-welded stainless steel magazine that replaces the traditional, single-layer feed lips with rolled, two-ply rails. The Chip McCormick Custom (CMC) 10-round RPM ($36) uses a steel follower, a wraparound base pad and 19 coils of McCormick's Rocket Wire spring.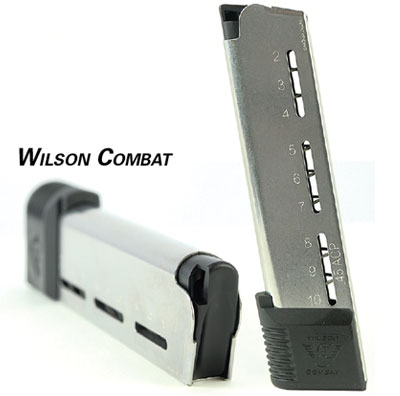 Another notable in the realm of M1911 pistols, upgrades and accoutrement, Bill Wilson and his company Wilson Combat also offer several options in the 10-round .45 magazine category, including the 1911 Elite Tactical Magazine. The Elite Tactical has a stainless steel tube with extended viewports, a stainless steel spring, a lubricious polymer follower and a full-wrap extended base pad. Offered in stainless ($41) or with a black fluoropolymer finish ($44), the magazine also uses dual-wall rails, just like the Chip McCormick magazine, and that shouldn't be a surprise. Wilson and McCormick have been friendly competitors, at the range and in business, for many years, and CMC actually builds the Elite Tactical Magazine for Wilson Combat under license. Of course, M1911 enthusiasts can expect the crossover to increase, as Wilson Combat recently acquired Chip McCormick Custom, officially uniting the enterprises.

Additional Reading:
Video—NRA Gun Gear of the Week: 10-Round Magazines for 1911s