Support NRA American Rifleman
DONATE
Although editors have no involvement in creating the ads that appear in their magazines and websites, the work is close enough that we fancy ourselves as "Mad Men" of a sort and can't resist rating what we see. But it's also true that well-written, well-designed advertising can contribute much to reader enjoyment, especially when readers are passionate about the subject, as in the case of
American Rifleman
. And so, for what it's worth, here's a random collection of my favorite gun ads from the pages of
American Rifleman
, going back to the 1980s when my career began at NRA Publications. As you'll see, there's really no rhyme or reason to my preferences. I like them for many different reasons. How about it—do you have a favorite gun ad? Tell us about it in the comments section below. 
1. Truest Grit Barrett Model 98B (June 2010)—
Nearly perfect, the rugged background, monochromatic composition and inspirational message make me want to salute our soldiers who've used this rifle and been on the frontlines protecting our freedom. 

2. Thought Provoker Springfield Armory XD (December 2004)—
The dominant image—a grimly lit, oversized, work-hardened hand—is jarring, but sure drives home the message about what must be a priority in every handgun design.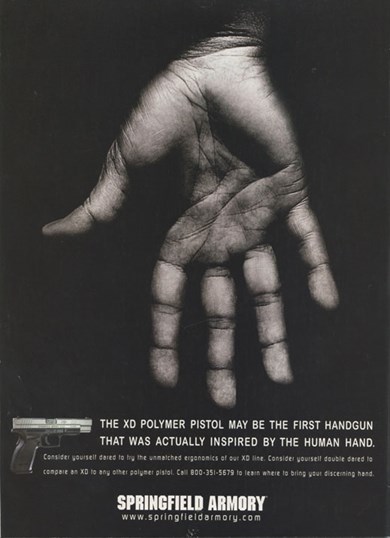 3. Put In Perspective Marlin Model 336 (November 1982)—
The chief appeal here lies in its spot-on copywriting, which succinctly puts the lever-action mystique into perspective while offering an enticing recipe to boot.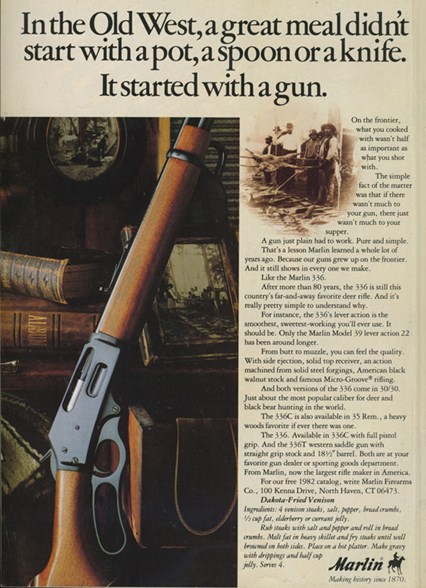 4. Timeless Style Ruger Vaquero (June 1994)—
Pairing a stylized Southwest landscape from renowned painter Maynard Dixon with its traditional, single-action Vaquero, Ruger provided a treat that's both visual and subliminal.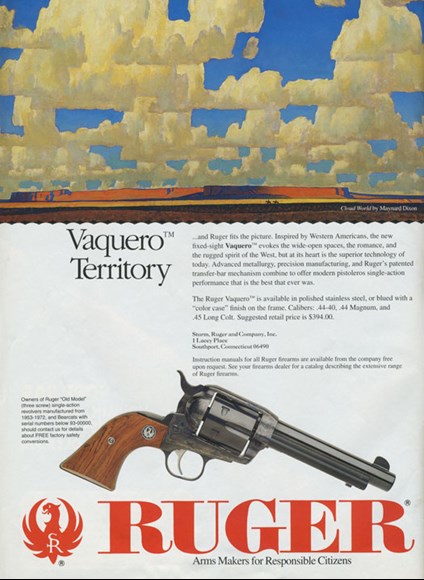 5. Pixel Perfect Smith & Wesson Performance Center 1911 (September 2014)—
We've always been proud of our gun photography, and thanks in part to digital technology, it just keeps improving. Allowed to dominate the graphic design, this picture of a custom Smith is as good as it gets.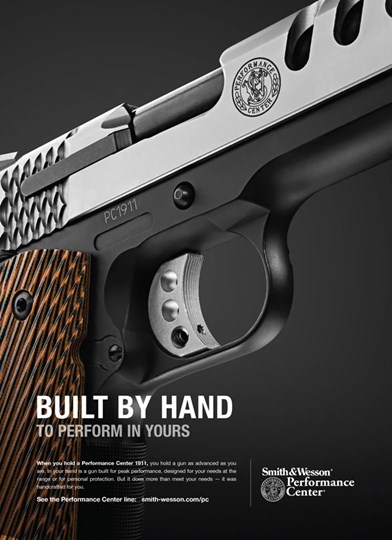 6. Hail To The New Chief! Henry Lever-Action .22 (March 2001)—
Though the featured rifle plays second fiddle, when this ad appeared in early 2001, virtually every
Rifleman
reader applauded its message. Let's hope Henry has occasion to bring it back 18 months from now.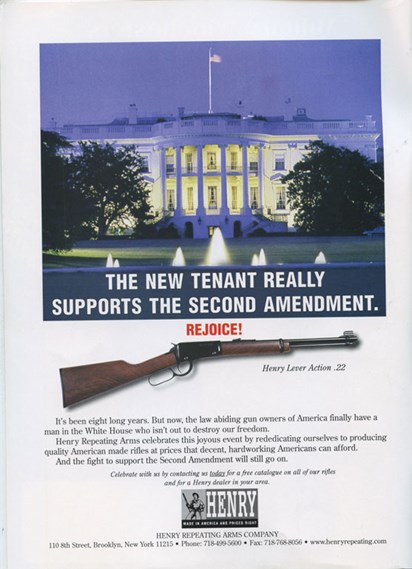 7. Scout's Honor Ruger Boy Scout 10/22 (September 2010)—
The nostalgia card comes up often in gun advertising, and understandably so. As a former Scout and Explorer, perhaps I'm biased, but I'm convinced this is the best of the lot.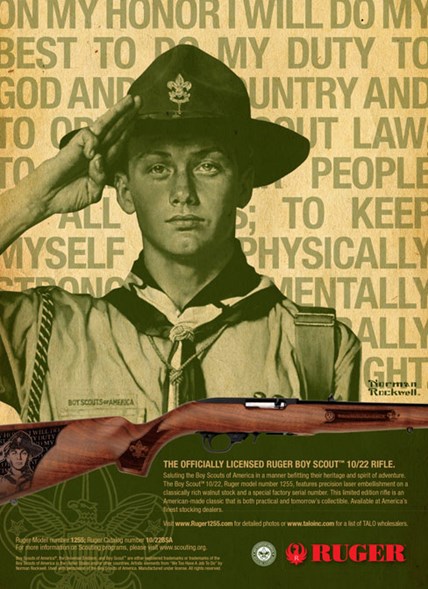 8. Seeing Is Believing Colt Mustang .380 (September 1987)—
Showing items at "actual size" is a tried-and-true attention-getter, and doing so with the littlest Colt pistol back when sub-compacts were rarer made a big statement.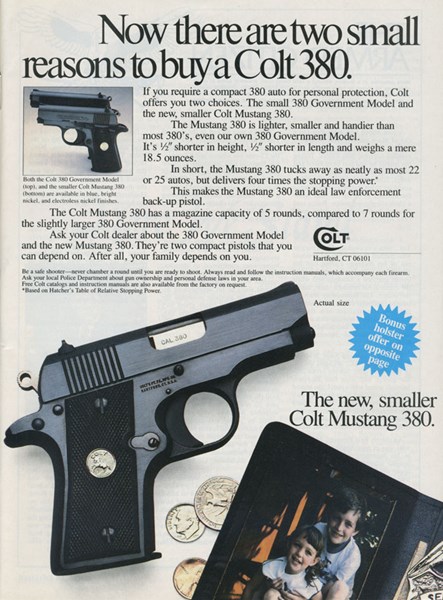 9. Take the Plunge Beretta 686 (September 2001)—
Humor sells and so do pretty girls, and this piece has both. What makes the too-timid-to-ask analogy even funnier is the edge in the prom queen's you've-got-to-be-kidding-me expression. 

10. Shooting Is Fun! Savage Rascal (August 2012)—
The sly cartoon raccoon, circus-poster headline font and an inviting, uncomplicated little rifle add up to deliver the undeniable truth.