Support NRA American Rifleman
DONATE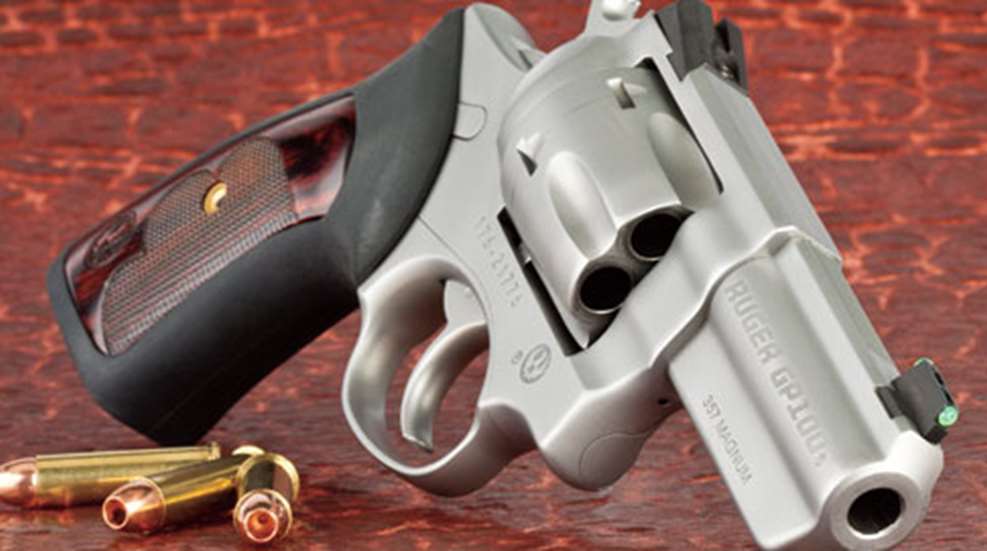 The term "workhorse" seems almost to have been coined for the Ruger GP100. First appearing in 1985 as a replacement for the older line of Ruger Security-Six, Speed-Six and Service-Six revolvers, it was purposely overbuilt to handle some of the hotter .357 Mag. loads then appearing on the market.
As it comes from the factory, the GP100 is available in blued and stainless versions, in several barrel lengths, chambered for .357 Mag./.38 Spl. or .327 Federal Mag./.32 H&R Mag./.32 S&W Long/.32 S&W. It has a fully shrouded ejector rod, an in-frame firing pin and a transfer bar. The double-action/single-action trigger mechanism is well-thought-out, rugged and reliable.
On the other hand, the GP100, as issued and despite its attributes, is never going to win a beauty contest. It is simply one homely, solid piece of equipment, designed to come through with no fuss when the chips are down—and that's a particular kind of beauty all in itself.
Since its debut, the GP100 has been a staple in the Ruger line, and has been sold to many thousands of satisfied customers. As a defense handgun this double-action is tough to beat; but, that doesn't mean the piece couldn't use a bit of a going over. American Rifleman Field Editor Wiley Clapp figured he could recommend a few changes to make the gun even more ideally suited to defensive and field use.
Before we go any further, in the interest of full disclosure, I have to acknowledge that Wiley and I have been friends and associates for a number of years, going back a couple of decades or so to when we were both staff editors at another gun magazine. At that time, Wiley quickly established his expertise in handguns within the staff—an enthusiasm that has grown stronger in the passing years. I feel pretty justified in saying that he is currently one of the pre-eminent handgun experts extant—an opinion shared by others, and one that can be more than justified, if not only in his writings, but more recently by some semi-automatic pistols and revolvers that he has had a hand in developing.
His take on the Colt Commander ("A Modern Day Classic: Wiley Clapp's Colt,") received instant acclaim for its common-sense modifications, and it's a good bet his GP100 is going to be no less highly regarded. The nice thing about Wiley's no-frills approach is that he only changes things he feels will appreciably improve a particular gun's utility. That means the basic, time-tested platforms are changed or embellished only as-needed.
Developed in conjunction with Bob Coyle of TALO Distributors and Sturm, Ruger & Co., the GP100's operating mechanics and makeup have been left pretty much alone. What Wiley wanted to accomplish was to improve the GP as a general utility, rough-service carry piece suitable for an outdoorsman's backpack, holster or vehicle glovebox (where legal, of course). As the gun already has a pretty good start in that direction, all that was really needed was an informed tweaking or two.
First, the gun's barrel length was limited to 3 inches. As there was plenty of meat in the GP's topstrap to allow for a dovetail notch, the standard fixed rear sights were abandoned in favor of a Novak wide-notch Lo-Mount rear and a fiber-optic front. Ruger's factory-issue Hogue rubber grip was replaced with one featuring Altamont Diamondwood inserts. The inserts have been beautifully laser-cut in a triple-finger pattern reminiscent of a design developed by Walter Roper in the 1940s. The back of the rubber grip has the Ruger logo molded into it, along with a discreet, small oval encircling the initials "WC"—something I vividly remember as the distinctive way Wiley would sign off after editing a magazine layout.
The gun has also been subtly sculpted—with contouring, tapering and beveling of such parts as the barrel, trigger guard and front circumference of the cylinder—to allow for better general handling and for ease of insertion into a holster. The matte-finish frame is pleasing to the eye and exhibits significantly less glare than a standard GP100.
Shooting the Wiley Clapp Ruger GP100 is a delight. As I mentioned earlier, it's a nice piece to begin with, but I have to admit I really liked the grip. It fit my small-to-medium-size hands wonderfully and gave superior control and recoil absorption. The wide notch of the Novak rear sight allows for a bit of daylight on either side of the front sight, providing for quick and easy target acquisition—even in low light. While the action did not appear to have been tuned much, if at all, the revolver performed extremely well both in single-action and double-action operation, the trigger pull being crisp on the former and smooth and unglitchy on the latter. Bottom line: It was simply a lot of fun to shoot, and I did about as well with it as I can with any short-barreled .357. In addition to the standard 25-yard testing protocol, the gun was also tested at 7 yards, double-action, with spreads coming in pretty much the same as those at the greater range, give or take a half-inch or so in a couple of strings.
Clapp has done a great job with this piece. The GP100 was an apt choice for the transformation, and he was the guy to make a good gun even better. We used to call him "The Wiley One" in the editorial offices, and with this GP100 he has more than lived up to that estimation.
Manufacturer: Sturm Ruger & Co., Inc.; (603) 865-2442; www.ruger.com
Distributor: TALO Distributors, Inc.; www.taloinc.com
Caliber: .357 Mag./.38 Spl.
Action Type: single-action/double-action center-fire revolver
Frame: matte-finish stainless steel
Barrel: 3"
Rifling: five-groove, 1:18.75" RH twist
Cylinder Capacity: six
Sights: Novak wide-notch Lo-Mount rear, fiber-optic front
Trigger Pull: single-action, 4 lbs., 4 ozs; double-action, 8 lbs., 12 ozs.
Overall Length: 8.5"
Width: 1.54"
Height: 5.57"
Weight: 37 ozs.
Stocks: one-piece synthetic rubber with Diamondwood inserts
Accessories: plastic case,trigger lock
Suggested Retail Price: $829