by
posted on January 14, 2021
Support NRA American Rifleman
DONATE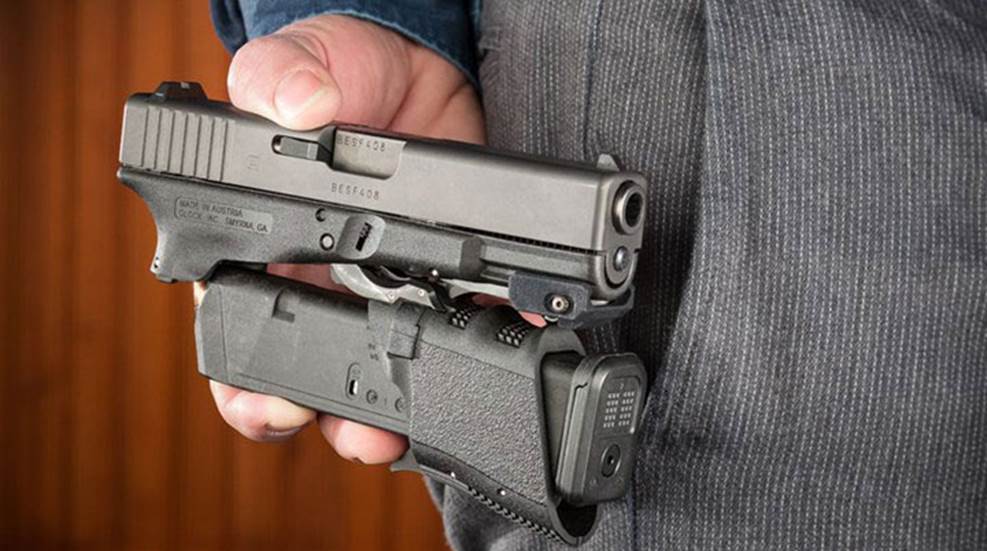 Although we all appreciate the utility of polymer-framed 9 mm semi-automatic pistols and the highly decorated service history of the venerable 1911, sometimes a change of pace is in order. Just how much of a change depends on how far outside the box you're willing to think.

I use the word "curious" to describe these guns because it's an adjective that can describe something as being exciting, interesting or attention getting because it's unusual. This definition fits nicely with the handguns shown here. Are they all little bit too "out there" for your tastes, or are they just what you've been looking for to spice up your collection? Take a look to find out.
Full Conceal Folding M3D Glock 9 mm
The Full Conceal M3D folding pistol was an unusual carry option for a couple of reasons. First off, Full Conceal didn't manufacture the pistol, per se. Instead, the company took Glock pistols and make a few modifications, including a proprietary trigger system, a collapsible trigger guard and a folding grip. That's right, they cut right through the grip frame and install various clips and hinges so that the grip folds up against the dust cover.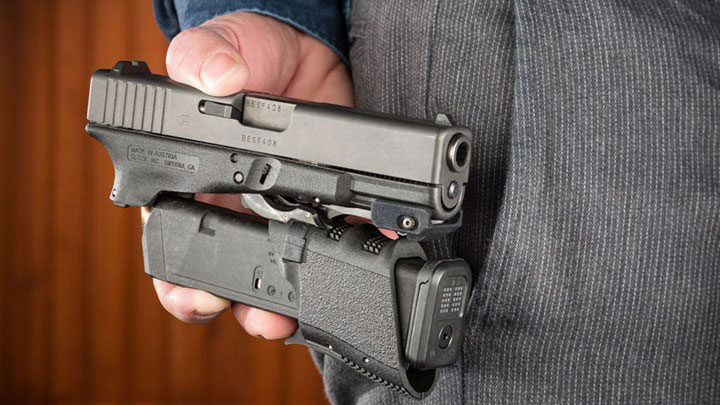 Why take one of the most reliable pistols yet invented and convert it into, well, a convertible? Collapsing the grip allows a compact-size pistol to comfortably slip into pants and purse pockets that are sized for sub-compact pistols. The squared off, flat profile of the folded M3D looks a good deal like a tablet or a smart phone when riding in the front pocket of a pair of jeans. Because this pistol can be safely carried with a round in the chamber, it can be brought into action by snapping the grip into place.
Although most firearms will evoke a range of responses from the shooting community, the M3D doesn't seem to have much in the way of a middle ground. Users either love it or hate it. Some Glock devotees are offended by what they see as meddlesome modifications to a platform that's already perfection. Yet other self-defense practitioners see it as a way to pack more handgun into less space. As always, you'll have to be the judge of what works best for you.
Bond Arms Bull-Pup 9 Semi-Auto Pistol
For those of you who are familiar with Bond Arms, I bet you were expecting to see the company's signature big-bore, double barrel pistols like the Rough Series listed here. The company's all-stainless steel, caliber convertible derringers definitely qualify for this list. Yet the company offers a semi-auto pistol that's even more curious.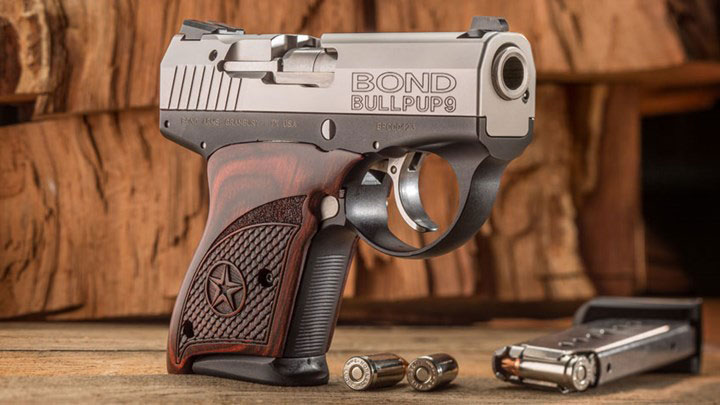 Based on the Boberg Arms XR9-S, the Bond Arms Bullpup provides a variety of uncommon features designed to keep the pistol small and lightweight while reducing felt recoil. This 9 mm Luger +P pistol is a mere 5.1" long, 4.2" tall and 0.96" wide. It weighs just 17.5 oz., thanks to a 7075-T6 aircraft-grade aluminum frame that accepts single-stack, seven-round magazines.

It's how the feeding mechanism works that makes this pistol so unique. Instead of stripping the rounds out of the magazine by pressing them forward into the chamber, this pistol has a rear-feeding magazine that rests directly below the rotating barrel's chamber. This allows for a longer barrel without the need for a longer slide. Other features include a beveled stainless steel slide, dovetailed metallic three-dot sights and checkered hardwood grips. The Bond Arms Bullpup has a MSRP of $1,099.
Standard Mfg. S333 Thunderstruck Revolver
The Conn., based Standard Manufacturing Company likes to shake things up with unusual shotgun and handgun configurations including the wholly uncommon S333 Thunderstruck rimfire revolver. The name seems to be derived from the adage that approximately 90% of civilian self defense situations involve about three shots fired at 3 yds. in three seconds.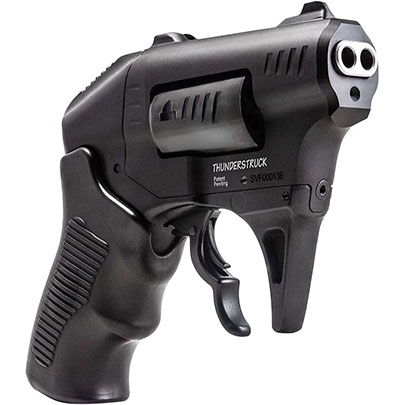 That's why there are three 3s in the revolver's name. But this numbering is a bit confusing. Perhaps it should have been called the 824 since this double-action only wheel gun has an 8-round cylinder and double barrels that launch two shots at a time, allowing all of the .22 Mag. cartridges to be fired with just four pulls of the trigger. Built around a light weight 7075 aluminum frame, the S333 has a steel cylinder and barrel insert, a red 3-dot sight system and polymer grip.

The extended trigger is pulled by the index and middle finger and includes an integral blade safety usually reserved for striker-fired, semi-automatic pistols. Firing two rounds of .22 Mag. at a time produces double the performance while keeping the level of felt recoil modest. Our Gun of the Week team has given it a spin. Take a look their video review here. The MSRP of the Standard Manufacturing Company S333 Thunderstruck is $429.
IFG Davide Pedersoli Howdah .45 Colt/.410 Double-Barrel Pistol
While some guns are the product of popular demand or technological advancements, others are more strongly influenced by history and restrictive regulations. Take the Italian Firearms Group's (IFG) unique Davide Pedersoli Vintage Howdah .45 Colt/.410 pistol. The design is inspired by the Depression Era Ithaca Auto & Burglar double-barreled pistol used to defend against carjacking and road side robberies. The Howdah is a side-by-side break action with 10.25" barrels, a case-colored receiver, bead front sight, a folding rear sight and beautiful hardwood stocks.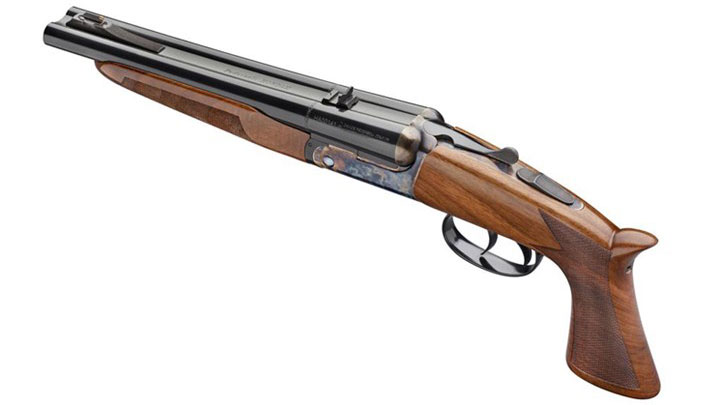 However, smooth bore pistols are currently considered a short-barreled shotgun under the regulations of the National Firearms Act of 1934. This means that a smooth bore pistol requires the same fees and paperwork as a machine gun, short-barreled rifle and suppressor.  In order to make the Howdah readily available through typical sporting goods stores, the receiver and barrels were sized down and configured with 1:48 right-hand-twist rifled barrels chambered for .45 Colt ammunition.

The chambers are elongated to accommodate 2.5" and 3" .410 shotgun shells. This makes the pistol legal to sell over the counter just like semi-automatic pistols and revolvers.  In addition to the Vintage model, Pedersoli now offers Deluxe and Alaskan models of this double-barrel pistol. The Italian Firearms Group, Davide Pedersoli Vintage Howdah has a MSRP starting at $1,395.
Trailblazer LifeCard Folding .22 LR Pistol
The diminutive Trailblazer Firearms LifeCard was first released in 2017. It's a folding single-action, single-shot .22 LR  'utility pistol' that's small enough to fit comfortably into an Altoids tin, which means it's about the same size as a stack of credit cards when the grip is folded. Thanks to the fact that it cannot be fired with the grip in the folded position, the Lifecard does not fall under the purview of ATF regulations and can be sold over the counter like other handguns. The tilt-up barrel, bolt and trigger are made of steel with an Isonite finish for corrosion resistance while the receiver and grip frame are fully machined from billet aluminum with a hard coat black-anodized finish.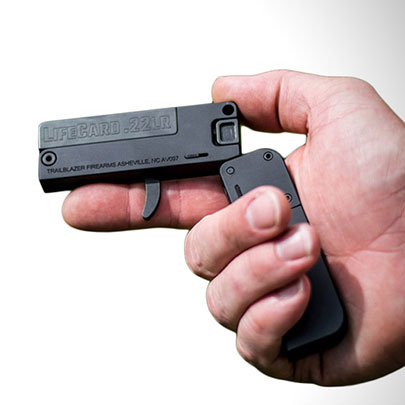 Since we reviewed this pistol a few years ago, Trailblazer has grown its product line in some interesting ways. The .22 LR version now has a polymer grip frame which reduced the original price by $100 and shaved the weight down from 6.6-oz. to 5.5-oz. The company has also added an all-aluminum .22 Mag. option. For additional information, take a look at this Gun of the Week video. The Trailblazer Firearms LifeCard has a MSRP of $299 for the .22 LR version and $349 for the .22 Mag. version.
Altor Corp Single-Shot Pistol
It's not easy to pick out just one handgun currently in production for the most curious crown, but the Altor Corp single-shot is certainly unlike any other handgun you are likely to find on a dealer's shelf. Borrowing from the minimalist concepts of the FP-45 Liberator and the CIA Deer Gun, Mr. Alex Malcolm designed this pocket sized pistol to be as simple as possible. It only has six major components. At the same time, he wanted it to be durable, reliable, affordable and American-made.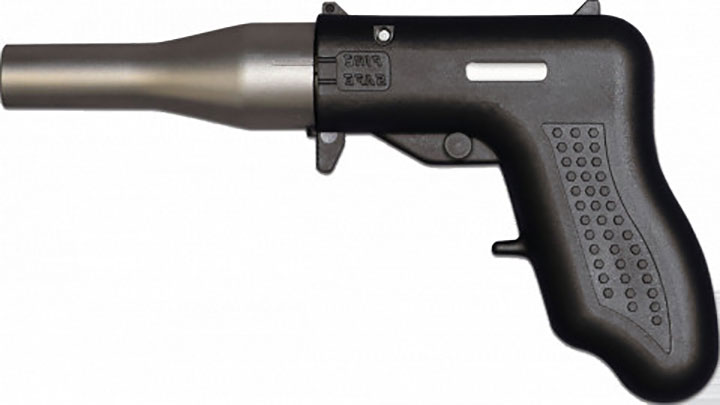 The tapered stainless steel barrel twists on to the two-lug extension of the receiver which looks a lot like a rifle bolt. The cartridge is set into the extension and then the barrel is twisted back into place. The firing pin and trigger are a one-piece component supported by a single round-wire spring. This pistol's trigger stroke is wholly unique, but manageable. The grip frame is made from reinforced black nylon for an unloaded weight of 10.2-oz. Customers have a choice of 9 mm or .380 ACP models. The Altor Corp Single-Shot has a MSRP of $129 for the 9 mm version and $119 for the .380 ACP version.