Support NRA American Rifleman
DONATE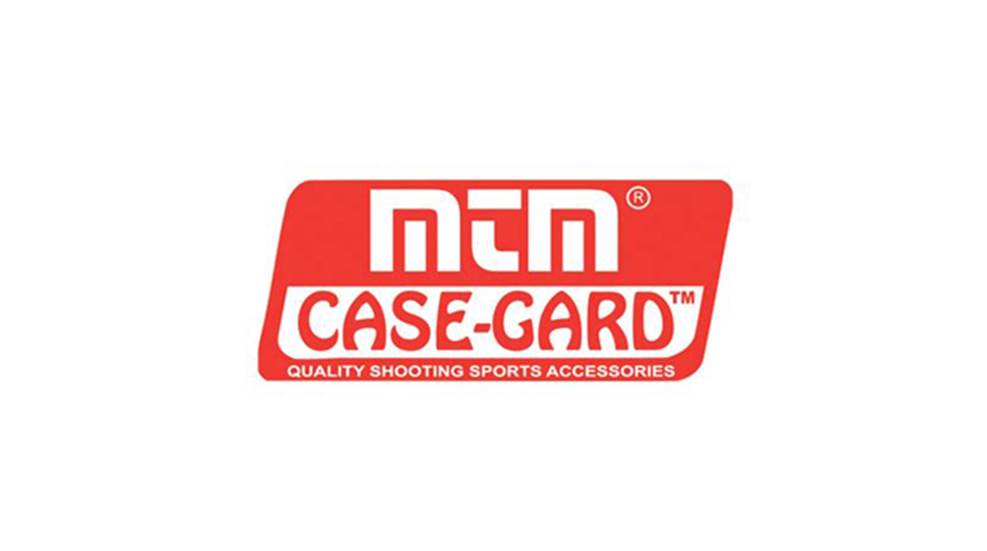 Even the simplest plastic products can better our lives and hobbies, whether for ammunition storage or transporting the firearms we count on for home defense, hunting and more.
MTM Molded Products
is a family-owned and operated company that has provided the 2A community with innovative and cost-effective solutions since 1968. Of the myriad products available from MTM Case-Gard, here's five new offerings to be on the lookout for that are standouts to the
American Rifleman
staff.
---
In-Safe Handgun Storage Cases
First and foremost, these transparent organizers are made in USA. The cases provide the capacity for handgun and gear storage without tying up precious safe space. MTM's In-Safe Handgun Cases come in two sizes designed to improve your organizational system. As with any storage box, the In-Safe Handgun Storage Cases are not limited to handguns.
Two sizes are available: ISC9 provides interior dimensions of 8.5"x6"x1.6" and ISC12 provides an interior dimension of 11.5"x6"x1.6" to fit larger handguns and items. MTM includes a bottom liner comprised of closed-cell foam to protect possessions. Two clasps are provided on each and the units nest on top of one another. Cases are available in three-packs with a suggested retail price of $16.95 and $18.95, respectively.


Side Slide 50 Round Ammunition Box

There's no need to tote around factory cardboard ammo boxes when you can replace them with a product that further protects ammunition from transport while adding in a layer of organization and efficiency. Reloaders have trusted MTM Molded Products for its array of clamshell 50-round ammunition boxes and should be pleased to know that the company now offers a slide-top model.
The Side Slide 50 Round Ammunition Box is made in the U.S. and comes with a 25-year guarantee. MTM provides options for two colors, clear green and clear blue, that help with organization. Each unit provides a load label and capability to accept 50 rounds of the following cartridges: .45 ACP, 10 mm Auto, .32 NAA, .357 SIG, .38 Casull, .40 S&W, .400 Cor-Bon, .41 AE, .44 AUTO MAG., .45 Auto Rim., .45 GAP and 8 mm Nambu. To access ammunition, simply slide the removable top. Side Slide 50 Round Ammuntion boxes carry a suggested retail of $2.56.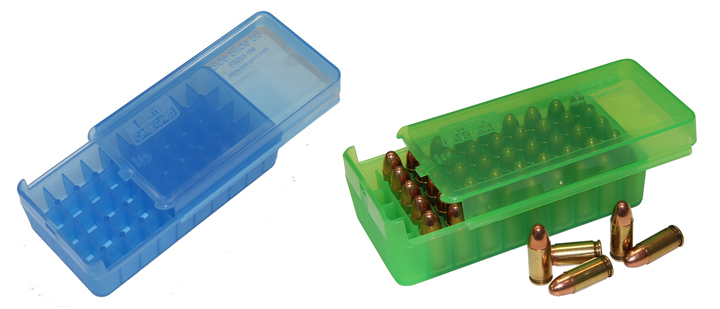 Screw-It Deluxe Bore Guide Kit

Maintaining your firearm investment is a critical element of ownership, and MTM has a product that is often overlooked by gun owners—the Screw-It Deluxe Bore Guide Kit. Certain precautions must be made when cleaning a bolt-action or semi-automatic rifle's bore. Cleaning rods and jags can be detrimental to the steel surfaces within a barrel. Even when you believe you are doing the correct thing, you may be causing damage.
The Screw-It Deluxe Bore Guide kit is designed to shroud a rifle's chamber with a snug fit to center and guide a cleaning rod for smooth transition into the rifle's bore, eliminating the possibility of marring interior surfaces. The kit includes nine pieces and a clear, clamshell storage case. The kits retails for $15.99 and is made in the U.S.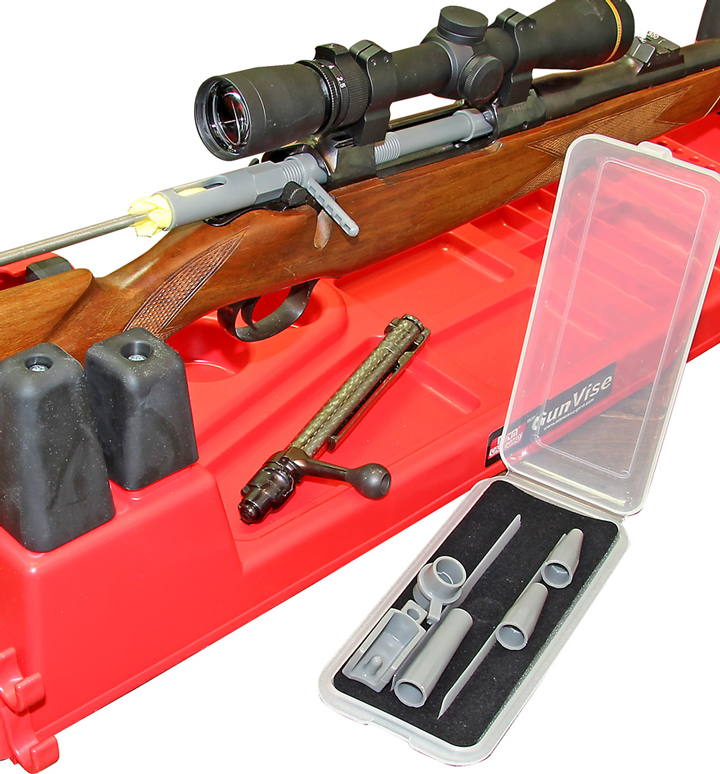 .50 BMG 20 Round Ammo Box

The .50 BMG cartridge has an overall length that can make it difficult to find ammunition storage solutions, but one of the new products for 2020 that MTM has to offer caters to this John Browning-designed cartridge. The locking-top clamshell ammunition box is molded from plastic and provides a water-resistant O-ring seal.
Within the container is military-grade foam with 20, 0.82"-diameter holes designed to secure .416 Barrett or .50 BMG cartridges with a max overall length of 4.9". Ammunition is stored casehead down. Made in the U.S., the ammunition box retails for $13.99, provides a flip-up carry handle and molded feet designed to nest on top of another box for efficient storage.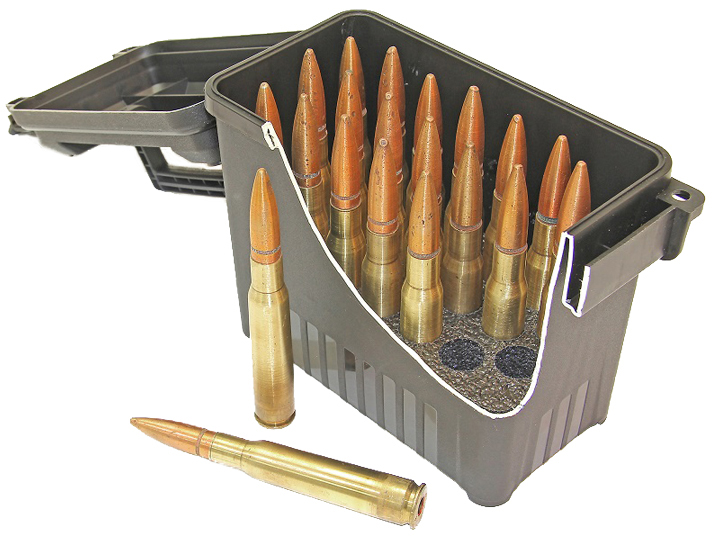 Tactical Rifle Case
MTM Molded Products unveiled its first-ever rifle case for 2020. The Tactical Rifle Case measures 42" long and is made in the USA of molded polymer. Exterior contours add robust qualities without increasing unnecessary bulk and weight. Four clasps are provided to ensure the security of stored contents.
The case provides six lock holes surrounding the exterior. The interior of the case is lined with egg crate-style foam, top and bottom, to cushion and protect firearms during transport. Tie-down points within the case utilize hook-and-loop strap-style fasteners, four total, securing up to two firearms for transport. The MTM Tactical Rifle case comes in black with a suggested retail price of $72.95.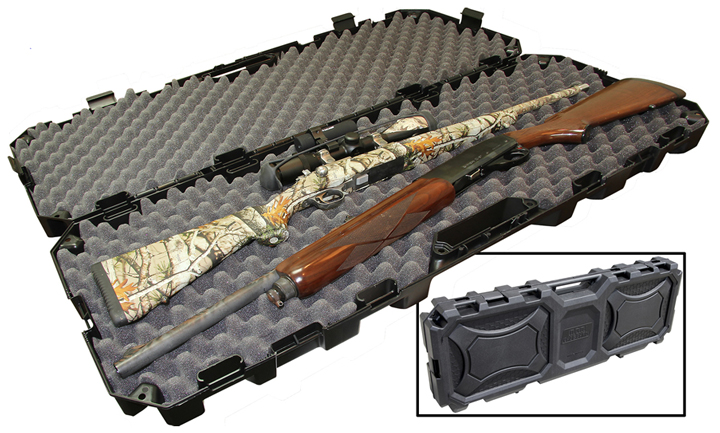 For more information about MTM Case-Gard products, please visit their website
HERE
.