by
posted on May 18, 2020
Support NRA American Rifleman
DONATE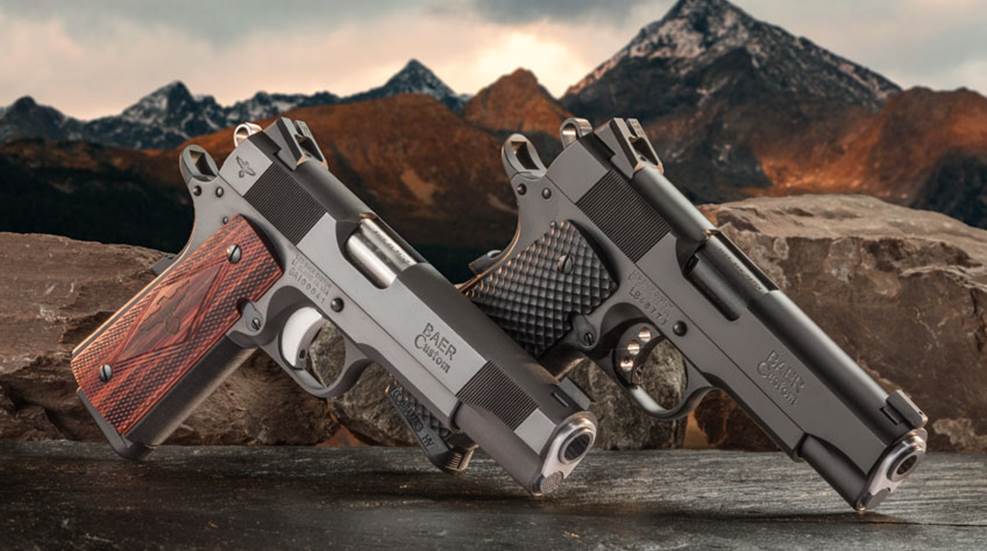 Two models in the Les Baer lineup—a full-size fighting M1911 that wears the Gunsite raven and the Commander-size Black Baer designed for everyday carry—prove that well-rendered versions of Old Slabsides still offer first-class options for today's armed citizen.
I first began carrying an M1911 in my law enforcement duties in about 1972. One of the things that led me to that decision was the writings of Col. Jeff Cooper. Cooper developed a shooting discipline that he called the "Modern Technique of the Pistol," and the whole concept was wrapped around the M1911 pistol in .45 ACP.

He went on to establish the American Pistol Institute at a place in Arizona that he called Gunsite Academy. His teachings saved my life. In later years, we became colleagues on the same magazine, and I always enjoyed visiting with him, coming away each time with more knowledge and new ideas.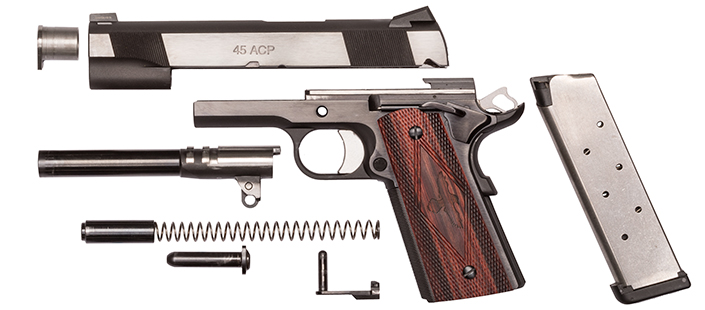 Les Baer has recently begun to produce the Gunsite pistol with the approval of current Gunsite owner Buz Mills and the Gunsite staff. The pistol is a full-size Government Model in .45 ACP with a 5" National Match barrel. The rear sight is a fixed combat style, and the front sight is a post with a high-visibility dot. There are cocking serrations on the front of the slide as an aid in press-checking the pistol. The solid match trigger is tuned to break with a 4- to 4-lb., 8-oz., pull.

Other niceties include a serrated mainspring housing and a checkered frontstrap. The thumb safety is Baer's combat style. Sharp edges on the pistol have been rounded for more comfortable carry. The gun is finished in a pleasing blued finish and features the Gunsite raven on the slide. The attractive checkered wood stocks also have the Gunsite raven prominently displayed.
I hit the range with ammunition from Black Hills, Double Tap and Speer for an enjoyable shooting session. At 25 yds., the sights were dead-on for me with the two 230-gr. loads from Black Hills and Speer. And the gun shot only slightly lower with the Double Tap 185-gr. load.

All three printed well to the center of the vital zone on the Gunsite Option target that I used. While I got the best groups with the Black Hills load, all three test loads gave acceptable accuracy given the requirements of a defensive pistol.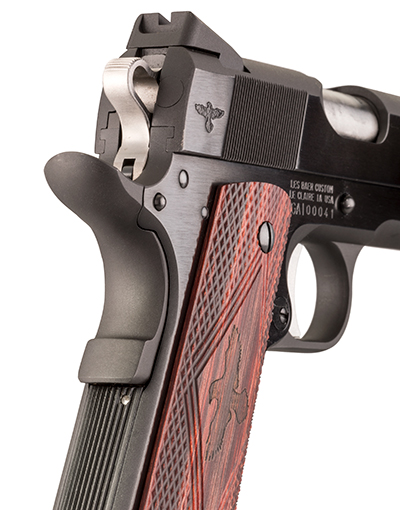 Running a few defensive shooting drills, the Gunsite pistol performed as well as I expected it to. The sights were easy to acquire, although these days I like to have a gold dot on my front sight because it draws my attention to the front sight a bit more quickly—which probably says more about aging eyes than it does about front sights. The clean-breaking trigger, with no creep, was also a great aid to shooting accuracy.
A few years ago, through the kindness of Janelle Cooper, the colonel's widow, I was able to examine Col. Cooper's pistols at some length. The guns were rather plain by today's standards for some shooters. However, each one had good sights that were easy to see and quick to pick up.

Each one had a relatively light, crisp trigger. Those who have followed Cooper's teachings over the years will recall that he was adamant that a fighting pistol needed good sights and a good trigger, and not much else.
Every one of us who is concerned enough about our personal safety to carry a defensive pistol owes a great deal to Col. Jeff Cooper. He laid the foundation for just about everything that is taught in today's defensive training. Les Baer's Gunsite pistol captures this no-nonsense approach to the defensive handgun. As my friend Wiley Clapp is fond of saying, it has everything you need and nothing that you don't need.
The second Les Baer pistol that I tested is much different, but just as pleasing to shoot. The Black Baer is a Commander-size gun in 9 mm Luger, and it is equally suited to the serious business of self-defense.
There was a time that the 9 mm cartridge was looked down upon by serious defensive handgunners. The problem was not so much velocity as it was the poor performance of the bullets that were available for defensive use. Fortunately, our ammunition companies have come a long way in engineering bullets that will perform properly.

Speer, Federal and others, have finally developed bullets that will not only penetrate to a sufficient depth but will also expand enough to cause adequate tissue damage. While this bullet development is also true in all of the popular defensive cartridges, it has brought the 9 mm up to a level that has gotten the attention of serious gunfighters. I believe that this is the main reason that the FBI, Border Patrol and many other law enforcement agencies have, once again, turned to the 9 mm.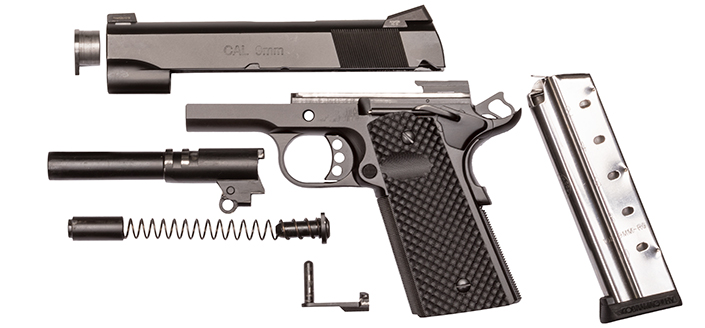 The Les Baer Black Baer pistol is an all-steel pistol with a 4¼" barrel. It is based on Baer's popular Comanche model. It has a fixed combat rear sight and post front with high-visibility dots. The Baer speed trigger is tuned to break cleanly with a 4-lb. pull. It has a checkered frontstrap and a serrated mainspring housing. All corners have been rounded for shooter comfort.

The Black Baer is finished in Dupont S coating and the stocks are of black recon design—almost like the dimpled texture of a golf ball. And, while I prefer smooth stocks on an M1911, I did not find these synthetic stocks uncomfortable while shooting the pistol.
For my testing of this 9 mm pistol, I selected the Black Hills Honey Badger 100-gr. load, the Black Hills 115-gr. JHP load and the 124-gr. Gold Dot load from Speer. Shooting at 25 yds., from a sandbag rest, the pistol gave good defensive accuracy, with the Speer Gold Dot 124-gr. load edging the others out slightly. However, all three loads performed well and are worthy of consideration for defensive carry.
As with the Gunsite pistol, I ran several defensive drills with this 9 mm. With the same sights and trigger, it performed as I expected it would. The felt recoil was mild, and the gun was just a pleasure to shoot. So much so, that I couldn't pass up the chance to work on some 50-yd. steel with the gun as well, ringing the steel with regularity. 
Les Baer designed this gun especially for the armed citizen. It is slim, compact and easy to carry. In addition, it is quite pleasant to shoot, generating felt recoil that just about anyone can manage. And yet, thanks to modern ammunition design, its 9 mm Luger cartridge makes it a serious contender for personal defense. Loaded with good ammunition and tucked away in a nice holster, like the Milt Sparks Summer Special, it will surely get the job done.
Both the Gunsite and Black Baer pistols gave smooth performances during my tests. Neither gun failed to fire or malfunctioned in any way. That is the sort of performance that the defensive shooter must have, and it is the reason that some M1911s cost more than others. Any defensive handgun has got to be as trouble-free as it is humanly possible to make it.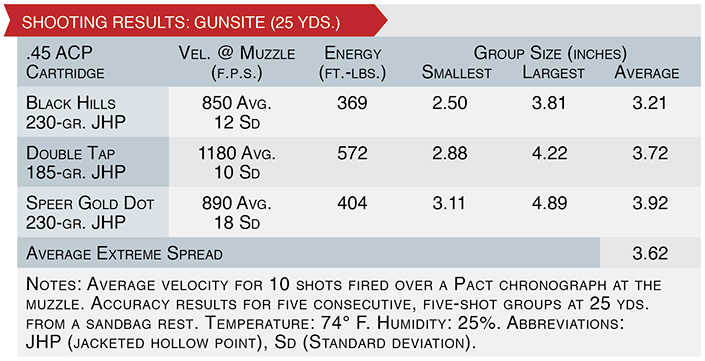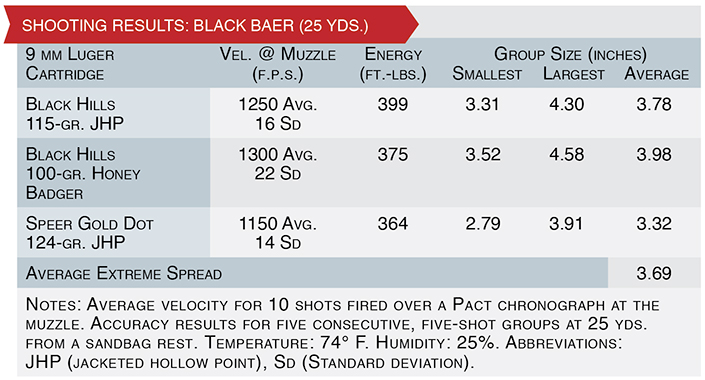 Les Baer continues to be one of the top manufacturers of M1911 pistols. The reason for this is two-fold. First, he understands the M1911, knows what to do and what not to do in order to make it function reliably. Secondly, he uses only the best-quality materials, knowing that the gun is only as good as its various parts and the way they are mated together.

There is really no mystery to building top-quality M1911s; it just requires good materials and proper fitting. That Les Baer understands this is what keeps him at the top of the game. The Gunsite and the Black Baer pistols are good examples of what can be accomplished when quality is the main goal—and the defensive shooter becomes the ultimate winner in the whole deal.