by
posted on April 23, 2020
Support NRA American Rifleman
DONATE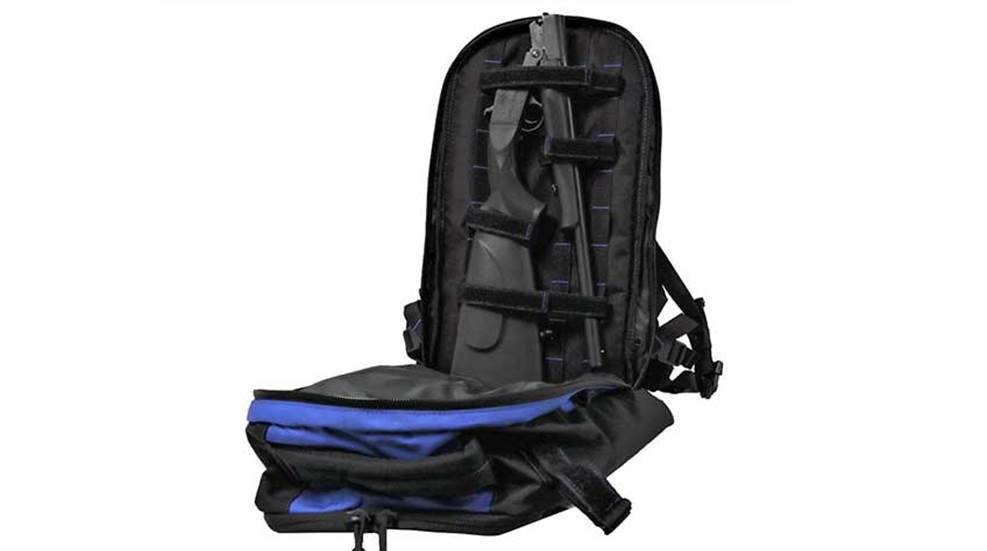 I'm a big fan of products that can fill multiple roles. When properly executed, they save time, money and vehicle cargo space when heading out to enjoy the great outdoors. Over the last few years, I've been keeping my eye on the continuing evolution of multi-purpose bags designed to serve the three roles of day pack, range bag and, in a pinch, bug-out bag.

This year, the new RUKX Survivor backpack caught my eye at the American Tactical, Inc. booth at the Las Vegas SHOT Show. Many of these bags, which are intended for civilian activities, suffer from two types of 'tacticallitis.' The first is cosmetic. Their military or law-enforcement background are clearly visible and practically shout, "Look at me! I'm a gun bag!" The other issue can be utility. The designers are so focused on the configuration of the firearm pocket and ammunition storage that it's not really a backpack. It's just a range bag with shoulder straps.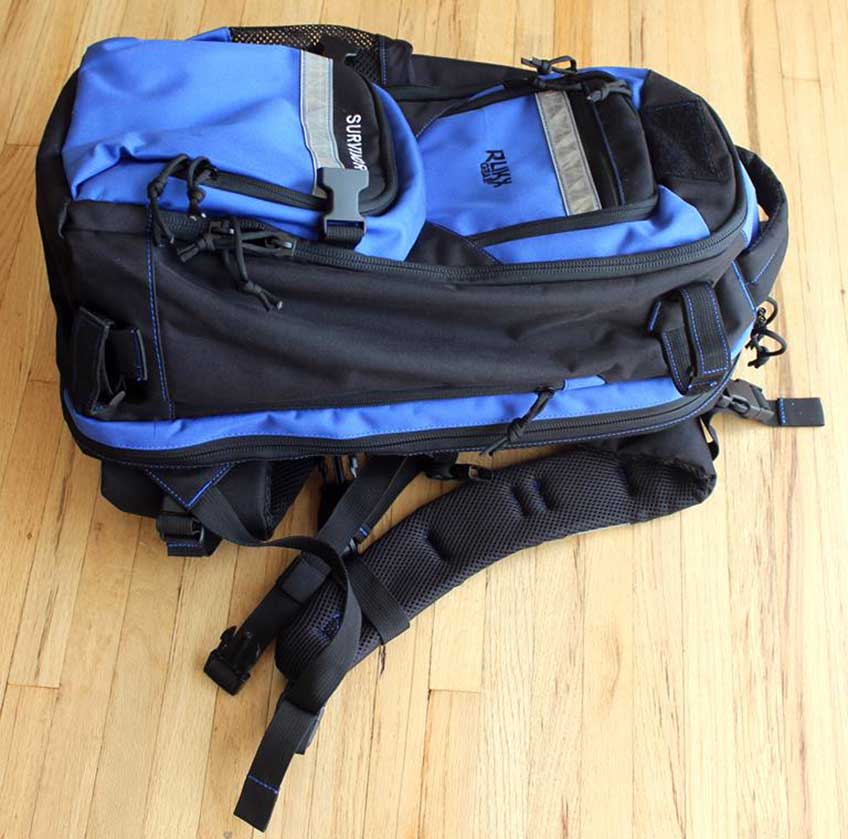 The RUKX Survivor neatly addresses both of these problems. Available in bright and subdued two-tone color schemes, it looks just like any other day pack one would expect to see on the trail or in a camp site. Constructed of water resistant 600D polyester with heavy duty stitching and reinforced webbing, it has no MOLLE loops, tactical straps or billboard-sized embroidered gun company logos anywhere to be seen. Color options include black-on-black, or black with tan, red, yellow, orange or blue (shown) highlights. This pack is capable of floating up to 10-lbs. worth of cargo weight.

The external features are just what outdoor enthusiasts are looking for in a day pack. There's a sturdy carry handle, compression straps, hydration pouch port, tie downs for walking sticks or a tripod, safety reflector strips and a mesh water bottle pouch. The shoulder straps and hip belt are fully adjustable, removable and feature ventilated padding. There's additional vented padding at the shoulder and lumbar levels for improved comfort during longer walks.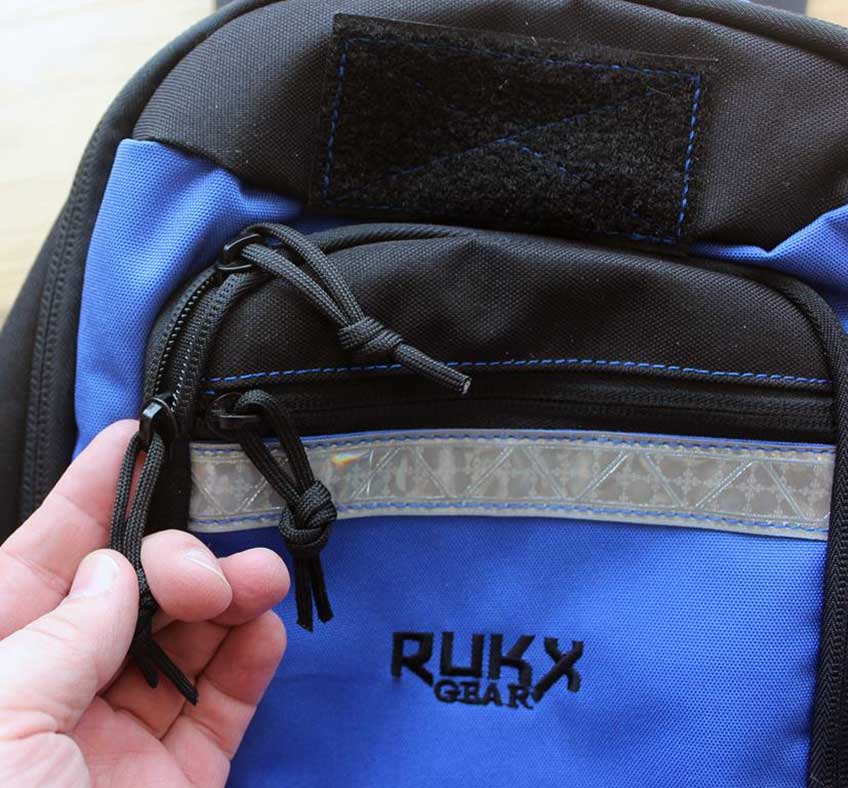 A variety of practical and tactical features can be found inside. The 22"x10" firearm storage pocket rests next to the black support strap panel (where the shoulder straps and hip belt are attached). Its black zipper blends into the support strap panel so as to not draw attention to itself. Opening the gun pocket reveals a set of sewn in loops and removable straps for securing a firearm, like a take-down rimfire carbine, divided AR pistol or one of American Tactical's 18.5" folding Nomad shotguns (more on that in a minute).

The next pocket is configured for legally concealed handgun carry. It can be accessed from the left or right side via 10" zippered openings. Inside is a sewn-in 10"x10" loop fastener panel to support a hook attachment handgun holster (not included). It can also be used to hold a hydration pouch when a handgun is not being carried. The main pocket is just what it should be - wide open and spacious with two good sized zipper mesh pockets for smaller items. The three smaller exterior pockets provide all of those handy nooks and crannies good packs should have for important small items like pocket knives, pens, flashlights, etc. The upper pocket also has five elastic loops for shotgun shells, if you need them.


When I approached the American Tactical team about giving the RUKX Survivor pack a test drive, they asked if I wanted to work with just the backpack or the RUKX/Nomad combo? I thought the pack was on display with a Nomad inside it because it was a good fit. I hadn't realized that it could be purchased as a package deal.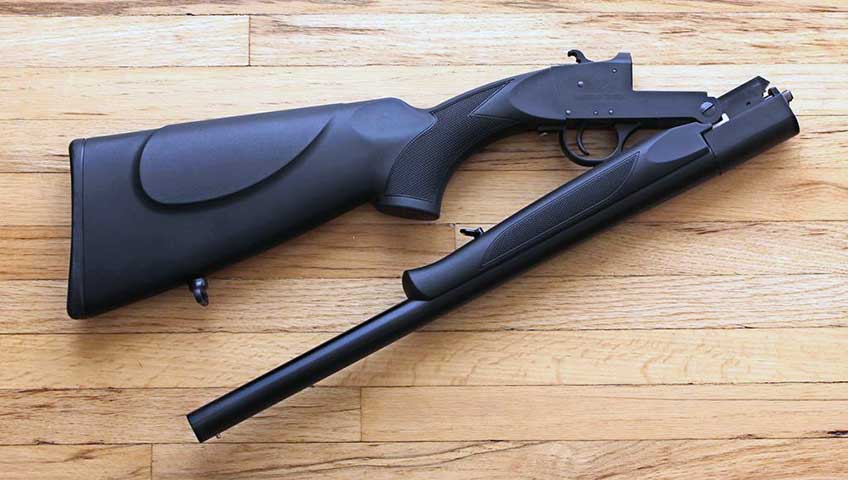 The Nomad series of folding, single-shot shotguns are manufactured in Torun, Turkey for American Tactical and have a suggested retail price of $109.95 when purchased separately from the backpack. Caliber options include .410 Bore, 20-ga. and 12-ga. chambers for shells up to 3" with barrel lengths ranging from 18.5" to 26". Only the 18.5" barrel Nomads will fit in the Survivor backpack but customers can pick from any of the three caliber options. For this review, I opted for the 12-ga. version.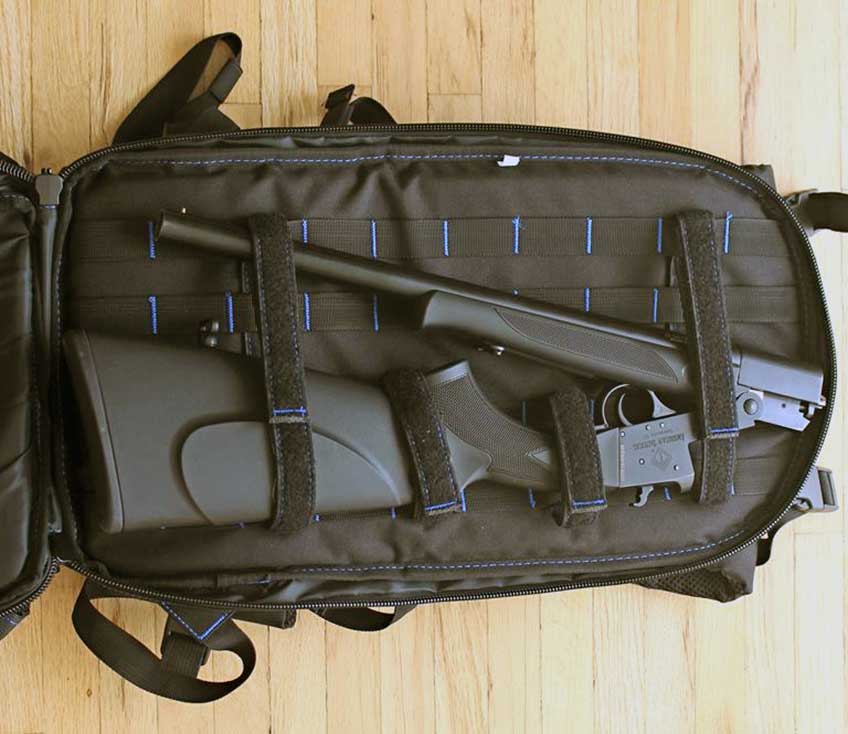 The Nomad break-action shotgun is assembled around a blued steel receiver that provides a round notch rear sight to complement the brass bead front sight. The 18.5" barrel has a simple, flat-cut muzzle with a fixed cylinder bore choke, which is to say, no choke at all. The black polymer stocks have classic sporting shotgun lines with molded in diamond-pattern checkering, a thin hard rubber butt plate and shoulder sling swivels.

The sliding alloy trigger guard serves as the hinged action's release lever when pressed back towards the shoulder stock. As the action swings open, the shell extractor cams out away from the chamber about a quarter of an inch so that spent shell casings can be manually removed from the chamber. With the action open, the barrel can continue to swing down to fold the shotgun in half without any tools or modifications.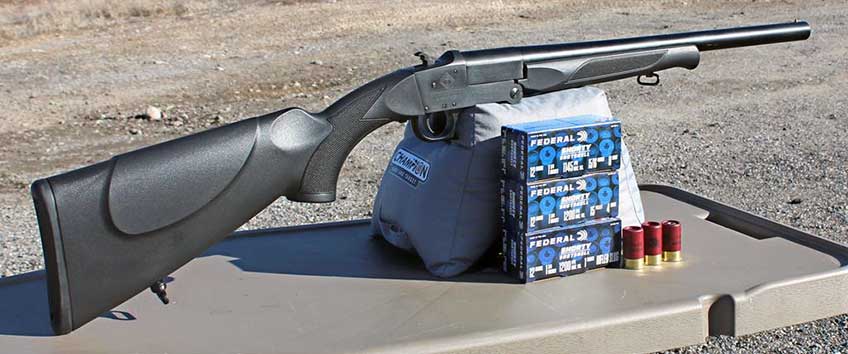 This simple but rugged folding shotgun has an unloaded weight of 4-lbs 4-oz. and a folded footprint that's 21.5" long, 7.5" wide and 1.75" thick (at the widest point in the shoulder stock). The exposed, rebounding hammer is manually cocked each time the gun is fired. The hammer has a heavy spring behind it, so it takes a concerted effort to cock it. But the trigger is smooth with a 7-lb. 8-oz. trigger pull.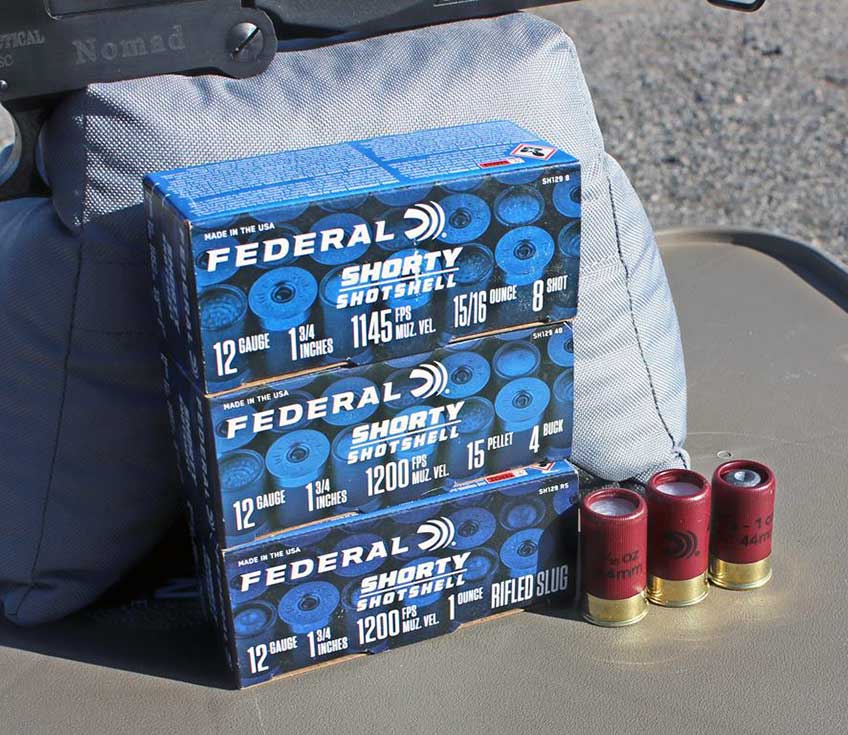 An ideal 12-ga. ammunition fit for this backpack and shotgun combo is Federal Premium's series of 1¾" Shorty Shotshells. A 10-round box weighs around 13-oz. (depending on the load) and only takes up about 14 cubic inches of space in the pack. The Shorty shells are currently available in three loads, including 15/16-oz. of #8 lead birdshot (1145-fps.), 15 pellets of #4 lead buckshot (1200-fps.) or 1-oz. rifle lead slugs (1200-fps.).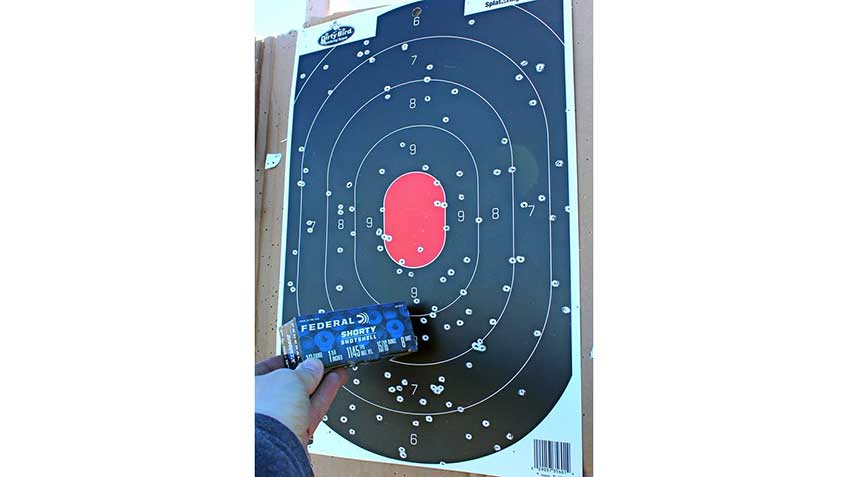 Because of the relatively short and un-choked configuration of the Nomad's barrel, bench-rested pattern testing was conducted at 25-yards using Birchwood Casey 12"x18" Dirty Bird targets. The #8 birdshot load opened up to cover the target more or less evenly from top to bottom. The 15-pellet #4 Buckshot load formed a 12.5" pattern with 12 pellets on the target. My best group with the 1-oz. rifle slugs was 5".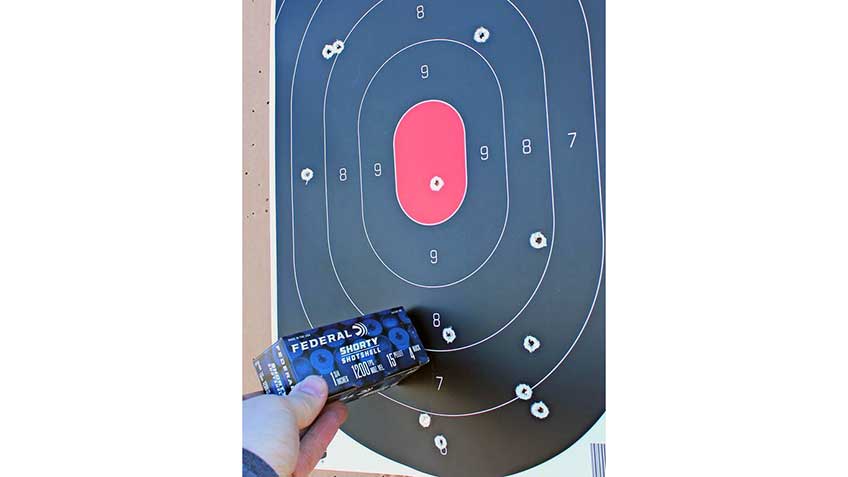 The new RUKX Gear Survivor backpack is a durable, comfortable and good looking pack that I would be happy to wear for shooting endeavors or other activities that don't involve firearms. The Nomad shotgun is a tough, simple and reliable shotgun that can be comfortably stowed in compact storage spaces for emergencies, on the trail or casual plinking.

This affordably priced combo has a suggested retail price of $179.95. It makes a great gift for outdoor enthusiasts or it can be an ideal starting point for building an emergency preparedness kit. The backpack is available as a stand-alone item for $79.95 and the Nomad shotguns can be purchased for $109.95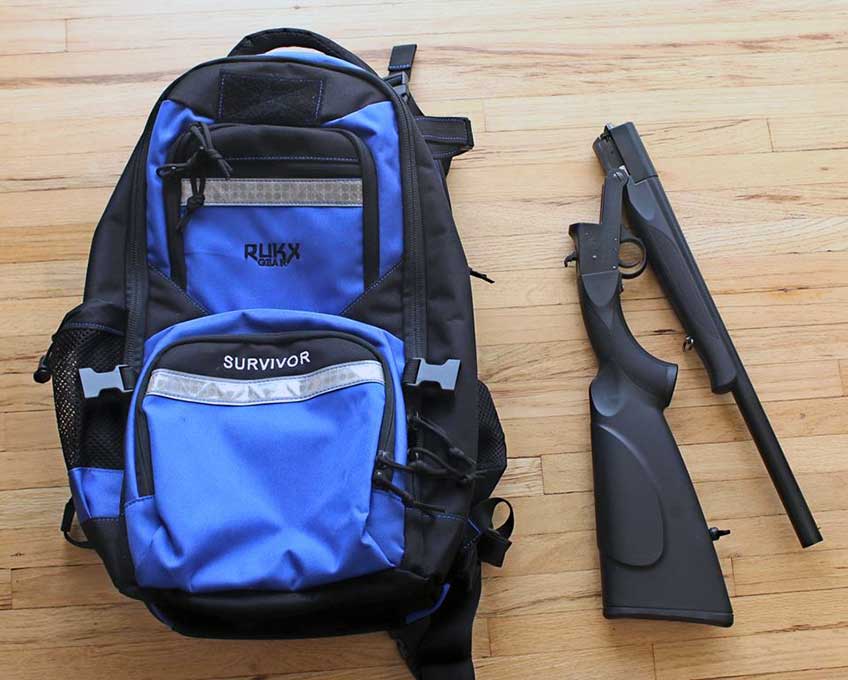 Specifications:
Importer: American Tactical, Inc.
Bag: RUKX Gear Survivor Backpack ($79.95)
Shotgun: Nomad Folding Single-Shot ($109.95)
Action: Break Action
Trigger: Single-Action with Exposed Hammer
Caliber: 12-ga.
Chamber: 3"
Receiver: Matte Black Carbon Steel
Barrel: 18.5" Blued Carbon Steel
Bore: Smooth
Choke: Fixed Cylinder Bore Choke
Front Sight: Brass Bead
Rear Sight: Receiver notch
Fore-end: Checkered Black Polymer
Stock: Checkered Black Polymer with Rubber Pad
Sling Swivels: Yes
Trigger Pull: 7-lb. 8-oz. (As Tested)
Overall Length: 34"
Folded Length: 21.5"
Length of Pull (LOP): 14"
Weight: 4 lbs. 4-oz., Unloaded
Capacity: 1 Round
Firearm Accessories: Owner's manual
Bag and Shotgun Package Suggested Retail: $179.95