Support NRA American Rifleman
DONATE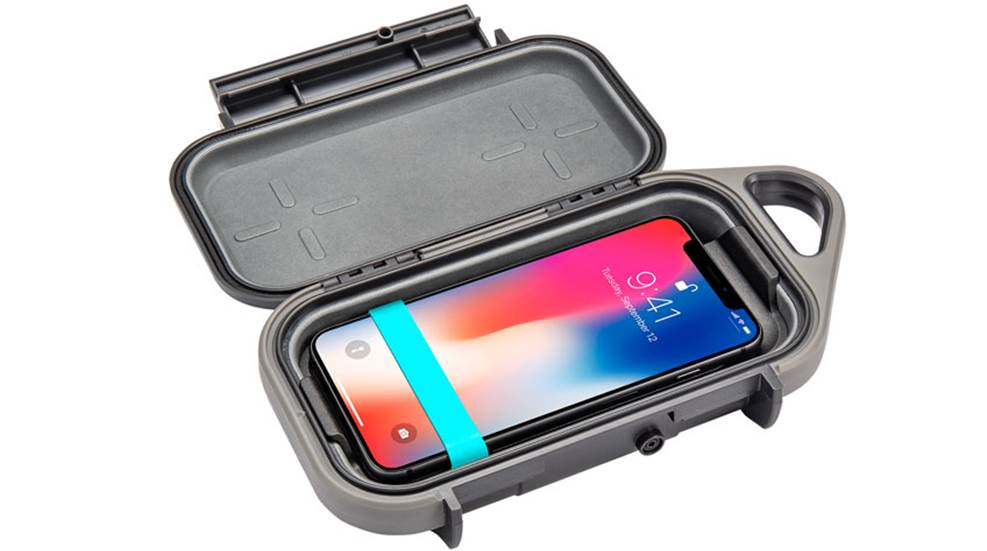 The G40C Personal Utility Go Charge Case, from Pelican, is an IP67-rated floating case that can defend against water damage (up to 1 meter for 30 minutes) and dust exposure. Despite its durable nature, the case also features Qi-certified wireless charging when connected to an integrated charging tray, which has the capacity for up to 48 hours of additional battery life for a smartphone.

"We have taken our new Personal Utility Case Series to a new level with the Pelican Go G40 Charge Case," says Bob Shortt, president of Pelican Products' Consumer Division. "It delivers lifetime durability and convenience to a new generation of outdoor enthusiasts and adventure travelers. With its rugged case and reliable QI-certified wireless charging, it is blazing a new and uniquely beneficial category of carry solutions for those who work in extreme weather or work conditions, enjoy outdoor adventures or just lounge by the pool."

Each Pelican Go G40C Charge Case is small enough to be kept inside a backpack or other bag easily while offering enhanced protection for your smartphone, thanks to its waterproof and dust-proof design. Each Go G40C case features 10,000 mAh built into the pack, which automatically charges phones resting in the case on top of the removable battery tray. To put that into a more measurable format, the case provides enough extra power to keep your phone going for 48 hours beyond its original battery life.

The Pelican Go G40C Charge Case is large enough to fit phones like the iPhone 11 Pro Max or the Samsung Galaxy Note 9. Once a phone is removed from the case, the charging source automatically shuts off within 45 seconds, so you can keep a fully fueled power reserve on-hand for as long as you need. For devices that aren't able to charge just by resting on the touchpad inside the case, the G40C also offers a USB port that can be used to replenish batteries in non-QI-enabled devices. The case also features a flexible strap that allows smartphones to be secured while on the go.

The exterior of the Pelican Go G40 Charge Case has a durable, abrasion resistant texture, a rubberized bumper and an easy-to-carry handle. The IP67 rating of the case means that it not only floats in water, but can also be submerged for 30 minutes at a depth of three feet. A carry handle aids portability of the anthracite grey case. Price: $100. Contact: Pelican Products, Inc.; (800) 473-5422; pelican.com.