by
posted on February 18, 2020
Support NRA American Rifleman
DONATE
Leupold's selection of rifle and handgun scopes is extensive and highly regarded, and, in recent years, the company has also made inroads in the area of miniature reflex sights. But a moderately compact, non-magnifying red-dot optic for carbines and other long guns had been absent from its portfolio.

That omission was rectified by the recent release of the Leupold Freedom RDS, which, while not nearly as small or light as pistol-purposed sights, nonetheless fills a critical market demand for a red-dot optic suitable for rifle, carbine or shotgun applications where magnification, variable power and complex reticles are not necessary. Obvious examples would be home defense, where engagement distances are likely to be measured in feet, and turkey hunting, where a simple, illuminated aiming point of appropriate size is just the ticket when attempting to anchor a strutting tom.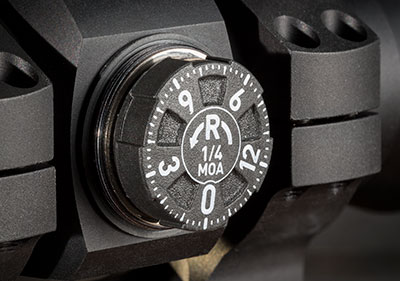 The RDS is an unmagnified red-dot optic with a 1-m.o.a. reticle adjustable through eight brightness settings. It is built on a 34 mm body tube with moderate bells at its objective and ocular ends that lend it the appearance of a truncated riflescope. An included one-piece mount straddles the machined center section, on which are mounted the windage and elevation turrets—each capable of 80-m.o.a. adjustments in 1/4-m.o.a. increments—in their traditional locations.

An eight-setting illumination dial with on/off button and a battery compartment are on the left side. The latter houses a single CR 2032 cell said to last 300 hours at setting 4. Overall length of the sight is 5.25", width is 2.5" and height is 3", placing the reticle's center 1.5" above the top surface of a Picatinny rail. The mount is machined with three recoil lugs, and its clamp is secured by three Torx-head screws using an included wrench that also fits the top caps' four smaller fasteners. Weight of the unit, including the mount and battery, is 12.6 ozs.
Our test sample RDS featured the simpler red-dot reticle rather than the BDC-reticle version, which is calibrated for the 5.56x45 mm NATO/.223 Rem. cartridges out to 400 yds. We mounted it on a variety of firearms, from a semi-automatic tactical 12-ga. shotgun to a semi-automatic .308 Win. rifle, and found it to mount and adjust easily on standard Picatinny rails while remaining secure and exhibiting no shift in zero. We also subjected the RDS to temperatures as low as 20° F and noted no fogging or adverse effects when it was re-introduced into room temperatures.
Finger-adjustable windage and elevation settings, denoted by easy-to-read calloffs, were accessible after removing protective aluminum caps. And, although somewhat indistinct, they consistently resulted in proper tracking of the reticle when zeroing the sight. The reticle brightness control is activated by pushing the medallion bearing the company's stylized "L" and duplex reticle image at its center. If left motionless for more than five minutes, the unit turns itself off to conserve battery power, re-illuminating after being moved again—a thoughtful feature that instills confidence in the user.
Owing to its stout build quality and reasonable price, the Leupold RDS is a welcome addition to a crowded marketplace—particularly since it comes from a household brand renowned for its high-quality, American-manufactured products. It is likely to serve well for many years in a variety of roles for users of long guns who require a simple, durable red-dot optic of moderate size and weight. Price: $390 ($520 for BDC version). Contact: Leupold & Stevens, Inc. (Dept. AR), 14400 N.W. Greenbrier Parkway, Beaverton, OR 97006; (800) 538-7653; leupold.com.