by
posted on March 1, 2019
Support NRA American Rifleman
DONATE
When NRA President Lt. Col. Oliver North's Winchester Model 12 shotgun became disabled by shrapnel during battle in Vietnam, it was his .45-cal. Colt 1911 pistol he turned to in order to save his life. "I used the .45 as it was advertised to be used, and I'm alive to tell the story," he said.



Now Lt. Col. North has lent his signature for use on a Limited Edition run of 100 Colt Commander pistols in .45 caliber, his name engraved in 24k gold on the slide. The pistol will be available to the first 100 people who select it when they sign up for a Friends of NRA Sponsorship at the "Legacy of Freedom" level ($3,500).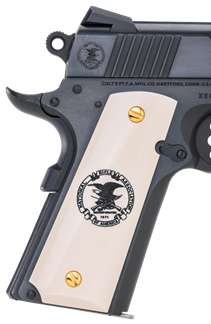 All proceeds will benefit The NRA Foundation which, to date, has awarded more than 45,000 grants to local, state and national programs through funds raised by the Friends of NRA program, totaling more than $369 million. Programs benefiting from these grants include Eddie Eagle GunSafe, Youth Shooting Sports, Women On Target, National School Shield, Youth Education Summit, Refuse To Be A Victim, Youth Hunter Education Challenge, Adaptive Shooting and Law Enforcement Training and more. This Oliver North Colt Commander pistol, Model 04940XE, features a blued finish, brushed-finish polish, and bonded-ivory grips with the NRA Eagle logo lasered on both left and right panels. Factory grips will be placed in each case.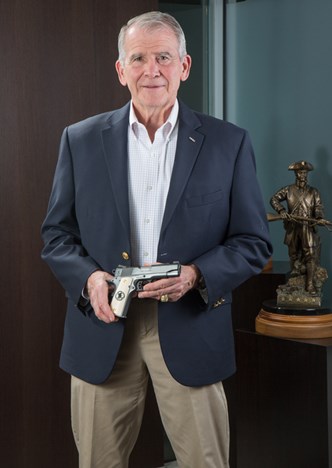 "[A Commander model], it's a little lighter than what I carried, but it's a historic firearm made by a great company … ," North said. "The great thing about this is it's made by the same company that saved my life in Vietnam."
For more information about becoming a Friends of NRA Sponsor and owning this pistol, please visit FriendsOfNRA.org.