by
posted on December 30, 2019
Support NRA American Rifleman
DONATE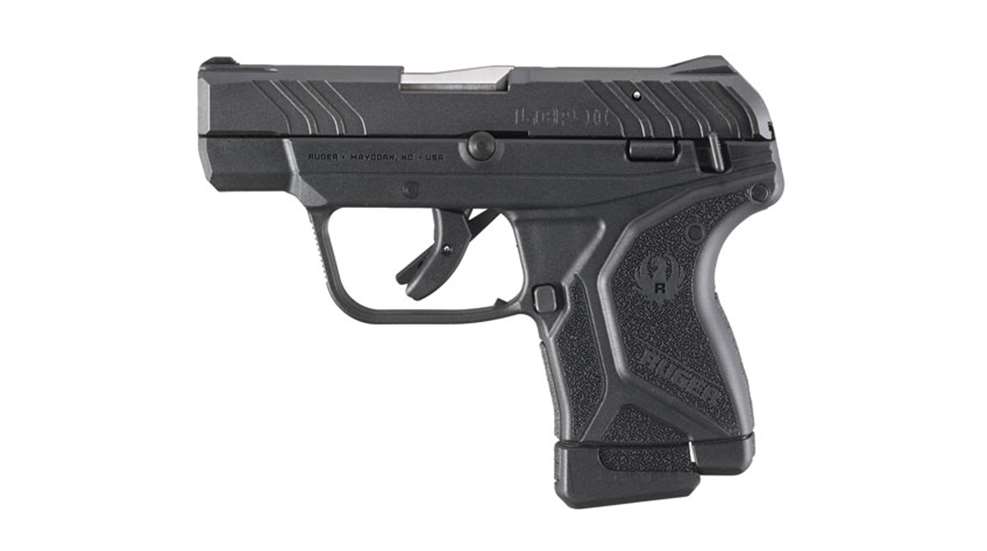 In 2018, I wrote a eulogy to honor the passing of "mouse guns"' into the annals of shooting history. By mouse guns I mean the small, pocket-sized semi-automatics chambered for diminutive cartridges, including the .32 ACP, .25 ACP, .22LR and even the .22 Short. Although the small center-fire .32s and 25s continue to languish, Ruger has opted to pull out the chest paddles in 2020 and give the rimfire mouse gun a resuscitating jolt with the release of a new version of the popular .380 ACP LCP II pocket pistol chambered in .22 LR.


To some folks this new pistol will be a bit of a head scratcher. Ruger doesn't recommend short-barrel .22s for self defense applications, and there are better, albeit larger, models that are more useful for target shooting and small-game hunting. So where does an LCP II chambered for .22 LR fit into the Ruger pantheon of rimfire platforms?



First First and foremost, this version of the LCP II is intended to serve as an understudy for the .380 ACP version. Right now folks can go online and easily pick up plinking-grade .22 LR for about $0.05 a round, whereas practice-grade .380 ACP starts at around $0.30 per shot fired. That's six rimfire trigger pulls to one center-fire shot, and that adds up quickly! However, this little rimfire is not limited to just understudy work. With its small profile, and an unloaded weight of 10.9 oz, it's an ideal kit gun for close-range pest control and casual plinking. And last, but not least, it's just plain fun to shoot. There's nothing wrong with owning a gun just because you like it.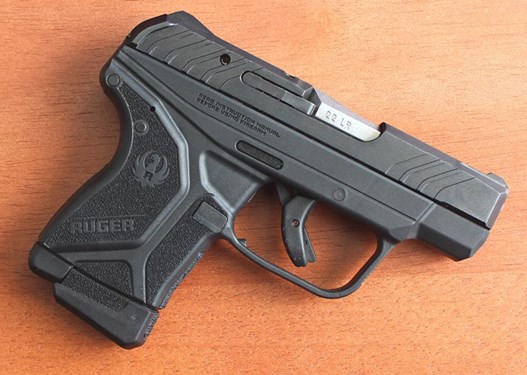 In regard to form and function, the rimfire version of the LCP II is nearly identical to the .380 ACP version, with two key sporting model modifications. It's a hammer fired, blowback-operated semi-automatic with a through-hardened, blued steel slide with milled-in sights and angled cocking serrations at the front and rear. The 2.75" barrel is not blackened to match the slide but has a natural silver finish and a slightly modified contour to the chamber. The takedown pin, magazine release button and slide catch are all found on the left side of the black, textured glass-filled nylon frame.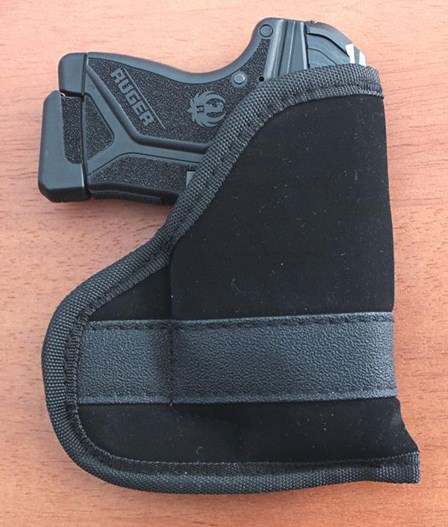 Right behind the slide catch you'll find a control that is absent on the .380 ACP, which is a metallic thumb safety lever. Rather than swinging up and down like most safeties, it slides straight back into the Safe position and is pressed forward into the Fire position. It's small but easy to operate with a bright red dot that's clearly visible when the safety is in the Fire position. This pistol also has a magazine disconnect which prevents the trigger from cycling when the magazine is removed.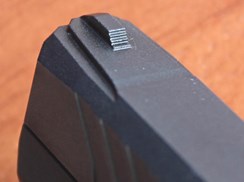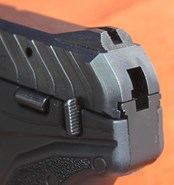 Neither of these features is all that desirable for defensive pocket pistols. But remember, Ruger doesn't consider this a defensive handgun. It's meant to be a sporting model, so the company included the thumb safety and magazine disconnect found on its other .22 rimfire pistols. Luckily, these features don't get in the way of good practice sessions at the range or casual plinking endeavors. It ships with a soft pocket holster which makes it easy to practice a pocket draw.
The single-stack steel magazine provides a 10+1 ammunition capacity instead of 6+1. The base plate is slightly extended to accommodate the added rounds but is not noticeably longer than the little finger rest found on the .380 magazines.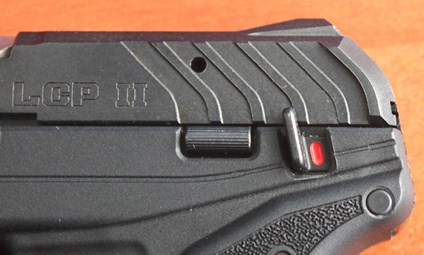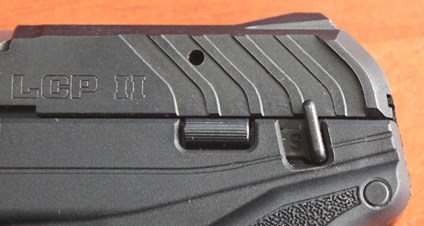 The key to having a useful rimfire clone of a defensive pistol for practice is the right sight picture and the trigger pull. The trigger on this gun is identical to the center-fire model, right down to the integral safety lever, smooth feel and trigger reset position. According to a Lyman digital trigger gauge, the trigger of the pistol tested was 5 lbs. 4 oz. The overall fit and finish are identical as well. The only noticeable differences when shooting this gun are four more shots and less recoil.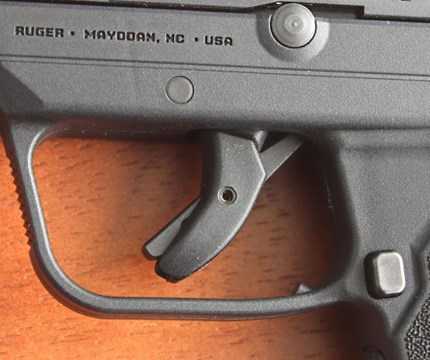 Small rimfire pistols have a well deserved reputation for being ammunition sensitive. The .22 LR is a rimmed rifle cartridge loaded with powders designed to make the most of 16" or longer barrels. Pistol-length barrels don't provide anywhere near the same amount of burn time for those powders, let alone a barrel as short as this one. And don't forget that .22 LR rounds are loaded to different rifle velocities depending on their intended application:

Subsonic, Target, and Match Loads: 1100 f.p.s. or less
Standard Velocity: 1120 to 1135 f.p.s.
High Velocity: 1200 to 1310 f.p.s.
Hyper or Ultra Velocity: 1400 f.p.s.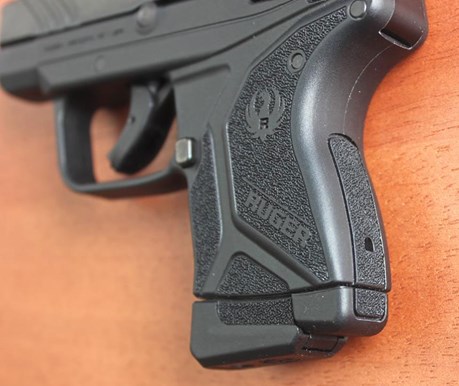 To avoid spending too much time and ammunition trying to figure out which loads are best for this particular pistol, I gave Ruger a call. As a rule of thumb, the optimum ammunition for the LCP II .22 is a high-velocity round topped with 40-grain bullets. Slower loads may run reliably but they may not; it's a coin toss. Hyper-velocity loads (which cost more) will cycle the gun reliably, but the powders they use don't have enough time to burn efficiently. As a result, there is no velocity gain over high-velocity loads and that more expensive un-burnt powder just blows out the barrel. With this information in hand, I rounded up the following seven loads to test at the range:

Aguila Super Extra 40-gr. CPRN (1255 f.p.s.)
CCI Clean-22 PCRN 40-gr. CPRN (1235 f.p.s.)
CCI Mini Mag 40-gr. CPRN  (1235.f.p.s.)
Federal Champion 40-gr. LRN (1240 f.p.s.)
Federal Champion BYOB 36-gr. CPHP (1260 f.p.s.)
Remington Golden Bullet 40-gr. BPRN (1255 f.p.s.)
Winchester Super-X 40-gr. CPRN ( 1150 f.p.s.)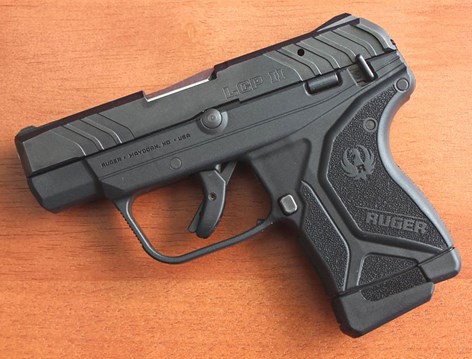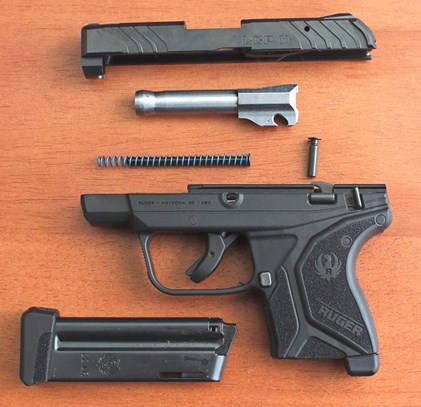 This ammunition mix included the most prolific rimfire ammunition manufacturers with some factory fresh loads and some boxes that have been gathering dust for a while. Occasionally a rimfire gun will be brand sensitive. I've worked with a .22 that would eat anything but Winchester; another that simply would not get along with loads from Remington. There's simply no way to know without testing at the range.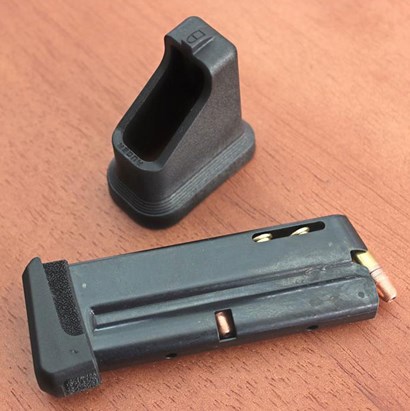 You'll notice that two of the test loads are not quite to spec but they were included intentionally. The 36-gr. Federal load is one of my preferred practice-grade loads (so I usually have a brick or two on hand) while the Winchester Super-X is a bit on the slow side. Would it cycle the gun reliably anyway? The answer is yes, it would!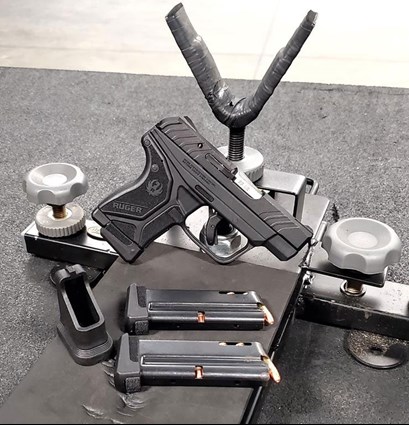 All of the test loads cycled the pistol reliably. There was a single malfunction in the first 100 rounds fired with the Remington load. This round caused the slide to lock open with the chamber clear and the next round in the magazine ready to load. All I had to do was pull back on the slide to release it and continue firing. That was it, the only malfunction of any kind for hundreds of rounds fired. I was duly impressed by the reliability of this little semi-automatic.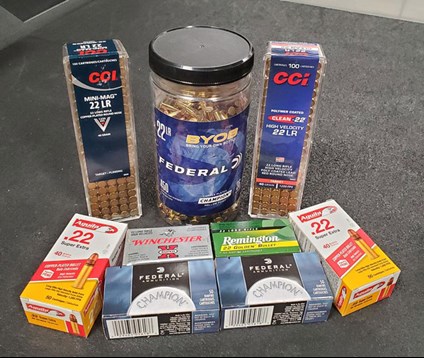 After an enjoyable informal workout with all seven loads, the pack was narrowed down to three loads for formal, benchrested accuracy testing. Five 5-shot groups were fired into targets set at 7 yards. For those who are wondering if this is a target pistol, the answer is no, it's not. It's certainly good enough for practice at the range and casual plinking, but it won't win any competitions. The Aguila Super Extra turned in a best single group of 1.64" with a five group average of 1.82". CCI's Clean-22 printed a best group of 1.59" with an average of 1.71", while the Federal Champion BYOB 36-gr. hollow points tapped out a best group of 1.61" with an average of 1.69".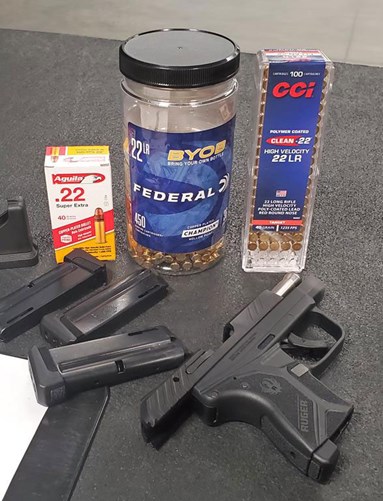 The new Ruger LCR II chambered for .22 LR exhibits the same desirable features, trigger pull and reliability that's made the .380 ACP version such a popular option for concealed carry. Because .22 LR is once again plentiful and reasonably priced, this rimfire version is much less expensive to practice with. In addition to its utility as a training tool, it proved to be a fun little gun to shoot. Although I wouldn't recommend this pistol for personal protection, I will say it's one of the best little kit guns and casual plinkers to hit the market in a long time. The rimfire LCR II has a suggested retail price of $349 which will translate into real world prices closer to $300. That means it costs about the same amount as other quality .22 LR pistols.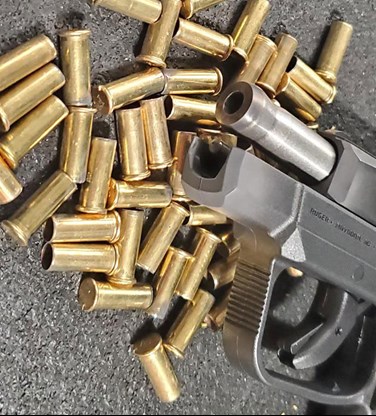 Specifications: 
Manufacturer: Sturm, Ruger & Co.
Model: LCPII (Model 13705)
Action: Blow-Back Operated Semi-Auto
Caliber: .22 LR
Slide: Blued Alloy Steel
Sights: Fixed
Frame: Textured Black Glass-Filled Nylon
Trigger: Secure-Action
Trigger Pull: 5-lbs. 4-oz. (As Tested)
Magazine: Blued Steel
Magazine Disconnect: Yes
Thumb Safety: Yes
Barrel Length: 2.75"
Overall Length: 5.17"
Height: 3.71"
Slide Width: 0.75"
Weight: 10.9-oz. with Empty Magazine
Capacity:  10+1 Rounds
Twist: 1:16" RH
Rifle Grooves:  6
Accessories: One Magazine, Magazine Loader, Soft Pocket Holster, Owner's Manual, Lock
MSRP: $349