Support NRA American Rifleman
DONATE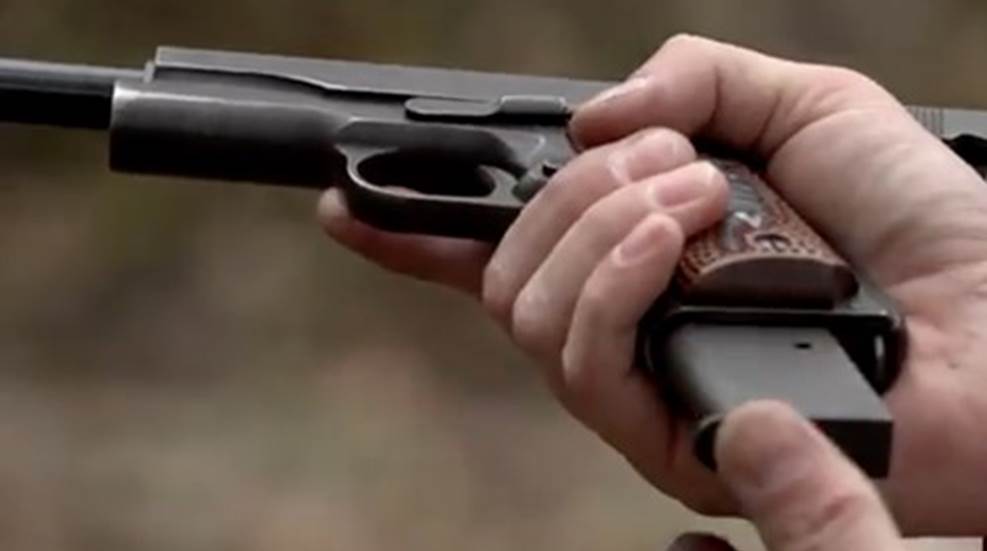 I was recently presented this idea for a series of posts to this blog, this being the first. The idea is to spend a few paragraphs on my favorite handgun and do it a decade at a time. Since handguns have always been my focus as a writer, we feel that readers of this blog might be interested in what guns stand out in my recollections of past year. It's now 2019 and I have been working exclusively as a writer for gun magazines for 34 consecutive years. Before that, I carried and used a handgun as a deputy sheriff in Orange County, Calif., and as an infantryman in the Marine Corps. This provides a pretty wide set of experiences, but I am not trying to imply that I have seen everything. I believe I can confidently state that I have evaluated all of the major makes and almost all models thereof. The nature of any gun review story—for Gun World, Guns & Ammo, Petersen's Handguns, HandGunning, Shooting Times, Shooting Illustrated or Amertican Rifleman—is remarkably like every other one.
In considering where to begin, I thought about going back to the very first handgun I ever fired. But that event was so far back in my lifetime that I had no comparative experience and opinion to share. I finally decided to begin in the 1960s, when I was just started carrying a pistol by mandate of the U.S. Marine Corps.
The idea behind this series—which begins below—is to identify a gun for each decade (maybe a runner up), describe where it fits in the scheme of things and what sort of impact it had on me. A few of these choices may be easy, but most are really hard to do. I am one of the luckiest guys alive in that I have had an unending stream of shiny new handguns to shoot.     


The M1911
Although I grew up enthralled with the idea of owning and using every possible kind of gun, my exposure to any great variety was limited. I fired my first shots with a .22 at the age of six and even became an NRA member before I was a teen. In those years, there were no true gun magazines except American Rifleman, and that classic was always light on handgun reading. Gradually, my interests in firearms began to focus on the ones that could be fired with one hand. In that fascinating era of surplus autos from World War II Europe, I began to be aware that there were a lot of handguns I didn't know anything about. I discovered that great annual The Gun Digest and a few scattered gun books in the Pomona Public Library. Without realizing it, I became a collector of gun books
In the late 1950s, I finished my formal schooling and entered the military service with the Marine Corps. Basic School for lieutenants in the summer of 1957 started with a very thorough block of instruction on weapons. The basic weapon of that era was the M1 rifle, with the BAR as the squad automatic. We fired just about everything the Marine Corps used, including a qualification course with the water-cooled Browning machine gun and the most terrifying weapon I have ever fired—the flame thrower. But the Corps had recently rid itself of the controversial M1 carbine as a personal weapon for officers. Thus began my long-standing love affair with the 1911A1 pistol. It was an easy choice for favorite handgun of the 1960s decade.
After Basic School, I went to duty with a rifle company in the 3rd Marines on Okinawa. My issued firearm was the 1911A1 .45. I fired mine whenever I could and was lucky to be where open country was available for informal practice. I also had a company commander who was one of the Marine Corps' leading competitive shooters. He was full of encouragement and practical information. It was Capt. Martin who first told me about custom .45s or match-conditioned guns. In later duty assignments, I was able to compete in the annual competition-in-arms program. I even developed my own method of teaching pistol marksmanship and qualified an unheard-of 43 percent of my outfit as Experts.
On July 1, 1965, I landed—by helicopter—in Vietnam. I stayed there until just before Christmas of 1966. Every waking minute of every day of that time, I had the same 1911 .45 pistol on my hip. At night, it was within arm's reach or tied to my wrist. Straight out of the arsenal refinish program and looking pretty snazzy when I got it, the .45 gradually lost all finish. Parkerizing is the casualty when you have to use aggressive cleaning to get the night rust off.
From my point of view, the decade of the 1960s was strongly associated with carrying and firing the 1911A1 service .45, I fired dozens of 2700 aggregate bullseye matches and equal numbers of very similar service rules contests. This was the period when Jeff Cooper was doing all that Big Bear .45 Leatherslap stuff. I was busy with duties and never got around to joining the SWPL, but I was mighty interested. I had a great deal of reason to like the old gun and events of more recent times did nothing to diminish that.
It is an American classic firearm, a gun that shoots a serious cartridge for serious times. Made by Colt or other Yankee makers of note, the 1911 has a history that is incomparable. It can be abbreviated a bit, down to hideout size and it can be very accurate. It's an easy choice for Handgun of the Decade, 1960s.      
Additional Reading:
By the Decade: Wiley Clapp's Favorite Handgun—The 1970s  
By the Decade: Wiley Clapp's Favorite Handgun—The 1980s
The M1911: The Greatest Pistol in the World