Support NRA American Rifleman
DONATE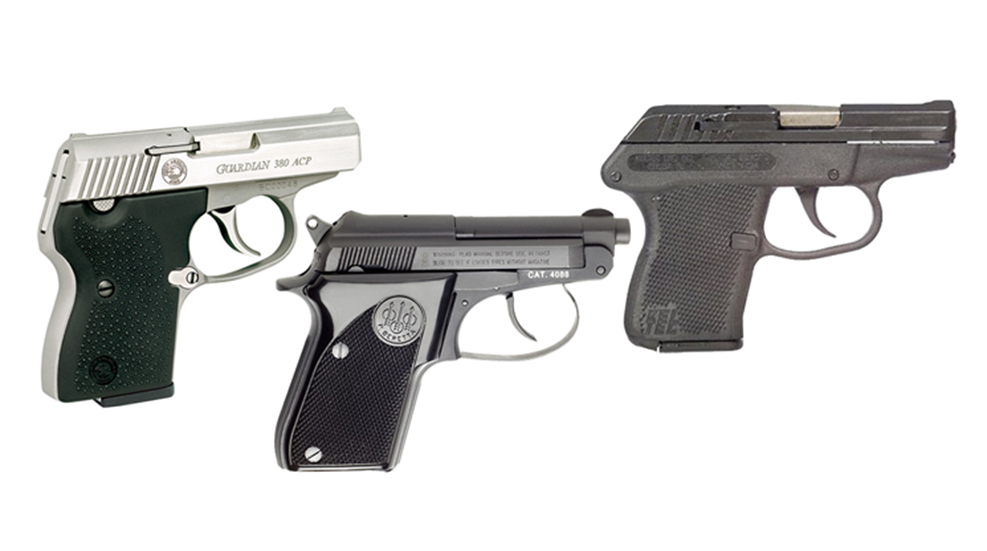 The article Is the Mouse Gun a Dying Breed? touched briefly on the history of a few types of pocket pistols and current market trends which seem to be moving hastily away from some of the smaller caliber options in favor of larger pistol cartridges. But there wasn't much room left in that piece for gun tests, so I recently staged "The Last Great Mouse Gun Race" in which three of the pistols mentioned went head-to-head to see how they perform and handle.
The Rules of the Race
I did my best to maintain as level a playing field as possible so that the calibers included in the race would each get a fair shake. Only center-fire semi-automatic cartridges were tested, including .25 ACP, .32 ACP and .380 ACP. Barrel lengths were kept as close to 2.5" as possible so that no one gun would have a distinct velocity advantage over the others. The guns were factory configured models without any aftermarket upgrades or sight enhancements. In this case, the sight systems ranged from minimal to ornamental in their usefulness. Although their weights vary, all three pistols have similar in-the-pocket profiles so that they can each fit into the same pockets, pouches or purses. 
Ammunition Selection: Hollow Point vs. Full-Metal Jacket
Various firearms are subjected to eternal debates which are unlikely to be fully resolved to everyone's satisfaction. In the case of mouse guns, a hot topic during their heyday was the Full-Metal Jacket vs. Hollow-Point ammunition for self-defense.
In most cases (and where the law will allow), defensive handguns should be loaded with high-quality hollow points for personal protection. As the bullet flattens out upon impact, it creates a larger permanent wound channel with a greater likelihood of impacting vital tissues. The expansion also works to slow the bullet down (like a parachute) in order to reduce the chances of over penetration resulting in unintended collateral damage.

Generally speaking, lightweight bullets traveling at high velocities or heavyweight bullets moving at moderate velocities tend to generate an optimum level of performance at defensive distances. However, the dynamics of mouse-gun calibers (especially those smaller than .380 ACP) are a bit different than other handguns because they launch lightweight bullets at relatively low velocities. This means a hollow point may not expand as intended.
Full-metal jacket bullets, with round or flat noses, do not expand upon impact resulting in deeper penetration. However, they are far less disruptive to vital tissue and may be manufactured with lower-grade components and less potent powder charges for use as practice ammunition. In some cases, it comes down to reliable operation, plain and simple. If your gun will only feed and fire full-metal jacket rounds, or with certain pressure levels, etc., then that's what you have to work with. 
Finding out which load is best for your pistol will take some homework on your part and burning through a few different types of ammunition at the range. In the course of the Mouse Race, all of the loads tested for function and formal accuracy fed, fired and ejected without any ammunition related malfunctions in any gun throughout the entire test. Quite frankly, I expected at least a hiccup or two, but they never showed up. 
The Contenders
And now for a quick look at each of the pistols in the race and how they handled at the range (detailed specifications and links to reviews are available at the end of the article).
.25 ACP 21A Bobcat 
Representing the .25 ACP team was the aluminum framed Beretta 21A Bobcat. It was a real challenge hunting one down for this review. They are listed as in production, but good luck finding a new one. After an exhaustive search of over two dozen local dealers, I finally found a used Bobcat at an out-of-the-way pawn shop. It was in near new condition but only came with one magazine. Factory 8-round magazines are more difficult to find than the pistols. Luckily, Mec-Gar of Italy makes an excellent 9-round model for this gun. I requested three magazines and they all worked flawlessly.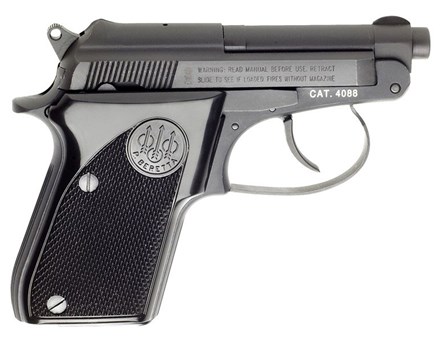 I've joined lots of other folks in giving this cartridge the fish eye over the years due to its low power level. My limited experience in shooting it has been with a couple of vest pocket models that are challenging to manage, which made it an even less attractive option. But the Bobcat proved to be a high-quality pistol that was a pleasure to run. Simply stated, if I ever choose to pack a .25 ACP, this would be the one I'd go with.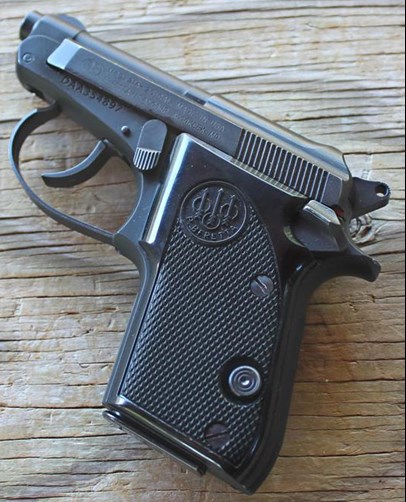 The Bobcat has a sufficiently wide grip with checkered polymer panels for good purchase, but it's only long enough to support two fingers. It tips the scales at 12.1 oz. with an empty magazine. Unlike the other two pistols in the race, this one has a double-action to single-action trigger, a hammer that can be manually cocked, a beavertail extension to prevent hammer bite and an external thumb safety. The double-action trigger cycles the hammer without the need to manually work the slide.

The combination of the useful grip profile and the .25 ACP cartridge made this an exceptionally soft shooting pistol. The tip-up barrel allows the chamber to be loaded or unloaded without racking the slide which is another real bonus for anyone with hand-strength issues. There are no sight system modifications or laser sights for this pistol (Crimson Trace has discontinued the LG-490 laser grip). Grip replacements, holsters and ammunition are still available but the ammunition is getting harder to find.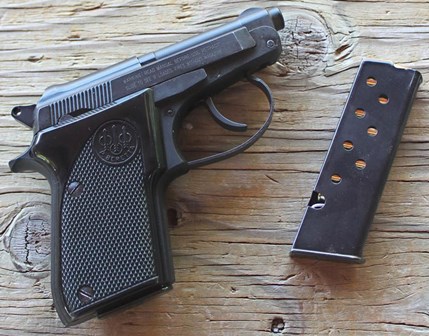 .32 ACP Kel-Tec P32
Firing the .32 ACP was the polymer framed Kel-Tec P32. Despite the growing popularity of .380 ACP and 9 mm pocket pistols, the P32 still fills a niche that few other semi-automatics can. Weighing in at just 7.9 oz. with a 0.75" wide slide, it's one of the lightest and slimmest pocketable options available today. Although Kel-Tec is not known for having vast production capacity, the P32s are relatively easy to find online and at brick-and-mortar operations.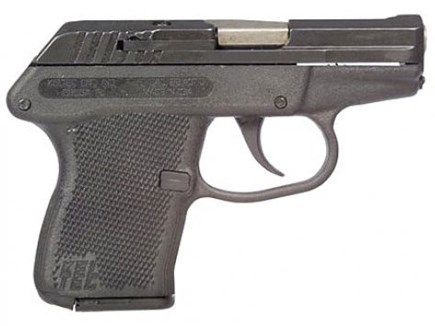 Rarely have I seen a pistol with so many types of holsters designed for it. Because it is so light and small, it can ride almost anywhere a person chooses to place it, including bra holsters, arm bands and even neck chains. If you need a gun to disappear into what you're wearing, this is the model to consider. This pistol ships with one flush fit magazine.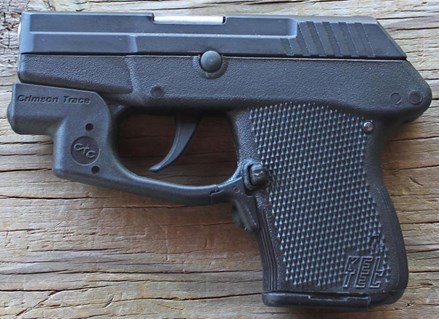 The P32's small sights are fixed so there's not much to be done to improve them. Trigger-guard-mounted laser sights are available, including the Crimson Trace red diode LG-430 shown here. The checkered grip is integral to the frame but effective. The double-action only trigger is nice and smooth. Although the bobbed hammer is exposed, the slide must be manually cycled to reset the hammer in case of a hard primer.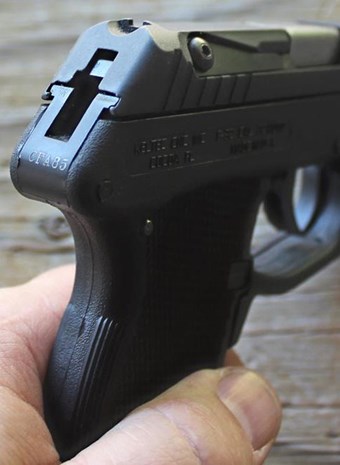 Despite its low weight and skinny grip, the P32 is a surprisingly comfortable pocket pistol to shoot. I've shot this gun for years, but this was the first time I ran it side by side with a .25 ACP. Felt recoil was much closer to that of the .25 than I expected it to be. Finding .32 ACP ammunition is much easier than .25 ACP, but it's not nearly as common as .380 ACP. It can be found online and at dedicated shooting stores but is unlikely to be stocked at the big-box store around the corner.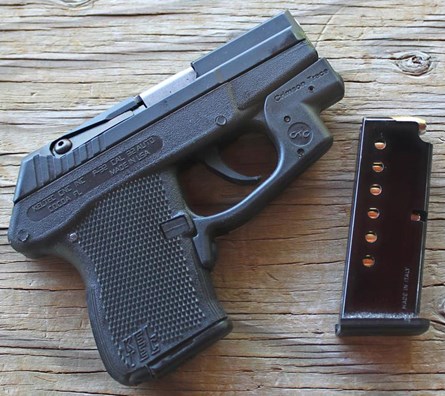 .380 ACP North American Arms Guardian
The final participant in the race, firing the formerly mousy but now mainstream .380 ACP cartridge, was the North American Arms Guardian. In production since 2001, the Guardian is still alive and well despite so many pocket .380s having been launched in recent years.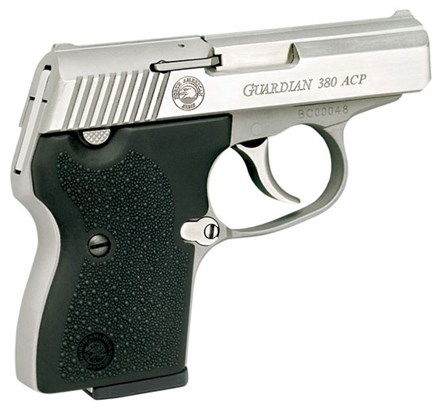 The Guardian has two primary design features going for it. First is its all stainless steel construction and simple fixed barrel design. It's a bit heavier than the other models (18.5 oz. with an empty magazine) but it will hold up to a lifetime of regular carry and practice.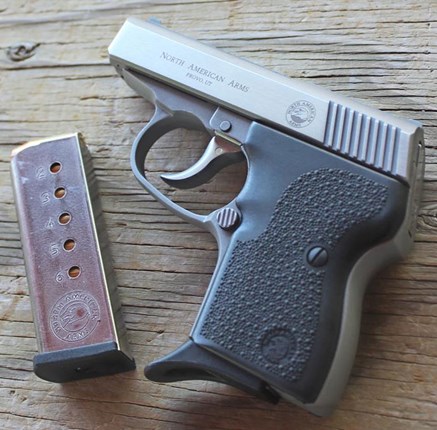 What also sets this gun apart from the crowd is all of the in-house custom upgrades and accessories that are available for it. Unlike the other pistols mentioned here, the sights can be upgraded. Options include XS and Novak sight systems in white-dot and night-sight configurations. Available grips include hard rubber, Crimson Trace LG-441 laser grips and exotic hardwood. Embellishments and custom serial numbers are also available. The minuscule fixed factory sights certainly didn't give this pistol an advantage over the other entrants in this race.
The double-action only trigger is relatively heavy but smooth. When the trigger is pulled slowly, it becomes tough to cycle. A firm, consistent pressure makes it feel much better. This pistol does not have any external safeties, just point and pull the trigger. The bobbed hammer is cycled solely by the trigger and is not dependant on the movement of the slide to reset it.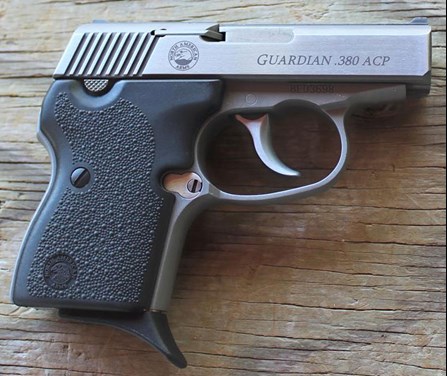 After working with the soft shooting .25 ACP and the .32 ACP, the increase in felt recoil with the .380 was noticeable. Like most other pocket .380s, the Guardian is peppy but manageable. I've worked with most of the grip options available for this gun and found that the factory-installed hard-rubber panels provide a good balance of purchase along with a slide-wide slim profile for better concealment.
Race Results
At the end of the day, all three pistols were hot, dirty and ready for a good cleaning (much like the author who shot them). The chronograph measurements were tallied, the 5-shot groups measured and the results compiled in the table shown here. As a point of reference, to help compare the performance of each caliber, a 9 mm Luger pistol cartridge launching a 115-gr. bullet at a velocity of 1,180 f.p.s. yields 355 ft.-lbs. of energy at the muzzle. (For those interested in performance data for the North American Arms .22 Mag. Mini revolver, click here).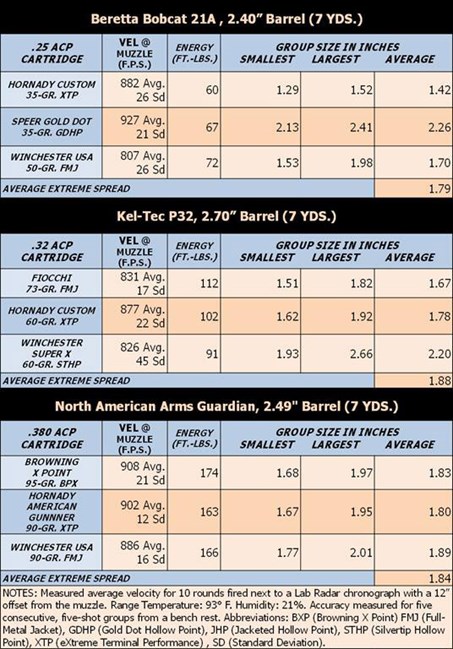 The gold medalist of the race was the .380 ACP fired from the North American Arms Guardian. There's a reason this cartridge has gone main stream. It offers superior performance to the .32 ACP and .25 ACP (and rimfire cartridges) while producing modest to moderate levels of recoil compared to 9 mm when fired from similarly sized pocket semi-automatics. If you are new to packing a pocket pistol, then know that the .380 ACP is at the height of its popularity with several effective loads and reliable pistols to choose from. If you can manage a .380 ACP, then it's the best defensive option out of the three calibers tested here. But before you lay down your money for a .380, try a 9 mm or a .38 Spl. to see if they might be within your operational limits as well.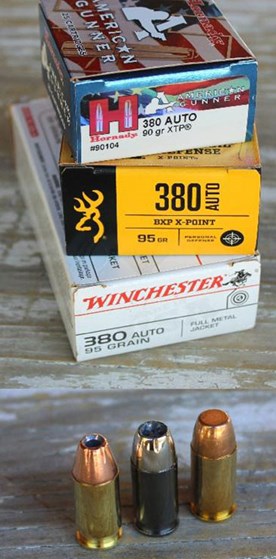 The silver medal went home with the Kel-Tec P32 chambered in .32 ACP. The slim P32, two magazines and 15 rounds of ammunition can all be tucked into a quality leather pocket holster for a total carry weight of just 15.6 oz. It can be carried all day without being noticed, the slide is easy to operate and the gun is comfortable to practice with. If I'm honest, it is this particular pistol and caliber combination that makes it useful for certain concealed-carry applications. If you need a pistol for deep concealment in potentially uncomfortable locations on your body, and you are willing to sacrifice some performance to obtain that goal, then this combination will do the trick.

It should not be much of a surprise that the Beretta 21A Bobcat chambered in .25 ACP took the bronze. This is by no means the fault of the excellent Bobcat, which is a well-made gun with top-notch features. It all boils down to the low power levels of the .25 ACP cartridge. The center-fire primer makes it more reliable than the .22 LR, but that's about its only advantage. Having shot this cartridge from a pistol I really enjoyed working with, I can understand why some folks are going to stick with it. The recoil is mild and this particular pistol is easy to operate. Nevertheless, I cannot recommend it for concealed carry or home defense. If you just don't feel comfortable with the felt recoil produced by the .380 ACP or larger calibers, then at least consider the Kel-Tec P32 which offers a marked increase in performance with recoil similar to the .25 ACP.
Parting Thoughts
A comparative gun test like this one is often the subject of online conversation. When one of my articles is interpreted as being anti-mouse gun (or anti- any defensive gun for that matter), folks will write in to say that the platform I'm seen as criticizing saved the life of someone they love by diffusing a dangerous situation or stopping a threat when no other defensive option was at hand. If I am perceived as standing in the pro-mouse gun camp, I can invariably count on someone questioning the efficacy (if not the very morality) of my choice to openly promote what they see as an inferior defensive tool.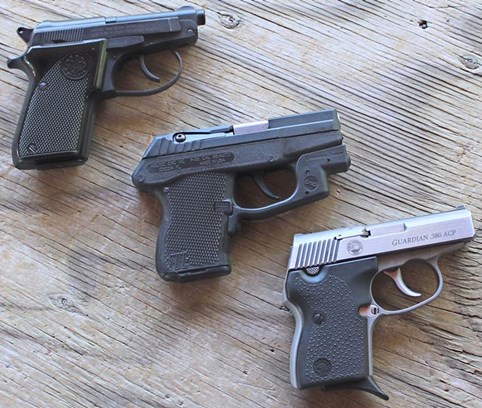 So let me state clearly and concisely, for the record, what I believe: Self defenders who use firearms for personal protection should make informed decisions based on useful information and personal experience. Do your homework and select a gun you'll be willing to practice with regularly and carry daily. Then formulate a defense plan (taking into consideration your gear's operational limitations) with the appropriate support gear and training. Should your primary defense plan fail or prove to be inadequate (there is no universal solution), be prepared with a Plan B. Be proactive, educate yourself and have a positive attitude. 
Those who choose to follow these steps will always be better armed and better prepared than those who have yet to consider a defense plan. If the information presented here confirms that the pistol you're packing is the right gun for you, then I've done my job. If reading this has inspired you to make changes in your defense plan, then mission accomplished. 
Additional Reading:
NRA Gun of the Week: Beretta 21A Bobcat
.32 ACP Pocket Pistols
North American Arms Guardian .380 ACP
Specifications:
Manufacturer: Beretta U.S.A. Corp.
Model: 21A Bobcat 
Action: Direct-Blowback Semi-Automatic
Caliber: .25 ACP
Slide: Blued Steel
Frame: Aluminum
Grips: Checkered Polymer
Sights: Fixed Blade Front, Fixed Notch Rear
Double-Action Trigger Pull: 9 lbs. 5 oz.
Single-Action Trigger Pull: 4 lbs. 15 oz.
Slide Lock: No
Second Strike: Yes
Barrel Length: 2.40", Tip Up
Overall Length: 4.92"
Height: 3.70"
Slide Width: 0.81"
Weight: 12.1 oz. with empty magazine
Rifling: 1:10" RH
Grooves: 6
Capacity: 8 + 1 Rounds
MSRP: $410
Mec-Gar 9-Round Blued Steel Magazines (MGPB2109B) $24.75
Manufacturer: Kel-Tec
Model: P32
Action: Short-Recoil Operated Semi-automatic
Caliber: .32 ACP
Slide: Blued, Parkerized or Hard Chrome Steel
Frame: Polymer with Aluminum Chassis
Sights: Fixed Blade Front, Fixed Notch Rear
Grip: Integral Checkered Polymer
Double-Action Only Trigger Pull: 5 lbs. 4 oz.
Slide Lock: Yes
Second Strike: No
Barrel Length: 2.70"
Overall Length: 5.10"
Height: 3.50"
Slide Width: 0.75"
Weight: 7.9 oz. with empty magazine
Rifling: 1:16" RH
Grooves: 6
Capacity: 7 + 1 Rounds
MSRP: $325.45 
Manufacturer: North American Arms
Model: NAA Guardian
Action: Double-Action Only
Caliber: .380 ACP
Finish: Matte Stainless Steel with Satin Flats
Sights: Fixed Blade Front, Fixed Notch Rear
Grip: Hard Pebbled Black Rubber
Double-Action Only Trigger Pull: 10 lbs. 8 oz.
Slide Lock: No
Second Strike: Yes
Barrel Length: 2.49"
Overall Length: 4.75"
Height: 3.53"
Slide Width: 0.930"
Weight: 18.5 oz. with empty magazine
Rifling: 1:15" RH
Grooves: 6
Capacity: 6+1 Rounds
MSRP: $456