by
posted on June 7, 2018
Support NRA American Rifleman
DONATE
Gunners sometimes forget that these devices we are so excited about start as an idea in a person's head and are turned into our beloved gadgets by a team of other people. We also forget that the entities that produce firearms are companies that need to make a profit if they are to continue to produce guns. With that in mind, let's go back to The Great Depression.
As The Depression began to wind down, Smith & Wesson had developed the .38/44 Outdoorsman and Heavy Duty revolvers to take advantage of the heavy loads developed by Elmer Keith and Phil Sharpe for the .38 Special cartridge. This, of course, resulted in the .357 Magnum cartridge and was an immediate success for hunters as well as law enforcement. Those successes, however, were not enough to repay the tremendous debit incurred by the company during the 1930s.
Carl R. Hellstrom, a Swedish engineer, had been hired by Harold Wesson, grandson of co-founder D.B. Wesson, to redesign and update the manufacture of toilet flushing valves, one of the diversification ventures that Harold saw as the future of the family company. Hellstrom was successful in that task, but flush valves were not to be a part of the future of Smith & Wesson.
With war clouds looming again over Europe, England was in the market for a rifle. Smith & Wesson managed to convince the Brits that if they fronted the company $1 million, such a rifle could be designed and manufactured. Unfortunately, Smith & Wesson's mouth was larger than its stomach, and the company soon found out it was overwhelmed by the idea of a British light rifle. Harold once again turned to Hellstrom to save his bacon.
Hellstrom renegotiated the agreement with the Brits to provide them with service revolvers to satisfy the contract. During this time, Hellstrom had complete control of production in the company, and in 1943 he was named vice president of the company. Harold died in 1946, and the Wesson family—undoubtedly with some elevated discussion—named Hellstrom its first non-Wesson-family president in September of that year. It was under Hellstrom's leadership that Smith & Wesson developed and produced many of its iconic products that are revered and, in some cases, continue to be produced today.
One of the keys to Hellstrom's success as president of Smith & Wesson was his energetic research into what the company's customers wanted. He went to the Camp Perry matches in 1954 and sought out Bill Jordan, a Border Patrolman and World War II Marine who had developed a reputation as a superb shot and gunfighter, for his recommendations for an ideal law enforcement duty revolver. Jordan, who stood 6 1/2 feet tall and had commensurately large hands, opined that a .357 Mag. built on Smith & Wesson's K-frame with a heavy, 4" barrel and an underlug similar to the one found on the N-frame .357 Mag. and equipped with target-style adjustable sights would be embraced by lawmen nationwide. His words were prophetic.
Hellstrom returned to Smith & Wesson and tasked his engineers with developing a revolver to Jordan's specs—a daunting task, given the technology and metallurgy of the time. Several alloys and heat treatment options were tested during the ensuing two years to see whether they could stand up to the rigors of what was then the most powerful revolver cartridge in the world. The dream was realized on November 15, 1955, when the first Combat Magnum was made. Naturally, it was presented to Jordan.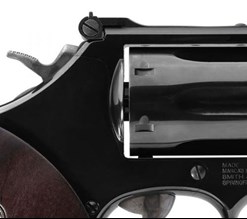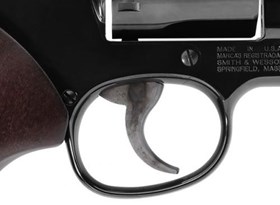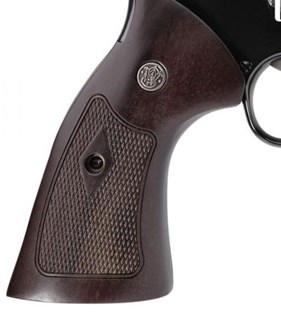 In 1957, when Smith & Wesson changed from names to model numbers, the Combat Magnum was given the Model 19 designation. It has been one of the company's biggest sellers from the beginning. During its first six months of production, demand was so great that the entire initial block of serial numbers—5,000—were sold. The Combat Magnum was the first revolver to be manufactured with a three-screw sideplate. First-issue Combat Magnums came with a 4" barrel, in either bright blue or nickel finish and featured checkered walnut stocks. Target stocks made from Goncalo Alves did not come until 1959. A 6" barrel Model 19 debuted in 1963. Lawmen of the day—especially plainclothesmen—lobbied Smith & Wesson for a snubbie Model 19, and eventually a limited run of 50 Model 19s with a 2 1/2" barrel and a round butt were produced. It is thought that the bulk of these revolvers went to the Massachusetts State Police. Very few of these were made with a 3" barrel and are the rarest variation of the Model 19. The 2 1/2" barrel Model 19 became a regular catalog item in 1966.
Until the paradigm shift for law enforcement agencies to semi-automatic pistols, the Model 19 was the hands-down favorite duty handgun. Even agencies saddled with using nothing other than .38 Special cartridges as a matter of policy bought into the Model 19 because of its incredible record of accuracy and durability. Savvy plainclothesmen and regular officers often chose a Model 19 with a 2 1/2" barrel and round butt for concealed or off-duty carry.
Like the rest of Smith & Wesson's revolvers, the Model 19 has undergone what the company calls Engineering and Production Changes or as collectors and aficionados of Smith & Wesson call "dash changes." Those of primary interest to collectors and users are the 19-1(1959): changing the extractor rod from a right-hand thread to a left-hand thread; 19-2 (1961): change on the cylinder stop and elimination of the trigger guard screw; 19-5 (1982): Elimination of the pinned barrel and recessed cylinder; 19-6 (1988): new yoke retention system/radius stud; replacement of the hammer-mounted firing pin with a floating pin in a frame-mounted bushing and change in the hand.
Conjecture regarding the ability of the Model 19 to handle a steady diet of heavy .357 Mag. ammunition precipitated the development of the L-frame—a slightly larger and heavier frame and cylinder retaining the grip frame dimensions of the K-frame in 1981. The L-frame guns are very accurate, as are nearly all Smith & Wessons, and the increased weight of a heavier frame and cylinder, combined with a full-length underlug on the barrel helps tame the recoil of the .357 Magnum. Regardless of the facts, the notion prevailed that the L-frame was a better deal than a K-frame .357 Mag., and Model 19 sales shriveled. The advent of the semi-automatic as a law enforcement primary pistol played a big part in the decline, as well. Consequently, the Model 19 was more or less quietly dropped from the line in 1999.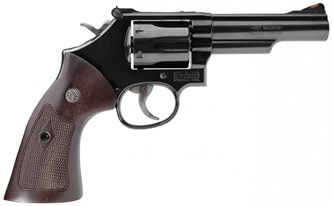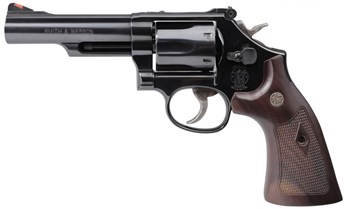 However, as we have seen numerous times, it's almost impossible to keep a good gun down. At the 2018 NRA Annual Meetings & Exhibits, Smith & Wesson reintroduced the Model 19 as part of its Classic series, and a 2 1/2" barreled Carry Comp, round-butt version slicked up by the Performance Center is also available. If the wheelgun even remotely interests you, it would be wise to scarf up one or both of these Model 19s before they go away, perhaps forever.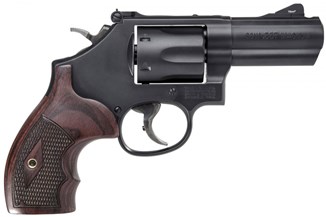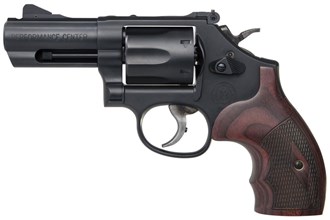 Carl Hellstrom may have been a granite-headed Swede with a flair for engineering, but it was under his stewardship that the finest and most beautiful revolvers ever produced by Smith & Wesson were brought to market. If you doubt that statement, check any of the online gun auction sites and note the prices commanded by "gold box" Smith & Wessons.