by
posted on March 13, 2018
Support NRA American Rifleman
DONATE
For a business to survive, it must constantly grow. Standing still, treading water means that you will eventually be sucked down the drain of antiquity. So after perfecting and superbly executing a modern rendition of a 19th century lever-action rifle chambered in one of the most powerful cartridges in the world, what do you do? How about doing it all over again in the most popular rifle platform in America today? That's exactly what Big Horn Armory has done, introducing the AR500 in a new cartridge, the .500 Auto Max.
"Big Horn Armory is always in search of new markets," said Greg Buchel, president and CEO of Big Horn Armory. "After tackling lever guns, one of the most complex repeating firearm designs, we decided that we needed a more modern approach to big-bore firearms. The AR platform was the obvious choice. It embodies the best in current firearm technology and is familiar to the broadest group of American shooters. It gives BHA access to a whole new generation that would not be interested in our fine lever guns."
As we looked over his latest brainchild, Buchel told me that the development process was actually fairly simple. "The .500 S&W Magnum, while a fine revolver cartridge, really comes into its own realm when chambered in a rifle," he said. "Chambering it in the AR platform created some challenges that required us to rethink how the .500 S&W could best be solved by slight changes in the case design. Removing the rim allowed it to work properly in existing detachable box magazines. The result of this is the .500 Auto Max cartridge."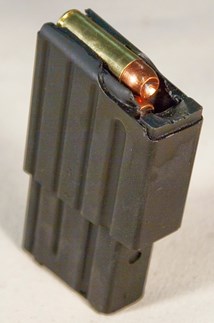 I have been watching and monitoring the development of this rifle for several months. Big Horn Armory is just a stone's throw from my place. Last September, he called to let me know he had a working prototype. An hour or so later I was holding it, along with a cobbled-up five-shot magazine that looked like hell, but functioned pretty well. As far as looking like hell, that's pretty normal during the development process. You cut and try, cut some more here, add some material there. By the time you have developed a successful design, your prototype often looks like a three-tour veteran of the Vietnam War.
The rifle still needed some fine tuning. "Further adjustments to bolt carrier group parts were made to facilitate feeding of the straight-wall cartridge. Tuning was required in the recoil system to balance the power to the platform," said Buchel. The result is a fine looking AR that is accurate, reliable and the most powerful short-range cartridge in the world. Let's look inside: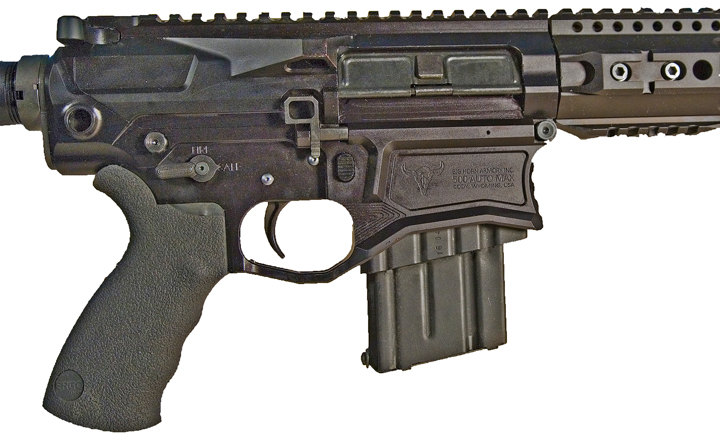 At first glance, you would think you are looking at a dolled-up AR-10—not so surprising, since the AR500 is based upon the AR-10/SR25 receiver. However, closer inspection reveals that this forged piece of 7075 black-anodized aluminum isn't the same old mil-spec receiver often seen today. It's actually stylized with a few swoops and curves that make it look a lot nicer. Opening it up, the bolt carrier group (BCG) is noticeably massive. The bolt face had to be opened up a bit and the extractor redesigned to accommodate the .500 Auto Max cartridge.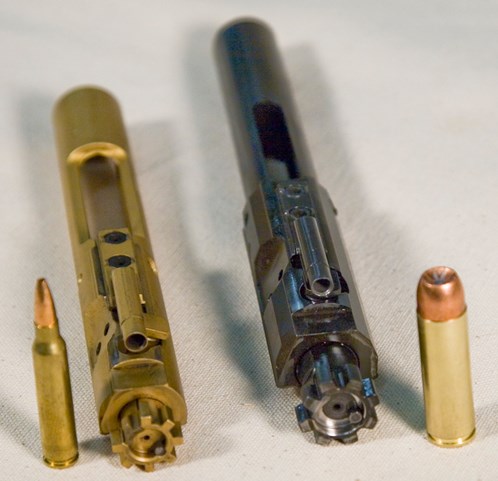 Compared to the standard AR-15 BCG and cartridge (left), the .500 Auto Max uses the much larger AR-10 BCG and modified bolt to accept the larger case head dimension for the respective chambering. 
Other upgrades include ambi-bolt releases, ambi-magazine latches, ambi-safeties and a full-length, top-mounted Picatinny rail so that the user can install virtually any sight he or she chooses. An M-LOK Handguard is somewhat tapered and devoid of Picatinny rails on the sides and much of its underside, making it more user-friendly for those who do not always wear gloves when shooting. The adjustable buttstock is capped with a nice recoil pad and combined with the rifle's weight—9 lbs., 8 oz.—and a beefy recoil buffer, makes for a rifle no more unpleasant to shoot than a standard .308 Win. Rounding out the operational features, is an adjustable gas block capable of handling everything from sub-sonic to Cape buffalo loads.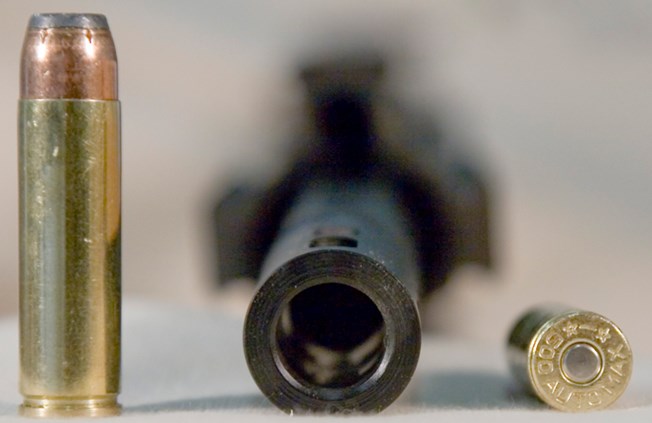 The 18" stainless steel barrel has nitride inside and out for longevity and ease of cleaning. It seems to be of a bull configuration, no doubt because of the gaping hole in its center. The barrel is threaded at the muzzle and comes with a brake of BHA's design, though those who can afford it will want a silencer.
There are but two minor criticisms I have as far as the rifle is concerned. First, the standard bolt charging handle is way too small for overcoming the more powerful recoil buffer spring, especially when you have a low-mounted scope above it. It should have the larger tabs that would allow the charging mechanism to be more easily operated when the rifle is shouldered. My second criticism is an almost universal one. The trigger is too stiff. It appears to be a mil-spec trigger, and while some would prefer a relatively heavy trigger, given the cartridge, most real shooters have figured out how to manipulate a good trigger in a heavy rifle so as to extract the most accuracy from the rifle. Both of these faux pas can be addressed without much heartburn with aftermarket accessories.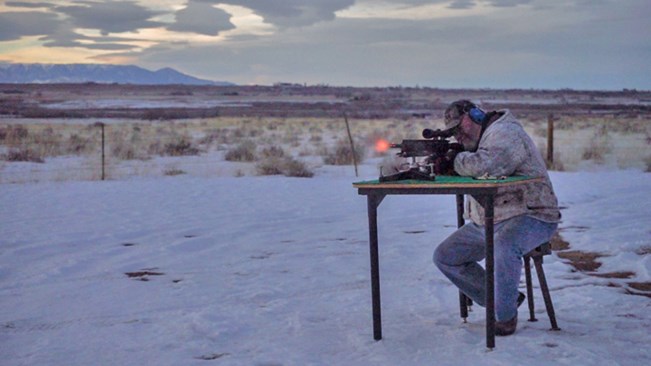 I took one of the first production samples out to my desert range in late January. Since I do not have a bore sighter for an AR rifle, I had to start by getting the scope on target at shorter range. I put a target up at about 30 yards. Once I got on paper, I shot a few rounds while getting some photos. Though I wasn't making any real effort to shoot a good group, I managed to get some 40 rounds into about a 1 1/2" group. A bit later, I got serious about shooting for accuracy and found that the rifle seemed to place its shots within 1 1/4" to 1 1/2" at 100 yards with handloads developed by Big Horn Armory. Handloading the .500 Auto Max is pretty simple. You use the same dies, shell holder and data you use with the .500 S&W Mag. cartridge. Buffalo Bore Ammunition is planning on offering factory loaded .500 Auto Max ammunition, but this was not available for my tests.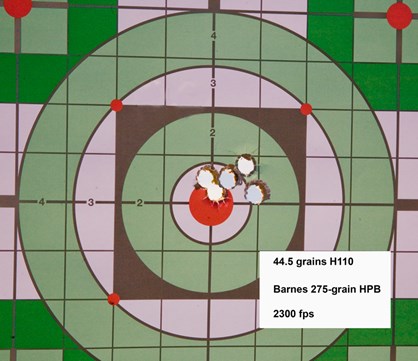 A few folks I let in on what I was doing with this rifle asked, "What in the world would you do with such a rifle?" Buchel responded, "Our primary markets are North American big-game hunters and specialty military/LE uses such as breaching, checkpoint and CQB missions. This gun/cartridge combination is capable of harvesting any dangerous game animal on earth. It is also capable of disabling any vehicle with the correct bullet."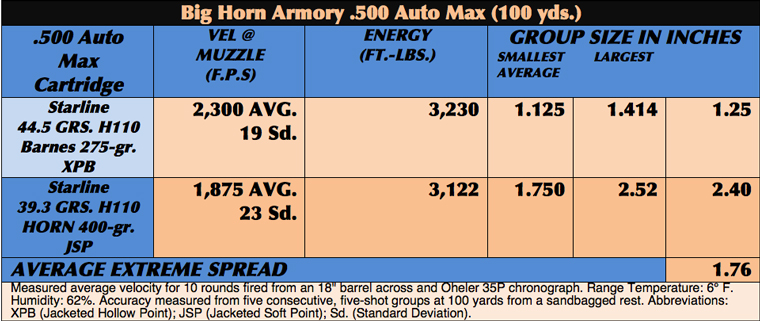 It may not be an everybody rifle, but for those who are wedded to the modern rifle concept exemplified by the AR platform and who crave more power, this rifle delivers all of that in spades—and in a rather attractive package. Ponder this: With three pulls of the trigger, you dump the same amount of energy into a target as a single .50 BMG round.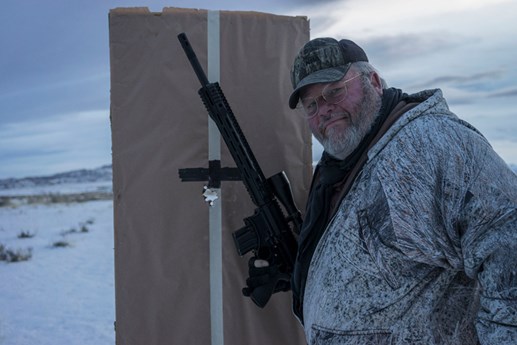 Specifications:
Model: AR500
Phone/Website: 307-586-3700; bighornarmory.com
Type: Semi-Automatic Rifle
Caliber: .500 Auto Max
Barrel Length: 18"
Magazine/Capacity: Five-Round Detachable, 10-rounder soon to be available
Trigger: 4 lbs., 13 oz.
Rifling: 1:24", Right Hand
Sights: None, Full-Length Picatinny Top Rail
Safety: Ambidextrous
Stock: Adjustable for length of pull
OAL: 41"
Weight: 9 lbs., 8 oz.
Metal Finish: Anodized Aluminum, Nitrided Steel
Accessories: Muzzle Brake
MSRP: $1,999