by
posted on February 5, 2018
Support NRA American Rifleman
DONATE
In the past when a pistol manufacturer touted a new gun entry as having easy slide manipulation—even with a .380-cal.—we have taken the assertion with a grain of salt until we've had some hands-on experience. In the case of the just-announced Smith & Wesson M&P380 Shield EZ, we can attest that indeed, the pistol lives up to its claims.
American Rifleman editors had some early range time last fall with the new .380 ACP addition to the very popular M&P Series, and have been eagerly awaiting its announcement. We'll be putting the pistol through our regular test and evaluation protocol in the coming weeks, but here's what we can tell you in terms of features:
The pistol, which offers an 8+1 round capacity, ships with two 8-round magazines that include a load-assist button, as well as a Picatinny-style rail for accessories. Barrel length is 3.675", and the pistol is outfitted with white-dot front and adjustable white-dot rear sights. Along with tapped rear slide serrations, a one-piece single-action trigger and audible trigger reset, it also features an 18-degree grip angle for a natural point of aim, as well as enhanced, textured grips. A tactile loaded-chamber indicator, a reversible magazine release, and available ambidextrous thumb safety round out its many ergonomically friendly features. The pistol will be available nationwide at the end of Feb. 2018 at an MSRP of $399.
"When we set out to design the M&P380 Shield EZ pistol, our goal was to deliver an all-around, easy to use personal protection pistol—from loading and carrying, to shooting and cleaning," said Jan Mladek, General Manager of M&P and S&W Brands.  "... We focused on key areas that customers told us were important—the ease of racking the slide and loading the magazine," he said, "allowing consumers of all statures and strengths the opportunity to own, comfortably practice with, and effectively utilize this exciting new pistol" for both first-time shooters and experienced handgunners alike.
Check back in the coming weeks for a complete evaluation of the new M&P380 EZ. For more, visit smith-wesson.com.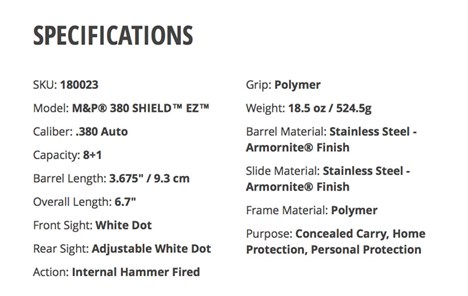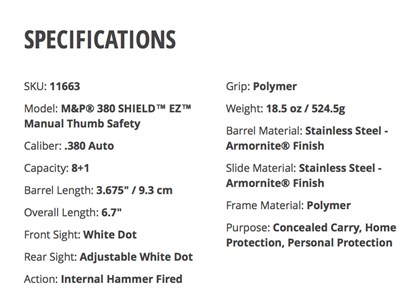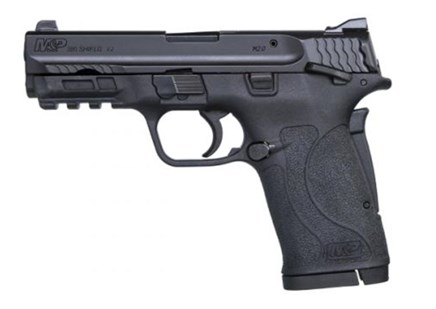 Smith & Wesson M&P380 EZ (shown here with thumb safety)