by
posted on October 5, 2018
Support NRA American Rifleman
DONATE
The Old Guard (U.S. Army 3rd Infantry Regiment) will soon be receiving quite a gift. In a ceremony at the hallowed Arlington National Cemetery Chapel, SIG Sauer will present the Old Guard with four ceremonial M17 pistols—built on the same specifications for the U.S. Army's M17 Modular Handgun System—each engraved with a different name, reflective either of a core tenet of the Sentinel's Creed (Dignity and Perseverance), or the solemn request to the public when they visit Arlington (Silence and Respect).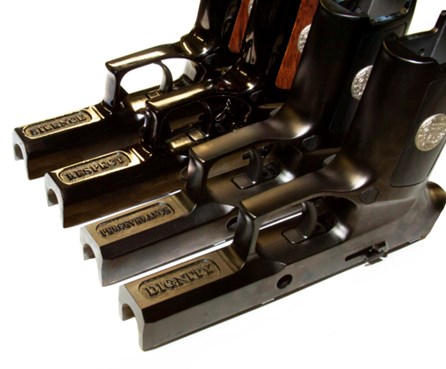 Dignity, Perseverance, Silence and Respect will all be customized with wood grip inserts made from the wood of the USS Olympia, a high polish to withstand the elements during the sentinels' tireless watch, and 21 round extended magazines, representative of both the 21 steps it takes for Tomb Sentinels to walk by the Tomb of the Unknown, and the honor of the 21 Gun Salute.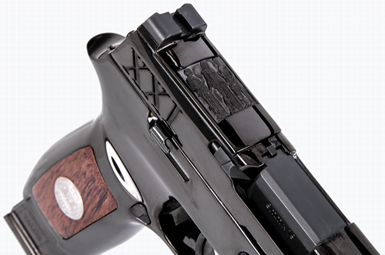 In the way of further engravings, these ornate pistols will feature XXI rear cocking serrations, an impression of the Greek figures found on the East panel of the Tomb, and still another etching of the names of those same Greek figures (Peace, Victory and Valor). The intricacies of the gun do not stop there however. A glass insert, filled with marble dust from the Tomb of the Unknown, is inlaid into the sights, while even the serial numbers will incorporate items of significance, such as lines from the Sentinel's Creed, or the date the first guard was posted.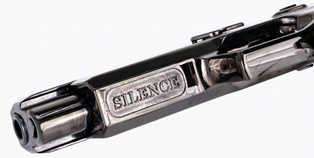 AUSA members will have an opportunity to see "Silence" a little closer up, as it will be on display in the SIG Sauer Booth at the Association of the United States Army's Annual Meeting, from Oct. 8-10, 2018 at the Walter E. Washington Convention Center, in Washington D.C. The presentation ceremony itself is private, and will take place at 9 a.m. Oct. 11, 2018, at the chapel. A Changing of the Guard, during which the 3rd Guard will return to duty bearing their new pistols, will follow the ceremony. The events of the day will then conclude with a wreath laying at the Tomb, at 10:15 a.m.

See more images of the M17 Tomb of the Unknown Pistols.