Support NRA American Rifleman
DONATE
Within the firearm community and among armed personal-defense practitioners, there is very little debate about the value of including a flashlight in your everyday carry (EDC) kit. In addition to a knife, my flashlight is the only personal tool that I use almost every day, though usually not in dynamic defensive situations—more often I'm illuminating the space under my bed looking for a fallen pacifier or stuffed animal. Of course, if I were to find myself in a hairy situation, the flashlight would be handy for searching dark areas, identifying objects and people and, if necessary, illuminating and disorienting threats while greater force is brought to bear.
So the utility of a personal light is established, but if you suggest that a light be added to a personal-protection firearm, you might suddenly find yourself in a serious debate without a lot of research or source material to cite. On one side, there is an "old school" crowd that is apprehensive, to say the least, when it comes to hanging gadgets on handguns, and not without good reason. These boys earned their stripes with wheelguns and single-stacks, they have holsters older than I am, and years of real experience informing their decisions. On the other side of the spectrum is the new generation, anchored in my opinion by veterans of our modern wars, but filled out by enthusiastic shooters with a penchant for tactical accessories and customizing their firearms. It makes sense that a soldier who is used to carrying an M4 with an optic, flashlight and IR illuminator would have no qualms about adding a force multiplier to his or her personal sidearm.
There is a lot of gray area dividing the two sides, and not a lot of light has been shed on the subject (get it?). During the coming months, I intend to research the topic of adding lights to carry guns, and I plan to carry and shoot extensively such a rig to gain some firsthand experience. But as I start this journey, I think it's useful to identify the most common Pros and Cons of the argument, and see if they hold weight. Interestingly, it was tough to turn up any literature in support of pistol-mounted lights, but there were a few articles from some longtime gun writers offering a mild opposition to the concept and citing a few perceived drawbacks to the practice, so that's where I'll begin.
Size and Weight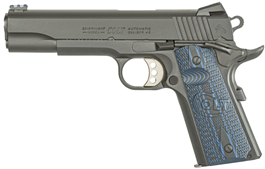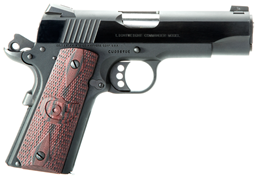 A primary argument against adding, well, anything to your personal-defense pistol is that guns are already big and heavy, and any increase in weight or size will make them harder to carry, and make people less likely to carry at all. On the surface, the logic makes a lot of sense, we want more trained, law-abiding armed citizens on the street, not less, and the general trend is to make guns easier to carry (think slimmer, lighter, more compact), not harder. The argument is even more sensible if your frame of reference is a Gov't Model 1911, weighing 39 ozs. and sporting a 5" barrel—that's not a small gun, at least by modern concealed-carry standards. Even a Commander-size M1911 weighs somewhere between 28 and 31 ozs. and packs a 4.25" barrel.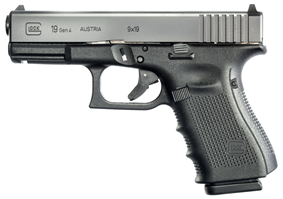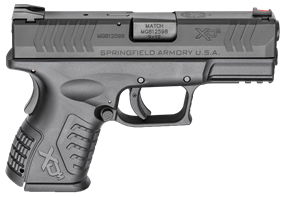 But what if your carry gun is a 23.7-oz. Glock 19, or a 28-oz. Springfield Armory XD(M) 3.8 Compact? Let's also consider the weight of potential accessories, like the 600-lumen Surefire X300 Ultra at 4.3 ozs., or a 2.7-oz. Rail Master Pro light/laser sight combo from Crimson Trace—and those weights include batteries. The polymer-frame semi-automatics are lighter and feature smaller overall dimensions than an M1911, without sacrificing firepower. Paired with a light or accessory, the guns still weigh in, at most, around 30 or 31 ozs.—right on par with the Commander-, or carry-size, M1911. And, as previously stated, the trend in modern defensive pistols and accessories is lighter and leaner, so the size and weight equation is likely only to get better for shooters.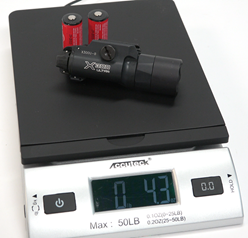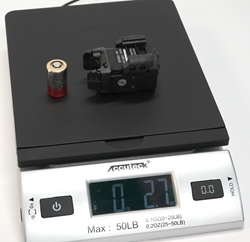 In my mind, this argument stems more from a difference of opinion regarding choice of carry gun than the actual viability and utility of a pistol-mounted light. And because the reasoning is based on personal perspectives and individual equipment choices, its validity must also be determined by the individual.
Holster Fit
Another consideration when adding a light to a carry gun is holster fit. Depending on the model of firearm you carry, holster selection may already be limited. But even if you carry a Glock 19, as soon as you add a light, your options diminish significantly. To me, this is no small obstacle. For one thing, holster manufacturers must already keep pace with new pistol models, and make hard decisions regarding what guns they will design specially-fitted products for. That challenge multiplies exponentially when considering the development of holsters for guns A, B and C, as well as models to accept said guns equipped with lights 1, 2 or 3.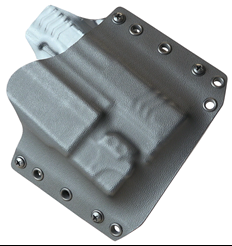 There is good news, however. American shooters enjoy a robust and vibrant accessory market, and everyday more holster options come available, including models to accommodate popular pistol/light combinations. The emergence of Kydex and similar polymer blends has a lot to do with the explosion in quality holster designs. Such materials possess many positive characteristics when it comes to firearm retention, but above all they are relatively inexpensive and very easy to work with—techniques range from custom-molding by heat and hand, to computer-engineered designs being manufactured by machine. I've also seen an increase in leather offerings of late, though Kydex products lead the way.
Finding a holster that properly supports a given firearm and is comfortable enough for everyday carry can be a tall order. Adding a gun-mounted light into the mix certainly increases the task. But the challenge is not insurmountable, and products for popular carry combinations are becoming more readily available each day. 
Concealment
There is another argument regarding the concealment qualities, the larger footprint if you will, of a carry gun with a light. The concept is closely related to the previous two in that there is no denying the extra mass that comes with adding any kind of accessory to a firearm. However, with firearms and associated accoutrement trending in the smaller, lighter and more portable direction, and with more holster options coming available—many of which ride closer to the contours of the body, improving concealment—it is fairly easy to envision a combination of firearm, light and holster that provide the necessary utility, yet remain easy to conceal and carry. 
"Light Discipline"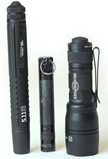 A primary advantage of a handheld flashlight is that it can be used to search and scan an area independent of a defensive firearm. A pistol-mounted light, though helpful in illuminating and positively identifying threats, is not well-suited for searching because anything the light touches is also being "flagged" or "muzzled" by the firearm, a serious no-no for responsible armed citizens who adhere to the rules and tenets of safe gun handling.
Using an earlier example, a firearm-mounted light is a reasonable search tool in the hands of military professionals working in hostile areas—these men and women know going in that danger could be behind any door or around any corner, and they must be prepared to deal with it. But the equation for an armed citizen is quite different, when something goes bump in the night and the adrenaline is pumping, the rules of safe gun handling will go a long way toward preventing an accident without lowering preparedness.
If, in a defensive scenario, you find the rule "Always keep the gun pointed in a safe direction" to be a bit vague, refer to the other common expression of this safety guideline, "Never point the gun at something you are not willing to destroy."
All in all, I believe the tactics-based "Light Discipline" argument carries the most weight. However, I'm not sure that it is really an argument against pistol-mounted lights, or an argument for the inclusion of a handheld light, in addition to firearm accessories. For my part, I look forward to exploring the topic further, and you can be sure I'll include a flashlight as part of my EDC, in addition to the light on my carry gun.

Additional Reading: 
NRA Gun Gear of the Week: Lights On Carry Guns?