posted on February 8, 2017
Support NRA American Rifleman
DONATE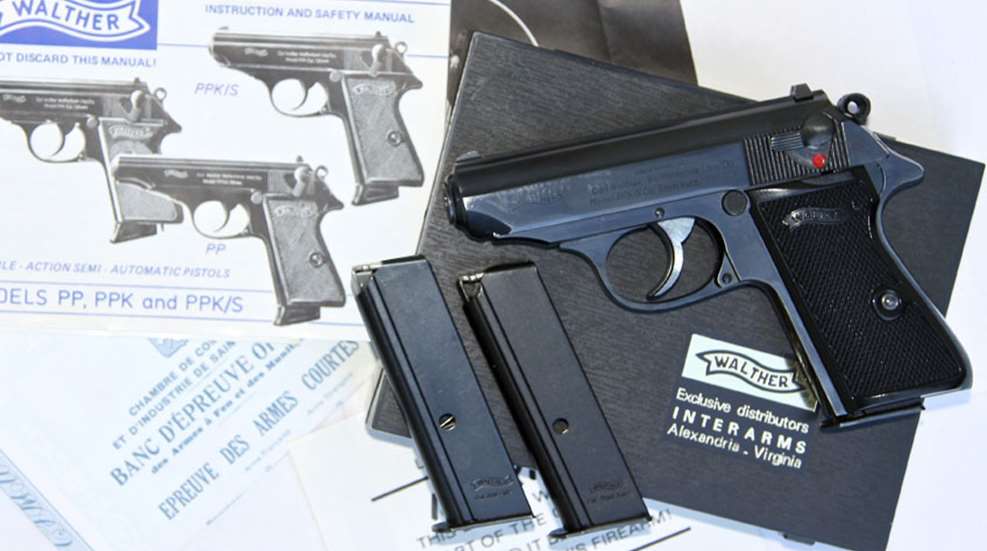 Ironically, if it weren't for the Gun Control Act (GCA) of 1968 we would not have the Walther PPK/S, a moderately elongated version of the PPK (Polizei Pistole Kriminalmodell, "Police Pistol Detective Model"), introduced in 1931. With its compact design, the PPK was a trendsetter for today's influx of double-action/single-action pocket pistols.
The PPK was a slightly smaller version of the Walther PP (Polizei Pistole, "Police Pistol"), which had a barrel length just under 4" and a magazine capacity of seven rounds. The PPK, by comparison, had a 31⁄3" barrel and a six-round magazine with a separate bottom finger rest to augment the shorter length. Both guns were chambered in .32 ACP and .380 ACP, and later .22 Long Rifle, and they shared innovations such as a safety/decocking lever, hammer block safety and loaded-chamber indicator. The .32 ACP and .380 ACP pistols were adopted by the German military and police.
The PPK in .32 ACP was also the gun author Ian Fleming chose to arm his fictional super-spy, James Bond; it first appeared in the fifth Bond novel, Dr. No (previously, Bond carried a slightly less-lethal .25 ACP Beretta 418). The PPK stayed with Bond throughout the novels and movies, even making an appearance as a PPK/S in the latest Daniel Craig flick, "Spectre" (although the actor has a professed "hate" of handguns).
With firearm manufacturing prohibited in Germany after World War II, from 1952 to 1986 Walther licensed PP and PPK production to Manufacture de Machines du Haut-Rhin (Manurhin) in France, with Interarms of Alexandria, Va., as the U.S. importer. Nonetheless, the 1968 GCA found the PPK a tad too small to qualify for importation. Walther's solution was ingenious in its simplicity; the company put the shorter PPK barrel and slide on the slightly larger PP receiver. This combination—dubbed the PPK/S—was almost as compact as the PPK, but had the extra-round capacity of the PP. It was the best of both worlds.


The blued, 90 percent PPK/S shown here (brushed nickel finishes also exist) is an example of the all-French version, proofed at St. Etienne (most Manurhin guns were assembled, proofed and marked as such in West Germany), and is complete with plastic case, instructions, test target and three magazines with finger extensions removed. Although the slide bears blemishes of minor surface rust cleaning, this PPK/S would easily fetch $750-$950 by anyone seeking a solid example of this self-defense gun, a design that has withstood the test of time.
Gun: Walther PPK/S
Manufacturer: Manurhin (note: parts made by Manurhin in France and assembled in Ulm, West Germany, are more plentiful)
Chambering: .380 ACP (9 mm Kurz)
Serial No: 252XXXS
Manufactured: 1981
Condition: NRA Very Good-Plus (Modern Gun Standards)
Value: $750 to $950 (including original box, paperwork and magazines)