by
posted on October 10, 2017
Support NRA American Rifleman
DONATE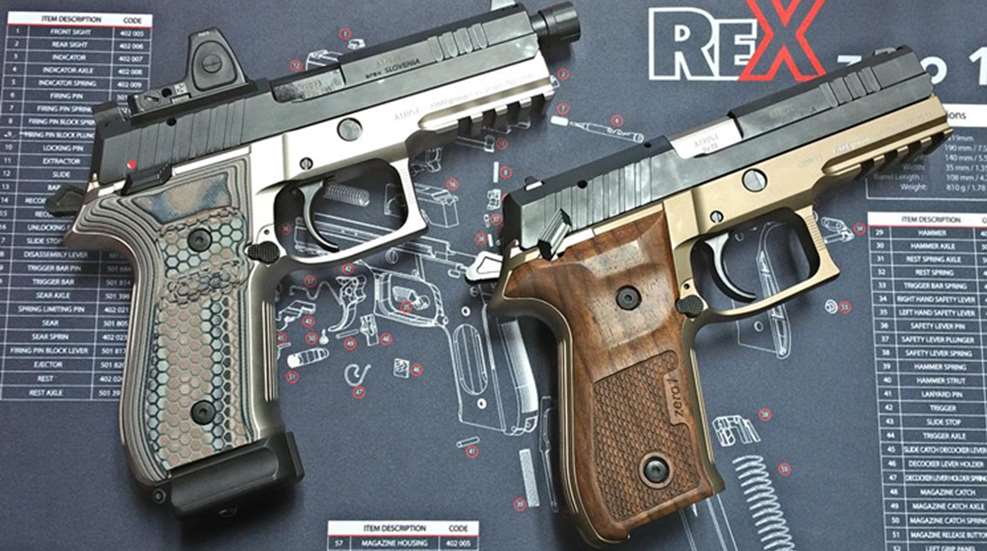 The online shooting community loves to gather around the virtual campfire to hash over the arrival of new firearms on the American market. It's always interesting to see how quickly some folks form an opinion of a new gun with just a smattering of information. From just a press release containing a company name, country of origin and a few specs and photos, they already seem to know if they would buy it or not. In 2016, when the new and unusually named ReX Zero 1 series of 9 mm pistols made by Arex of Slovenia were imported by The FIME Group, some shooting enthusiasts were quick to judge. Descriptions like "budget import" and "SIG clone" were bandied about, and not always in a friendly way.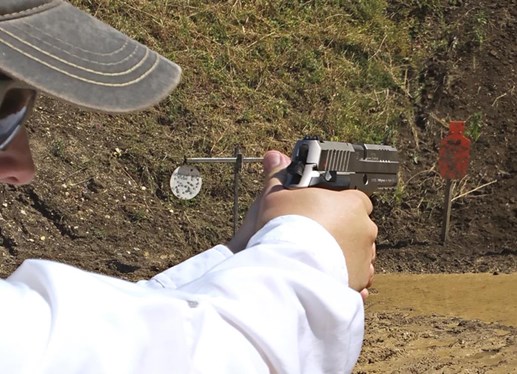 However, I've learned from personal experience that one can't be too hasty in writing off recently arrived guns without taking a closer look first. When I handled the ReX pistols for the first time at the 2016 SHOT Show in Las Vegas, I was intrigued because their price tags didn't match up with their features. While ReX takes its design and material cues from the aluminum-framed SIG Sauer P226, it has a suggested retail price of $649. This makes it about $400 less expensive than the SIG. And yet, the quality and craftsmanship is exceptionally good. So, when I received an invitation to join a group of American media members for a visit to the Arex facility in Slovenia this year to see how these pistols are produced, I jumped at the chance.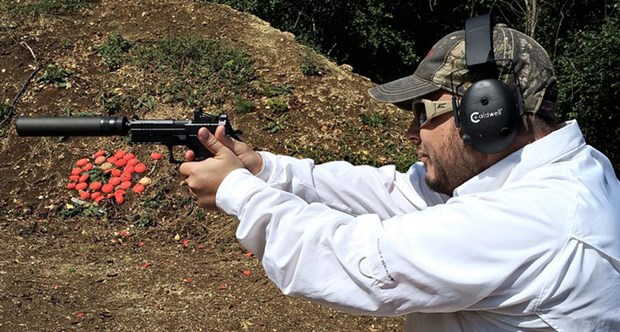 At the Factory
Arex is a privately owned, ISO 9001:2008 certified military contracting company established in 1994 with more than 120 employees and 80,000 square feet of production area located near the picturesque village of Šentjernej, Slovenia. The ReX pistol represents just a small portion of the company's products, which include ammunition, rifle barrels and molded polymer components. In order to operate within the European Union, Arex products must meet strict mil-spec guidelines, including those outlined for military grade handguns.

At the factory, we were met by Ivan Kralj, Arex general manager, Vartan Barsoumian, CEO of The FIME Group, Walker English, sales manager for the The FIME Group and several members of the Arex team. Walker English first encountered the Arex team in 2014 at the IWA (Internationale Waffen Ausstellung) trade show. He immediately recognized the quality of the ReX Zero 1 and was inspired to spend the next two years reworking the pistol with Arex for the U.S. market.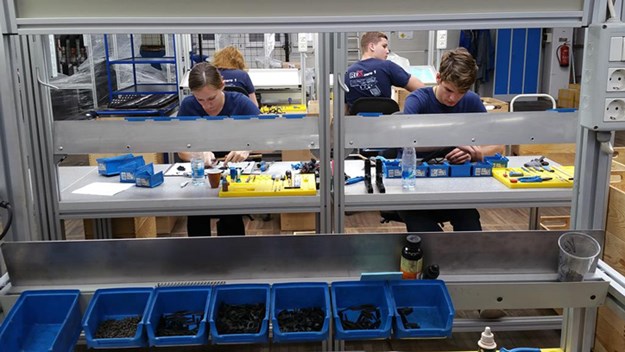 Two features were modified. First, the double-action to single-action trigger needed to be reworked to feel more like the duty pistol triggers to which Americans are accustomed. The other fix was ammunition related. The ReX pistols were finely tuned to run with high-grade, brass-cased ammunition. Since Americans prefer to target shoot and plink with the cheapest ammo they can find, the tolerances had to be adjusted to run reliably with even the cheapest fodder on the market. Once the ReX was running as reliably with lacquered steel-case surplus as premium defensive hollow points, it was ready to launch.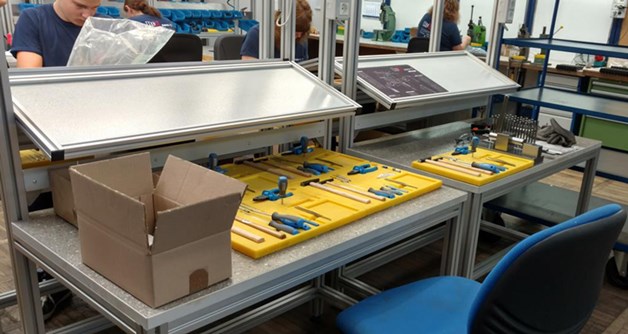 On the factory floor, we learned that each pistol has a "birth certificate" (quality control document) that follows it through every step of the manufacturing process. It's shown here inside a box of recently finished frames.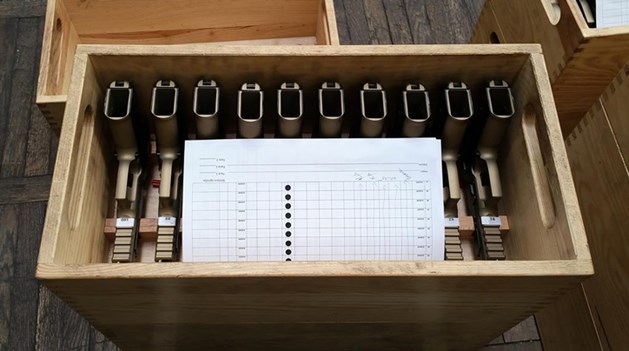 The tooling used to shape the steel and aluminum components represents one of the most expensive portions of any firearm manufacturer's production overhead, which is passed on directly to the consumer.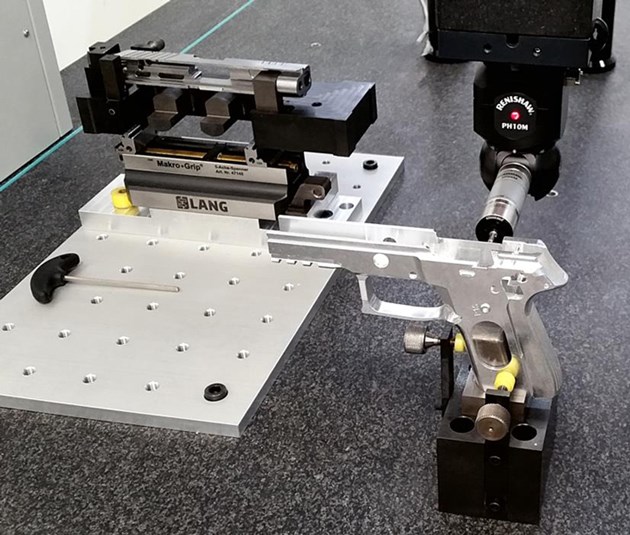 Often this tooling has to be customized or tuned to certain tolerances which costs even more. Arex makes its own tooling in-house, which costs much less than outsourcing from a third party. If the tools break, the on-site staff can fix and replace them without calling for off-site assistance. This significantly reduces downtime.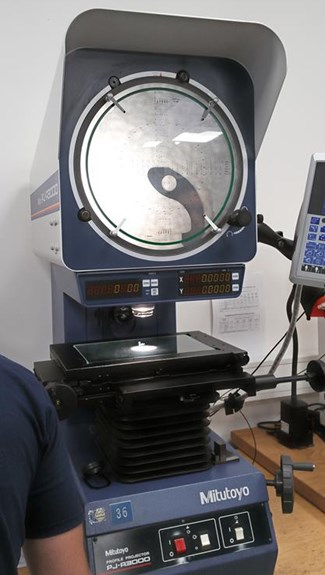 Not only can the components be checked for quality, the tools themselves can be constantly monitored and corrected to ensure the highest possible level of quality control.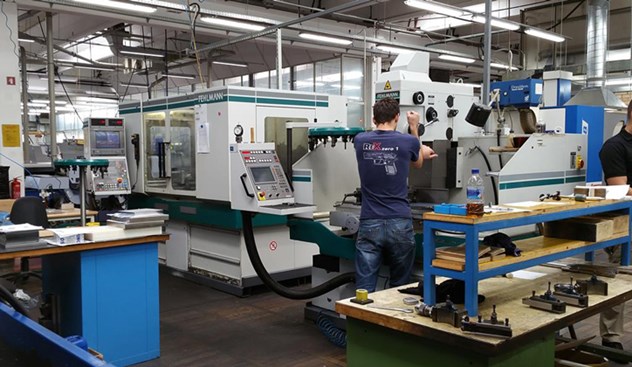 Top-of-the-line CNC machines are used to mill the steel bar stock and T7075 aluminum billets used to form the major ReX Zero 1's components, including the barrel, slide and frame. The smaller sheet steel components are also made in-house. Only 12 parts, including some springs and the Mec-Gar magazines, are outsourced.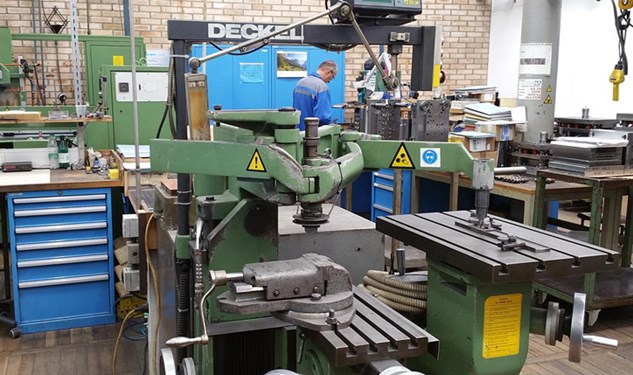 Arex's technical training program starts with technicians learning to operate "old school" manual machines so that they have a clear understanding of correct component production techniques. Once they've mastered these skills, they are allowed to move up to the CNC machines.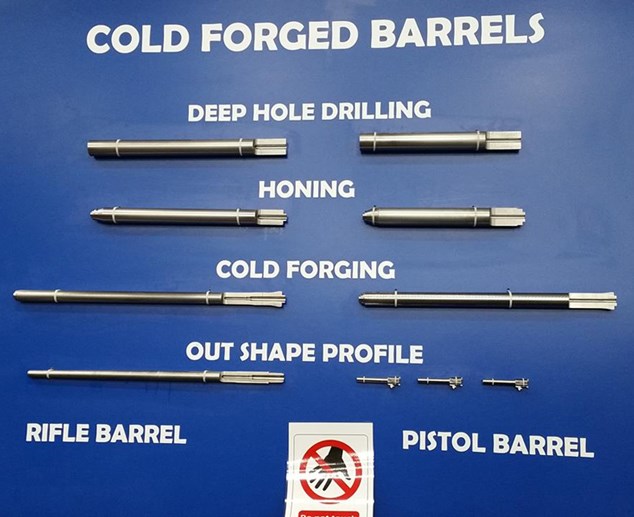 The single-piece barrels are cold hammer forged. The barrel billets are drilled prior to forging with the bore hole polished to a mirror shine. Smoothing the bore prior to forging the billet results in a much higher quality of rifling.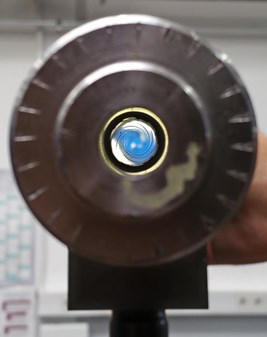 Before the billet is cut into sections (five standard-length barrels per billet), it's checked with a series of gauges for straightness and size to 0.001 millimeters. After cutting, the round barrel sections are then milled into pistol barrels. From start to finish, about 70 percent of the original billet is drilled and milled away to form each barrel.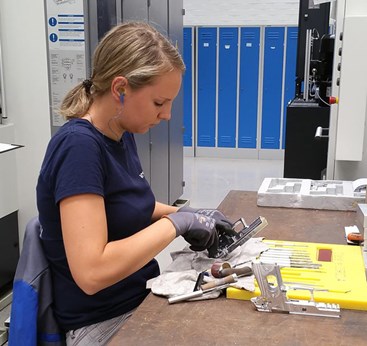 The aluminum frames also require around a 70 percent material loss in the milling process. The shavings are gathered and recycled. The frames are each inspected and finished by hand before receiving a hardcoat anodized finish.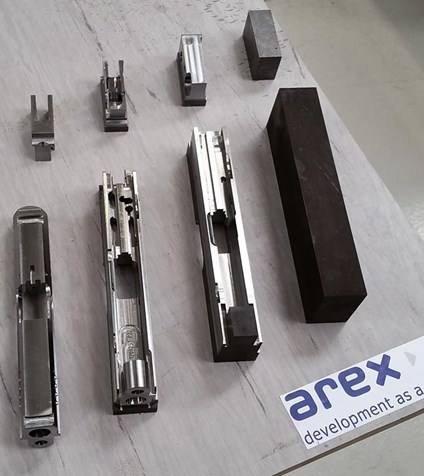 The steel slides are Nitrocarburized, a wear and corrosion resistant metal treatment process similar to Tenifer. The slide's precise cocking serrations are cut into the steel using an industrial laser.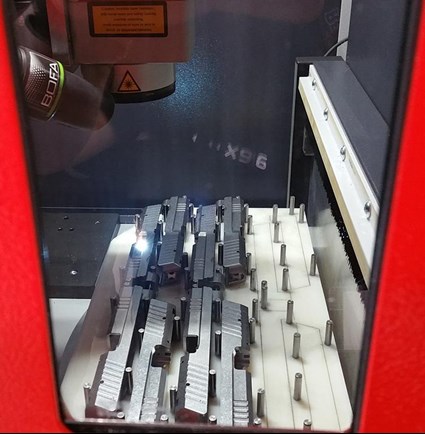 Final pistol assembly is handled in a clean, well-organized shop. A pistol from each lot is locked into a machine that cocks and dry fires it thousands of times as part of the quality control process. The fully assembled pistols are now ready for test firing at the onsight.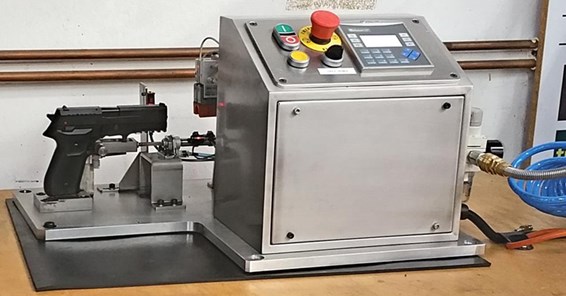 Every single ReX pistol is test fired using two industrial over-pressure proof loads. This ammunition operates at pressure levels 30 percent greater than any SAAMI-approved load available on the civilian market, including +P loads. Once the pistol has been proofed, it's checked for function and accuracy by firing 30 rounds of standard 9 mm ammunition.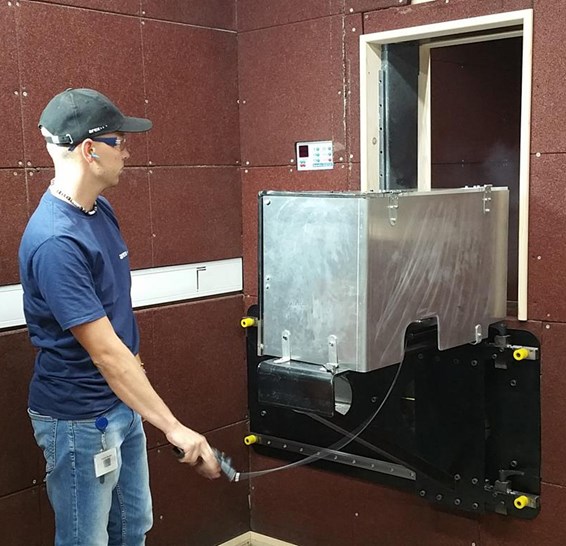 American shooters may be wondering if the ReX pistols are rated for +P since it's not stamped on the barrel or slide. Yes, the guns are rated for SAAMI +P ammunition, which tends to run at pressure levels about 10 percent greater than those of SAAMI Standard loads. A regular diet of +P loads can cause the springs to wear out more quickly but they won't do much to shorten the overall working life expectancy of the pistol.
New Product Sneak Peak
Along with seeing how the ReX pistols are produced, we had the opportunity to learn more about and test drive some of the new products Arex has in the works. The company will soon be shipping Standard and Compact models with a durable nickel finish applied to the slide and frame.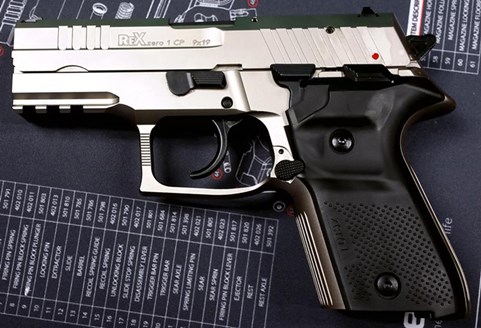 I was not alone in expressing enthusiasm for Two-Tone models that mix the nickel and matte black finish. We pulled the sample guns apart and put them back together to see how they would look. Some of the pictures taken were posted to social media where they got a positive response. As a result, Two-Tones are now on the schedule.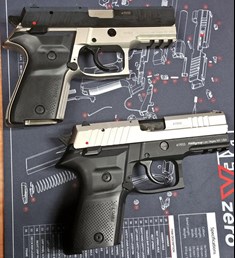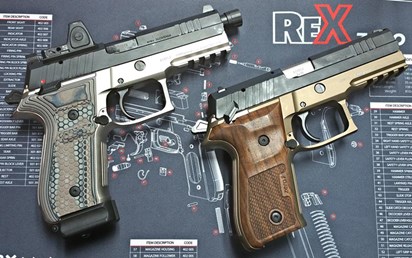 The FIME Group will be expanding its online store to include a variety of new accessories and upgrades. Options will include Tru-Glo night sights, threaded barrels, trigger upgrades, wood grips, G10 grips and a polymer paddle holster designed to fit all Compact, Standard and Tactical models.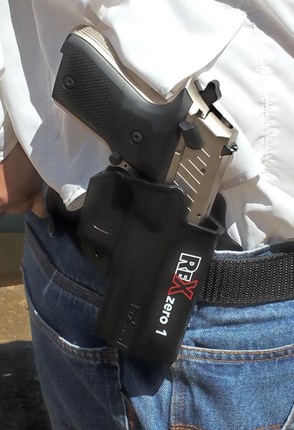 The big announcement of the event was the new steel-framed Alpha competition model slated to arrive in the U.S. at the front end of 2018. Arex is working hard to make the Alpha a ready-to-use pistol for 3-Gun and other types of competition.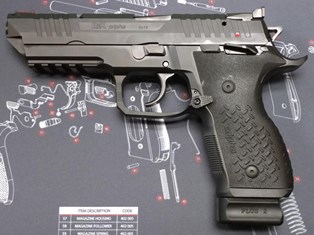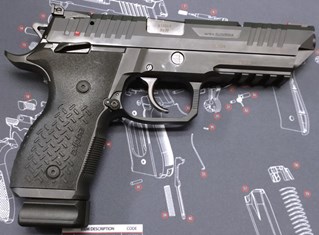 The trigger will be finely tuned to a 2.5-lb. single-action trigger pull with a 6-8 lb. double-action trigger pull. The 5" barrel is set in a reduced weight slide with an adjustable rear sight and a fiber optic in the front. The grip frame has been modified and fitted with wrap-around polymer grip panels suitable for race guns. Other features include the ROR optics mounting system, extended controls and 20-round magazines.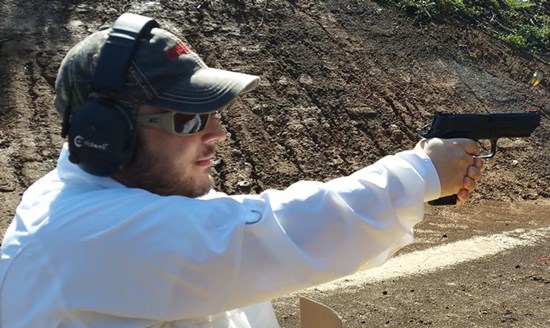 Our media group represented the first Americans to work with the Alpha. It handled beautifully with a top-notch sense of balance, smooth trigger and nearly nonexistent muzzle rise.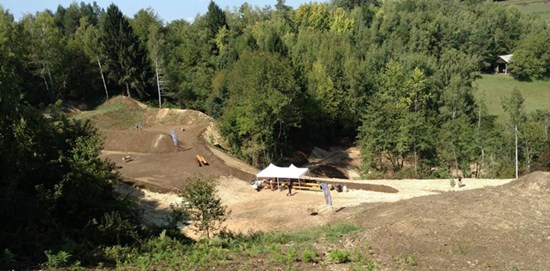 Thousands of rounds were fired through several pistols during our time at a beautiful mountainside shooting range. Thanks to puddles left by a rain storm the night before the bullets fragmenting against the steel targets made a spectacular splash.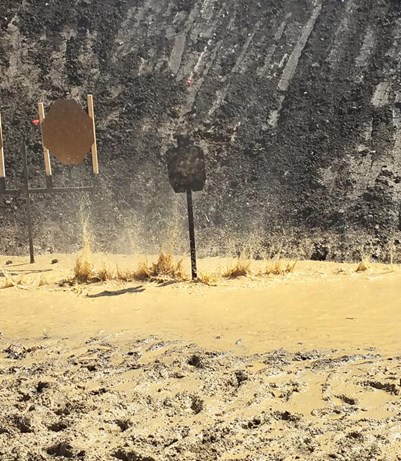 Every model was represented including the nickel finish and the Tactical fitted with a sound suppressor. The guns ran reliably throughout the day.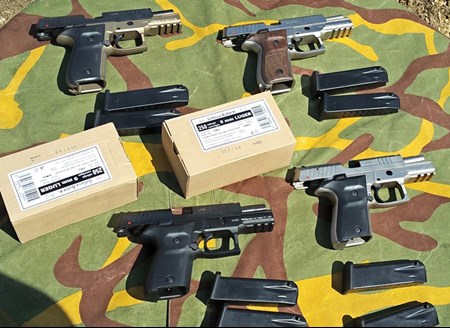 Parting Thoughts
While the time I spent in Slovenia with the Arex team at the factory and on the range was informative, it only served to confirm what I already knew about the ReX zero 1 series of pistols from my own tests and evaluations. Walker English summed it up nicely when he said, "You can't teach a (company) culture of quality. Either you have it or you don't."
I've worked with dozens and dozens of makes and models at this point in my professional and personal shooting pursuits. With time and experience it becomes easy to identify differences between guns made by employees who are just punching a time clock and those manufactured by professionals who take pride in their work, like Arex. The ReX pistols cost less than the competition not because they are cheaply made but because the company has the expertise needed to take care of the most expensive aspects of production in-house.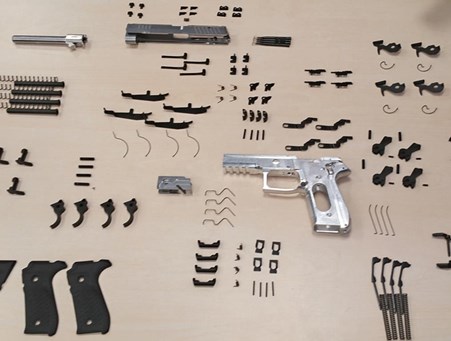 New finish and accessory options will be available before the end of the year and we'll be conducting a test of the new Alpha as soon as it becomes available.