Support NRA American Rifleman
DONATE
Of late, slim and lightweight 9 mm AR-type carbines have become very popular. There are several manufacturers producing guns designed to take Glock magazines, and their success is based on the economy of the 9 mm round, ability to shoot the carbine more accurately than a pistol and the fact most indoor ranges will welcome 9 mm ARs when the blast and power of the 5.56 NATO cartridge are not allowed.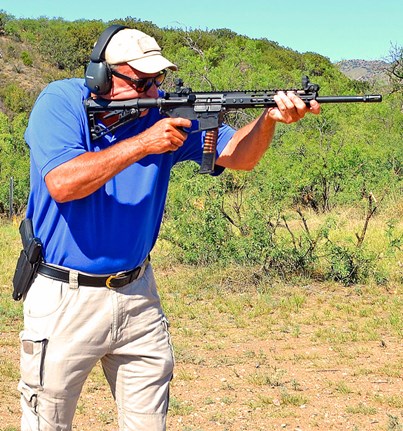 American Tactical Imports has recently introduced the Milsport 9 mm Carbine—an American-built, AR-style rifle with a 16" barrel, free-float handguard and an aluminum-billet lower receiver, designed specifically for Glock 9 mm magazines. It is a semi-automatic, blowback-operated gun.
Examining the lower receiver I found it to be well made and devoid of machining or tool marks. It is machined from billet-aircraft grade aluminum and possesses an integral trigger guard. The Milsport 9 mm does not use a magazine filler block like we have seen on past 9 mm conversions. ATI has trimmed the forward portion of the receiver and magazine well to accept Glock magazines, and this gives the carbine a more sleek profile.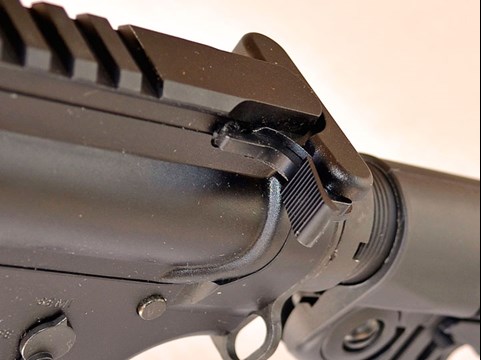 A slightly extended charging handle is included in the Milsport 9 mm Carbine.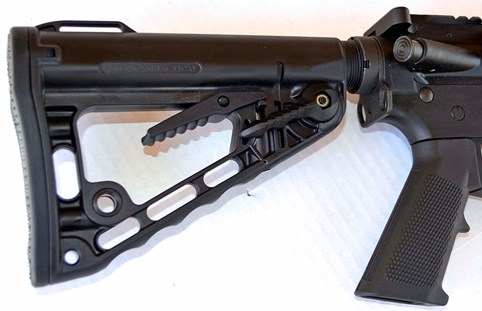 A six-position Roger's Super Stoc is used on the 9 mm carbine.


The magazine well is nicely funneled to facilitate rapid reloads. It utilizes a pivoting magazine release lever located in the usual AR-15 location. Other than the magazine well, its dimensions are mil spec and will accept accessories designed for AR-15s, i.e., aftermarket pistol grips, ambidextrous safeties, etc. Prior to shooting my test gun I swapped the fire-control system for a match-grade trigger (more on this later).
Two screws on the lower receiver's port side retain the robust steel ejector. It is of such stout design that I doubt it could ever be damaged but, in the event it does, can easily be replaced with a new part. The Milsport uses a 16", nitride treated barrel cut with 1:10" rifling. An A2 style flash hider is affixed at the muzzle end of the barrel, threaded ½" x 36. Covering the barrel is a slim, less than 1.75" in diameter, 10" aluminum free-float handguard. At its top is a continuous Picatinny rail for mounting optics, iron sights, magnifiers and night vision accessories. It features Key Mod cuts for attaching lights, laser, bipods etc.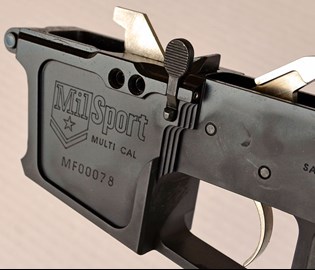 A robust steel ejector is attached to the lower with two screws.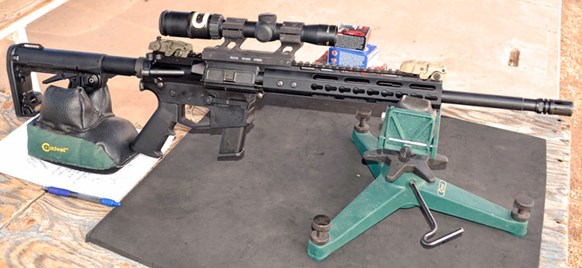 A Glock 17-round magazine was used for bench testing as the 31-round magazine interfered with the bench top.




A one-piece, 10" free-floating Key Mod handguard is standard issue on the ATI carbine.
The flat-top upper receiver is forged and possesses a shell deflector, ejection port cover and a forward assist—though there are no cuts on the bolt carrier for it to engage. There is, however, a dimple on the right side of the carrier to allow the user to push it into battery. There is a weight bolted inside the rear end of the carrier to add mass to slow the carrier's velocity. The carbine spring and buffer slow the carrier and then provide the spring resistance to return it to battery. The 9 mm bolt carrier utilizes a spring with its firing pin to prevent igniting sensitive pistol primers when the bolt is dropped.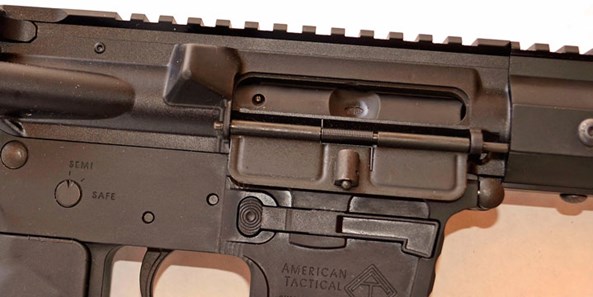 There is a dimple on the side of the Milsport to "persuade" it into battery.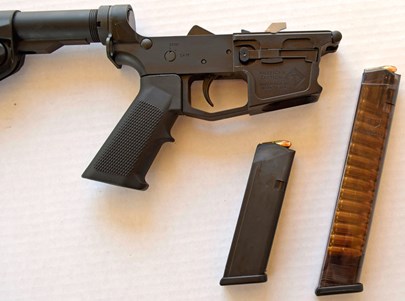 ATI ships its carbine with one Elite Tactical Systems 31-round magazine. It is a translucent, high-capacity magazine designed for Glock 9 mm guns but works perfectly in the Milsport carbine. I also used magazines from my Glock 34 and also found that even the short, subcompact magazines from the Glock 26 would work. Because I did my accuracy work from a seated rest, I used the shorter Glock 17 mag so it wouldn't interfere with the bench top. The Milsport does not lock the bolt carrier to the rear when the last shot is fired.
My test sample possessed a very typical military-style trigger, breaking at about 7 lbs. with the familiar creep. Before heading to the range I switched out the issue trigger and replaced it with a new match-grade trigger from Triggertech. I used the TT-AR-15 which provides a 1911-style trigger pull adjustable from 5 to 2 lbs. It took me less than 10 minutes to install the trigger and adjust it for a 3.5 lb. trigger pull. It is extremely crisp and also features a very short and positive reset. Their frictionless release technology is unlike anything I have ever shot before and I'm quite certain it is partially responsible for my ability to shoot small groups with the ATI Milsport Carbine.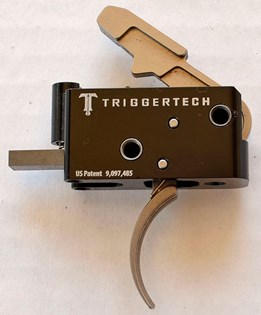 Trigger Tech's TT-AR-15 trigger produces a very 1911-like pull with light takeup, crisp break and a very short and positive reset.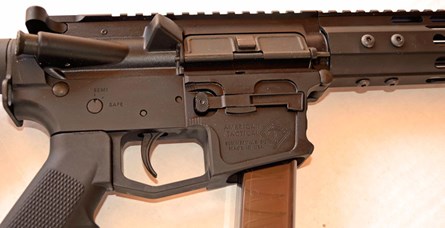 The 9 mm Milsport's lower receiver is designed for Glock magazines and uses a toggle/lever-type release. 


I did all of my accuracy testing from a bench with targets set out at 50 yards. I used a Trijicon 1.25-4X 24 scope in a Rock River mount to evaluate the Milsport's accuracy. With the magnification set at four power I could easily watch my groups on the Shoot-N-C targets.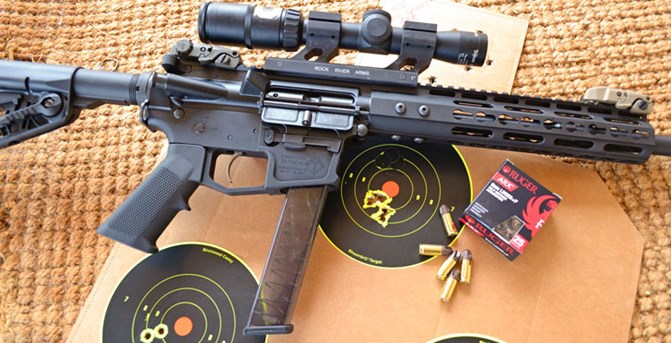 Ruger's 80-gr. ARX +P bullets produced the best group measuring just .85" at 50 yards. 
Ruger's new ARX 80-gr. bullets amazed me by producing the best group, measuring just .85". I almost did not use this round as I thought the bullet weight was just too light. Corbon's 115-gr. +P DPX load and American Eagle 115 FMJ rounds produced identical size groups both measuring 1.30". For my final group I used Hornady's 147-gr. JHP XTP and put four rounds into a neat little group, just .57" with a flyer opening the group up to 1.93". Given the accuracy of the carbine I have to think the flyer was my fault.


| | | | |
| --- | --- | --- | --- |
| AMMO | VELOCITY | ENERGY | GROUP |
| Ruger ARX 80-gr | 1232 | 469 | .85" |
| Corbon 115-gr DPX +P | 1303 | 433 | 1.30" |
| American Eagle 115-gr FMJ | 1279 | 417 | 1.30" |
| Hornady 147-gr JHP XTP | 1000 | 326 | 1.93" |
A PACT Chronograph was used to record velocities and they are listed in feet per second. Energy is listed in Foot Pounds of Energy.
While I was at the range I chronographed the same loads through a S&W M&P9 with a 4.25" barrel for comparison. What I found was that the Milsport's 16" barrel accounted for about an 11 percent increase in velocity but that also translates into about a 20 percent increase in energy. That's a significant increase if you're considering a 9 mm carbine for home defense. A PACT Chronograph was used to record velocities and they are listed in feet per second. Energy is listed in foot pounds of energy.
For field shooting I attached Magpul backup sights and set some steel targets up at 20 yards. I was able to easily double tap the 18" x 12" plates with a split, or time between shots, of 20/100ths of a second. This is where the ATI Milsport Carbine really shines. It has the ability to put rounds on target faster and more accurately than a handgun. For this reason the ATI Milsport 9 mm Carbine makes a perfect companion gun to the 9 mm Glock family.
I found Milsport 9 mm to be accurate and 100 percent reliable and deserves a look for use as a trunk gun or for home defense. For those looking for an even more compact weapon ATI offers a pistol version of this carbine with a 5.5" barrel with a flash can and 7" free-float aluminum handguard.
NRA Specifications
Manufacturer: American Tactical Imports
Model: Milsport 9 mm Carbine
Operation: Semi-automatic, Blowback
Caliber: 9 mm
Weight: 6 lbs. 6 oz.
Overall Length: 32.5"-35.5"
Barrel: 16", 1:10" Twist, A2 Style Flash Hider
Construction: Aircraft Grade Aluminum Billet Lower, Forged Aluminum Upper Receiver
Finish: Black Anodized Receivers, Black Nitride Barrel, Black Furniture
Stock: 6 Position Rogers Super Stoc
Sights: None Supplied
Features: Single Point Sling end Receiver End Plate, Extended Charging Handle
Warranty: Limited Lifetime
MSRP: $899.95