by
Mark A. Keefe, IV, Editorial Director
posted on August 15, 2016
Support NRA American Rifleman
DONATE
It's not often a company gets a second chance on a firearm introduction. Soft launches, sure. But bringing a gun back after a recall in the age of Internet jackals looking to make a name for themselves in an age of semi-anonymous narcissism? Good luck with that.
But that is exactly what Remington is facing with its reintroduction of the R51 pistol. In an era where you can't tell a former Delta Force operator from an egotistical novice on a forum or a Facebook page, we have never had such a major failure occur where opinions spread faster than the bubonic plague in Medieval Calais. 
Here's the first clue: The guns have to work. And they have to work flawlessly. Not with only specific loads, not when even a hint of a limp wrist or improper grip on the part of the shooter occurs. Because no one will blame those lack of fundamentals on the shooter. They will blame the gun.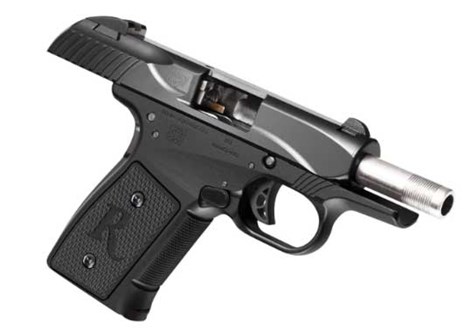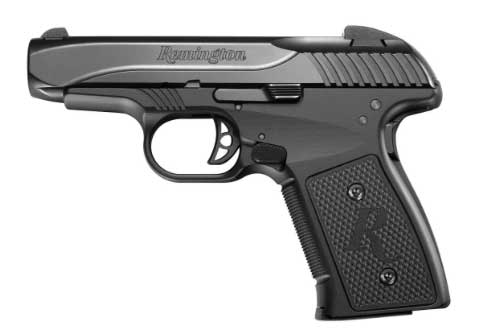 The R51 is unusual because it's the first gun since the John D. Pedersen-designed Model 51 was discontinued to use Pedersen's hesitation lock. That operating system allows for a gun that is lighter and thinner than comparably powered guns. Pedersen, a contemporary of both Johns that matter—Browning and Garand—was right there with both of the great men. It is a shame that Pedersen is not remembered with greater fondness today, because he was a genius—and one of the greatest gun designers of all time.
But when Remington scaled up Pedersen's design to take the pressures and power of 9 mm Luger, they could not hold the tolerances or make the assembly smooth enough as necessary to make them all work all the time on the factory floor. The pre-production hand-tuned guns that went out to the some within the firearm press worked very well. But not all of them did. And the production guns fared even worse.
There are some things that sophisticated CAD-CAM programs cannot tell you; there is peril in not knowing how a factory gun will perform 20,000 rounds downrange later. And Remington's engineers have made some changes to the guts of the gun, changing angles and cam surfaces, to make sure the gun works. Making a small gun work all the time is monumentally, perhaps even exponentially, harder than making a full size work all the time.
Part of this is a change in how guns are designed, made and brought to market. Computer modeling should predict stress points and spring fatigue, etc., but that is with the simulated gun working with simulated materials in a, well, simulation. It's like playing "Call of Duty" versus being a Marine in Fallujah. You can learn some things, yes, but not all of them. And not in the real world. And when numbers of guns sold when that rush of consumer interest is at its peak determines success and profitability, mass production now occurs quickly. New guns are available right as the potential customer wants it. Supply when you have serious demand.
Remington knows it had a serious problem on its hands. You find out just how good a company's corporate character really is when you as a consumer have a problem. That said, I know several R51 owners who never sent their guns back because they ran--and run—like tops. But the company's treatment of R51 customers--despite the long, long frustrating delay in reintroducing the gun—has been first rate. Loyal R51 customers who sent their guns back are getting some accessories that new customers will not. And R51 owners received their replacement guns before the gun press did. From all accounts, those who did not give up on the R51 like the new gun. It has all the features they liked in the first place in terms of size, ergonomics and how it behaves in the hand. And they appear to be working well.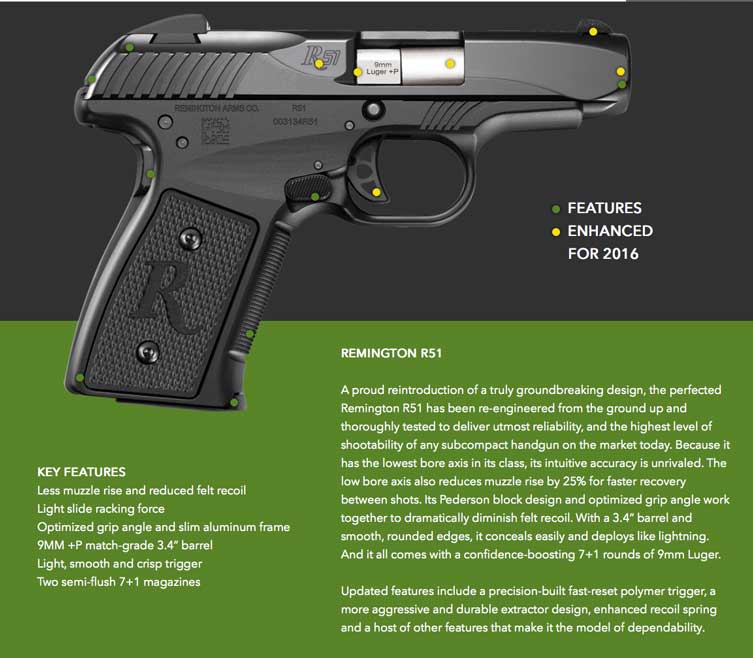 And there are a substantial number of gun owners that liked the R51 enough on first blush to wait and see what happens. Will the new guns work the way they should? I believe the R51 has a legitimate second chance because its lines, ergonomics and handling are very good for a gun of its chambering in the eyes of those who are seeking a small, controllable carry-friendly 9 mm. And the Pedersen lock makes the slide easier to work than similarly sized, conventional recoil-operated pistols. Many consumers, not necessarily the town criers of the Internet, were willing to wait and see. And I have not shot the revised R51, although I am told one is on its way.
Now that the guns are out there, actual buyers can make their own decisions. Remington has a lot riding on this. It's a second chance the firearm market seldom gives. No company is flawless, nor is any particular design. But the R51 better be so close that one cannot tell the difference.