General George S. Patton had the highest praise for the semi-automatic rifle designed by John C. Garand and adopted by the U.S. Army in 1936. A generation of young Americans literally saved the world from unspeakable evil—one eight-round en bloc clip at a time—with this rifle.
General Patton wrote a letter to Springfield Armory that has given us one of the most memorable gun quotes of all time: "In my opinion, the M1 rifle is the greatest battle implement ever devised." The other maker of the Garand besides Springfield during World War II was the Winchester Repeating Arms Co., who, thanks to Patton's high praise, decided to do something about it. Winchester built a Garand specifically for Patton, put a nice piece of walnut on it and had all the metal components chrome-plated. Winchester didn't have to do this; as a private company, Winchester spent its own money to create a very special presentation rifle for one of the greatest combat generals America has ever produced.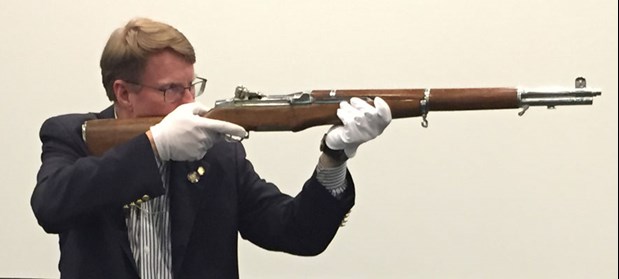 The problem is that Gen. Patton was never actually presented with the rifle. General Patton was gravely injured in an auto wreck while commanding the 15th Army and overseeing the transition of formerly Nazi Bavaria into a post-war democracy. He died on Dec. 21, 1945, never having seen the rifle. Winchester executives quietly put the gun into the company's reference collection. That is where it sat until the collection was donated to and then put on display at the Cody Firearms Museum, which is part of the Buffalo Bill Center of the West in Wyoming.
The rifle is on display at the Winchester Repeating Arms Co. booth (#2125) at the NRA Annual Meetings & Exhibits in Nashville. The Cody Museum's Curator Ashley Hlebinsky escorted the rifle to Nashville, and she taped a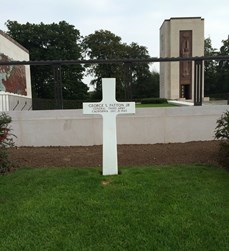 segment with Phil Schreier and Jim Supica for "NRA's Gun Gurus" presented by Henry Repeating Arms that will air in early 2016. I caught up with Ashley, and you can see the video here (or watch it below). And, yes, I insisted on holding the rifle, white gloves and all. Last year, I paid my respects to General Patton and the other 5,075 Americans interred at the Luxembourg American Cemetery and Memorial while were filming our four-part series on the "Men and Guns of the Battle of the Bulge." As I put the rifle to my shoulder, and looked through the sights (including a lock bar on the rear) I knew the general would have liked it.