by
posted on May 28, 2014
Support NRA American Rifleman
DONATE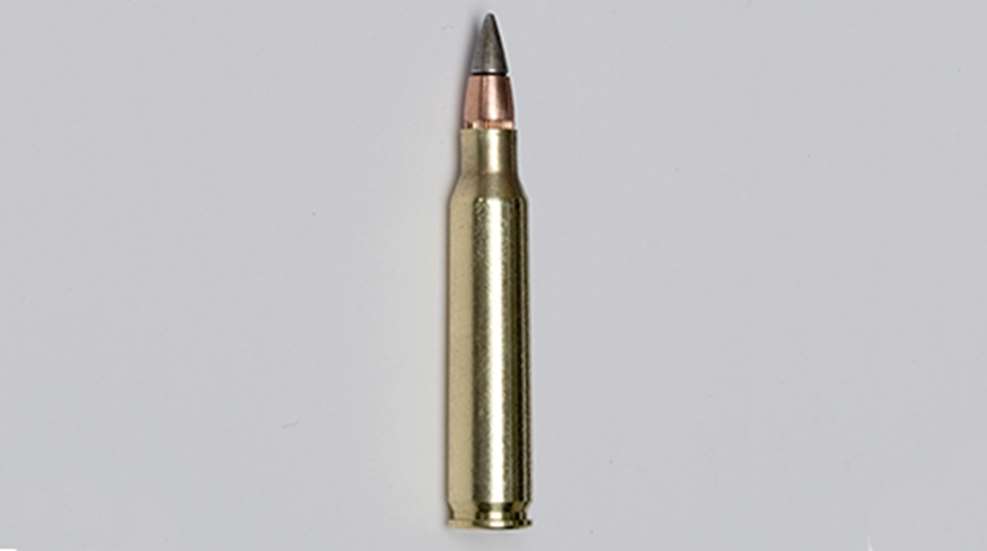 The M855A1 cartridge is actually the Army's fourth version of a lead-free 5.56 mm projectile, capping a 15-year effort that quite likely consumed $100 million. The program began in 1995 as the Joint Service Non-Toxic Ammunition Working Group, established by the Army's Armament Research Development and Engineering Center (ARDEC) and funded through the Army's Environmental Center.
Its first lead-free offering carried a tungsten-tin bullet developed at Oak Ridge National Laboratory, famous for its atomic bomb work. Tungsten is 1.7 times denser than lead and has the highest tensile strength and highest melting point of any metal. To match lead's density, it was composed of 57 percent tungsten and 43 percent tin by weight, and was produced by compressing tin and tungsten powders at 100,000 p.s.i.
In parallel, a tungsten-nylon round was developed on contract by the Texas Research Institute. That projectile employed a high-density composition of powdered tungsten, a polymer binder and a metallic or synthetic fiber within a gilding metal jacket.
A careful search of the tungsten bullets' development literature did not yield a single document on terminal effects testing or any consideration of lethality. Accuracy was not cited, either. It appears that the entire focus was on replacing lead, not on improving 5.56 mm ball performance.
Tungsten toxicity was not an issue, although a 1994 ARDEC-funded study warned that tungsten "is a highly toxic substance, and its use in any situation where dust will be produced must be measured very carefully." However, other studies found no problem with tungsten, so development continued.
Unfortunately, there was no tungsten in the U.S. strategic stockpile, and the bullets, alone, would have accounted for the Western Hemisphere's entire annual output. The world's largest tungsten producer-China, which accounts for 88 percent-could not be relied upon in wartime. In a national emergency, planners decided that expended tungsten-core bullets could be recovered from military ranges, and if that wasn't enough, production could revert to lead-core projectiles.
By 1997 some 100,000 tungsten rounds had been loaded for testing and by 2000, 3 million more were ready for final testing. Plans called for the tungsten bullet to be adopted by 2003 with an annual production of 50 million rounds. However, when the test ammunition suffered "degradation in performance," full-scale production went on hold.
That delay proved fortuitous. For before production could begin, new studies disclosed that tungsten was at least as environmentally hazardous as lead and that it could leach into soil. By the time the tungsten-based bullets were cancelled, approximately 90 million had been loaded, one-third of which were never fired. Thus ended the first decade of non-lead bullet development, which cost an estimated $12 million.
Other Candidates
Under pressure to field the long-delayed 5.56 mm round, in 2003 the Army began a three-year study of alternate commercial and military bullets, including some containing lead.
One cartridge appeared to be a serious contender. It was the MK 318 MOD 0 cartridge, which carried a 62-grain bullet and was developed by U.S. Special Operations Command's Special Operations Science and Technology Office, or "SOST." Nicknamed the "SOST" round, it was intended for the 5.56 mm "SCAR" or Special Operations Forces Combat Assault Rifle. Developed with Federal Cartridge's assistance, it evolved from the company's .223 Tactical Load-an excellent barrier-penetrating and soft-tissue bullet-in which the gilding metal jacket is bonded to the lead core. Like the M855A1 load eventually adopted, the SOST, too, delivered consistently lethal damage to ballistic gelatin without regard to the yaw angle.
However, SOST had a flaw in the eyes of Army planners. It contained lead.
The SOST's superior accuracy-called "impact dispersion" by the Army Research Lab-meant nothing. "Differences in the impact dispersion of the two rounds may exist," its final report notes. "However, these differences must be considered in light of the other sources of delivery errors including crosswind and range errors that are directly related to the crosswind sensitivity and gravity drop parameters examined here."
The final selection, ARDEC announced, "Will balance cost, performance and environmental factors to determine potential candidates." [emphasis added] When asked by Army Times reporter Matthew Cox how well the SOST round performed, the Army's product manager for Maneuver Ammunition Systems said, "We are not at liberty to compare [the M855A1] to SOST." Although the SOST cartridge remains SOCOM's preferred 5.56 mm cartridge, the Army found it unsuitable as a general-purpose round.
Back to the Drawing Board
With the tungsten-based round abandoned and no acceptable alternate available, in mid-2005 a meeting at Lake City Army Ammunition Plant brought together a new design team that would be a collaborative effort led by the Army's Project Manager Maneuver Ammunition Systems (PM MAS); and involving ARDEC, located at Picatinny Arsenal, N.J.; the Army Research Lab (ARL) at Edgewoood Arsenal, Md.; and the Lake City Army Ammunition Plant's operator, Alliant Techsystems, the parent company of Federal Ammunition.
Unlike earlier research, this effort also would address lethality concerns, based on documented reports of the green-tipped M855's inadequacy in Iraq and Afghanistan. However, the use of lead in the design was not permitted. "The solution would have to be 'green,'" reported a participant, "which would justify using the available [development] funding and existing program to do the work, rather than having to go back and justify funding a new ammunition development program."
Considerable research addressed terminal ballistics, how a bullet yaws after impact, and how to achieve that consistently. The new design incorporated that research, resulting in a bullet of bismuth and tin, offering 83 percent the density of lead.
On Nov. 7, 2008, the Kansas City Star reported that Lake City Army Ammunition Plant was about to produce its first 20 million rounds with bismuth-tin bullets. The first deliveries to Afghanistan were slated for January 2009. Before full-scale production could begin, however, bismuth-tin bullets repeatedly failed live-fire tests by flying sideways through targets. "The flight instability resulted from gaps between the jacket and slug," the Army announced, "and was exacerbated by the high yield strength of the slug material as compared to lead."
With yet another delay, the U.S. Marine Corps-which was to have received the bismuth-tin rounds-instead acquired 5.56 mm SOST copper-lead ammunition from U.S. Special Operations Command, shipping millions to its combat forces in Afghanistan.
Then came the final development rush, which used a copper core, gilding metal jacket, and incorporated an improved steel penetrator. After 15 years of research and development, it required only 11 months until the new, final design went into production as the M855A1 Enhanced Performance cartridge. As quickly as the cartridges came off the line in June 2010, they were shipped to Afghanistan.
The two final designs-the bismuth-tin and copper-steel penetrator-cost, "approximately $50 million," according to the Army. Add to that $12 million spent on the tungsten bullets, plus related spending, and the total cost surely approached $100 million. The new bullet technology is being applied to other U.S. small arms bullets, with 7.62 mm lead-free rounds already in production at Lake City Army Ammunition Plant.