by
posted on September 15, 2010
Support NRA American Rifleman
DONATE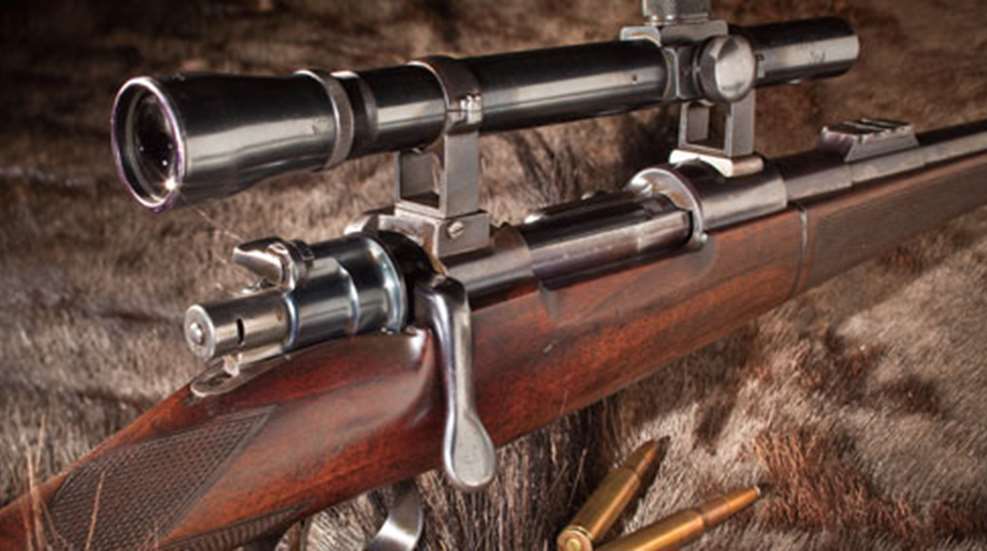 The year was 1956. Bob Ruark and I were standing at the customs desk in the old Nairobi airport building. He'd just arrived on a flight from London and had brought two rifles, which we were about to clear through customs. His bringing rifles surprised me because he wasn't planning to hunt, having come out to Kenya on this trip only to collect material for an article about the "winds of change" blowing across Africa. When the gun cases were opened Bob lifted out a slim little Rigby rifle from one and handed it to me.
"What do you think of this, Haraka?" he asked. I looked down at the little rifle in my hands. It had seen plenty of honest use, but looked to be well-cared for and in very good shape. "Turn it over," Bob said, grinning. When I did so, I noticed an elongated silver plaque let into the stock where a monogram plate would normally be. It read: "Mark R. Selby From Uncle Bob Ruark."
As I looked more closely at the little .275 rifle I noticed some engraving on the magazine box cover. The inscription read: "WDMB." Could it stand for "Walter Dalrymple Maitland Bell?" Surely not, I thought. I looked up at Bob, my eyes asking the obvious question.
"That's right, Haraka," Bob said. "You're holding 'Karamoja' Bell's .275 Rigby. I visited Westley Richards recently to order a .318 rifle, which you've always sung the praises of, and Malcolm Lyell, the boss man there, showed me two rifles, which had arrived the previous day—they were from Bell's estate.
"The .275 Rigby you're now holding and a double .450/400 by Jeffery. I bought both rifles on the spot for my godson, Mark." Bob was referring to my son Mark, who was 4 years old at the time.
I was speechless. Bell had been my idol ever since I'd become a professional hunter. And now, all I'd heard and read about him crowded into my mind. I was holding the little rifle that the legendary hunter had carried while penetrating the wilds of Karamoja in the northeastern regions of Uganda. While still in his 20s—15 years before I was born—Bell went there to hunt the great elephant bulls abundant in Karamoja, despite of the region's population of wild and warring native tribes.
Bell had moved about freely in the Karamoja area with a small safari, at a time when Swahili traders from the coast dared not set foot in the area with fewer than 300 guns. Several large, well-armed parties of traders had been completely wiped out through primitive intrigue—natives pretending to be trading, would in fact wait for a given signal, at which time each warrior plunged his spear into the nearest Swahili in order to steal all their trade goods.
Bell had earned the respect and the friendship, and finally total acceptance of the warlike Karamojang people. This was due partly to his fearlessness when dealing with a herd of bull elephants bearing down on him, relying on braining the one directly in front of him, but mostly from occasions when his safari was confronted by a group of belligerent warriors—tall, jet black, naked, and armed to the teeth carrying a shield, two 10-foot long razor-sharp spears, a circular knife on each wrist and wicked hooks attached to rings on the fingers—Bell would face them down, without showing the slightest emotion or fear. The situation never deteriorated to the point that Bell was ever forced to use his rifle.
Bell was also supremely fit with tremendous stamina and endurance, qualities necessary for survival, and for which the Karamojang, as primitive people, greatly admired. But mainly they stood in awe and possibly dread of his small but deadly "fire stick," which fired, without smoke, tiny shining bullets causing instant death to the largest bull elephant, and often laid low a group of bulls in a matter of seconds. These natives had never seen anything like this before. When the Swahilis tried to hunt elephants, they poured copious amounts of powder down the gullets of their muzzleloaders, then rammed down whatever projectiles were available, to produce huge clouds of smoke—but rarely dead elephants.
The Karamojang affectionately named Bell "Longellynyung," or red man. The big men who owned vast numbers of cattle even offered Bell their daughters as wives.
Bell's Rifle Returns to Africa
If only this little rifle could speak, tell us where it had been, what it had experienced, how many of those grand old tuskers it had laid low. Its tales would be fascinating. I finally snapped out of my "Karamoja" trance, and we cleared the rifles, which was a mere formality in those far-off days. We then headed into Nairobi to check Bob into the New Stanley Hotel, after which we settled down with a couple of cold beers.
We were both as excited as a pair of schoolboys about the Bell rifles and were surprised by the fact that the .275 was a takedown model. By flipping a catch the barrel and forward part of the fore-end unscrewed, but when in the locked position, it was totally rigid—a very neat arrangement. There were a couple of threaded holes on the side of the Mauser action where, presumably, Bell had fitted a scope at some time, perhaps as he grew older, in order to hunt stag back in his native Scotland.
I asked about the elongated slot cut through the buttstock just above the monogram plate. Bob said that Malcolm Lyell had told him its purpose was for carrying the rifle. The butt end of a spear would be inserted through the hole then the spear placed over the shoulder with the rifle hanging down the carrier's back.
This sounded very strange to me, for it would mean that there would be about nine feet of spear protruding in front of the carrier as he walked through bush, and the rifle could be easily dislodged from the spear landing muzzle first on whatever surface lay beneath it. I never did hear nor imagine a plausible reason for that slot.
Finally, Bob asked, "Haraka, when you first got involved in the safari business with Percival, back in late 1945, there must have been a few old-timers around who actually knew 'Karamoja' Bell."
"Yes," I replied. "There were some old-timers who knew Bell—mainly from the 'Ivory Rush' days of the Lado Enclave." I'd become a fan of "Karamoja" Bell after reading his two books, "Wanderings of an Elephant Hunter" and "Karamoja Safari," and was always eager to hear about him from anyone who'd known him.
"What did hunters think of him generally, and especially his use of smallbore rifles on elephants?" Bob asked.
"Bell was admired for his 'brass' in venturing with a very small safari into Karamoja with it's hostile pastoral tribes, whose main purpose in life was tending their precious cattle and killing each other and anyone else who might come along," I told Bob. "By all accounts he was an outstanding hunter…fearless, with tremendous physical endurance, and it was generally agreed that he was a really superb marksman. He also had an amazing understanding of the bone structure of an elephant's skull, and he was able to direct the small bullets from almost any angle to the brain hidden within that massive head. Stories of his prowess with a rifle were legion.
"In those early days I don't think anyone cared what rifle was used. Anything you could get your hands on with a supply of solid ammo was used. But with the passing of time and with the larger bores coming into regular use, controversy began about the use of small-bore rifles on elephant. However, I never met anyone who spoke badly of Bell."
Back On Safari
Bob was scheduled to come back on safari later in the season, when we planned to hunt southern Tanganyika for sable, kudu and roan, and then move on to Ikoma for buffalo and leopard. He was anxious, as was I, to use the .275 Rigby as much as possible. The rifle was fitted with open sights, which featured a wide V rear sight with flip-up leaves, and a small-bead front sight. I realized we'd need to fit a scope to the rifle because Bob was not used to shooting with open sights, other than with big doubles at close range.
I had a Lyman Alaskan 2.5X scope, but no scope mounts were available in Nairobi, so I took the rifle and scope to Robert Triebel, one of the famous Triebel brothers, who was employed as a gunsmith in Nairobi, and an absolute artist working with metal. He crafted a mount high enough to allow the operation of the unaltered Mauser bolt handle, but also built in an aperture, through which open sights could be used. The arrangement worked well and proved to ring out the best of the rifle's inherent accuracy. The job took some time, but fortunately it was ready by the time Bob's safari was due to start.
When Bob arrived for the safari we drove for three days via Lake Victoria to our campsite on the Ugalla River, some distance south of Tabora. Livingstone and Stanley had lived together here for a while after their famous meeting at Ugigi on Lake Tanganyika, and the compound they shared still stands today as a national monument. Called "Kazeh" in those days, Tabora was one of the main inland centers used by the Arab slavers. There are still hundreds of huge mango trees growing in the vicinity, serving as a living legacy to the slave trade. The mango fruit was carried up from the coast by the slave caravans as food, and when eaten the seeds were discarded, finally germinating and flourishing in the soft soil during the rains.
We found conditions favorable, the long grass having been burned off and a new growth of green shoots had shot up to attract a variety of game animals to the burned-off areas. But having had previous experience with the .275 (7x57 mm Mauser) cartridge, I was well-aware that the 173-grain Kynoch bullet was no speedster, exhibiting a fairly curved trajectory, and hence, it would be necessary to get fairly close to the quarry.
On the second day we spotted a small herd of sable antelope accompanied by a very respectable bull emerging from some long grass, which had escaped the fire. They were not aware of our presence, and there happened to be a large termite mound with trees growing on it between the sable and us. The wind was in our favor, so we hurriedly crept up to the mound, and remaining concealed, enjoyed a good view of the approaching herd feeding slowly along until they were no more than about 120 yards from us.
Bob had a good, solid rest for the rifle, so I said, "Take him as soon as he presents a broadside shot." Finally the bull stood clear of the herd. With his shiny black body contrasting with his white belly and facial markings, and his long, sweeping scimitar-shaped horns arched majestically over his back, he looked magnificent. Bob fired and the sable reared high on his hind legs, then ran some 40 yards and stood. I knew the bull had been mortally wounded, and it collapsed before another shot was taken. That was the little .275's first kill in Africa after so many years!
By the end of that safari the little Rigby rifle had accounted for a sable, a roan antelope, two zebras and a fair number of plains-game species required for camp meat. Seldom was a second shot required—the .275 did all that was expected of it, and more.
Bob also used the little Rigby on a later safari to Karamoja—Bell's old hunting grounds in Uganda. Bob and I felt like we were taking Bell's Rigby .275 home, although we found the area very different from the Karamoja that Bell knew. Gone were the elephants, buffalo and rhino, and with the exception of lions and Jackson's hartebeest, game was so scarce that the only animals we got to use it on were the hartebeest. We shot a number of them for lion bait and again the .275 proved more than adequate.
Move to Botswana
By the early 1960s East Africa was in a process of rapid political change, and the safari industry felt the pressure with many game areas becoming overcrowded. Hunting blocks were being booked months in advance for anticipated, but unconfirmed safaris. This meant planning and booking hunting areas for a genuine safari long before its arrival without any idea of what the situation would be in those areas when the safari arrived. New laws governing firearm security while on safari, during transit, and when in Nairobi also added to the overall pressure being felt.
At about this time stories began to circulate among the East African hunting fraternity about vast herds of game in a little known British Protectorate by the name of Bechuanaland, which bordered South Africa. Ker, Downey & Selby (KDS) Safaris, the company I then worked for, became interested in the possibility of establishing a hunting safari operation there dependent on obtaining permission and the viability of such a venture. As I had expressed an interest in moving from East Africa, I was authorized to explore the possibility of setting up the operation. After discussing the move with my wife Miki, we decided to "give it a go," fully realizing the risks involved in moving the family south to an uncertain future. After my initial investigations indicated that there was in fact a considerable amount of wildlife in the very large and sparsely populated country, which encompassed the Kalahari Desert in the south and the Okavango Delta (the largest inland delta in the world) in the north, KDS decided to go ahead with a plan to set up an operation in Bechuanaland.
Having obtained permission from the Bechuanaland government for a one-year trial period, we set up operations in the centrally located village of Maun, situated on the Thamalakane River along the southern reaches of the delta. KDS was allocated two locations for our hunting operations—one in the north, which encompassed a large area bordering the northeastern edge of the Okavango Delta, and one in the south, encompassing a large area of the Kalahari Desert for desert game.
What we found exceeded our wildest expectations—a land that time had passed by. It was quiet "back water," where nature had remained unchanged by the intrusion of the hustle and bustle of the 20th century. The vast savannas bordering the delta were teeming with huge herds of elephant, buffalo, numerous greater kudu, zebra, wildebeest and sable in excess of 100 animals, usually accompanied by truly magnificent males. There were many more species of plains game and lions everywhere, showing little fear of man, which in fact was the case with most of the animals.
Within the delta, gin-clear streams meandered between large palm fringed islands, home to large herds of red lechwe and buffalo. Elephants moved freely among the islands and pods of hippo inhabited the larger lagoons. In the vast reed beds the elusive, splayed-hoofed sitatunga were present in good numbers. The extensive Kalahari Desert scrub lands, which stretched for hundreds of miles, also provided a very encouraging picture. Large herds of gemsbok, eland, red hartebeest, wildebeest and springbok were constantly on the move, lions following the herds were also plentiful, and magnificent black-maned specimens were not uncommon. Leopards, too, were fairly abundant in the Kalahari.
In 1963, I moved the family to Maun, "lock, stock and barrel," including all the firearms I'd acquired through the years, which also included the Bell .275. KDS Safaris commenced operations that year and, after a couple years of operation, we came to know our areas well. We established beautiful camps at attractive sites, cut tracks and made bush airfields, and by the mid-1960s, KDS was able to offer safaris equal in sophistication to those being conducted in East Africa.
During this period the little Bell .275 saw very little use. But, when our son Mark entered his early teens it became the ideal rifle for him to use and he bagged a number of animals with it, including kudu, wildebeest, tsessebe, lechwe, zebra and impala.
At one time, when I had a fairly large workforce in the bush cutting hunting tracks and airfields, meat was required for rations. There were good numbers of buffalo in the vicinity and out of curiosity I decided to take one with the Bell .275. Crawling up close to a large herd, I carefully selected a large, fat cow. At a distance of about 30 yards, I decided to do a "Karamoja Bell" and placed the long 173-grain Kynoch solid behind her ear, ranging forward into the brain. She dropped in her tracks.
Some time later staff rations were again needed, and I decided to use the little Rigby once again. But this time, I selected a large bull to see how the 173-grain Kynoch solid would perform. The bull stood broadside at about 60 yards and I aimed a little back on the shoulder to avoid having the bullet strike the large shoulder bone, possibly preventing it from penetrating into the heart cavity. At the shot the bull stumbled, but quickly regained himself and took off with the rest of the herd into thick mopani scrub engulfed in a dense cloud of dust.
Following a wounded buffalo in thick bush with a scope-sighted .275 did not appeal to me, so I exchanged it for my Rigby .416 and took up the tracks of the retreating herd. Tracking carefully through the dense scrub, which was about shoulder high, we found little blood but did discover after several hundred yards where the wounded bull had separated from the herd. We now became even more cautious, because from experience, I knew that wounded buffalo will often run a short distance after separating from the herd. Then, if the bush is thick, he'll lie down, and you're on top of him before you realize he's there. Fortunately, after another couple hundred yards of slow tracking, we could see a small clearing ahead and in the middle of this clearing lay the buffalo—stone dead. He'd collapsed at full gallop.
Careful tracing of the bullet's path established that the long, pencil-thin .275 Kynoch bullet had creased the heart, but had failed to penetrate its large internal chambers. The fact that this bull was able to gallop for nearly a half-mile with such a wound before collapsing is an indication of the vitality and tenaciousness of a buffalo.
The KDS Khwai concession area, located northwest of the Okavango Delta, had an extremely large population of elephant, and the company's elephant quota was very generous in those days. During the 1970s, at a time when the price of ivory was increasing considerably, I'd agreed that any members of the company who wished to hunt an elephant at the end of the season, after all our "client safaris" had left the field, were welcome to do so.
My daughter Gail, then in her late teens, expressed the wish to hunt an elephant, which surprised me somewhat. I knew Gail had a very deep-rooted respect for elephants, having witnessed some noisy demonstrations when she had accompanied me while I was doing some photography. She was very familiar with the handling of firearms, though, and had bagged a number of plains game without incident.
I agreed that she could hunt an elephant with the proviso that she accompany me on the hunt all the way, and that she shoot the elephant herself. I would assist only if it were absolutely necessary. To this she agreed, and again, I was somewhat surprised, knowing her feelings about pachyderms. With no caliber restrictions on the use of small-bores in those early days, I figured the little Rigby .275 would be the ideal rifle for her to use.
When all the safaris had been wrapped up, it was time for Gail's hunt. We still had a couple of weeks before the season closed, and I decided to try our luck in the Mababe Depression where some early rains had filled some backcountry waterholes. We commenced the hunt and looked over several breeding herds accompanied by young bulls, the odd one carrying ivory, which appeared quite nice, but with thin tusks and long nerves they would not meet our weight expectations. We also encountered our share of one-tuskers and broken-tuskers, not to mention numerous groups of young bachelor bulls.
Finally, I decided we should have a look at a distant water hole about a two-hour drive from camp. It had rained during the night and as we approached the water hole we came upon the tracks of a large bull elephant, which had crossed the road not long before our arrival. Leaving the car under a tree we shouldered our rifles and, with a water bag carried by one of the trackers, we hurried off in pursuit.
Tracking was ridiculously easy due to the rain the previous night, and after some two miles of tracking through thick mopani woodland, we spotted the bull ahead in the middle of an open plain feeding on small shrubs. It was moving slowly toward a thick mopani forest on the far side of the plain. The binocular showed both tusks to be intact and evenly matched. I judged the tusks to scale about 50 pounds apiece.
We now deviated with the wind in our favor to get ahead of the bull and be in a position to intercept the elephant before it reached the heavy bush on the far side of the plain. Having accomplished this maneuver we strode toward the bull. When we were some 200 yards from him, Gail said in a quavering voice, "This is close enough, dad!"
I said, "No we must get a lot closer," and continued to approach the bull. Gail's protests became more urgent as we got nearer, and when we were within about 80 yards, I realized I would not get her any closer unless I picked her up and carried her. There was a nearby tree, which provided a decent rest, and I said, "OK take him from here."
I explained again where to aim for the heart as she sighted through the scope. Gail fired and by the bull's reaction I felt she had got it right, so I did not fire. There was sufficient open country between it and the bush for me to take a hand if it did not collapse. The bull ran for about 40 yards then stood, swayed and collapsed.
Gail was elated with her prize, and I congratulated her on a fine shot and having gone through with it. At the same time I could not help feeling a sense of nostalgia as this was the first elephant the little Rigby had laid low since it was used by "Karamoja" Bell so many years before. In retrospect Gail's bull will almost certainly be the last elephant the little rifle will account for as in most, if not all African countries, calibers of .375 or larger are mandatory for the hunting of elephant.
Mark eventually decided to dispose of the Rigby .275 through Holland & Holland of London, and we lost all trace of it for nearly 20 years until quite recently when someone phoned Joe Coogan to say that he currently owned the rifle and wished to sell it. Mike Evans now owns "Karamoja" Bell's Rigby .275, and he brought it back to Botswana to use on safari in 2009. How wonderful to think that this unique little rifle returned to Africa yet again, and that its voice echoed through the African bush once more.