by
posted on March 13, 2014
Support NRA American Rifleman
DONATE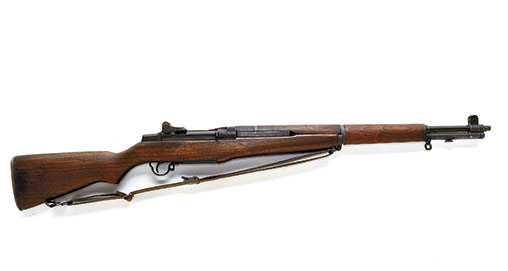 Q: After a lot of looking, I finally found an unaltered 1943-vintage U.S. M1 Garand rifle in excellent condition.  I am now having a difficult time finding the correct 1943-dated M1907 sling to go with the rifle.  I didn't realize that World War II-vintage slings were so hard to find. Any suggestions?
A: Actually, you don't have to limit yourself to a World War II-vintage sling. A large number of World War I (and earlier) era slings were used in World War II on M1 rifles, '03 rifles, M1917 rifles and shotguns, including leather M1907 and web M1917 Kerr slings. For rifles and shotguns in service from circa late 1942 and afterward, a World War II-vintage M1 web sling would also be proper.
With few exceptions (such as the M1 carbine), slings were not manufactured under the same contract or shipped with rifles when they were sent from the factory. What type(s) of slings were subsequently utilized was dependent upon what type(s) were available to the receiving/issuing unit. If a sling was one of the standardized types and in usable condition, it was put on a rifle and issued. The same was true of other accessories, such as cleaning rods and oilers. Collectors often get too caught up in believing there is one, and only one, correct sling for a U.S. military arm. In most cases, this simply isn't true.
-Bruce N. Canfield
(Originally published in February, 2006)