Support NRA American Rifleman
DONATE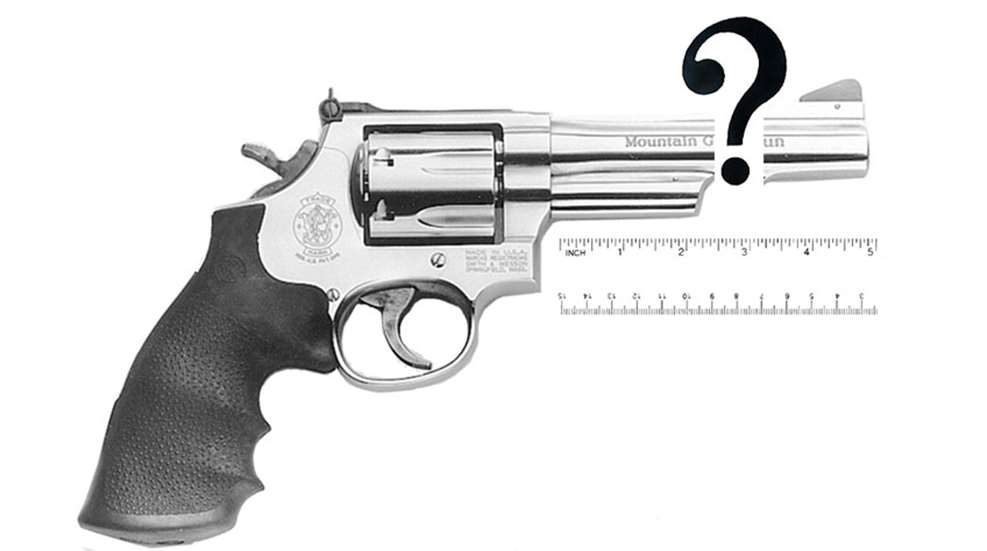 Over the many years Smith & Wesson has manufactured quality revolvers, they've done an admirable job of building what customers want. Virtually all of their models came with a host of options and that's particularly true of recent times. By way of example, consider one of their more popular models, the Model 19 Combat Magnum. Built on a slightly updated variation of the classic K frame with round or square butts, the 19 could be had in blue, nickel, two-tone and stainless (Model 66) finishes and with 2½"-, 3"-, 4"-, 5"- and 6"-barrels. You could have hammers and triggers in several styles, as well as a huge variety in sight options and grips. Many choices to be sure, but there were also times when they would cut barrels to odd lengths, etc. My point is simply that S&W is a large firearms maker that will do what the customer wants, as long as a particular feature or service makes economic good sense. Bluntly, if there's a serious profit involved, Smith & Wesson—and most handgun makers—will seriously consider special editions. This is simply Economics 101, but the handgun world is currently awash with special short-run editions of regular-production firearms. They must be selling them.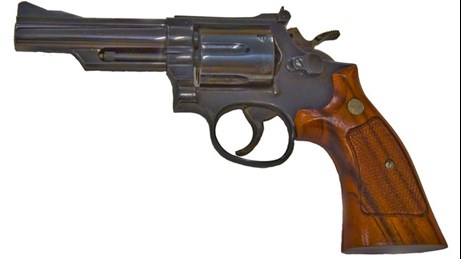 There is a S&W revolver that I regard highly and would like to see a variation thereof. The firearm in question is the L-frame revolver in .357 Magnum. That model came along right at the end of my time as a peace officer. In the early 80s, the revolver was still the king in law enforcement, although many eyes were straying towards the early high-capacity 9 mms. Smith & Wesson was determined to stay atop the revolver mountain and developed a new gun that addressed the problems of the deservedly popular K-frame series. The K frames dated to the turn of the century and served well for almost all of it. Until the '50s, the hottest cartridge in use was the .38 Special. Everything worked well until the .38 started to grow hotter, and the .357 Mag. was adapted for use in special versions of the K frame. It became obvious that the K frame needed a little more meat in certain critical points. The designers applied themselves to the beefing-up and the result was called the L frame. Called the models 586 and 581 (carbon steel) and 686 and 681 (stainless steel), the L frames were marketed heavily to police, but ended up just as popular in the sportsman's battery. 
They were just a trifle larger than the K frames and had a greater potential for shooting longevity. It was literally a platform designed for the .357 Mag. cartridge. The L frames weren't much larger than the K frames, but they were significantly stronger. Also, they retained trigger systems with that wonderful smooth double action, as well as the crisp, light single action. Modernized via a heavy barrel with full underlug running to the muzzle, the L-frames were exceptionally accurate and shootable. They were easily the best service revolver ever made, although Ruger's fine GP100 is very close. It is too bad that the fully developed fighting revolver came along at a point in time when most shooters were beginning to listen to the siren songs of high capacity and rapid reloading.  The L frames are still in the catalog and sell in modest quantities. The necessary parts are therefore available for the legendary gunmaker to craft a special edition of this fine revolver.
I would like to see an L frame in .357 Magnum—either 6- or 7-shot, carbon or stainless steel—with a special barrel measuring five inches in length. The special barrel needs to have the slim, tapered contour and fluted sighting rib of the Smith & Wesson revolvers of the 1950s.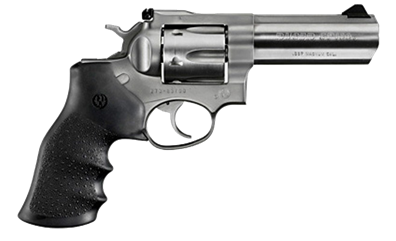 First, let's look at the rationale for a 5" barrel. Part of the reasoning for a full underlug, 4" barrel on service revolvers like the Colt Python, Ruger GP100 and S&W L frame is shifting the balance forward. When you add a little weight on the front end of the gun, it just plain improves the gun's handling. You can get a similar effect by using a conventional barrel and adding another inch of length. But you also get another inch of sight radius and another 35 to 40 f.p.s. of velocity. The longer gun points better, aims better and gets better performance from the ammunition. True enough, the longer barrel is a bit more of a handling problem, but it is not an insurmountable one. If you go for any more length, you probably will need special lower holsters. A 5" service revolver is one of those puzzling compromises that just seems right.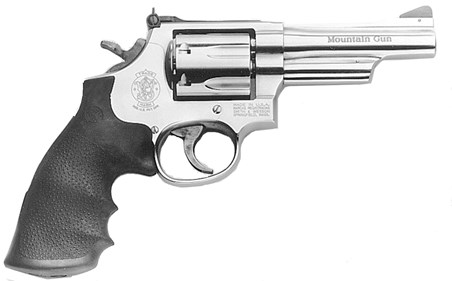 If that wasn't true, I doubt if the factory would have tried it—but they did. About 10 years back, they ran a limited series of Model 686s with heavy, full underlug barrels five inches long. I recall little if any coverage of this variation in the firearms press. And just within the last year or so, they ran another series with 5" barrels and the short underlug. I'd want to see my version with the slim tapered barrel and narrow sighting rib of the '50 Target series of N frames. Smith & Wesson came very close with the Mountain Gun, a special L-frame .357 (Model 686) made in the early 90s. This one had a 4" tube, so I am really asking for the same gun with another inch of barrel.

Smith & Wesson came very close with the Mountain Gun, a special L-frame .357 (Model 686) made in the early 90s. This one had a 4" tube, so I am really asking for the same gun with another inch of barrel.
Some readers may be puzzled about why I am so intent on an admittedly outmoded barrel shape. The answer is because I like a lot of outmoded stuff on my guns. I have a bunch of '92 Winchesters (and replicas thereof), efficient little carbines, but anything but modern. The same is true of my inexplicable interest in shooter-grade SAA Colts. They are beautiful and they are history. I believe there are lots of more seasoned shooters who share my enthusiasm for working classics. The firearm I have described—L frame .357 with 5" barrel in 1950 Target contour—has the major features that put the S&W product at the top of .357 Magnum hill. This might make it a so-called "safe queen," were it not for the fact that it is the epitome of a shooting revolver. Needs to be made.