by
posted on December 4, 2015
Support NRA American Rifleman
DONATE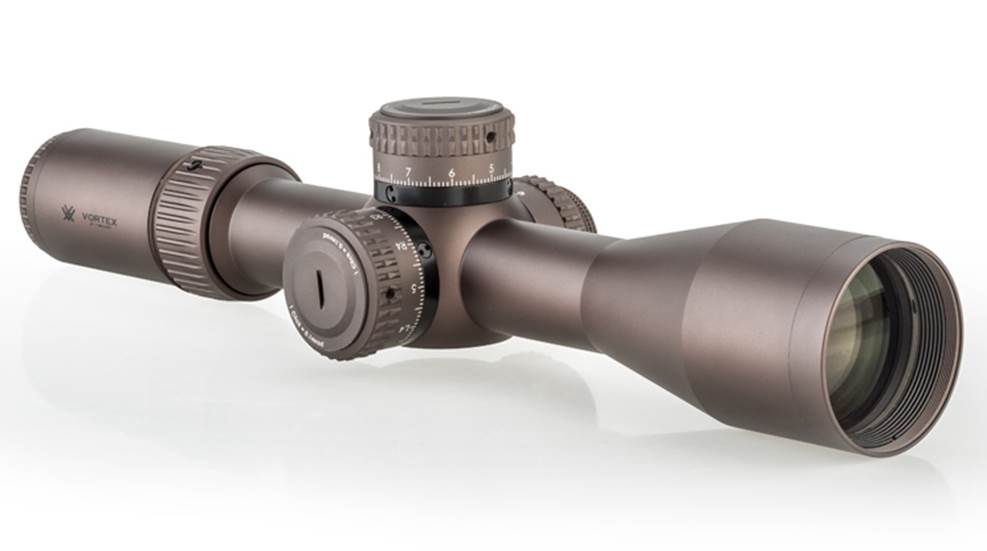 Purpose-built long-range riflescopes are a breed apart from typical variable-power optics. Proficient distance-goers not only demand capability-enhancing features but, in the course of practicing their craft, they impart punishment that can break down lesser-quality optics. Trustworthy manufacturers know that cutting corners to save costs isn't an option. An example of a premium, all-encompassing, long-range riflescope is the subject of this review, Vortex Optic's new Vortex Razor HD GEN II 3-18X 50 mm.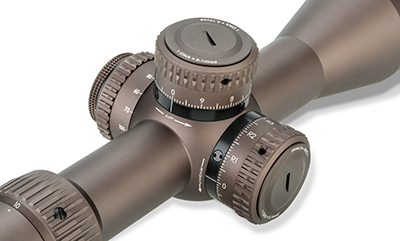 Not unlike most current long-range riflescopes, the Japanese-made Razor HD GEN II 3-18X has a one-piece, 34-mm main tube machined from aircraft-grade aluminum, which is then hard-coat-anodized with a low-glare finish. The large-diameter tube allows for increased adjustment range—120 and 69 m.o.a. for elevation and windage, respectively, or 35 and 20 milliradians (mils). But, the additional material also contributes to the 143⁄8"-long scope's hefty 46.5 oz. weight. Mounting the scope will require the use of 34-mm rings, and we recommend a medium-height set when combining the optic with a flat-top, AR-style platform. The rear mounting section of the main tube is an ample 2.2", however, the forward section is only 2.0", leaving little wiggle room to account for eye relief.
Vortex Optics wisely chose a 50-mm objective lens diameter for the Razor HD GEN II 3-18X. Whereas larger objective lenses offer slight increases in light-gathering power and thus resolution, they also require rings at heights that make consistent cheekweld difficult to achieve and maintain. This is especially problematic on AR-style arms featuring a buttstock without an adjustable cheekpiece. But, as its name suggests, the Razor HD GEN II's index-matched lenses are made from high-density (HD), extra-low-dispersion glass, which enhances image sharpness, brightness and color fidelity, so brightness lost to the smaller objective is offset. Additionally, the lenses are fully multi-coated for maximum brightness and light transmission. The exterior lenses have ArmorTek, a scratch-, oil- and debris-resistant coating. O-ring seals prevent water and particulates from entering, while argon purging removes oxygen to prevent internal fogging.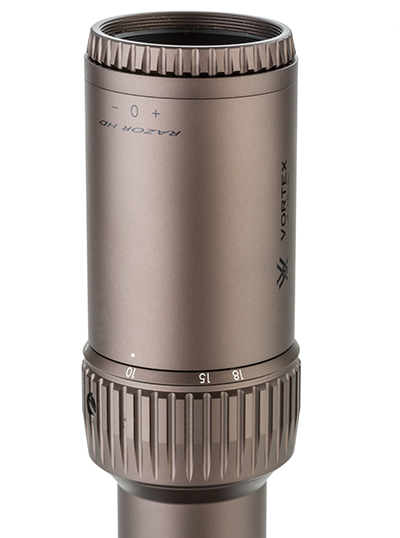 The illuminated, glass-etched reticle is located in the first focal plane, therefore, the reticle's scale in proportion to the image remains unchanged throughout the entire magnification range. Constant subtensions permit accurate ranging, holdovers and wind-deflection corrections at all magnification settings. Moreover, the reticle appears thicker at high-magnification settings and thinner at lower ones. Powered by a CR2032 battery (included), reticle illumination is adjusted via an 11-setting rheostat located on the parallax-adjustment turret. In between brightness settings are Off positions. To adjust, simply pull out the checkered dial, rotate it to the desired intensity (or Off) and push it back in. 
Two variants of the EBR-2C reticle are available; they differ only in that one employs m.o.a.-based subtension lines while the other uses mils. The reticle chosen will determine if turret adjustment "clicks" are valued at 1/4 m.o.a. or 0.1 mils each. Regardless of the EBR-2C reticle selected though, to utilize the scope to its fullest requires not only knowing the various subtensions, but also the ranging formulas, the firearm's exact ballistics (trajectory, wind deflection, etc.), and ability to accurately determine the wind speed, among other things. 
As is expected with a long-range, tactical-style riflescope approaching $3,000, the Razor HD GEN II 3-18X has a zero-stop feature coined L-Tec. Readying the system is simple; with the push/pull-style locking turrets' "0" indexed with the reference marks on the turret bodies, the turret caps are loosened and removed, and then the three setscrews on each cap perimeter are backed out. This frees the brass center screws to make adjustments. Unlimited zero-setting positions permit the zero to be set between clicks for optimal accuracy. Once sighted, the order is reversed and the return-to-zero feature is set. The turrets' large numbers and lines are easily read, and particularly helpful are the "L" and "R" designations on the windage dial. Also beneficial is the external rotation indicator, which provides a quick visual and tactile index of the elevation turret's rotational position. A multi-tool is provided to make all of the aforementioned adjustments. 
Company literature states that the erector tube system is machined from brass alloy to prevent galling, and the polished, chromium-vanadium erector spring withstands compression and has high fatigue resistance. Moreover, heat-treated, hardened steel pads on the turret screw interact with a hardened steel ring on the erector tube to prevent galling or deformation of the turret screw. 
As with the parallax-adjustment turret, which adjusts from 25 yds. to infinity, the machined-aluminum magnification band has sufficient tension to prevent unintended movement. A fast-focus eyepiece rounds out the scope.
Testing of the Vortex Razor HD GEN II 3-18X 50 mm began by placing the scope in the freezer overnight, followed by submersion in warm water. There was only minute internal fogging (purging cannot eliminate all oxygen) and, absent bubbles, there were no signs of leakage. This was to be expected. We then mounted the scope atop a Lancer L30 Heavy Metal in 34-mm Weaver rings and shot the square. We found the 0.1-mil clicks to be correct in value and, equally important, the movements were consistent and repeatable. This is essential for applying ranging data and returning to zero. Adjustments were crisp with no play encountered between settings. Lastly, when compared to two other optics with comparable price tags in differing light conditions, the Razor HD's superior brightness, resolution and color fidelity were apparent. Frankly, there was nothing about the scope that needed refinement or changing. The rings, however, need to be taller.
In the optics marketplace, the high-dollar, premium long-range riflescope is assuredly among the smallest niches. In this small, crowded and demanding field, competition is fierce, but with products such as the Razor HD GEN II 3-18X 50, it's little wonder why Vortex Optics is among the few serious competitors.