If you needed just one more reason to stop by Music City Center in Nashville for the NRA Annual Meetings & Exhibits April 10-12, you now have it. A never-before-seen Armalite M-15 Tactical Rifle, featuring Vertx-branded engravings and a custom cerakote in Olive Drab, will be on display at the Vertx booth. The best part is that this one-of-a-kind firearm is up for grabs. 

"We're proud to give away this special Armalite rifle as part of our NRA show sweepstakes," said Darrell Morrow, vice president of Vertx. "Its sleek design configuration has purpose built into every detail."
The M15TAC18 rifle features a premium 18" stainless steel barrel at the heart of the design. Weighing seven pounds and chambered in 5.56x45 mm, it features a slim, octagonal handguard that sports a full length MIL-STD 1913 12 o'clock rail for sights and accessories. Unique faded engravings of the Vertx logo are located on the lower receiver and hand guard.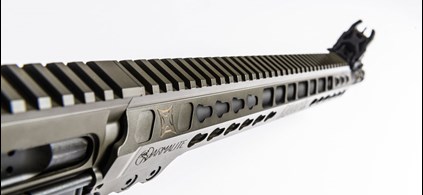 "We are pleased to continue our partnership with Vertx," said Tommy Thacker, president of Armalite. "The synergies our teams have created are unstoppable and the final product is amazing."NRA show attendees can enter for a chance to win this custom tactical rifle at the Vertx Booth 261 but you can also pre-register for the promotion here.