posted on September 23, 2013
Support NRA American Rifleman
DONATE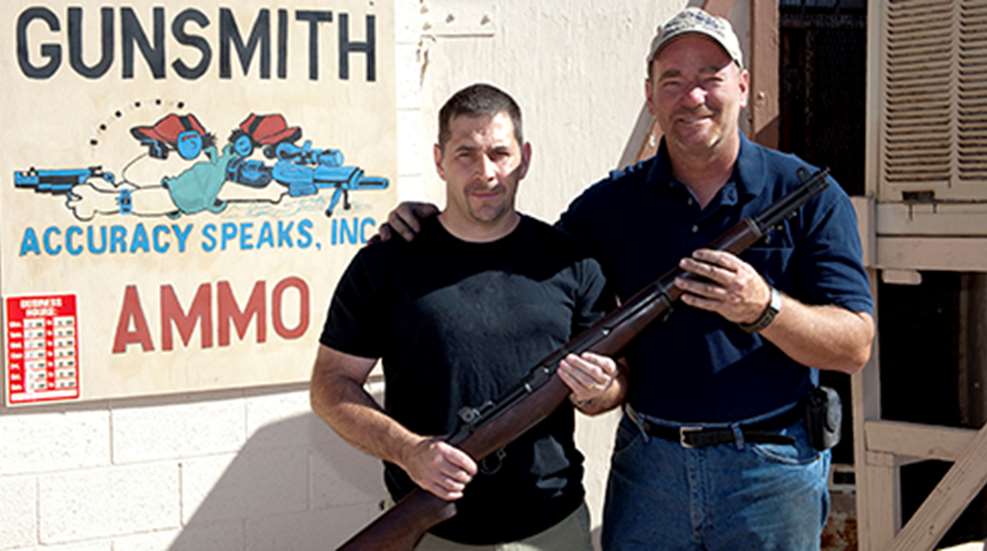 Let's say that you want a particular firearm with special features. You have four options: (A) you can hope to find it in a manufacturer's catalog; (B) you can buy something off the rack and have it modified; (C) you can have it custom-built; or (D) you can build it yourself.
Accuracy Speaks in Mesa, Ariz., offers Plan D. That's D for Derrick Martin, the Double Distinguished Marksman who started the business in 1989. A national and international service rifle competitor, he has built rifles, pistols, and shotguns for other marksmen as far away as Australia and Britain.
Martin has long since branched out from gunsmithing to instructing. With his wife, Cheryl, he has taught high power shooting in the United States and the Dominican Republic, and he's conducted wind-doping clinics with former U.S. Army Marksmanship Unit shooter John Chubb. He offers those and additional classes on request.
Martin decided to take the business to the next level, however, affording shooters the opportunity to build their own guns under the supervision of qualified gunsmiths. The reasons for building your own firearms are similar to, but not limited to, the motivation for loading your own ammunition. Most handloaders value the cost savings, but there's also the option to customize the loads you feed your guns, and the satisfaction of creating a quality product.
Martin explains up front that building your own firearm will not result in any cost savings. After all, time is money, and he emphasizes that the shop's personal attention could result in a two- or threefold increase over the likely cost of having them do the work for you.
The "Build Your Own Gun" plan is intended to provide clients the level of instruction they desire. It can be as basic as installing a recoil pad, mounting scope bases or performing a simple trigger job. Mid-level skills might involve glass-bedding, stock work, and, perhaps, drilling and tapping receivers or barrels. High-end skills consist of metal cutting with lathes and mills, including complete builds of long-range rifles, NRA service rifles, IPSC/IDPA pistols and the like.
For the top-end projects, some prior knowledge of machine tools is recommended, whether from high school shop class or from  time spent hanging around a machine shop. But if you have the motivation, the company will make the time. The prime ingredients are desire to learn, willingness to work and, of course, the funds necessary to see the project through.
Shop safety is a critical concern. Working with machine tools, clients need to stay focused and follow directions to the letter. (The author is reminded of his shop teacher who gave a vivid demonstration of band saw safety-a thumb and two fingers.) Martin explains that there are three levels of potential problems: "You could injure yourself in our shop; you could ruin your project; or the finished product may not meet all your expectations."
However, the individual attention that Martin and his gunsmiths provide is intended to eliminate problems and correct mistakes. Hands-on assistance is, after all, one of the chief advantages of the supervised Build Your Own Gun concept.
One of the first do-it-yourself projects was an M1 rifle by Chris S., a database designer and programmer. He wanted to produce a National Match Garand and provided the basics: a CMP rifle with NM barrel and stock. Under personal supervision he fitted and headspaced the barrel, bedded the stock, performed a trigger job and installed NM sights.
In the course of his project, Chris gained hands-on experience in a variety of disciplines: woodworking, metallurgy and chemistry. Much of that experience was hard-won. For example, mixing and applying bedding compound to a stock is the type of skill that has to be learned by experience. Not everyone does it right the first time, but everyone gets it right before they leave.
The Garand rebuild lasted three days or 30 shop hours, but Chris considers it worth the effort. Not only did he acquire new skills, he now has a very nice rifle and the knowledge to tackle future projects.
Other do-it-yourselfers are taking advantage of Accuracy's option with handguns, ARs, and bolt-action rifles. Each project receives the same individual attention that Chris experienced with his Garand. When you're finished, you will have more than a custom firearm crafted by your hands to your specifications. You will have an heirloom to pass to the next generation-and a good story to go along with it.
For more information, contact: Accuracy Speaks Gunsmithing (Dept. AR), 3960 N. Usery Pass Road, Mesa, AZ 85207; (480) 373-9499.