by
posted on July 28, 2017
Support NRA American Rifleman
DONATE
It's a little disconcerting the first time you see it. Someone jams a loaded magazine into an Heckler & Koch MP5 and then slaps the charging handle (officially called the "cocking lever") loose from its indent notch to send the bolt slamming home on a fresh round. At first glance it seems like typical Hollywood gun abuse (in fact the silver screen is probably where you first encounter the H&K slap), like the flip of a wrist that sends the swing-out cylinder of a revolver smashing into place or the one-handed shotgun pump. But the H&K slap not only won't damage your firearm, it's how the factory tells you to do it.
The manual of arms for inserting a loaded magazine into an H&K roller-delayed firearm calls for the bolt to be retracted and locked into place by rotating the cocking lever into the notch in the cocking lever support housing. Inserting a loaded magazine against a closed bolt can damage the magazine's feed lips and prevent the magazine from being properly locked into place.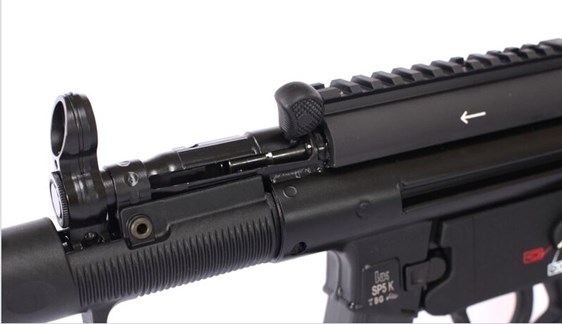 Since most H&K roller-delayed firearms don't have a bolt-hold-open device it goes like this: You fire the last round. Manually lock the bolt to the rear. Remove the empty magazine. Insert a fresh one. Then send the bolt closed on a fresh round by slapping the cocking lever out of its notch.
Why the slap? There are two reasons. First, by slapping the cocking lever out of its holding indent the bolt is going into battery with the full force of the action spring. If you ease the cocking lever out of its indent and then rotate it down to release it, you're riding the bolt forward and beginning the process of decompressing the action spring.
The second reason for the slap is to lock the cocking lever support in place. In H&K roller-delayed firearms that tube above the barrel houses a rod that moves the bolt when pulled to the rear (remember there's no gas system running in that tube). It's not connected to the bolt carrier, so it's non-reciprocating when the weapon is firing. A spring detent or catch on the front part of the cocking lever support locks it in place in the cocking lever support housing. If it doesn't lock in place it can move back into the action during firing and potentially cause a malfunction. Again, riding the cocking lever forward can prevent the support from properly locking in place.
By slapping the cocking lever you are positively loading a round into the chamber and locking the cocking lever support firmly in place. So the next time you have your roller-delayed H&K firearm out on the range slap that cocking lever to bring the firearm back into battery. You'll not only look cool, you'll look like you know what you're doing.

Additional Reading:

Roller-Delayed Revival: The Heckler & Koch SP5K
Video: The Heckler & Koch SP5K—An MP5 in Civilian Clothes 
SHOT Show 2017: Heckler & Koch SP5K Pistol  
Video: H&K MP5