posted on December 11, 2014
Support NRA American Rifleman
DONATE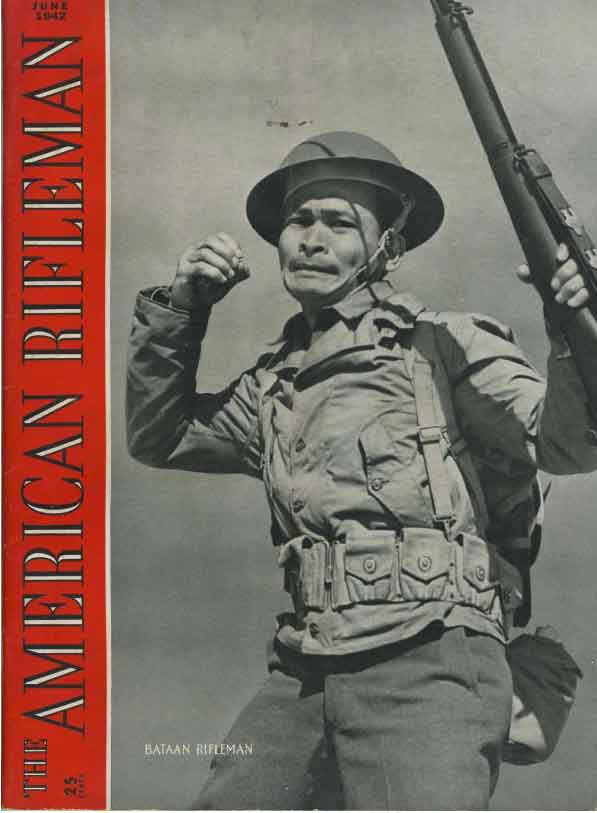 Seventy-three years ago this week, a mere 10 hours after the Japanese sneak attack on Pearl Harbor, Japanese forces invaded the Philippine Islands. The combined American and Filipino troops, underequipped and cut off, were forced into a defensive perimeter on the Bataan Peninsula. There, more than 70,000 starving Allied troops were forced to surrender on April 9, 1942, with fortress of Corregidor capitulating on May 6. More than 10,000 are believed to have perished in the horrific "Bataan Death March" that followed.
American Rifleman's June 1942 cover, printed shortly after the "Battling Bastards of Bataan" had to lay down their arms, honors the memory and sacrifice of those American riflemen who fought in the Philippines in 1941-42.
THE COVER: Teamed up with thousands of Americans from the states, the Filipino fighter, in the excitement of battle throwing the grenade baseball fashion just like his fellow Americans (tho' contrary to the lobbing instruction of his officers) rates cover prominence this month as one of our American riflemen. Inspired by the ferocity of Bataan and Corregidor, recruiting among Filipinos goes on in the States under officers of the Army of the Philippines and regular Army men. Signal Corps Photo.