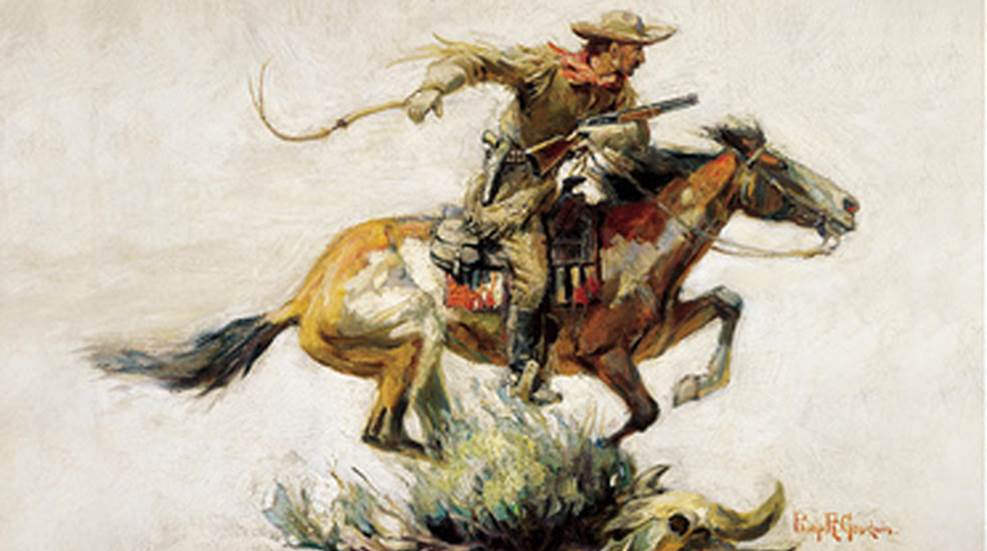 Somewhere along the Bow River near Banff, Phillip Goodwin sat with a sketchbook on his lap, trying to capture the ethereality of the mountain scenery. He'd been successfully painting wildlife scenes for years already but had never actually painted them in the outdoors. He was in the Canadian Rockies at the invitation of his friend Carl Rungius, a German who'd fallen in love with the North American West. Carl gave Philip the sage advice of an experienced outdoorsman: "As sure as you bring your paintbrush, bring your rifle, you're bound to run into game on the day you don't. "
Philip had forgotten his rifle. But that didn't occur to him until he saw the Grizzly come up from the river some 40 feet from him. They both stood at the same time. A short staring contest ensued before both turned tail and ran in opposite directions. The fortunate ending to this surprise meeting influenced a later series of paintings by Philip revolving around unexpected predicaments, several involving bears.
Just a few short years later, the world went to war, an unexpected predicament of the likes that humanity had never seen, that brought the modern technological marvels of trench warfare, tanks, mustard gas, machine guns, airplanes, minefields, and shell shock. When it ended and 4 million doughboys began flooding home, America was suffering from fatigue and ready to turn back inward to find the good within itself.
The Winchester Repeating Arms Company, which made the arms for the Allied armies that won the war, was also ready to refocus. In 1919, they sought after and found the perfect symbol of a hopeful and resilient American spirit in Philip Goodwin. His painting of the horse and rider, cradling a Winchester rifle, has lasted as the Winchester (and American) symbol ever since.