by
posted on January 6, 2017
Support NRA American Rifleman
DONATE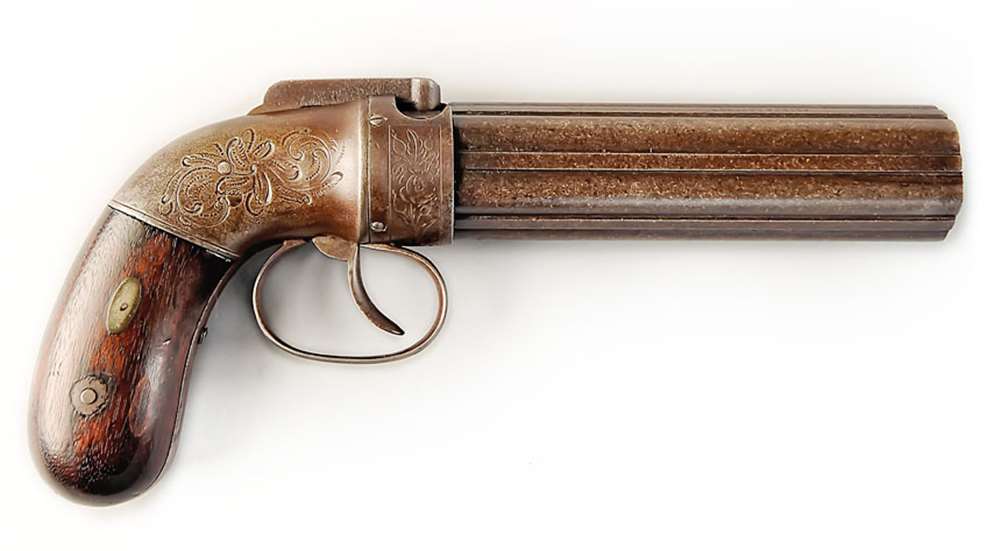 Massachusetts gunmaker Ethan Allen had a long and illustrious career, manufacturing many types of arms under the Allen name (which varied according to his fortunes and associations) beginning in 1831 and continuing on for several decades. Unquestionably, Allen's most famous products were his percussion pepperbox repeaters. While not the only maker, nor inventor of the pepperbox—examples date back at least to the 1600s—in mid-19th-century America, Allen pretty much made the pepperbox his own in terms of sales and popularity.

Offered in a wide variety of sizes, styles and calibers, these (mostly) double-action revolvers were quite sought-after in their time and—because of their robust nature, multi-shot capability and reasonable prices—were especially popular with "Argonauts" heading out to the California gold fields. One such adventurer, Samuel L. Clemens (Mark Twain), offered a tongue-in-cheek assessment of an associate's Allen in his book Roughing It: "Simply drawing the trigger back, the hammer would begin to rise and the barrel to turn over, and presently down would drop the hammer, and away would speed the ball. To aim along the turning barrel and hit the thing aimed at was a feat which was probably never done with an 'Allen' in the world … . It was a cheerful weapon—the 'Allen.' Sometimes all its six barrels would go off at once and then there was no safe place in all the region roundabout but behind it."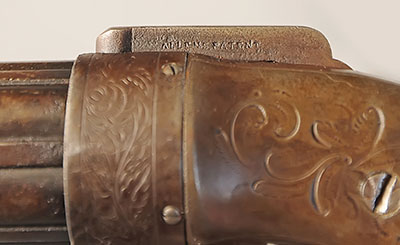 Twain's remarks notwithstanding, the Allens actually were surprisingly effective arms. The author has fired the piece shown here a number of times, and at reasonable "combat" distances found it to be quite accurate despite an extremely heavy trigger pull. Admittedly, the gun did have a penchant for chain firing, but unlike its principal rival, the Colt revolver, the Allen's barrel cluster ensured that all the bullets went downrange safely, there being no danger of a ball accidentally discharged from a cylinder splattering against a frame.
As noted above, Allens came in a number of different grades, sizes and calibers—everything from diminutive .28-cal. pocket models to the large .36-cal. so-called "Dragoon." Depending on when the revolver was made, it could have one of several addresses stamped on the barrels including (in chronological order): Grafton, Mass.; Norwich, Conn.; and Worcester, Mass. The common name seen is usually "Allen & Thurber."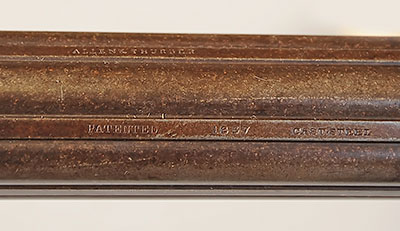 The Dragoon shown here is an "early transitional" type made in Worcester around 1848 (construction in Worcester was undertaken from 1847 to 1854), so termed because it retains the severely crooked grip angle of other, earlier Allens. By the early 1850s this would evolve into a much more fluid, user-friendly handle. Engraving on the frame and recoil shield was normal. Panels are of walnut with small, ovular, German silver inlays.
Allens could be ordered with varying degrees of special engraving and ivory stocks. As well, they could be cased for an additional fee. While not nearly as common as uncased specimens, boxed Allen pepperboxes do come on the market and will command a premium. This example is in NRA Very Good (Antique Gun Standards) condition. By itself the sixgun would be worth $1,550, but the case and accessories easily add another $1,900 to its value.
Gun: "Dragoon" Pepperbox
Manufacturer: Ethan Allen
Condition: NRA Very Good (Antique Gun Standards)
Caliber: .36
Manufactured: c. 1848
Value: $3,450 (as cased)