posted on January 6, 2010
Support NRA American Rifleman
DONATE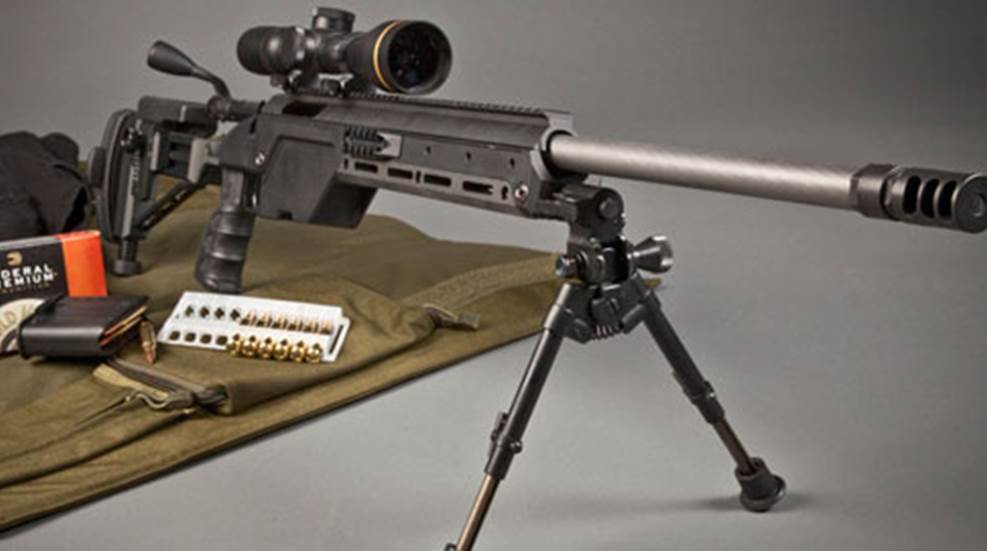 Today, it seems everything can be deemed tactical—knives, vests, boots and even pants—as military and police equipment trickles down to civilian markets. This includes Integrated Tourniquet System pants and shirts, quick-attach mounts for optics and flashlights and adjustable, ergonomic firearms like the Steyr Elite 08.
When I first picked up the Elite 08, I immediately realized I didn't want to carry that rifle far. At almost 13 pounds before adding a scope, bi-pod and ammo, the Elite 08 wasn't built for moving fast or far. It wasn't built for hunting either, though I'm sure it could smack a whitetail at a good distance. No, this rifle was built for the tactical shooter, and at almost $6,000 that shooter will most likely be a member of a law enforcement group.
The Steyr Elite 08 can fit almost any shooter with a cheekpiece that can be raised almost 2 inches and multiple buttpads to change the length of pull to the optimal distance. The buttstock also folds to the right, shortening the rifle to 37.25 inches for storage and transport, locking into both positions without any shake or wobble.
Everything on the gun screams tactical long-range rifle fromthe .308 Win. chambering to the built-in shooting rest. It comes with a detachable Versa-Pod with adjustable spring-loaded legs and a mono-pod on the back, which can be adjusted by pressing a knob on the left side or by twisting the shaft. This allows for very quick micro adjustments when setting up on a target, and a very stable rest for pinpoint shooting—even at moving targets.
The stainless-steel barrel is free floated for accuracy and the shroud has a Picatinny rail on top for attaching optics along with moveable sections on the sides for mounting lasers, lights or any other tactical tool.
Equipped with a Leupold VX-7 2.5-10x45 scope, the Elite 08 is very heavy, which, along with its muzzle brake, reduces recoil to way below manageable. An entire afternoon at the range produced zero flinching and no shoulder pain.
Accuracy was excellent, with multiple three-shot groups measuring under an inch, with the smallest group coming in at just over a half inch using Federal Premium 168-grain Sierra Matchking BTHP ammunition. I did notice that as the barrel heated up following multiple shots, the groups spread out a little. However, the barrel cooled quickly, which brought groups right back to normal.
The action was smooth with no malfunctions when feeding live rounds or ejecting spent cases, and the trigger, which broke at a very nice 3.25 pounds, can be adjusted for weight and take up; although, the manual claims the Elite 08 comes optimally set from the factory.
My only complaints were the safety location and the polymer magazine. The three-position safety is well designed, even allowing the bolt to be locked closed; however, being located on top of the handle, manipulating it requires breaking the shooting grip. With many rifles this isn't a problem, but from a pistol-grip type handle, I didn't like it. A shooter can always use the free hand, but I would still prefer the safety in a more easily reached position.
The magazine was also a disappointment. I didn't understand the reason for using a polymer magazine in a heavy all-steel rifle, but it performed flawlessly and was easy to load even to its max of 10 rounds.
All in all, the Steyr Elite 08 performed admirably, punching small groups in the target with no malfunctions of any kind. It was accurate, its stock adjusted for excellent fit and its rails made attaching a scope and other tactical accessories quick and easy. For whatever purpose it's used, the Elite 08 can get the job done.
Model: Steyr Elite 08
Manufacturer: Steyr Mannlicher GmbH
Importer: Steyr Arms, Inc.; Steyrarms.com
Action type: Bolt-action repeating
Magazine: Polymer double-stack detachable box/10 rounds
Caliber: .308 Win.
Barrel: 22.4-inch heavy barrel (stainless steel optional)
Rifling: 4 Grooves, 1:12-inch RH Twist
Sights: None; integral 15.9-inch Picatinny rail
Finish: Mannox® (flat black)
Trigger Pull: 3 pounds, 8 ounces (user adjustable)
Weight: 12 pounds, 6 ounces
Overall length: 46.5 inches; 38.3 inches with stock folded
Included accessories: Owner's manual, Versa-pod, continuously adjustable rear elevation spike, 10-round magazine, hard travel case, sling swivels
Suggested Retail Price: $5,999