by
posted on January 13, 2011
Support NRA American Rifleman
DONATE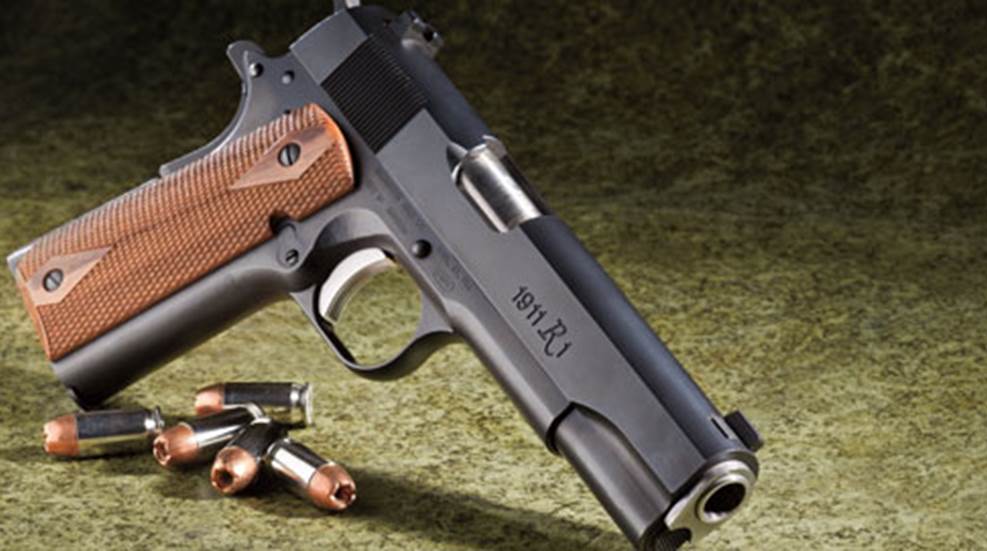 The shooting industry and shooters everywhere are reflecting on the significance of 100 years of unbroken service for the grand old semi-automatic—the M1911 pistol—that has done so much for this nation. Understandably, many of our handgun makers have geared up to offer special editions of the .45 pistol. But the pistol we are concerned with here does not come from one of the storied plants that made handguns for the troubled times of the 20th century. This .45 comes from the leading manufacturer of long arms—Remington, the country's oldest gunmaker. The pistol is called the R1 and it is a G.I.-style M1911 .45 ACP pistol in every sense of the word.
Lest there be confusion about historical matters, let's take a look at Remington's one previous foray into M1911 .45 ACP pistols. In the period from 1917 to 1918, foreign influences dragged America onto the international stage and into the horrors of World War I. It was a conflict for which we were ill-prepared. This was particularly true with arms and ammunition. We had to send tens of thousands of troops to fight in the trenches of France, and they needed guns that we didn't have; therefore, American factories went on three-shift production. Colt was the primary source of the newly adopted Model of 1911 pistol, although Springfield Armory contributed guns before it had to focus exclusively on M1903 rifles. The Army Ordnance Dept. awarded contracts to several American factories for large quantities of the popular semi-automatic pistols. In that time, Remington was known as Remington-UMC (for Union Metallic Cartridge Co.) and the pistols it made were so-marked. Approximately 21,500 U.S. Model of 1911 pistols came from Remington's Ilion plant before the war ended and further production became unnecessary. Today, those pistols are much-sought-after collector's items. It is important to understand that the World War II M1911A1 pistols marked "Remington-Rand" were produced by a manufacturer of office machines unaffiliated with the Remington Arms Co.
So yes, today's Remington does have a history of making the Government Model, certainly none of the original tooling was used, and certainly none of the original technicians are still standing at their machines. Think of the gun at-hand as a new project. Some critics have already noted that Remington management missed an opportunity to precisely replicate the original M1911-style pistol. The gun we see is an M1911A1-style, and Remington is clearly looking forward and not to the past. A careful inspection shows a G.I.-looking pistol with few frills, intended to sell at what has been called an entry-level price.
This is an all-steel pistol in a dull greenish gray, non-reflective finish. It closely follows the original John Browning design for a service .45 with a tilting-barrel form of recoil operation. This brings the barrel down at its rear to clear locking lugs atop the barrel, out from their matching recesses in the roof of the slide. The gun feeds from a seven-round magazine housed in the butt section. All of the controls—thumb safety, magazine catch, trigger, slide lock and grip safety—closely approximate the size and shape of the parts used on World War II pistols. Most of those guns wore molded plastic grips, brown in color and with a functional checkered surface. The new gun has a nice pair of walnut stocks, checkered in the famous double-diamond pattern that was used on original guns in Blackjack Pershing's time.
By now it should be obvious that the R1 reflects an effort to build a strong and sensible G.I.-style gun and not to replicate any particular model produced through the years. It has the flat mainspring housing of the M1911s, but it has no lanyard ring, as used on almost all G.I. guns. The M1911A1 combined a short trigger, a long tang grip safety and relief cuts aft of the trigger guard—so does the new Remington.
So let's look at the R1 from the standpoint of what it is, and not what it might have been, or could have been. It is a strong, sound M1911 pistol that was made to be used—and used hard. The gun was built using today's expeditious technology. The receiver is an investment casting, and most of the small parts are either metal injection molded (MIM) or investment cast. The magazine is marked "R 45 AUTO" and is of the G.I.-type with welded-in bottom plate. All of the markings look like they're pantographed and are deep and crisp. They can be read much easier than the laser systems used by some other makers. Just about everyone who uses an M1911 agrees that you have to follow Jeff Cooper's advice and install sights that are big enough to see. On this pistol, the sights are very large; and both front and rear are securely dovetailed into the slide top. And yes, they do have the popular three-dot highlights.
There is no evidence that either of the two specimens I had for evaluation was hand-fitted or -finished. They had rather heavy trigger pulls (about 5 pounds), and both exhibited creep and a little overtravel. I have to remind myself that I am an inveterate user of M1911 pistols, and I am accustomed to pistols tuned by custom pistolsmiths. So the multiple sharp edges and corners that such 'smiths remove were present on the Remington R1s I evaluated. I could get used to them, as well as the less-than-ideal trigger pull.
As is the custom with for American Rifleman, I accuracy tested the R1 by shooting five consecutive, five-shot groups at 25 yards. I did this with three different loads, each of which I have used many times with other .45 pistols and have proven exceptionally accurate. Before any accuracy work, I did run about 10 magazines of mixed ammunition through the gun to break it in. Then it was on to the Ransom Rest, in this case C-clamped to a solid concrete bench. In order, I shot Federal 230-grain Gold Medal ball, Black Hills 230-grain JHP and Remington 230-grain Bonded Golden Saber JHP.
The evaluation produced 15 five-shot groups ranging in size from a smallest of 1.24 inches to a largest of 2.99 inches. The three test loads averaged 2.06 inches, 2.16 inches and 1.85 inches, respectively, with an overall group average of 2.02 inches. These results are tabulated above and pretty well establish that the Remington R1 is pretty much a 2-inch shooter at 25 yards. As further indication of that standard, consider what happened when I went digging around in the .50-cal. ammo can that houses my supply of .45 ACP for the range. There were several partial boxes of ammunition of various kinds, none of which amounted to enough to repeat the five-group protocol. I decided to shoot some 10-shot groups with the leftovers, just to see what the R1 could do with them. Ten Speer Lawman 200-grain TMJ bullets went into 3.13 inches, and Hornady's 200-grain JTC produced a 2.87-inch group. But the Remington really liked Federal's other Match load, the 185-grain SWC, shooting 10-shot groups measuring 2.01 inches and 1.85 inches, respectively. The real delight was the group fired with long out-of-manufacture Pro Load 200-grain JSP. It measured 1.45 inches. To put its accuracy in context, I have evaluated guns that shot a little better than this, and you may have read some of my reports. But seldom does a gun come along that shoots this well and costs anywhere close to the $699 for which the R1 retails.
It's certain that Remington put a pretty good barrel in the pistol, but a couple of other things that aren't so obvious need to be highlighted. A good barrel is important to accuracy in an M1911 pistol, but the consistency of the lock-up between the barrel and the slide is at least equally important. Remington has kept the tolerances tight and established a systematic fitting procedure to achieve consistent lock-up.
Another matter to consider is the ammunition. Although we still import quantities of plinking ammunition, our native ammunition industry is the best in the world. Annually our cartridge makers turn out millions of rounds of high-quality ammunition, because that is what American sportsmen want. The Remington R1 is a good gun when shooting good ammunition. Together, they both perform.
There is no handgun so thoroughly customized as the M1911 .45 ACP. Yankee pistoleros derive endless delight in fiddling with the innards—and "out-ards" —of their guns, and I'm certain that more than a few R1s will be subjected to this treatment. Based on what I have seen in the early samples, the R1, while perhaps a bit rough in some aspects, is nonetheless generally solid and reliable. Its accuracy is much better than what you would expect for an entry-level pistol, and at $699 it strikes me as a very good buy.
Manufacturer: Remington Arms Co.; (800) 243-9700; www.remington.com
Caliber: .45 ACP
Action Type: recoil-operated, semi-automatic center-fire pistol
Frame: steel
Barrel: 5"
Rifling: 1:16" LH twist
Capacity: detachable box, seven rounds
Sights: three-dot, drift-adjustable
Trigger Pull: 5 lbs.
Overall Length: 8.5"
Width: 1.32"
Height: 5.25"
Weight: 38.5 ozs
Accessories: lockable hard case, lock, manual, extra magazine
Suggested Retail Price: $699