by
Mark A. Keefe, IV, Editorial Director
posted on January 5, 2017
Support NRA American Rifleman
DONATE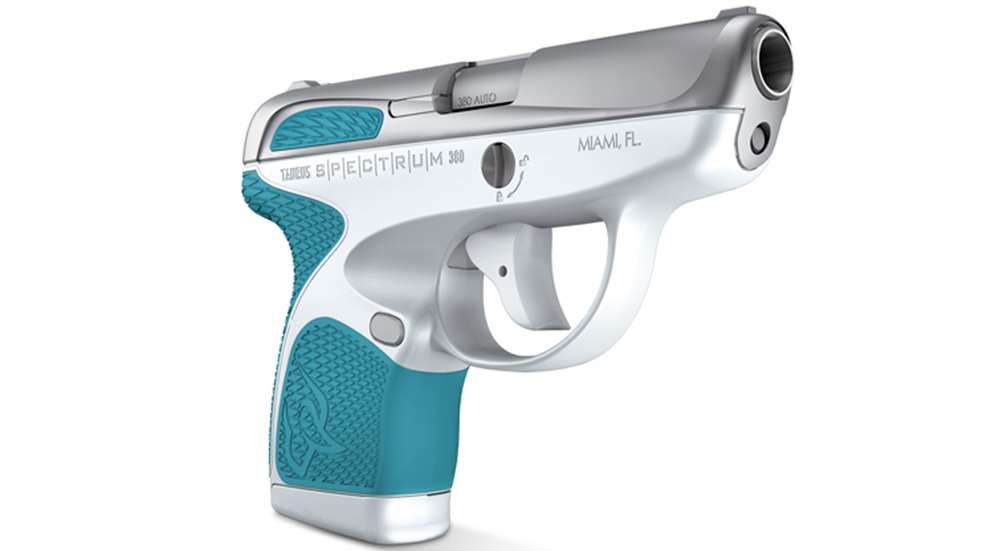 They say beauty is only skin deep. That said, some people have difficulty looking past the surface. I think that is indeed the case with the recently leaked imagery of the new Taurus Spectrum pistol. Despite the jibes, perhaps rightly, Taurus has taken on the View and the Curve, remember this is the company that gave us the Judge and was a leader in 9 mm and .45 ACP pocket pistols, too. Taurus was one of the first makers to offer a polymer-frame subcompact in .380 ACP. That was known as the TCP.

Although most Taurus handguns are made in Brazil, the Gun Control Act of 1968 mandates that small, concealable guns, like the TCP, and tip-barrel PT22 and PT25, be made in the United States because they cannot amass enough import points.

Rest assured, the Spectrum pocket pistol is not a re-skin of the TCP. It is a double-action-only, recoil-operated .380 ACP that has either a six- or seven-round detachable box magazine. The gun comes with either a stainless or a Melonite-coated stainless steel slide. The Spectrum is 5.40" long, 3.82" high, has a 2.8" barrel and weighs 10 ozs. unloaded. Most importantly it is only 0.89" wide, and it has no external safeties. In short, it has small sights integral with the slide and all its surfaces are smooth—"melting" all its lines—with the intent of this being a carry gun.
While everyone was pontificating online over the color scheme, they missed the non-aesthetic features that make this gun interesting. And they missed the changes at Taurus in Miami that made the Spectrum possible.

Taurus has become a very different company from even a decade ago. The longtime owners, Carlos Murgel and Luis Estima, are no longer a part of the company. Murgel, who I knew well, died. And his partner Estima sold out. Taurus is now owned by the same parent company that owns CBC and Sellier & Bellot.

The new management brought a new sheriff into town in Miami. His name is Anthony Acitelli. The CEO of Taurus USA, "Ace," as he is known to his friends, spent the majority of his career with Federal, then moved on to Colt. And then he picked up the Taurus torch.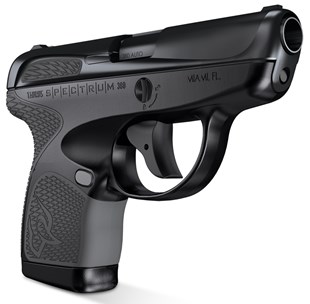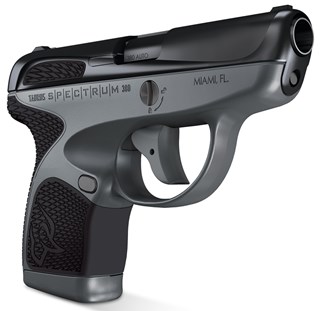 A culture shift was necessary for Taurus USA, and Acitelli has indeed made a lot of changes. Those have been in everything from making the website usable (you can now actually order a Taurus magazine without waiting for customer service to answer the phone), to improving customer service.
And with the Millennium G2, Acitelli changed the entire firearm industry. He dropped the price on a 9 mm Millennium G2 to about $200 at retail, and fixed quality control in Brazil. The gun became one dealers wanted to carry, thus rebuilding Taurus' relationship with retailers. Best of all, they didn't come back to a cranky customer service department that infuriated dealers and alienated customers trying to use a lifetime warranty. At $408 you couldn't give away a G2; at $200 it has become one of the top-selling guns in America.
"We looked at the [small, polymer-frame .380 ACP] segment of the market and wanted to address the needs of offering a concealed carry gun that is as comfortable as it is aesthetically pleasing," said Acitelli. "Because of improved performance and new innovation within the personal and home defense ammunition categories, the .380 has become a formidable caliber to carry. This small package now packs a powerful punch with the Taurus Spectrum."
Taurus now has full-time design engineers that formerly worked at places such as FN in South Carolina, SIG Sauer in New Hampshire and Remington in Kentucky. This is significant because previously all new Taurus designs came from engineers in Brazil. Having American gun enthusiasts designing guns Americans actually want to buy is a sea change for Taurus.

Additionally, you will notice that the company's logos have been rebranded, but also how it approaches guns has changed. Taurus knew the TCP was due for an upgrade and commissioned a study on ergonomics. The end result was the use of elastomers not commonly found on firearms. Taurus worked with what is arguably the top company in the world in that field to find a synthetic material that was both soft yet tactile enough to be held onto while firing—all without "sticking" to one's clothing. That is the material that you see across the backstrap and where one would normally find slide serrations. It is an ingenious approach to how both the weak and strong hands interface with the pistol, and Taurus calls it the "Soft-Touch Overmold." Also, it helps dissipate perceived recoil.

"Our desire … was to create a gun that is pleasant to shoot at the range as well as carry with confidence."
"The [firearm] industry has missed the mark on developing a micro pistol that melds ergonomics and usability that is safe and easy to manipulate," said Taurus' Director of Product Development Dusty Sroufe. "Our desire … was to create a gun that is pleasant to shoot at the range as well as carry with confidence. The Taurus Spectrum is the complete package consumers are seeking."
This gun was designed and will be manufactured by Taurus in Miami. It is the first gun start to finish designed and made in the United States by Taurus. Mechanically, this gun is very interesting because its striker is "non-energized," and it is not pre-cocked or preloaded. And there is a striker block designed to prevent the gun from firing unless the trigger is fully, deliberately pressed. It is a double-action-only with no articulated blade safety in its face. Factory specification give 7 to 9 lbs. for the trigger pull. Oh, and the magazine release is reversible for left-handers.

Taurus visited NRA HQ last year and hinted at what was coming with the Spectrum. I had extensive talks with company officials about the gun afterwards. It was also a big hit at the NASGW show in the fall. Reportedly, distributors really like the idea of being able to get color combinations that their competitors cannot have.
When you go to a gun shop and you see a sea of black, polymer-frame handguns on the other side of fingerprint-opaqued glass, something like these backstrap panels—which are integral to the frame and not removable by the user—and the grasping surfaces on the slide will really stand out. This is not just a gratuitous explosion of the Pantone color wheel. In a crowded monochromatic marketplace, a splash of color draws the eye, no doubt. Look for them on dealers' shelves late in the first quarter; they will be hard to miss.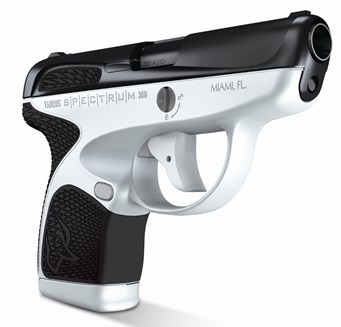 Most of the commentary has focused on the colors, and, yes, to my sensibilities there are some garish colors being proffered. Taurus' press materials state there will be eight standard color offerings, which include black gray or white frames and black or gray overmolds in both black and stainless. And then there are the really-out-there colors that are possible. Standard color offerings will be $289, while the glitz will cost you a little more with "House" colors coming in at an MSRP of $305. We are waiting on a factory production sample for testing, and I have no idea which color combination shall arrive.

And while it might be nice to have a pistol with colors that commemorate the perfect season of the 14-0, 1972 Miami Dolphins, I think basic black will suit me just fine. And I imagine most other consumers will be content with black and gray. That said, who wouldn't want a carry gun that brings up memories of Dino De Laurentis' 1977 classic "Orca: The Killer Whale"?