posted on October 12, 2017
Support NRA American Rifleman
DONATE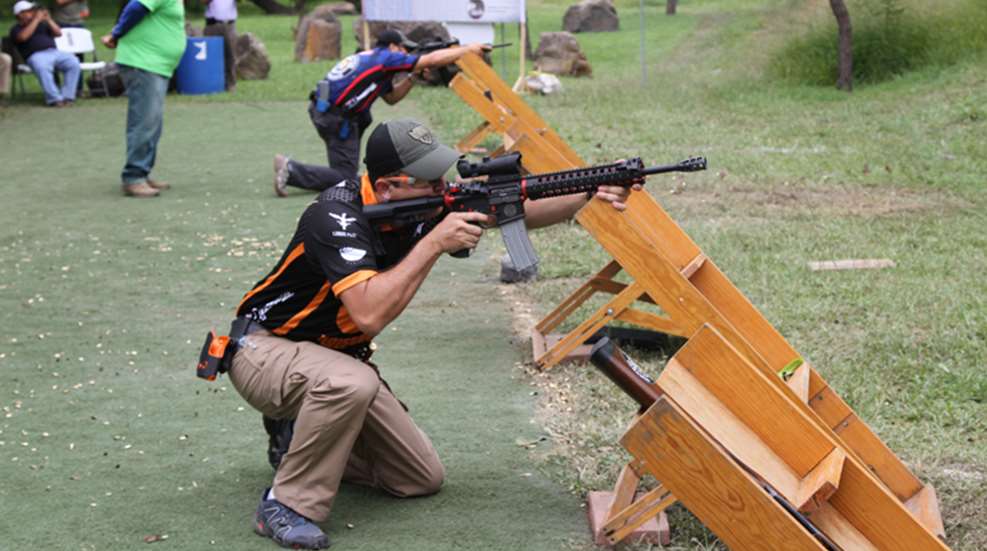 On September 20-24, 2017 Aguila Ammunition hosted the 2017 Copa Aguila shooting match in Guadalajara, Mexico, attracting participants from South and Central America as well as the United States. The event, held at the vast and pristine Club Cinegetico Jalisciense, gave shooters the opportunity to compete for a $65,000 cash purse as well as an additional $20,000 in raffled merchandise. Just as importantly, the event reaffirmed Aguila's status as a major force in the ammunition industry, one about to make its presence felt in the U.S.



The author tries his hand at 3-Gun, engaging stationary clay targets with a loaned shotgun. The competition included a qualifier, two more-challenging courses of fire, then a shoot-off.
Aguila (Spanish for "eagle") has long been known throughout Latin America as a premier manufacturer of rimfire and shotshell ammunition. An extended shortage of the former in the U.S. in recent years often meant that Aguila (the world's largest manufacturer of rimfire ammo) was the only brand U.S. shooters could find—and they liked it. Accurate, consistent, affordable and available in a variety of loadings, it won admirers among everyone from top-level competitors to plinkers to small-game hunters.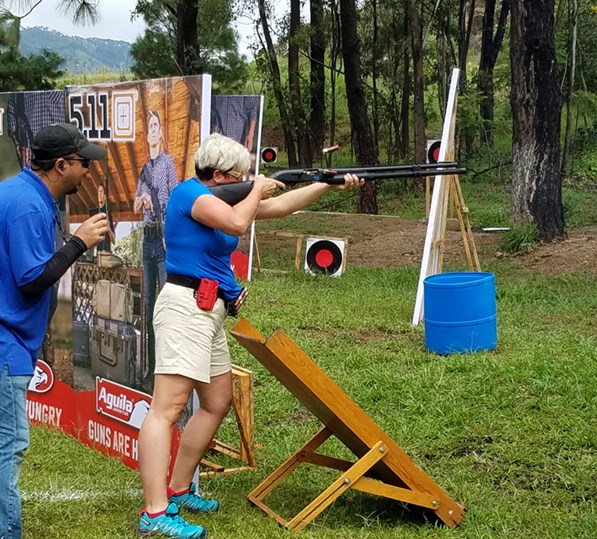 Michelle Cerino, the lone female competitor in 3-Gun, puts a borrowed shotgun to good use during the match, taking out a row of stationary clay targets.
Additionally, the company's considerable shotshell business was recently given a boost with the introduction of the Aguila Minishell, a half-size shotshell that's nonetheless big on performance. It offers reduced recoil but increased firepower potential over traditional shells. An adapter available from OPSol for the Mossberg Shockwave is making the Minishell and Shockwave a popular personal protection/home-defense combination.
Aguila now stands ready with its center-fire line, which includes everything from .25 ACP to .45 ACP, .45 Colt, .30 Carbine, .223 Rem., 5.56 NATO and 7.62 NATO.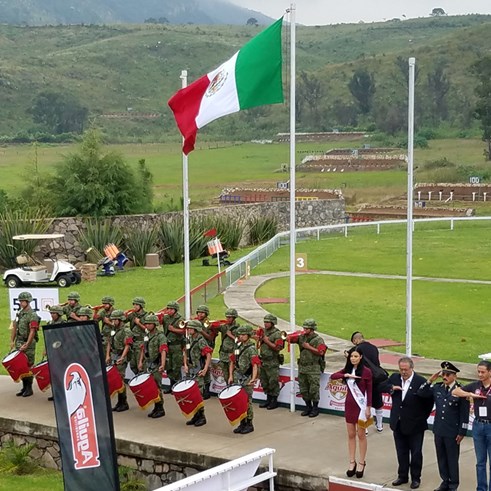 The Mexican National Anthem inspired due reverence from the participants and invited guests.
Now in its third year, the Copa Aguila drew more than 400 shooters. Company executives, high-ranking Mexican officials, champion shooters and a military drum team and color guard opened the four-day event. Attendees were treated to an exhibition by David Miller ("Guinness Book" record-holder for most sporting clays broken in one hour; 3,653) and then a pigeon shoot before breaking up to pursue their individual disciplines. The competitions included Make-a-Break, 3-Gun, Five-Stand, Rimfire Silhouette and Sporting Clays, with trophies awarded to winners in each of several categories.