by
posted on June 13, 2022
Support NRA American Rifleman
DONATE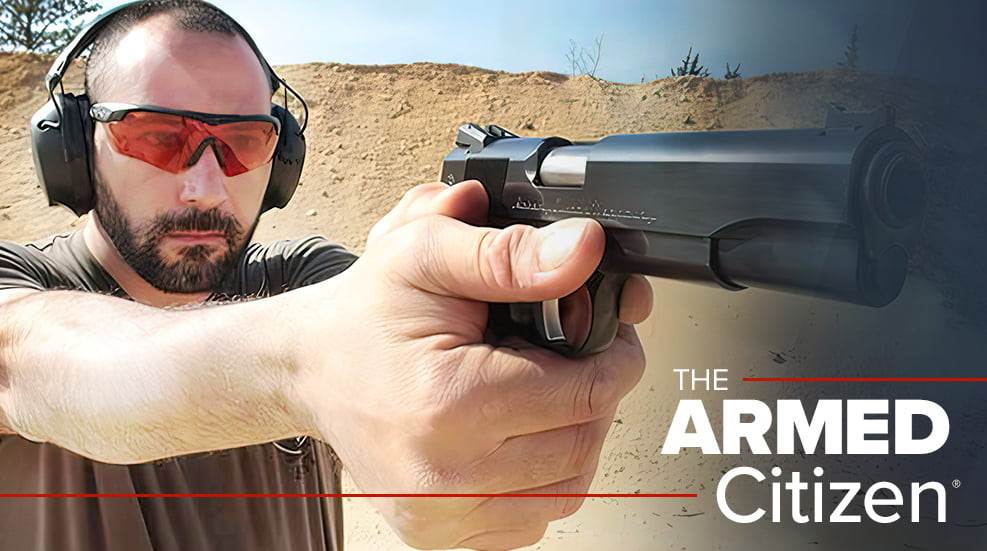 Armed Citizen® Today

A Byron Township, Mich., homeowner was forced to defend himself when an alleged burglar tried to force his way residence on March 31, 2022.
It all started around midnight that early Thursday morning, when the homeowner and his wife noticed an intruder knocking out the windows of the homeowner's pickup truck parked outside the home. Upon seeing this, the pair confronted the man from the front door, recounting, "We yelled at him to go away. He proceeded to advance on us. We shut the door, locked him out, called 911."
The homeowner then went to retrieve a long gun from his safe. As he was doing so, the intruder made his way around the home to the back yard. The intruder repeatedly said "Give me the keys," as he approached and then began to ascend the back steps. Despite the door at the top of the steps being barricaded, the intruder managed to push the door partially open.
As the homeowner recounted, "I told him, 'Go away, I've got a shotgun on you,' and he kept coming. Then he started shooting at me." The intruder produced a handgun and opened fire through the open door at the homeowner. As the shots range out, the homeowner took cover and returned fire at the assailant. After this change of gunfire, the intruder then ran back down the stairs and fled. When police arrived later on, they discovered the 39-year-old intruder near the home with fatal gunshot wounds.
As it turned out, the intruder had a criminal history dating back 20 years, with convictions for offenses including prior drug offenses, vandalism and armed robbery. He was even listed as a parole absconder by the Michigan Department of Corrections at the time. Authorities reported that the man was also connected to two recent car thefts.
It is believed that the intruder targeted the home because a stolen car he was driving had broken down nearby, and he was searching for another to take. The homeowner was not charged by authorities and in regards to his actions said, "We had to do it. There was no way around it. Absolutely no way around it." (woodtv.com, Grand Rapids, Mich., 05/03/2022)

From the Armed Citizen® Archives – July 13, 1987
A burglar trying to steal guns picked the wrong gunshot in Rye, Colo. Owner Hey Salsbury, awakened by his shop's burglar alarm, arrived with his shotgun in time to hold the intruder at bay until police responded. The man was taken into custody by police and charged with burglary. (The Chieftain, Pueblo, Colo.)